Every year for the past 40 or so years the MSTA has raffled off a new motorcycle to its members. We always try to choose a bike that we feel will appeal to our members, with an emphasis on choosing one that is a sport tourer. However, as this is a fund raiser for the club, and as it is a Members Only raffle, we do have to be mindful of the cost when choosing a bike. We feel that this year we have gotten both one that our members will like and one that is affordable for the club. We have chosen a brand-new Royal Enfield INT650 as the raffle bike for 2023.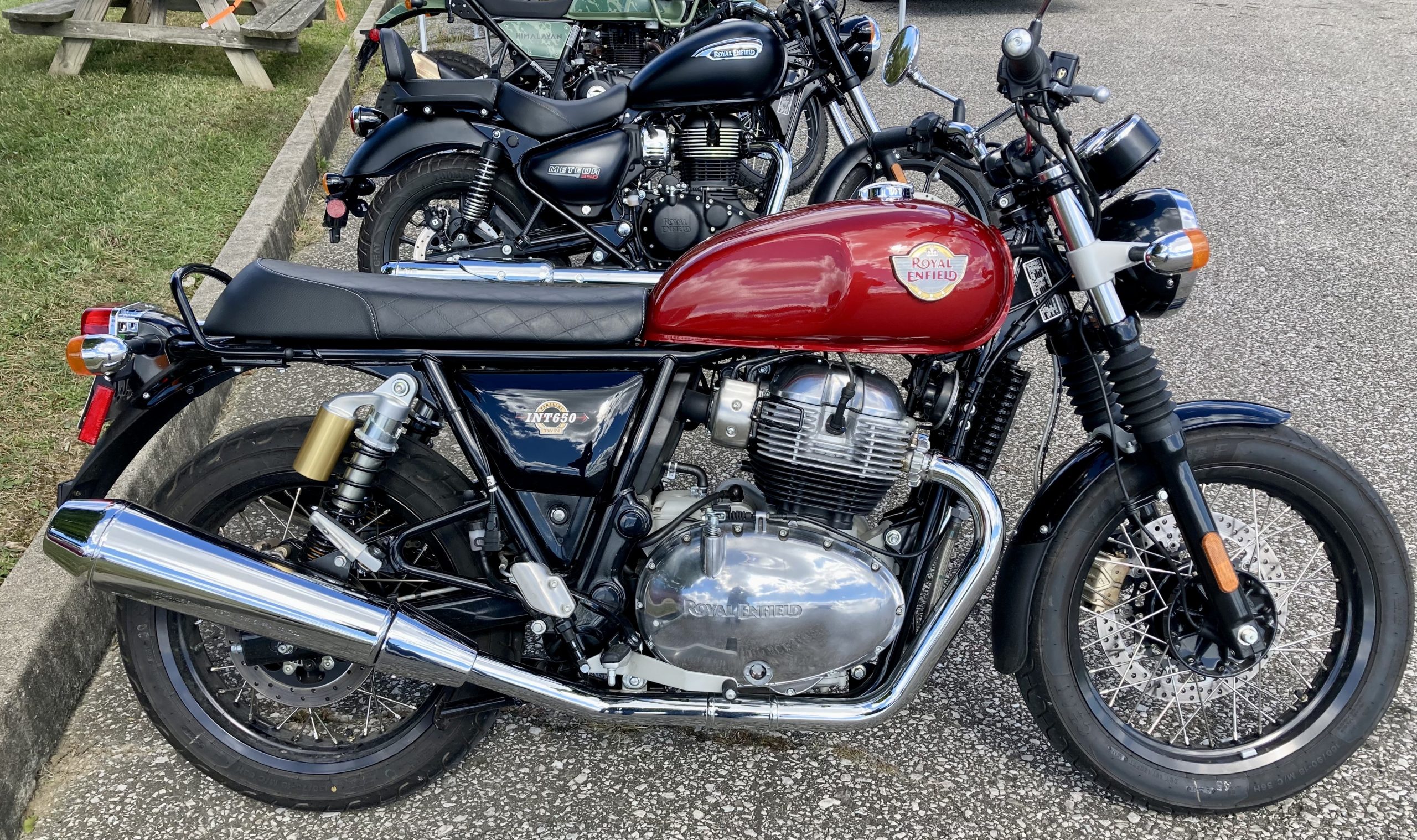 A classic design with a parallel twin engine and a cradle type frame, patterned after the 60's-70's British twins that so many of us grew up on or lusted after when we were young. But without the oil leaks, hard starting, vibrations, and electrical problems that plagued so many of those bikes. This one comes with fuel injection, good lighting, disc brakes, and is super smooth. There are lots and lots of articles on the web about these bikes, so I'm not going to go heavily into the specs. You can look them up and read about them yourself. Here's one of the things I found:

The real question is, "How does it ride?". I recently had a chance to take one out for a test ride from a local dealer that loaned it to me, and I came away very impressed with it. It's not perfect, but it is pretty darn good, especially at its price point. Looking over the bike before I actually rode it, I had no preconceived ideas of what to expect as this was my first ever time riding a Royal Enfield of any type. The fit and finish seemed to be very good, and the paint of very high quality. There weren't any loose wires hanging out or things that looked out of place. Minimalist in nature, but really everything you need and not anything extra. I like the fact that it comes with a center stand as standard. The instruments consist of a speedometer, a tachometer, and a digital fuel gauge.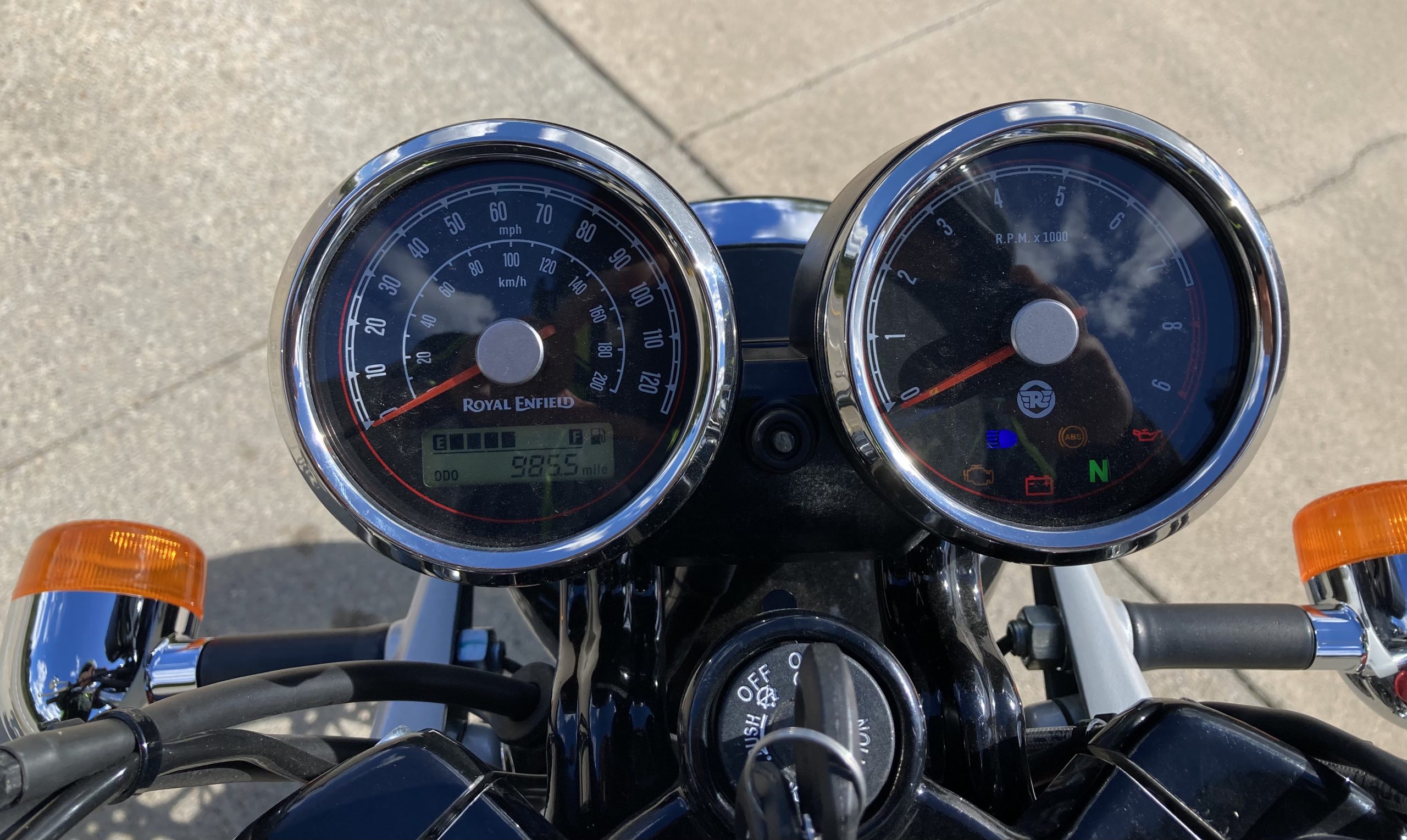 The riding position is very neutral, with my hands going exactly where they would fall on my regular Versy 650 and my feet underneath me, but not tucked up like my Ninja. Reminded me very much of my old Honda 350 in this regard. Not sporty but also not cruiser like. The bike feels much lighter than its 445lb dry weight specification. Once again it feels more like I'd expect a 350 to feel and not a 650. The engine started up with just a touch of the button and settled right into a very smooth idle. In fact, smoothness is probably what really stood out about the bike most of all in many different ways. The engine is extremely smooth, and the transmission is also buttery smooth. In fact, one of the very small complaints I have about the bike is that it was so easy to shift from first to second that I often had to play with it for a second or two to get it into neutral at a stop. Not that neutral was hard to find, but because it shifted so easy that I, who is used to needing a little more effort, would shift it to hard and blow right past neutral. The bike accelerated smoothly and briskly from every stop. It was easy to reach 55-60 mph in a very short time, and never did it seem that the bike was straining. It handled very nicely. It's no sport bike, but I do think that it would be lots of fun to ride on almost any twisty road. The dealer let me choose the route that I wanted to use, so I did some of my favorite little backroads near the dealership in Northern Kentucky where they are located. It was surefooted and a pleasure to ride on those roads. Fun! I didn't have the opportunity to ride the bike up on the highway, nor would I consider this a bike that I would care to tour on using highways. There is absolutely no wind protection, though I would guess that aftermarket windshields are available and would make a big difference if you wanted to take it on highways. I would prefer to use it for day trips and some overnights, on secondary roads and not expressways. The brakes worked with no problem and felt well-modulated and modern in every sense. Never did I feel them to not be up to the task. The only real complaint I have about the bike is the seat. It is too soft and too narrow for my liking. I firmer seat that wasn't so angular in nature would be my first upgrade if I was to have one. Do that, add some soft luggage and maybe some wind protection in the way of a small fairing or wind screen, and you're on your way. The person at the dealership that I talked with said that changing the foot pegs to the ones found on the Continental GT model is a popular change that many owners have done. They are slightly higher and set back a little more. I'm not sure I'd do that myself.
Overall, I would have to rate this as a bike that I wouldn't mind owning. I think that the winner of the bike will feel the same way and will be very happy with it.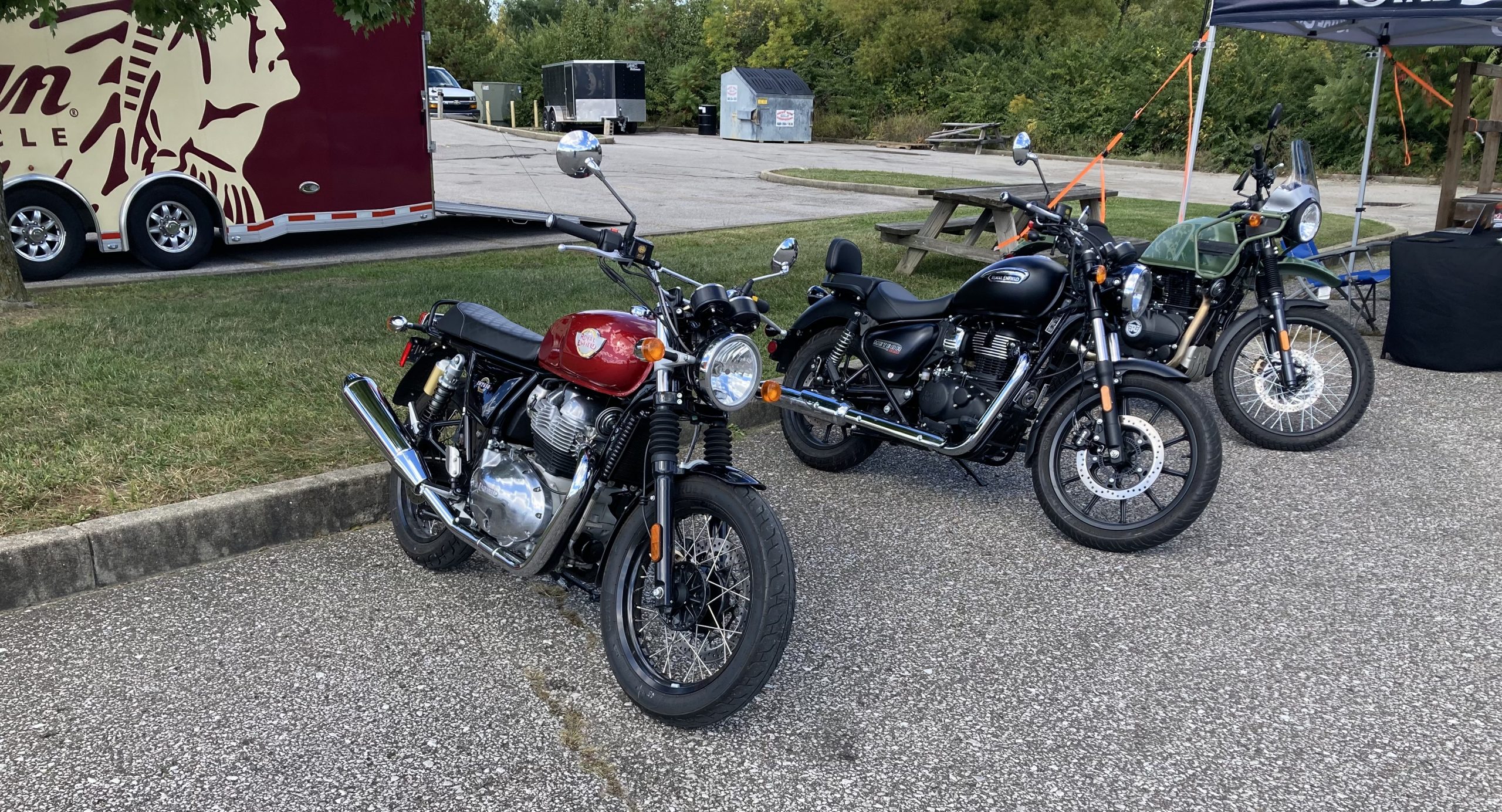 Raffle tickets will go on sale the 1st of next year and order forms will be sent out to all MSTA Members. It's just one more great benefit of being a member and this is probably the raffle that you will ever find with the best odds of winning. As I said before, this is a major fund raiser for the club every year and the money raised goes right back into the club and the membership. Please plan to buy plenty of tickets and support the club!