(Originally published in Colorado-Wyoming Quarterly Newsletter, June 2022)
I had been wanting to attend an MSTA "Just For Fun" event for years but hadn't gotten around to it. That all changed last April. I had been on the phone with my cousin Maurita, and she mentioned that she and husband Tom were anxious to get their Ducati Multistrada V4S's out of the garage and go ride somewhere in Arkansas. Maurita suggested I meet them in Eureka Springs for an early
MSTA JFF event scheduled for April 22, 23, 24th. The seed was planted. I looked into travel arrangements, contacted event host Jerry James, and was told there were rooms still available at the event motel. So, I signed up. This adventure would also provide a good test of my new truck and trailer with which to pull my motorcycle from Colorado's Front Range to points east.
April 21:
I left the house at 08:25. I traveled I-25, E-470, and I-70 to Limon, CO, and my first gas fill-up. I was 131 miles from home. I averaged 18.6 mpg pulling my motorcycle and trailer. The wind out of the south picked up as soon as I turned east on I-70. I was very pleased with how my truck handled, while pulling a trailer and motorcycle.
10:40 Back on the freeway eastbound and the wind continues to blow from the south.
12:09 I stopped at a Kansas Travel Center and picked up a free roadmap. 240 miles from home.
14:06 (Central Time Zone) I stopped for lunch in Colby, KS. 276 miles from home.
17:40 I arrived at Comfort Inn motel, 715 W Schilling Rd, Salina, KS. 480 miles from home. 7.1 hours of drive time.
April 22:
I left the motel at 06:50. The weather channel reported sustained winds of 20 mph and gusts up to 40 mph throughout the day. Continued south on I-135 toward Wichita, KS. Picked up US400 on the eastside of Wichita and drove eastbound.
09:10 Bought gas at Severy, KS. 17.2 mpg. 610 miles from home.
10:45 A fox crossed US-400 in front of me.
10:48 A wild turkey flew over the hood of my truck.
12:31 Purchased lunch in Pineville, MO. I was 793 miles from home. Five minutes after leaving my lunch spot I was in Arkansas, and the curvy roads began IMMEDIATELY. I followed AR-94, AR72, and US-62 east to my destination.
14:06 I arrived at Quality Inn, 196 E Van Buren, Eureka Springs, AR. I had driven a total of 838 miles. Total drive time was 13.0 hours. I checked in and got a room on the second floor. After moving my luggage from the truck to the room, I set about unloading my motorcycle from the trailer and finding a shady spot to park my bike, trailer, and truck.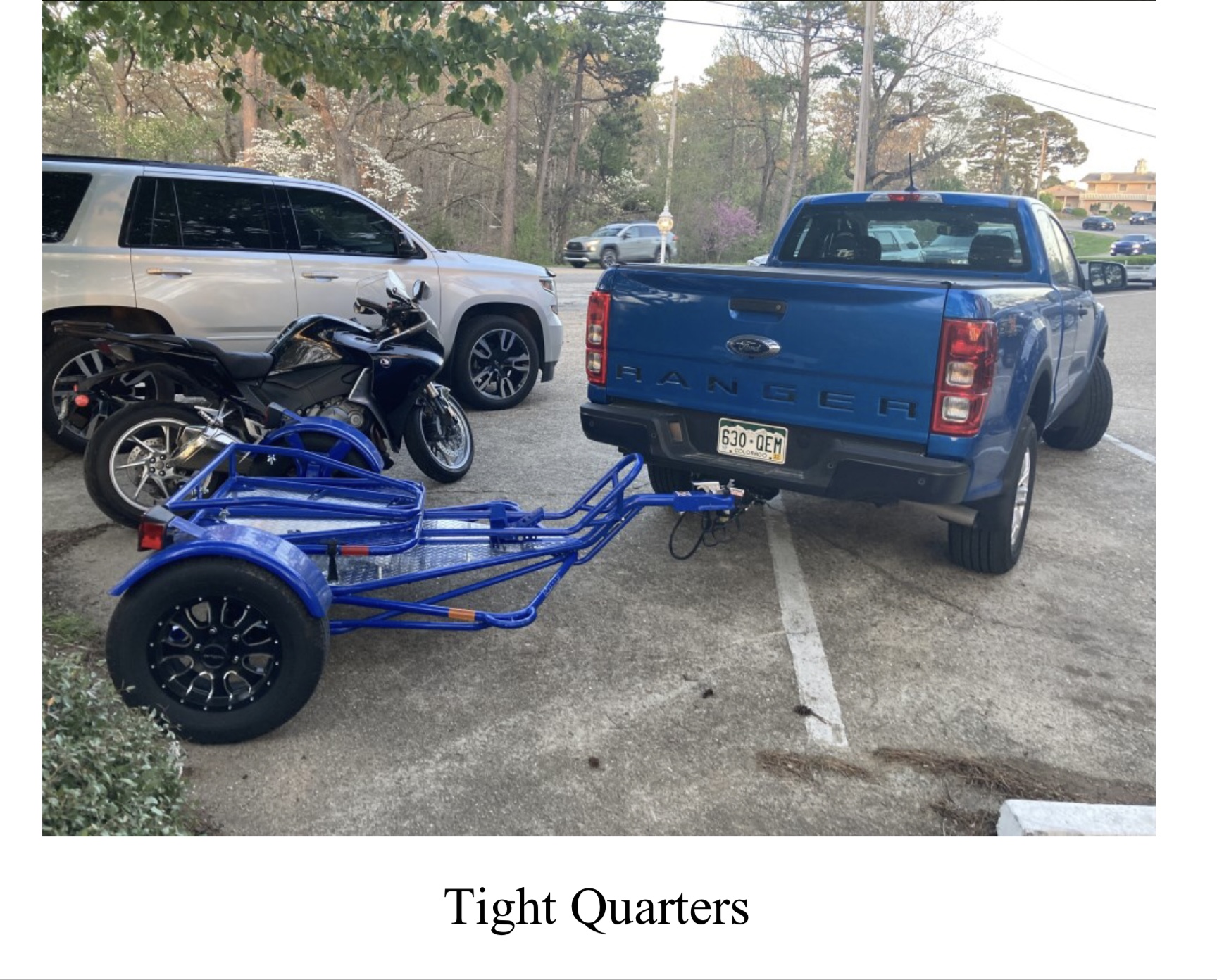 I called my cousin to tell her that I had arrived and learned that she, Tom, and friends from 16:06 I gassed up in Hays, KS. 15.7 mpg. The wind is still blowing. 382 miles from home. I did some exploring of the motel, inspected some of the bikes in the parked lot, and found three guys sitting at an outdoor table. They asked me to join them. I learned that Frank was from Ohio, Russ was from Missouri, and Bill was from Arkansas. Frank was kind enough to share his bottle of Irish Whisky. So, a few hours of enjoyable conversation commenced. About 18:00 we four went looking for the advertised Hamburger Cookout at the motel. We found Jerry James (event coordinator)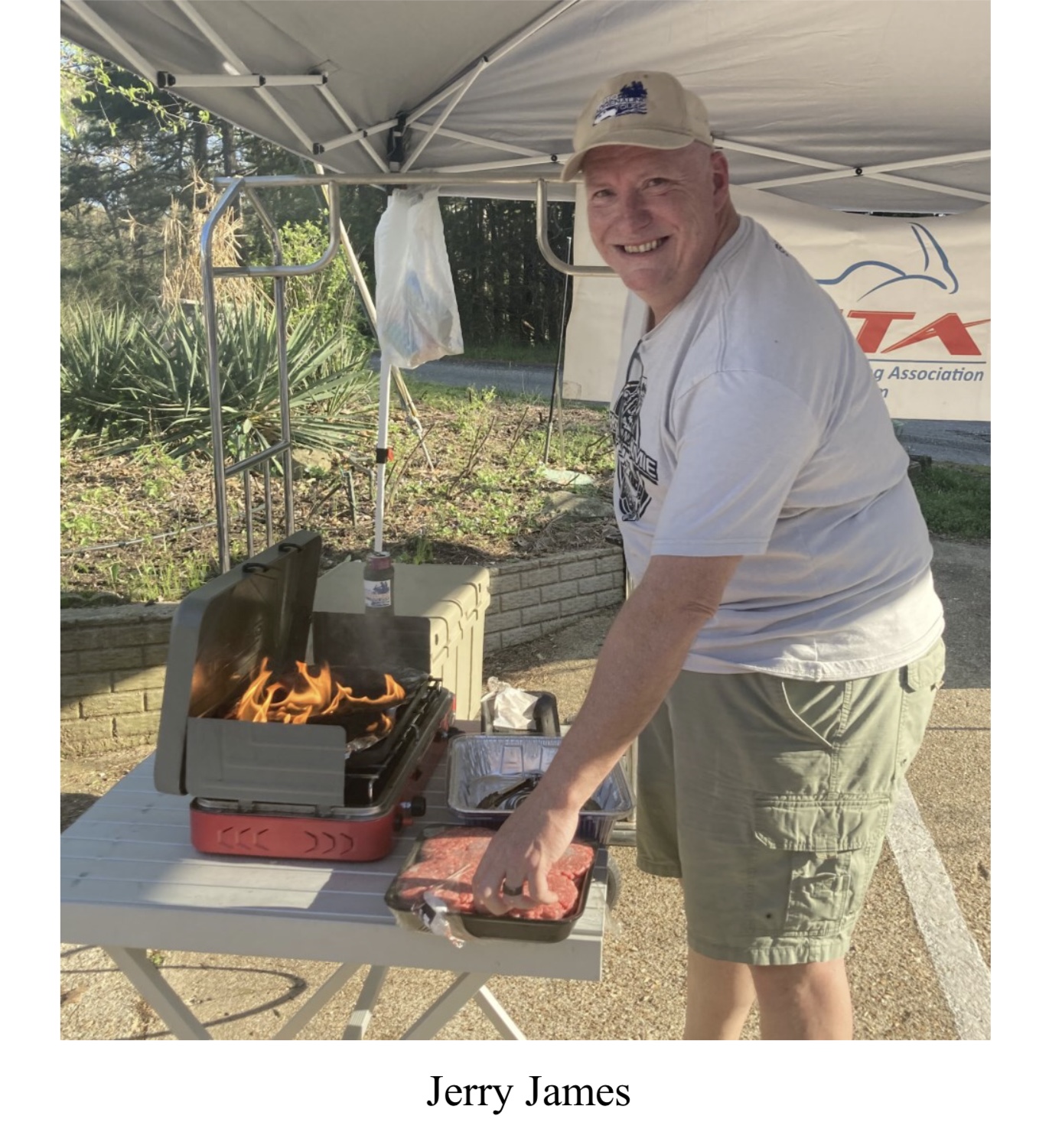 standing at a grill with burgers sizzling. His wife, Jamie, was handing them out.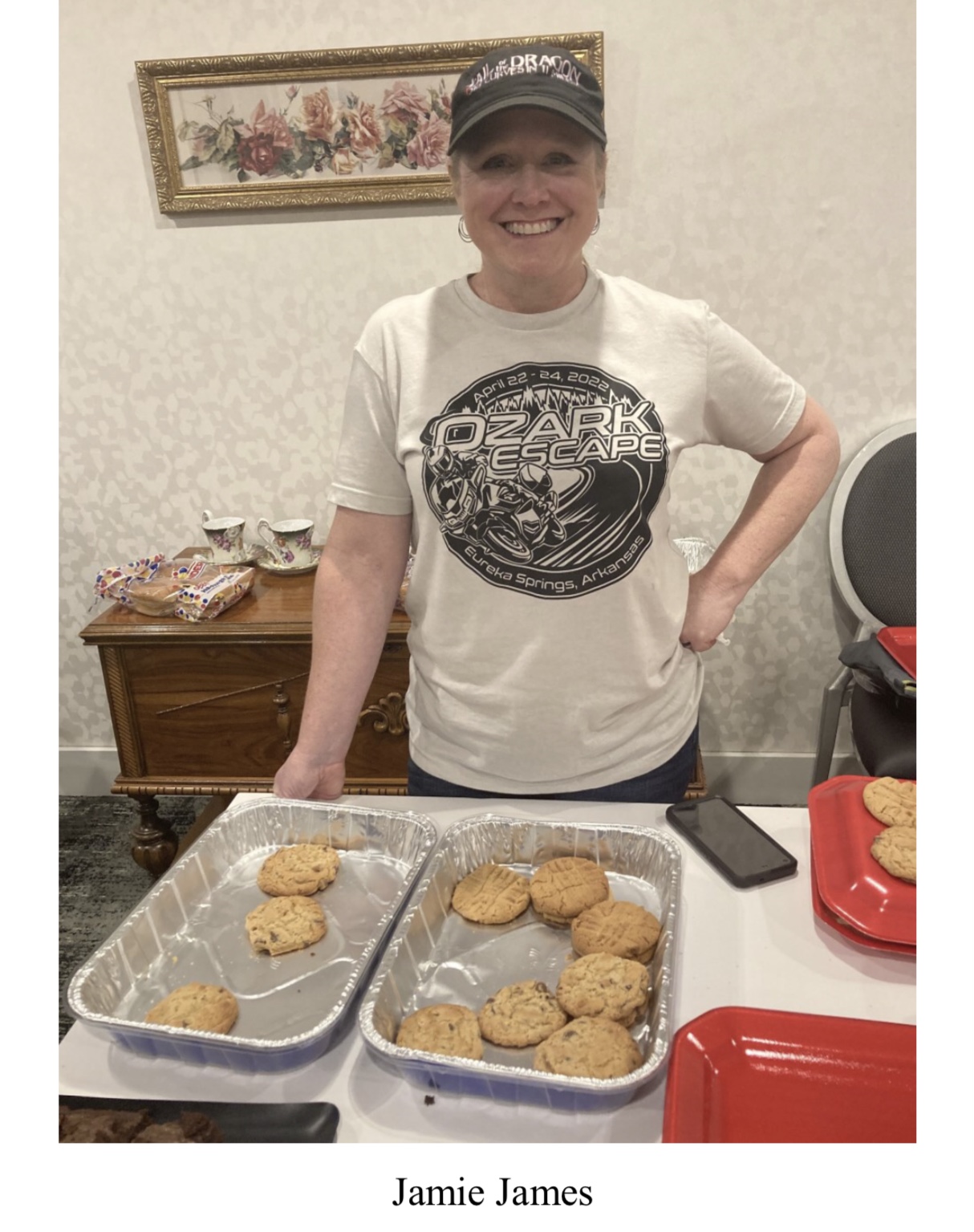 I added cheese, lettuce, tomato, and onions to my burger. Jamie also handed me a bag of chips, a cookie, and a bottle of water. Bill, Fred, Russ, and I found a table to sit at while we ate. As I looked around the dining room it was apparent there was a lot of good-natured mingling, storytelling, and new friendships being created.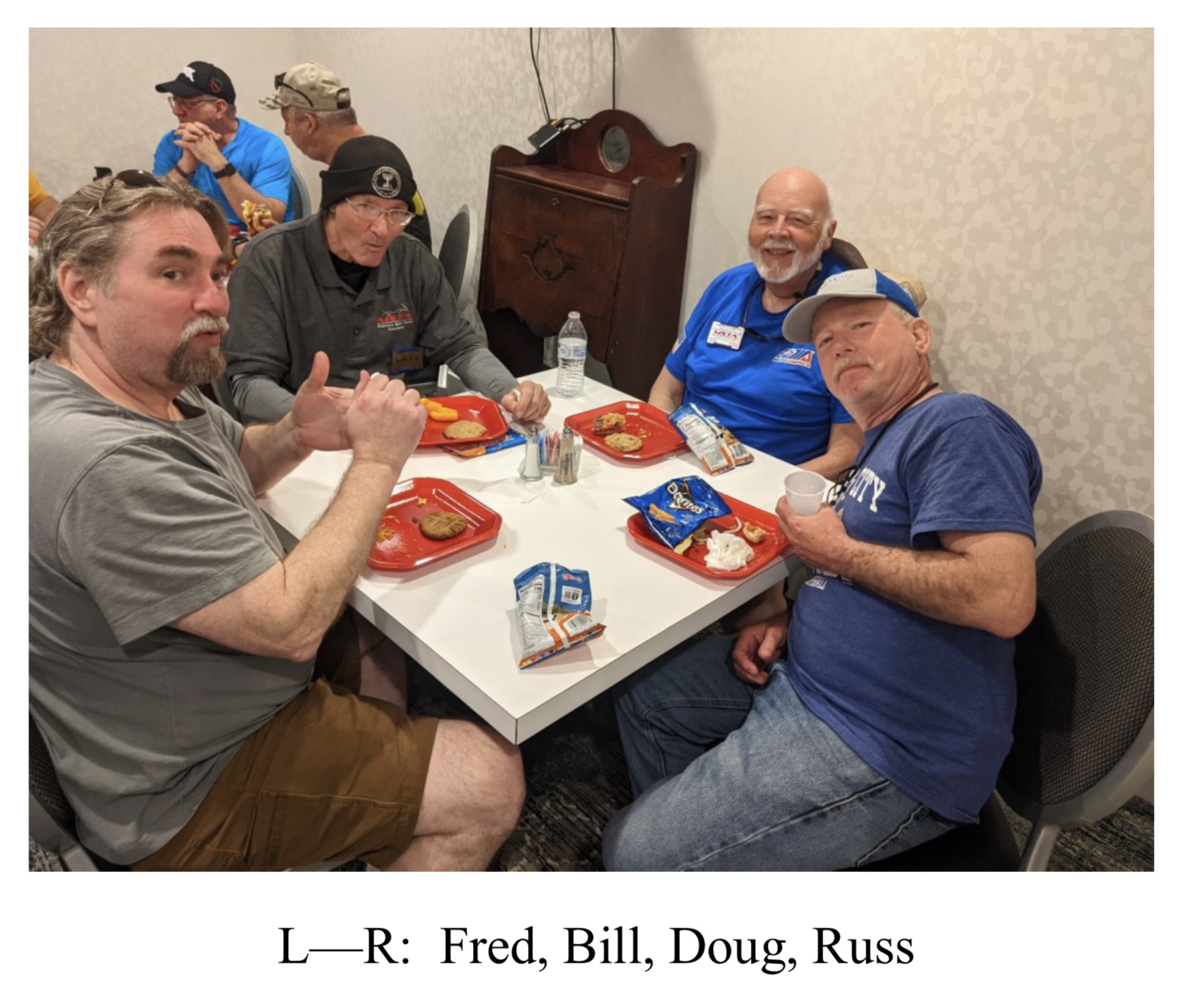 Jerry James thanked everyone assembled for making this year's Ozark Escape a big hit. He said 57 riders had checked in, representing 10 states. And he thanked the 21 riders who took part in their guided dual-sport ride earlier in the day. I said good night to my table mates and walked through the parking lot on my way to bed. I saw motorcycles with license plates from AR, CO, KS, KY, MO, MS, NE, OK, TX, and WI. Impressive!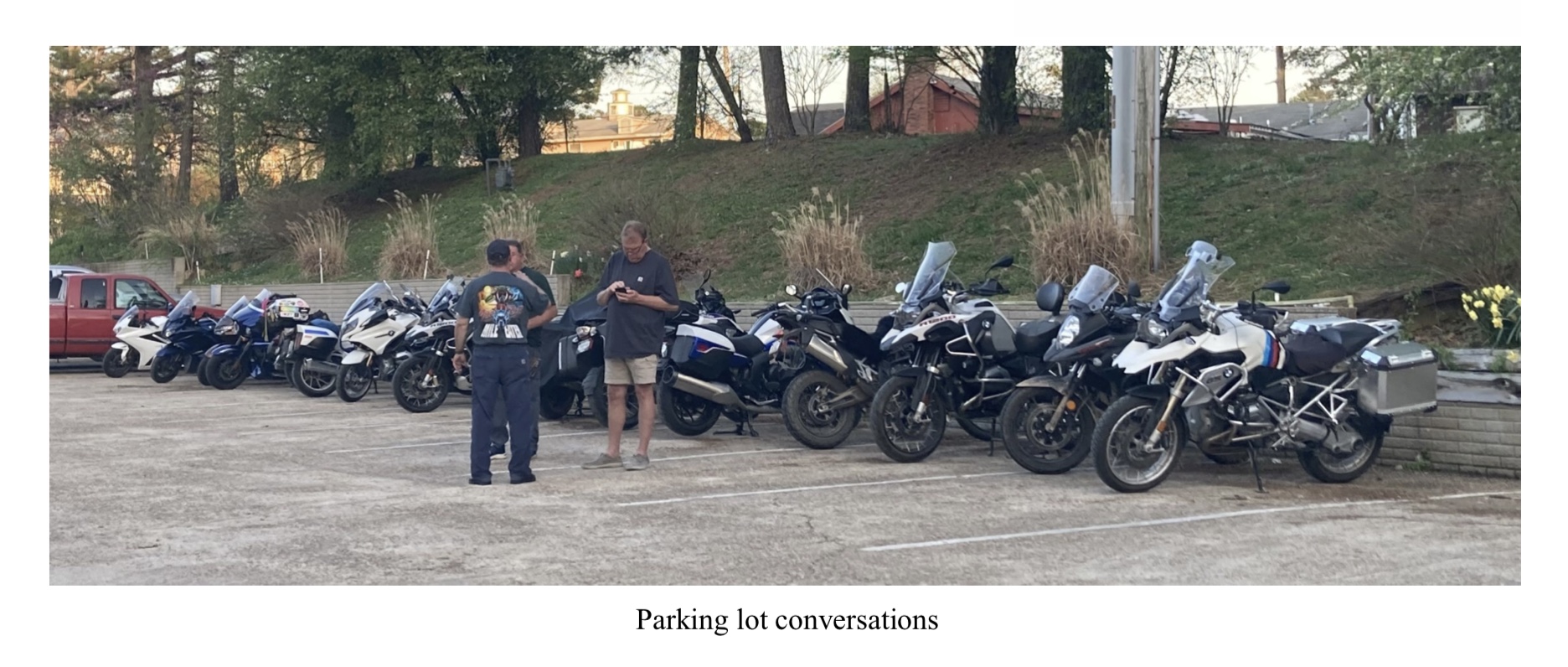 Apr 23:
08:30 I met Tom and Maurita Churchill (each riding a Ducati Multistrada V4S), Dick Daniel (KTM 1290 Super Duke R), and Frank Tabor
(Yamaha Tracer 900 GT). All are from the greater Omaha area. Handshakes and hugs all around, then Dick led us out of the parking lot, setting direction and pace to Granny's Kitchen in Huntsville, AR, for breakfast.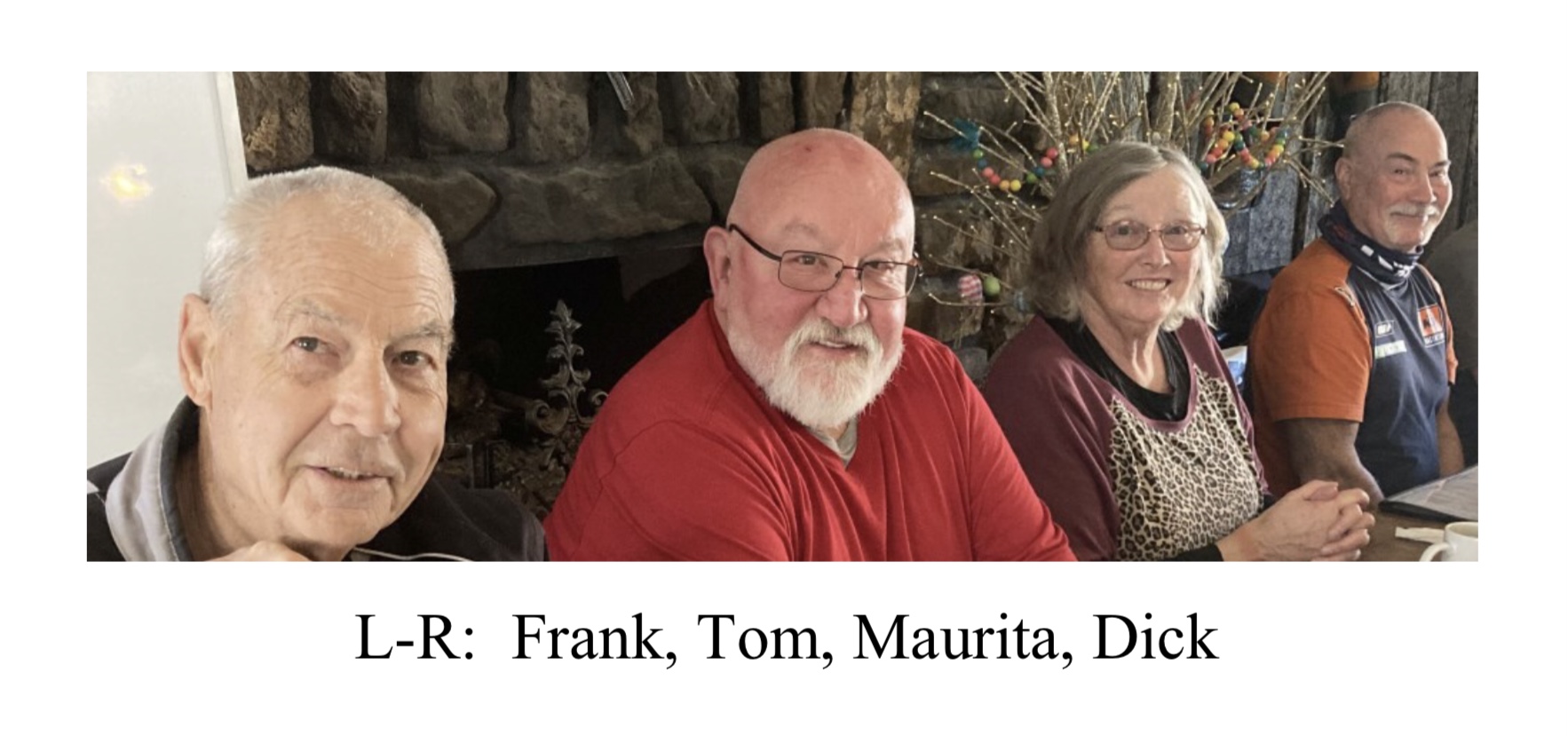 I hadn't ridden in Arkansas since STAR 2015 in Springdale. I'd forgotten that ARDOT didn't believe in building shoulders along a roadway. ARDOT provides a double yellow line, asphalt, and a white fog line. A rider needs to be precise when selecting a line through a corner. Because beyond the white fog line a rider may find a stone wall, trees, a drop-off, water, or forest. A rider won't find a wide shoulder, such as common to Colorado roads. Nevertheless, the roads are well maintained, and they are twisty with lots of elevation changes! The scenery is amazing, and the traffic is fairly light. Did I mention the twisties?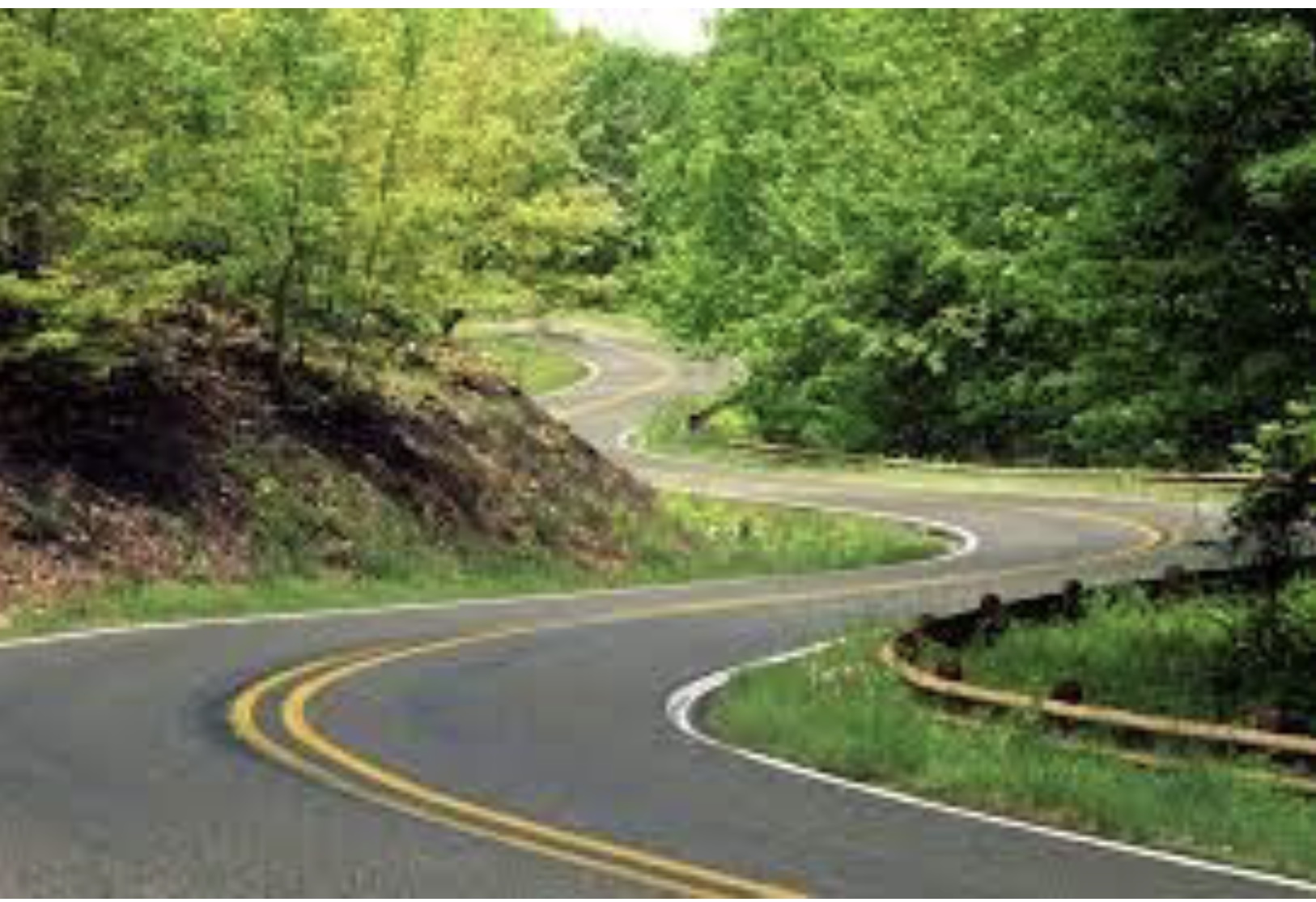 Dick Daniel led us south on AR-23 for 26 miles to Granny's Kitchen, 215 N Parrott Drive, Huntsville, AR. The road was a hoot. Lots of curves, elevation changes, and some blind corners. Granny's must be a popular place for breakfast on a Saturday morning, given the dozen motorcycles parked at the front door. The hostess sat us at a long table. I ordered a blueberry waffle, syrup, and sausage patties. The pork was DELICIOUS! And the conversation around the table was even better. After breakfast we saddled up and continued south on AR-23 for about 35 miles. There we picked up AR-215 east and rode for about 15 miles. At the junction of AR-103 we turned south and followed it for 21 miles to Clarksville, AR, where we gassed up. (My bike averaged 37.8 mpg.) Maurita, Tom, and company usually do not make a lunch stop when they are out riding for the day. However, they do find time for an ice cream stop, sometime in the afternoon. They assured me that the Ozark Café in Jasper, AR, made fabulous hand-dipped shakes and malts. And that's where our next stop would be. Dick led us northeast from Clarksville on AR-123. Twenty-seven miles up the road we crossed Big Piney Creek Bridge, an actual one-lane bridge.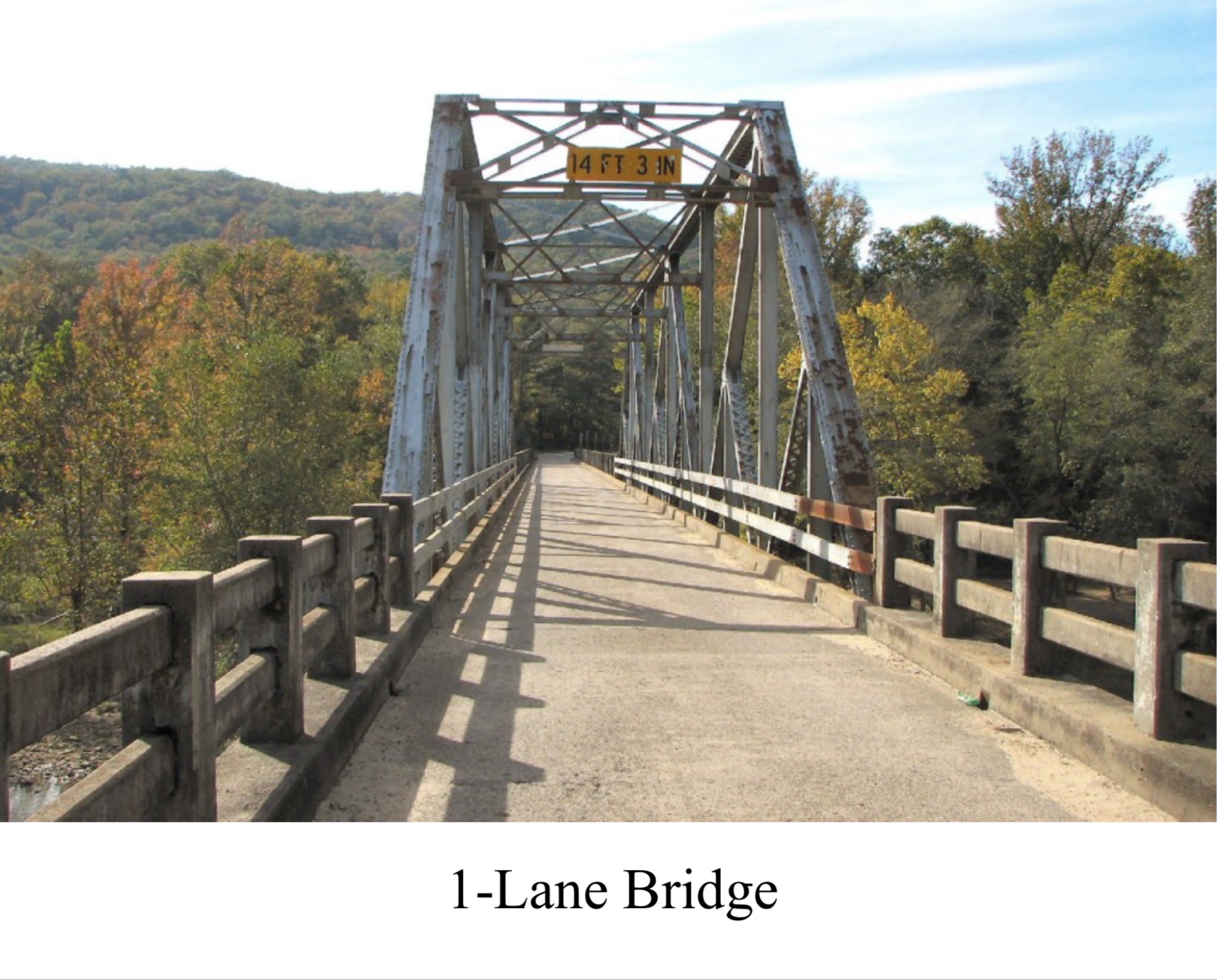 Very cool. After crossing the bridge, we rode eleven miles to Hankins General Store and turned left onto AR-7. We followed AR-7 north for 15 miles to the Ozark Café, 107 E Court St, Jasper, AR, and parked at the curb. The café has been in operation since 1909 and is famous for its, burgers, steaks, shakes, and malts. I opted for a chocolate malt. It was served in a frosty 24 oz stainless steel malt cup complete with whipped cream and cherry on top.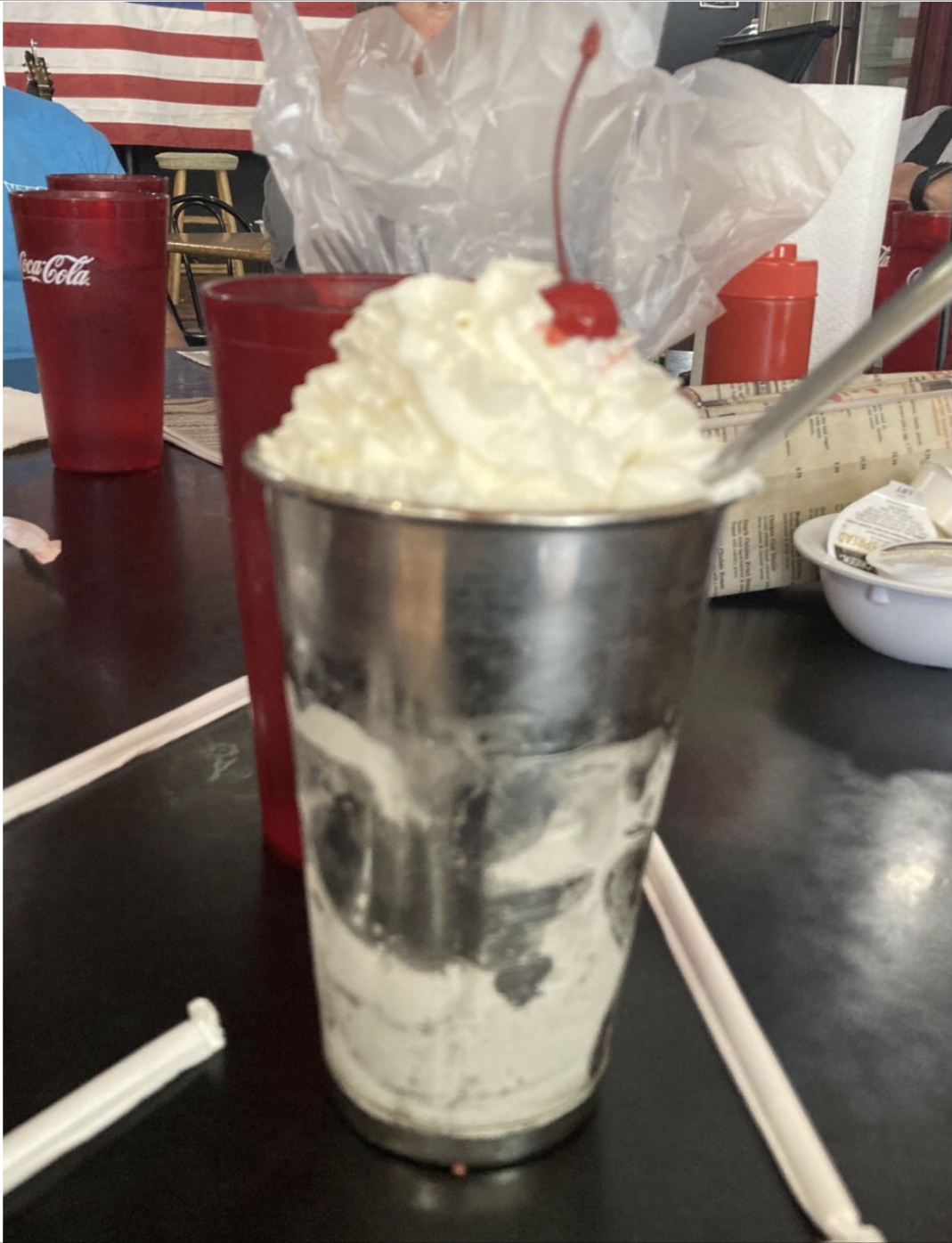 I was NOT disappointed.
Sometime later, we waddled out to our bikes and mounted up. Next stop would be Eureka Springs. With Dick in the lead, we rode west on AR-74, AR-43, and AR-21 to Kingston, some 28 miles away. Continuing on, we rode 21 miles toward Forum, AR, via AR-21, US-412 W, and AR-127 W. At the junction of AR-23 we turned right and rode north 18-miles to Eureka Springs. Except for the constant wind, it had been a lovely day, sunny skies, temperatures in the mid-70s. I pulled my truck and trailer up to the south parking lot which was much more level than where I'd parked on the north side of the motel. I then walked back to where I parked my Honda VFR1200F. By
the time I returned to the south parking lot with my bike, there were 15 people crowded around my trailer. Apparently, they'd never seen a Kendon trailer up close and personal. Jerry James was kind enough to guide me up and into the trailer's front tire chock. As he did so, Jamie was filming my attempt with her smartphone. I was successful and received a round of applause from the onlookers.
Yes . . . I was blushing. I agreed to meet Maurita, Tom, Dick, and Frank at Café Amore, 2070 E Van Buren, at 18:30, an eight minute walk from the motel. The pizza and beer were good, the conversation was even better. And to top it all off, Tom and Maurita bought my supper. Then they all drove me back to the motel, we said our good-byes, I packed my bags, and was in bed before 21:00. As I lay down I heard the rain begin to fall from the sky. (I smiled to myself.)
Apr 24:
It was 06:30 and I was filling my truck with 89 octane gas at Rapid Robert's Conoco station (19.8 mpg) near the motel. Before me lay a 455-mile drive to Hay, KS. 11:05 I stopped in Fredonia, KS, to check my tie down straps securing my bike to the trailer. The wind was still blowing from the south. I was 647 miles from home. I hadn't eaten any breakfast, and I was hungry. I spy a restaurant named Rick's Place, 2402 E. Washington St. I walk over and enjoyed a sumptuous Sunday buffet. YUM.
14:16 I am filling my gas tank at a Love's Travel Center in McPherson, KS. 20.4 mpg. The wind continues to blow. I am 509 miles from home.
16:15 I pull into a Quality Inn, 2810 Vine St, Hays, KS. I am 380 miles from home. I had a good day of driving. I am delighted to be pulling my bike on a trailer over these long and straight roads, saving my precious motorcycle tires for the twisties. I did get tired of the wind blowing all day.
18:30 I walked ½ mile to an eatery named Jalisco Mexican Restaurant, 2514 Vine St. I splurged and drank a margarita. Food was tasty too. I was in bed by 21:00.
Apr 25:
It was 06:35 and I was pulling away from the motel. Wonder of wonders, the wind had died down.
08:43 I gassed up at a Conoco station in Goodland, KS. 16.9 mpg. I am 238 miles from home.
09:35 (Mountain Time Zone) I gas up at a Flying J Travel Center in Limon, CO. 18.5 mpg. I am only 131 miles from home!
11:30 I pull up in front of the house, and Kate is there to greet me! My maiden voyage with truck and trailer and pulling my bike was a resounding success!
If this sounds like something you would like to participate in, please consider yourself invited to any of the many regional rallies that MSTA members put on every year. We have several still planned for 2022, including ones in Missouri, Kentucky, Ohio, Pennsylvania, Indiana, Georgia, and North Carolina. Information about them can be found by clicking on the Rally Calander tab above.