By Don Larson, Colorado
(Originally printed in the CO-WY Quarterly Newsletter)
The day finally arrived, warm and bright. All the pre-trip prep was done. My motorcycle, The Viffer, was shined to such a brilliant red that even Soichiro Honda would be impressed.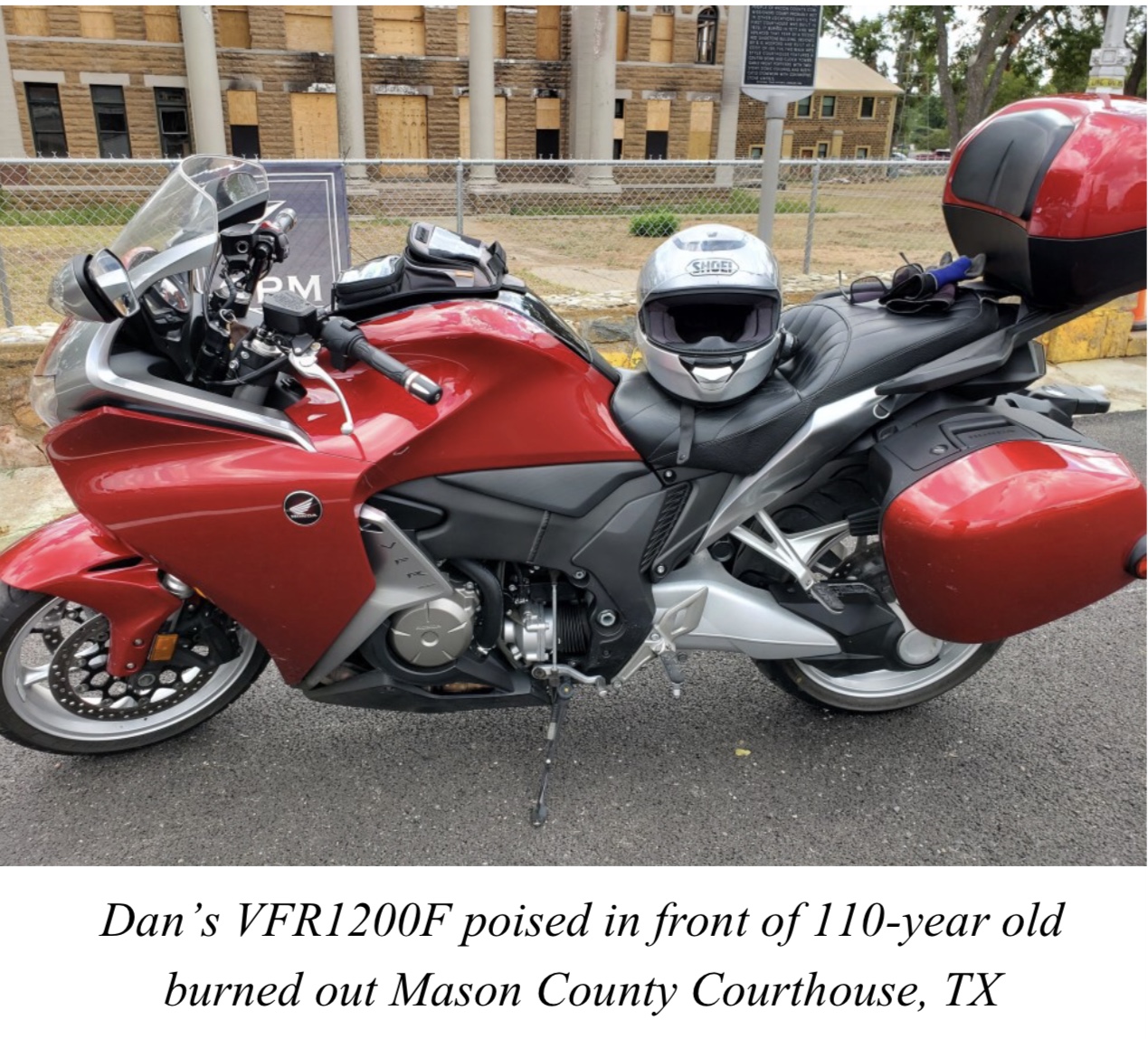 Time to head out on my biggest adventure so far. The goal was simple: to see "places I've never seen" and travel roads I've never ridden. My overnight excursions have always been about seeing unfamiliar places and riding new roads, especially those that challenge my motorcycle riding skills. These are roads that throw both gravity and centrifugal force into the mix and require balance, timing, and vision. In between, there is the tranquility that comes with motoring along an open road with only this year's crops between you and the horizon.
This trip came with the promise of nearly unlimited places never seen on roads never travelled. Seeing unfamiliar places is why just the idea of a solo motorcycle tour across several states has always had appeal. When I was finally able to match-up a 10-day stretch of my semi-retired calendar with a favorable weather forecast and the encouragement of my wife, I put the plan into motion. The details of this adventure took shape over several years, although the actual route was purposely vague. My bucket-list included one of the two remaining states in America that I had never set foot in. Also high on the list was a return visit to my alma mater after a long absence. And like most motorcyclists, Hill Country in Texas held a Top10 spot on the list. So, the vague outline came into focus: a week and-a-half of motorcycle sport-touring on a counterclockwise loop through Texas, the South (both Deep and Mid), up the Mississippi River to Memphis. This would be followed by a tour of my alma mater and then a pivot back home through the heartland of the lower Midwest and back to Colorado. Yes, it would be an adventure of epic proportions.
Looking at a first day's ride of more than 450 miles, an early start was in order. However, just getting out of town on a typical weekday is always a challenge. Rush hour traffic in Denver eventually gave way to an open highway where I settled into the first of many hours spent above 75 miles per hour. I spent that first day re-learning postures and pastimes while motoring across open roads in 20-mile increments. I prefer travelling on roads that are not Interstates. This way, the next small town is usually about twenty miles from the last. At an average 60 mph on a motorcycle with a 4.9-gal. tank (it is The Viffer's only shortcoming) and an average fuel economy of about 40 mpg, I would start looking for a gas station after about two hours. Two hours between stops was about right. Any longer and stiffness began to set in, and the kidneys would signal for relief. Over the nine-day tour, I stopped a total thirty-eight times to refuel, shake out the limbs, munch a protein bar, gulp some water and a Red Bull. Most of what I remember of the first two days, travelling down US 285/387, were the wide, wide-open Panhandle as far as Big Spring, the horizon was a distant, tan-colored, pool-table flat landscape. These federal highways were mostly four-lanes with smooth pavement and wide shoulders. They were also mostly empty. Even the occasional speed marshal was nowhere to be seen. Open roads such as these really show off the brawny power and centered profile of the Viffer. A custom seat and new handlebar risers improved my riding position and made two-hour stretches quite tolerable.
Arriving in Hill Country on Day 2, I met up in Fredericksburg with a good friend and former co-worker. After greetings, we adjourned to an open-air tavern for a cold beer to begin filling in the blanks since we last saw each other. The next morning as we were setting out for our 280-mile circuit over the most famous Ranch Roads in the Lone Star State, we made a favorable discovery. Our SENA Bluetooth intercoms were compatible and worked flawlessly. Soon, one of us would beep into the other's helmet with a "whatever happened to" or "remember that time when." It was nothing but high-level banter as we loped along the Guadalupe River or exited a sweeper on 335 along Hackberry Creek. Day 4 was a 425-mile run in a northeastern direction.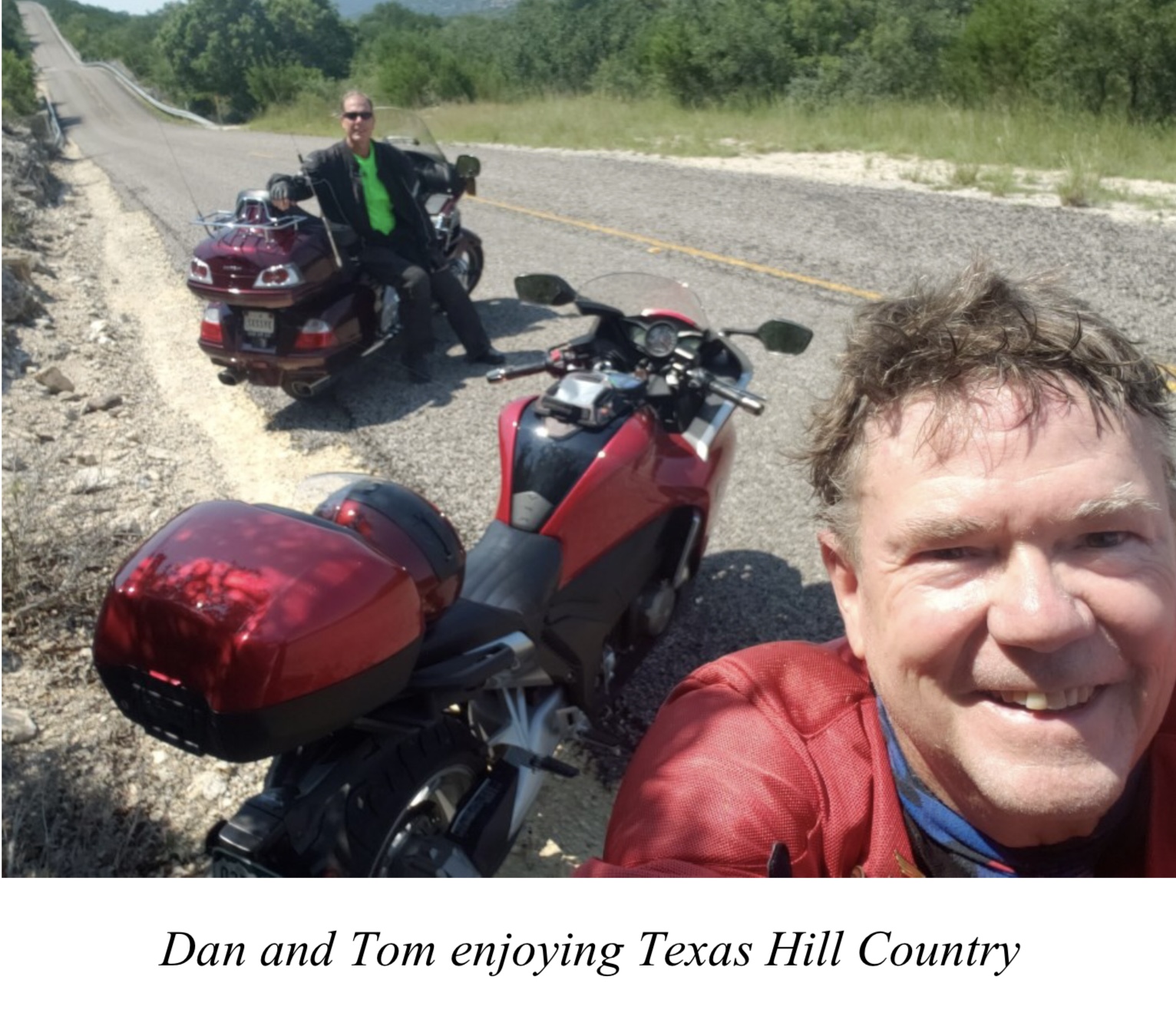 The decision to find lodging in Shreveport instead of Longview or Texarkana was more of a coin toss than any planned destination. This time, the call was the wrong one. The motel with the best price that I picked turned out to be in a sketchy neighborhood. On the plus side, the room was clean and quiet. Digging into the dining app on my phone, I found a wonderful place for dinner in downtown Shreveport. The Blind Tiger at 120 Texas Street earned a well-deserved 5 Stars for food, downhome atmosphere, and the friendliest bartender in town.
I awoke on Day 5 to wall-to-wall reporting on the 20th Anniversary of the 9/11 attack. As I went through the now-familiar morning routine of sorting and packing my stuff, I recalled where I was that day and how it seems like such a long time ago. The destination for the day was Memphis on a route through Mississippi, one of the two remaining states I have never set foot in. (The other is Maine and travel there is unlikely.) The first one hundred miles across Louisiana went by quickly. Barely keeping up with traffic on Interstate 20 to Monroe, I found myself dodging minivans and thoughtless muscle cars at 85 mph while being buffeted by hulking 18-wheelers. I understand this is routine for the major highways in this part of the country, but the thump-thump-thump of the Interstate is best avoided. At a refuel stop in Monroe, I had an interesting chat with members of a local cruiser club in full regalia as they rallied for their regular Saturday ride. Like most folks I encountered on the trip, they seemed surprised that a motorcyclist from Denver would take an extended road trip through the South. Every small town I rolled into was different. Some towns were simply closed and sad looking. Others, like Mer Rouge just east of Bastrop in northeast Louisiana, felt cozy, assured, and alive. The Day 5 highlight was crossing the Mississippi River on the graceful Greenville Bridge and followed by a stopover in Greenville. Completed in 2010, this is a cable-stayed bridge with its cables running from the towers to the deck, forming a fan-like shape, as opposed to a suspension bridge. I have always been fascinated by such feats of engineering.
Greenville, MS, once hosted a vibrant nightclub scene and pioneered the Delta Blues sound. It is also the place where some of the sparks were lit against intolerance in the pre-civil rights era. Heading north on State Highway 1, I was travelling on the Great River Road that follows the Mississippi River from the Gulf to Minnesota. Between towns, this serene highway rolls past endless fields of cotton and two of the other crops common to all nine states in my trip: corn and soybeans. By five o'clock, I was rolling into Memphis from the south on US 61. As traffic got thicker, my head was on a swivel as I engaged my 360-degree motorcycle vision. It was early Saturday night and the boy-racers commonly found in cities and suburbs across the country were hard at it, darting in and out of traffic. With a college football game in town, motel rooms were scarce and expensive. The one I found over on the east side of town would earn a half-star, maybe. Fortunately, there was an excellent home-cooking Cajun restaurant in the mall just across the highway where I savored a shrimp and andouille jambalaya. While she poured my drink, the bartender wondered why anyone from Denver would motorcycle to
Memphis?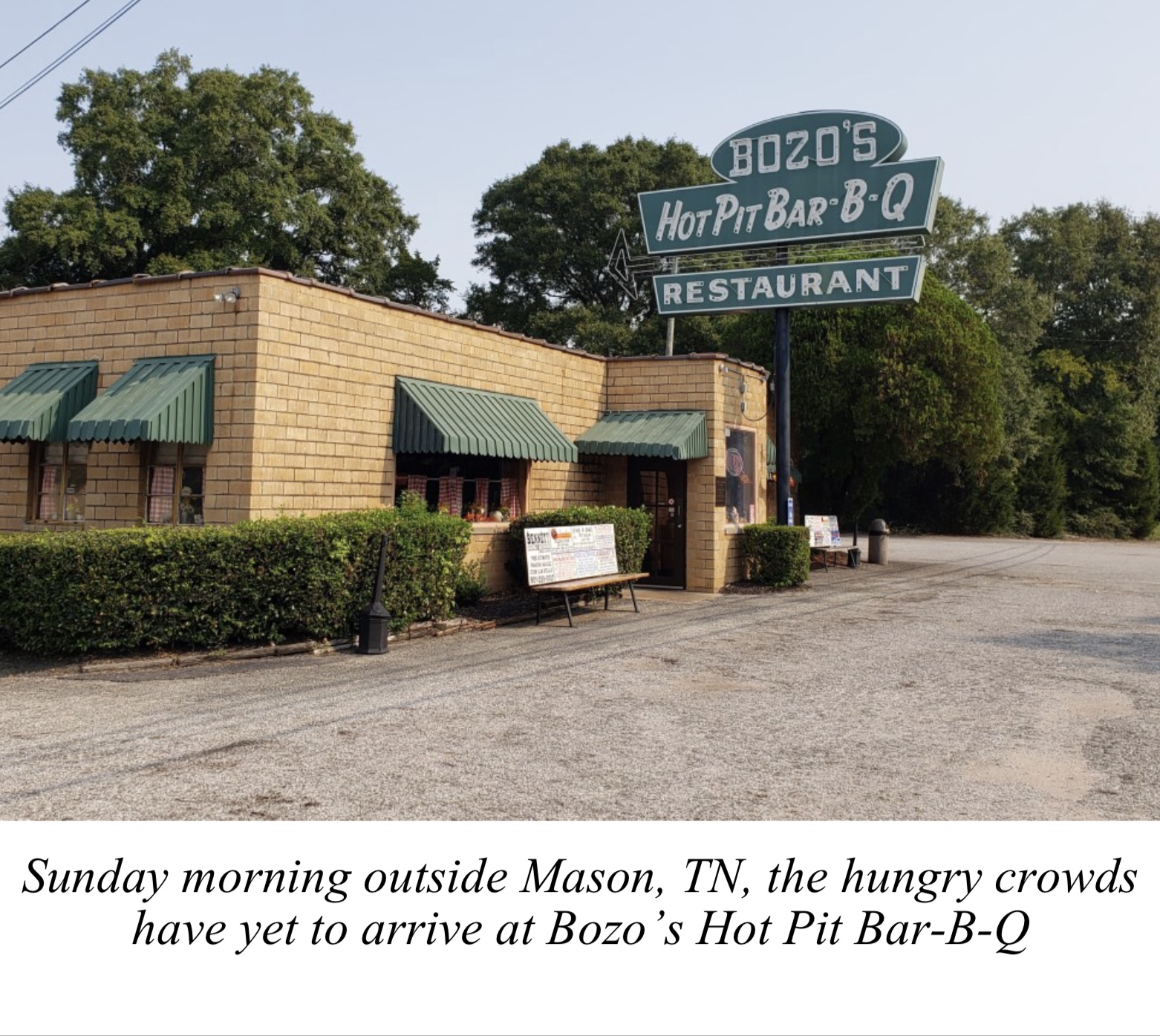 Sunday morning was special. Leaving Memphis on US 79 through Shelby County validated my decision to take this trip through places I've never seen. The morning was comfortably cool with the sun not yet over the trees. The non-divided, four-lane highway passed over gentle hills and easy curves. Sunday morning traffic glided quietly past understated homes set well back from the road and sheltered by mature trees in full summer green. It smelled of warmth and comfort. My route through western Tennessee and Kentucky would take me to the day's destination, Carbondale, IL, home of the Southern Illinois University Salukis and my alma mater.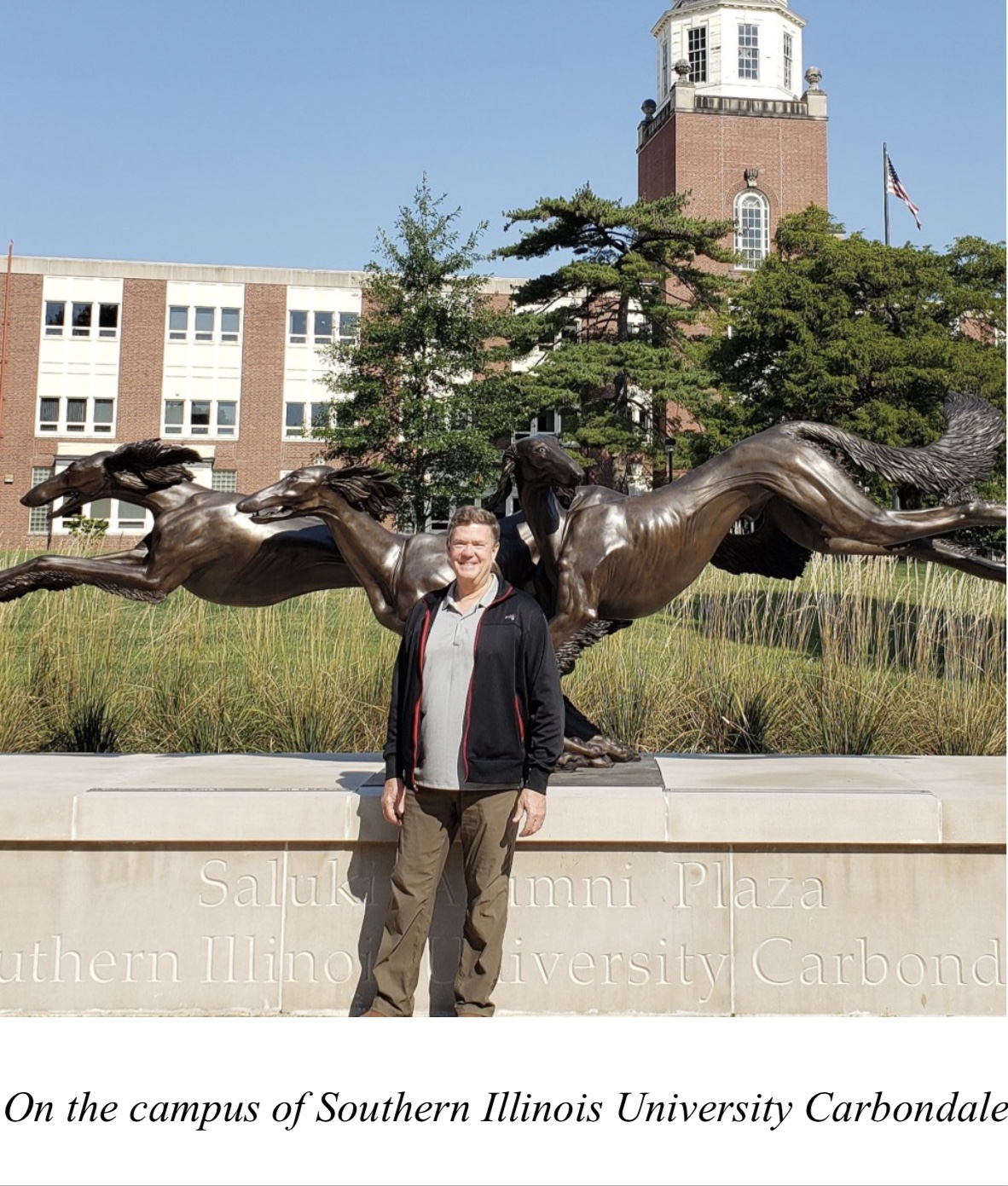 Along the way, I rode through quiet farm towns and dignified county seats. I was moved by the memorials to local citizenry who fought bygone battles in distant places or died fighting in a losing cause.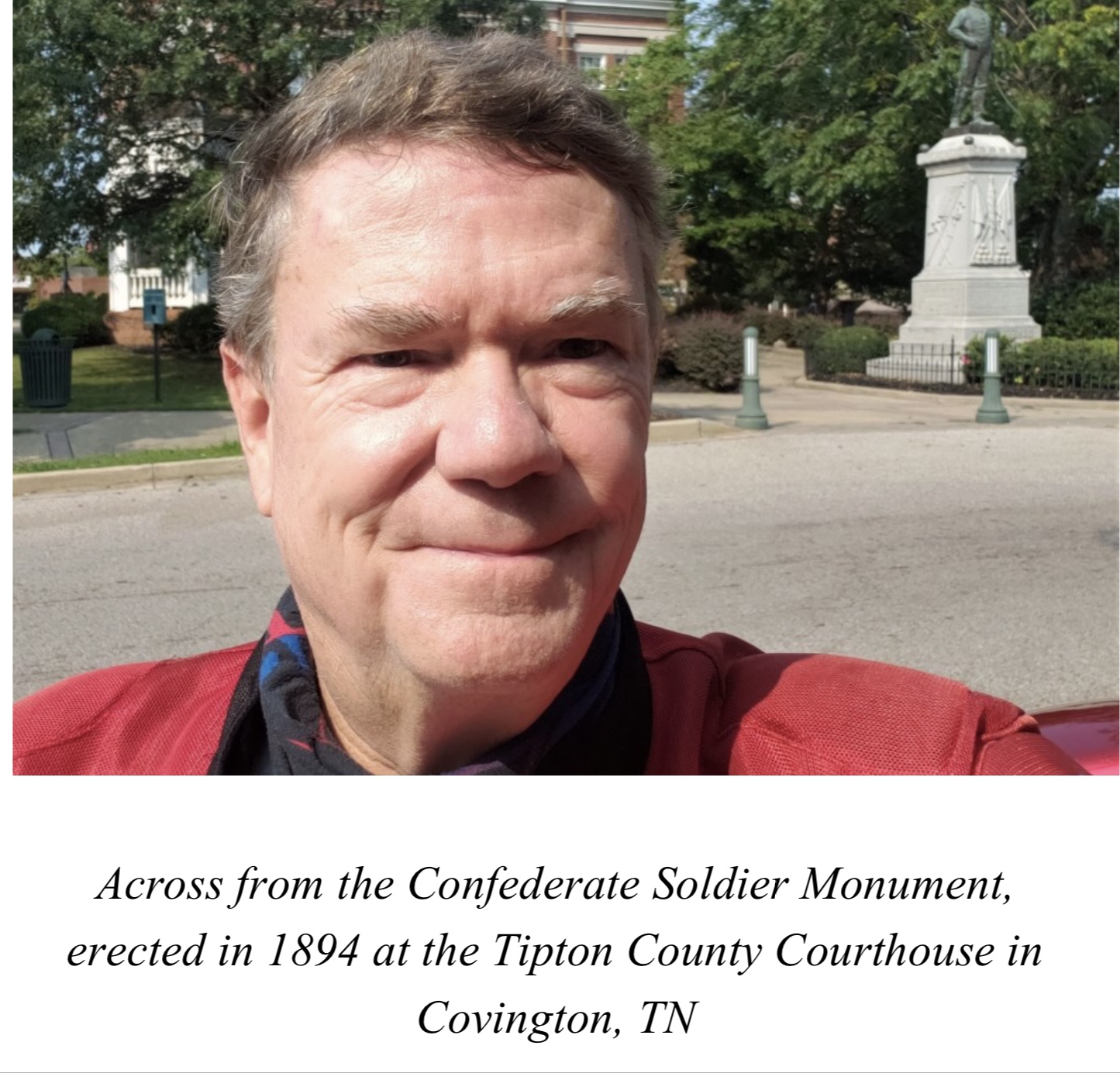 History lives where it has earned respect. Next, there was a leisurely stop at the Superman statue at the Massac County Courthouse in Metropolis, IL. The larger-than-life replica of the Man of Steel is something I always wanted to see for myself, and now I have.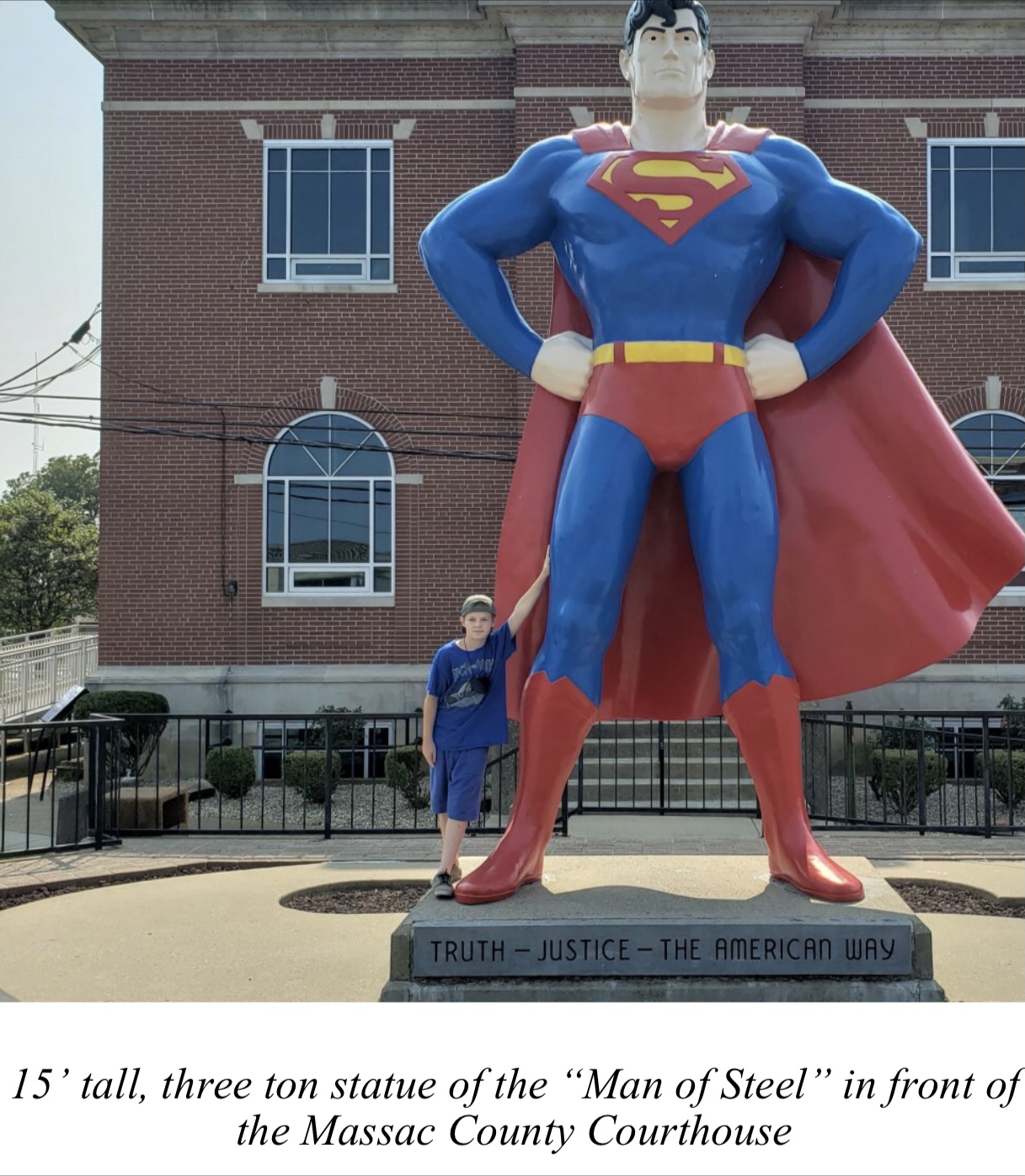 The next morning, I was given a guided tour of the University campus by a patient alumni rep. There were fewer students and some new buildings, but mostly it was just as I remembered. Soon I was back on the highway and for the first time in seven days, headed west.
First up was a lovely stretch of State Highway 3 south of Murphysboro, IL, on a warm summer afternoon. Crossing the Mississippi again, I made time for a cruise through Old Town in Cape Girardeau (location for STAR 2022) before heading out once more. Of the eleven states on my PINS 21 tour, Missouri was the only one with a noticeable highway patrol presence. Even though it was a Monday afternoon, there were plenty of local, county and state police cars keeping Missouri's highways and byways safe for the motoring public. Motorcycle Tourist Rule No. 12: always know exactly how fast you are going all the time. Abiding that rule helped get me through the nine-day trip without a traffic citation.
Day 8 began like every other day on the trip; a cloudless blue sky with temperatures in the low 80s, forecast to climb into the nineties by afternoon. Since I was heading into Kansas that day, the forecast naturally called for possible thunderstorms. Not good. Rolling into Wichita, I noticed clouds forming on the western horizon. Undeterred, I pressed on so I could make a 6:30 pm ETA in Dodge City. I never made it. Even as the clouds grew darker with each mile, I kept going. The showers soon turned into a downpour and the thunder clapped with such force, I could feel it on my neck. Thoroughly soaked, I stopped under a bridge and waited for the storm to pass.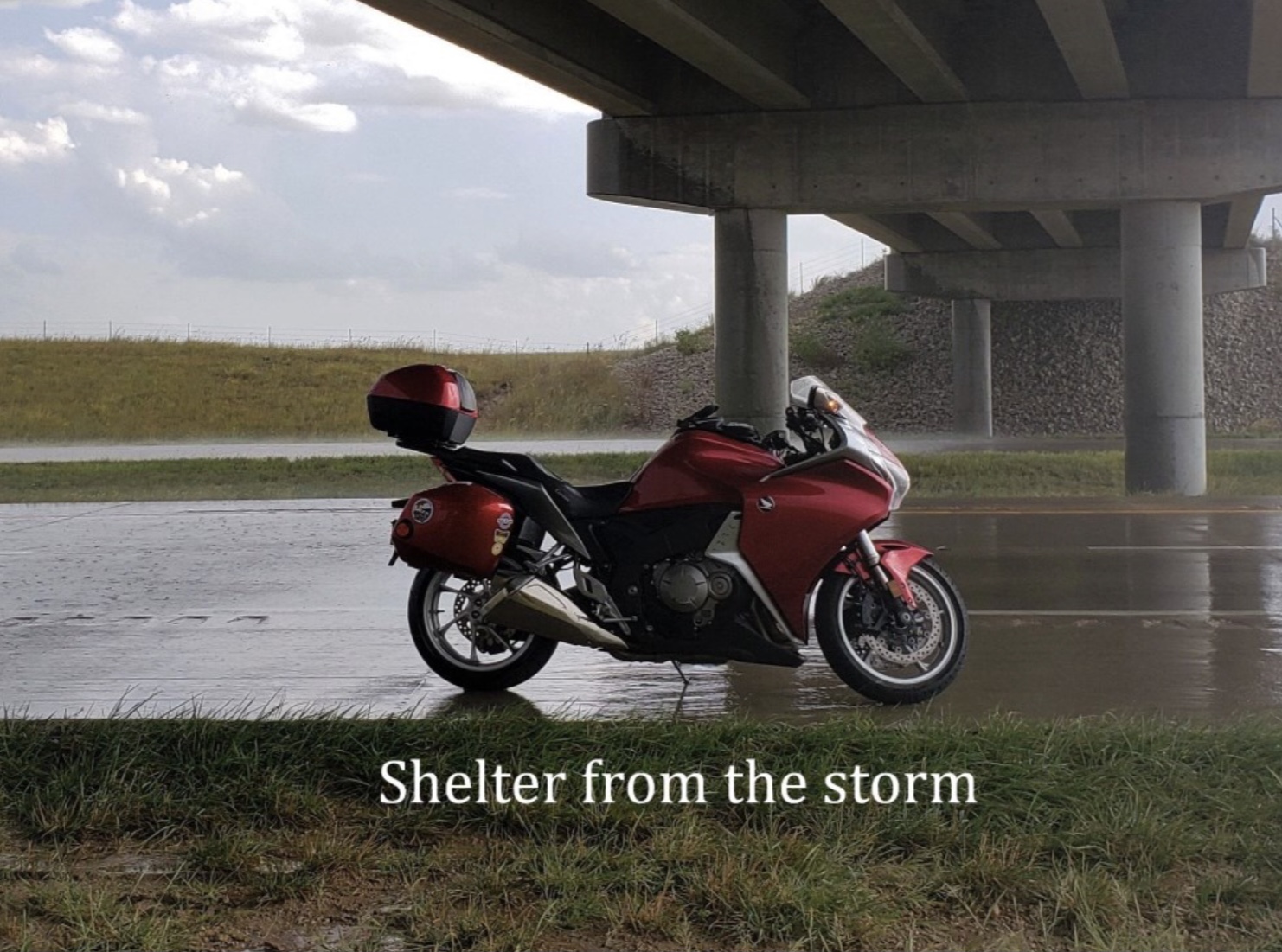 Once the rain let up, I opted for a motel in the first town I came to. That turned out to be a desirable choice. With the rain still coming down, I was allowed to pull The Viffer under the overhang and out of the rain.
A wrong turn on the final day of the tour added 150 miles to Day 9, but I arrived at home, safely and without incident. My nine-day, 11-state adventure had racked up 3,633 miles of trouble-free sport touring at speeds that often exceeded the posted speed limit.
It's about time to start thinking of my next adventure to Places I've Never Seen.