On Saturday, July 23, my plan was to meet up with some Central Ohio MSTA riders for lunch in Wapakoneta, Ohio. Mother nature had other plans for my ride.
I was disappointed that a big, couple-hours-long storm prevented me from making it to my first visit to Wapakoneta's Lulu's Diner. But, sometimes, there's nothing that can keep a ride from being ruined.
The forecast had called for the storms to roll through in the afternoon, which wouldn't interfere with my plans to arrive in time for lunch and be able to visit the nearby Armstrong Air & Space Museum. A couple hours delay getting home on a lazy Saturday afternoon wouldn't have been a problem.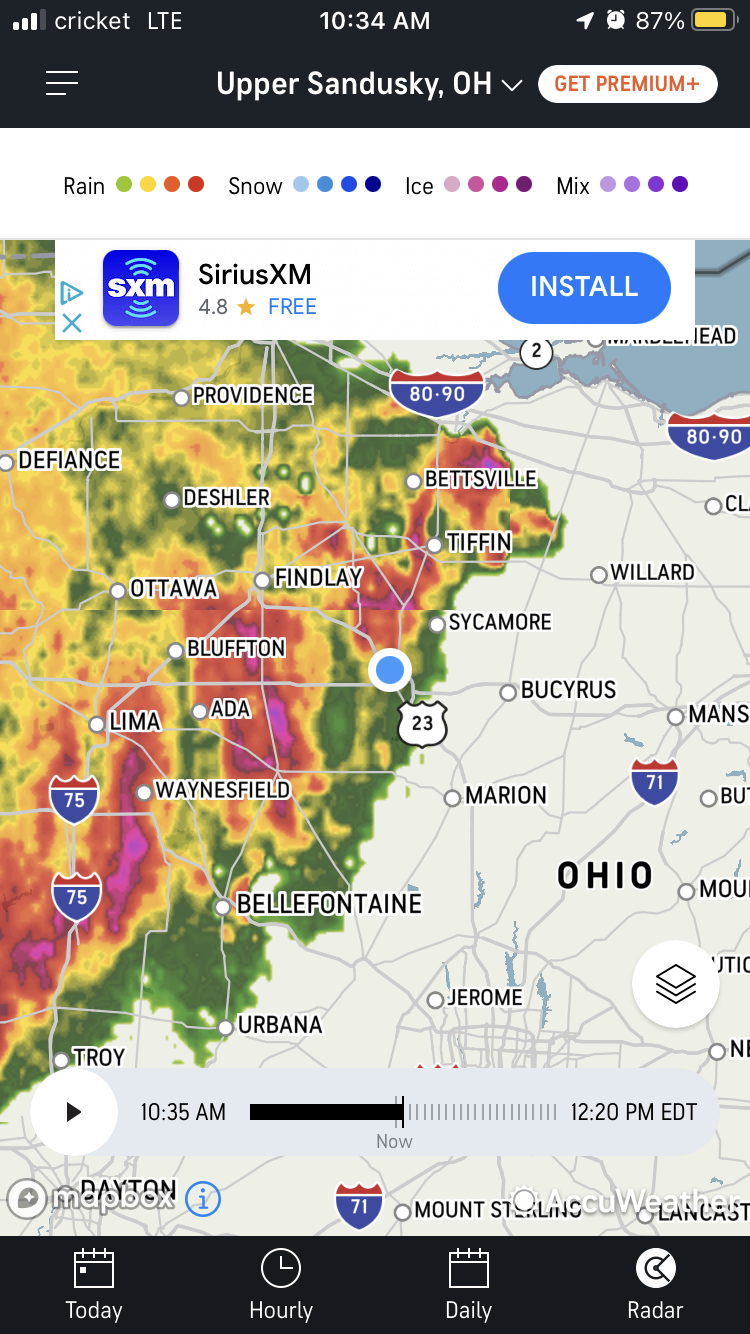 I started my ride at about 8:15 a.m. and shortly thereafter made a quick stop for fuel. Before leaving the gas station, I checked the weather on my Garmin GPS. I was surprised when it reported a 100-percent chance of thunderstorms at the time I would reach Wapakoneta, but decided it was worth making a run for it. I figured if I could maintain a good pace, I'd be pretty close to the diner by the time the storm reached it.
I had considered taking a less mundane route to the diner, but the forecast convinced me to choose the fastest route available. I made my way to Interstate 271 south, which I took to its southern terminus at Interstate 71. It was as I was passing by Medina, Ohio, that I first noticed a dark band of clouds to the west. The dark blue hue in the cloud line stretched as far I could see north or south.
I did my best to maintain a quick pace that wouldn't get me pulled over from Medina to north of Mansfield, Ohio, where I got onto U.S. Route 30 west. I was riding directly toward darker skies, and they seemed to grow a little darker with each passing mile. The wind gradually picked up as I made my way past the cities of Mansfield, Ontario, Crestline and Bucyrus.
Every now and again I'd re-check the forecast on my GPS, but the call for thunderstorms never changed. As I approached to U.S. 30 interchange with U.S. Route 23, the wind had picked up even more and mean-looking clouds made it apparent that there was no way for me to avoid the incoming storm. I hadn't heard any thunder or tornado sirens, nor seen any lightning. But the scene in front of me demanded that I at least stop and check the radar on my phone's weather app. 
I decided to ride to the Love's Travel Stop on the northwest side of Upper Sandusky and figure out what to do from there. I know the place well – I completed an environmental site assessment on the property for the Love's in a previous career. If figured that if I got stuck there, at least there's a restaurant and plenty of food options and parking to keep me company while the storm rolled through. 
I made it to the exit for the Love's – which is located on Ohio State Route 199 – pulled into the parking lot, parked in front of the building and dismounted. I pulled out my phone and looked at the radar – and was glad I has stopped when I did. There was a lot more yellow, red, and pink than there was green, and the first rumble of thunder bellowed within a couple minutes of my arrival at Love's.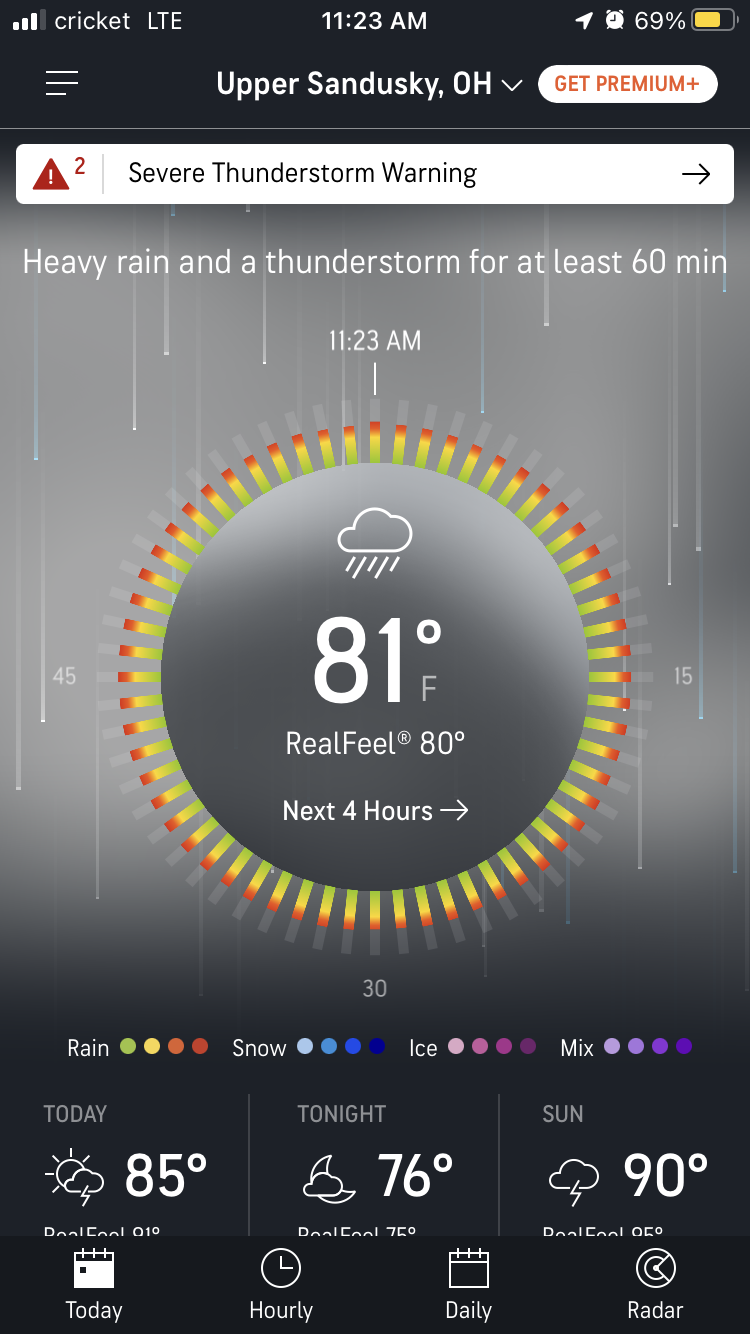 I realized there was no hope of making it to brunch given the size and severity of the storm rolling in – which was reinforced by the green hue the sky behind the bark cloud line was beginning to show. I sent Doug McPeek a message to inform him I would not be making it to Lulu's, and waited for the inevitable to begin. I had ridden the section of U.S. 30 from Upper Sandusky to Findley/Lima a number of times, as it had served as my shakedown route when I lived in Columbus. I knew if I hadn't stopped at the Love's I'd have nowhere to take shelter until I reached Interstate 75.
I've ridden through heavier rains than I saw that day, but the storm was everything the weather radar had hyped it up to be. I spent the first few minutes of it outside under an overhang, making sure the wind wasn't going to get so strong that it could knock my bike off its side stand. 
When it seemed like the bike wasn't in danger of tipping over, I headed inside to get some lunch. The Hardee's credit card system had gone down – as had the Love's fuel pumps – so I decided to try some Love's roller grill items that I'd never had before. The hot dog and Italian sausage were pretty tasty, but the steak and cheese taquitos really hit the spot. 
As I was having lunch, a trio of riders came in and sat down at the table next to me. There were two men and a woman who'd parked their motorcycles – one with a sidecar rig – under the gas station canopy. They told me they were from downstate New York and were riding home after having had their bikes shipped to Tacoma, Wash. They'd be westbound through the storm and had ridden through the heart of it before reaching shelter at the Love's.
I was at the Love's from about 10:30 a.m. until about 12:30 p.m. From watching the radar, I could see the storm was tracking southeast (unfortunately right toward the many friends I had at AMA Vintage Motorcycle Days), and I realized if I started riding northwest toward Toledo I could take the Ohio Turnpike home and ride around the storm. And that's exactly when I did.
I stopped briefly for gas in Findley and again to rehydrate at the Turnpike's Wyandot Service Plaza. There I had a nice conversation with a couple from Minnesota that were curious about motorcycles. We talked about mandatory helmet wearing, protective gear and what it's like to travel long distance on my FJR1300. 
After about 45 minutes I was back on the road and heading home. The rest of the ride was an uneventful jaunt across flat and nondescript northern Ohio.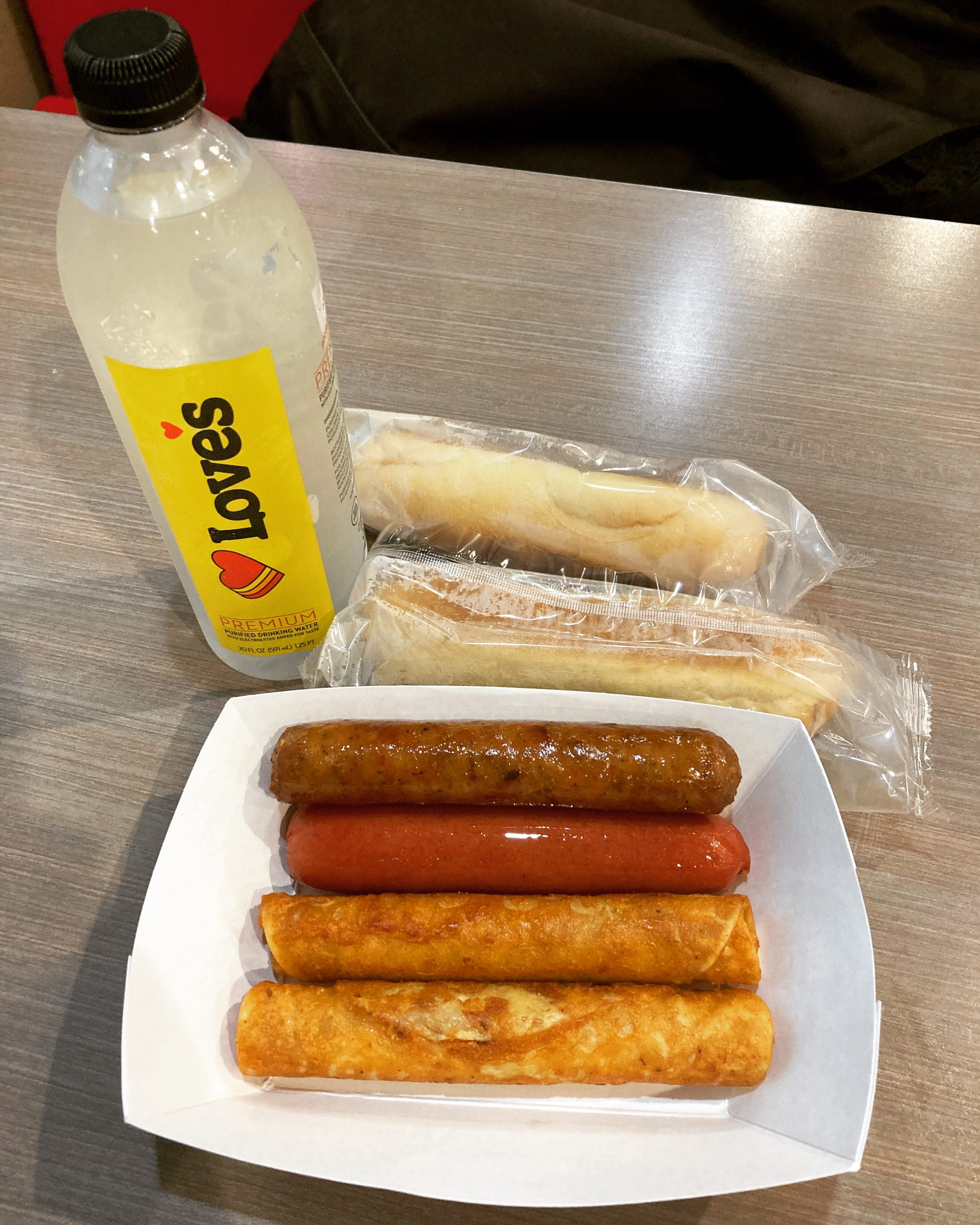 When I got home, I sat down and analyzed what had happened – as a I always do when something doesn't go to plan aboard a motorcycle. At first I was kicking myself for not having left earlier, but realized that I would've had to have left very early in order to have made it to Wapakoneta before the storm rolled through. And I'd checked the weather on two different weather apps the night before and made a reasonable decision given the information I had had in front of me at the time. Even if I'd checked the forecast again as soon as I'd gotten up, it probably would have still been too late to make it to Lulu's.