Submitted for publication by Michael Jensen
See that guy staring at the camera? That's Paul. More importantly, see the small bump on the side of his helmet? That's his Bluetooth communicator… a Sena SMH10. But that's not important right now.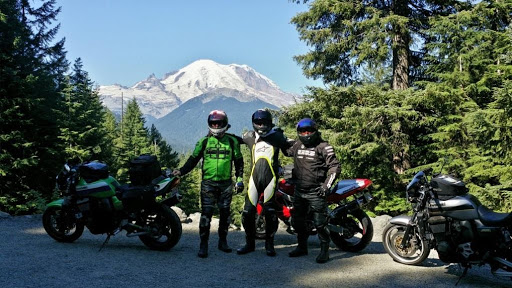 See those 3 bikes back there? That's Paul's Kawasaki on the right. The other two belong to his brother Chris, and me… their dad. But that's not important either. What is important is that we recently rode from the Seattle-Tacoma area down to Portland Oregon, rode the mountain roads around there for a week, and then back north to our IRL day jobs. It was a great week, we all had an absolute blast, and more things went right than wrong, so I'd call it a success.
One of the biggest reasons that it was such a great success is because we all had Sena SMH10 Bluetooth communicators mounted on our helmets. Bluetooth is a short-range communications protocol and is used for a lot of things… mostly, the Bluetooth visor-mounted phone speaker in cars. But mounted on a helmet, it allows us to talk to each other, in an intercom fashion. We can all hear each other at the same time, all the time. Any one of us can touch a button to cancel the intercom, and any one of us can restart it. And it's pretty much good for line of sight, up to about a quarter mile or so.
So having Bluetooth communicators allowed us to talk to each other the entire ride, every day, all week. No more guessing what that mystery hand signal means, and we always know what the plan is, whether it's stopping for food, a bike just went on reserve, something is making a funny noise, or wait… I want to take a picture back there.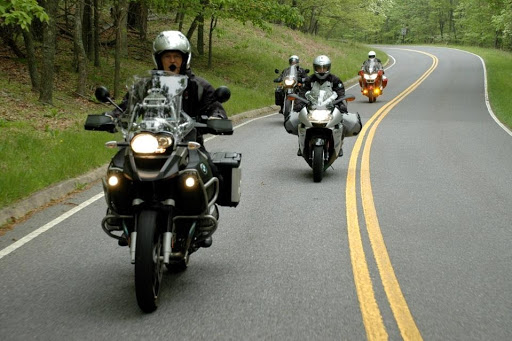 But the real beauty of having constant conversation is being able to look out for each other in traffic. If the car in the next lane starts moving over, you can warn the other riders. A lane change coming up? It's a breeze when the leader can tell the other riders that we need to change lanes left. All 3 of us would be looking and clearing the left lane at the same time with a verbal heads-up if there was anything in the way, and then we'd change lanes.
One rider running navigation on their phone?
You can hear the turns and directions from your phone through your BT communicator. You can listen to music from your phone, and you can take and receive phone calls. Actually, I've received and sent text messages via voice commands while riding, but I don't do it frequently.
My passenger loves being able to talk to me while we're riding rather than shaking my shoulder, tapping my leg, and yelling into her helmet while I scream "WHAT??" Yeah, been there, done that.
The great thing about it is you get to pick and choose what features you like. I know riders that never use the intercom- they only listen to music with it. No more earbuds to mess with every time you start or stop. I know other riders (me included) that use the intercom features but don't mess with music. So you get to pick and choose what features you want to use. For our recent ride, we kept the intercoms on all the time. All day long. It was great being able to talk bikes while riding bikes, rather than trying to remember it all and then catch up at the next fuel stop.
We used our intercoms for everything you can imagine- reminders to turn on or off our GoPro cameras, reminders to reset your odometer and turn off reserve after gassing up, clearing lanes for each other, helping each other with navigation, and lots more. With 3 of us new to Portland, we found it was difficult to watch the nav while leading, so we put the navigator in the middle. The nav guy called out the turns to everyone, while the lead rider could focus all his attention on the traffic and signs. It worked really well for us.
So here's the scoop: you get what you pay for. IMO, there are 2 or 3 top brands- Sena, Scala, and U-Clear… and everything else will make you wish you had saved more money and bought the good stuff.
There are many price options, but the best is the best.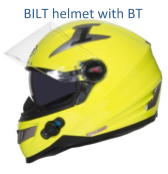 You can get helmets with built-in BT, but then you can only talk to others with the same brand of helmet & BT communicator, and you can't swap it to another helmet. You're stuck with that helmet. A Sena, Scala, or U-Clear BT unit can be purchased singly or as a pair, or as parts- in case you lose or damage the head unit, need a new speaker set, or whatever.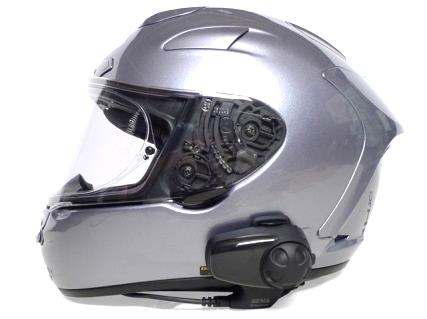 That's very convenient if you have two helmets- you can buy an extra
inexpensive speaker set for your second helmet. The head unit snaps on and
off easily, but it's a 10-15 minute job to install the speaker set, so it's not
something you're going to want to move around a lot.
Speaker installation isn't hard, it just takes a few minutes to get it right. Once it's installed, move the helmet around on your head to check for speaker volume. If you lift the helmet up slightly and your speaker gets louder, then it's mounted too low. Move it around until the speakers sound loudest.
The Sena SMH10 head unit only has two controls on it- easy to find and use while you're wearing gloves. It has that big round knob called the JOG DIAL, and it has the little button on the back- the phone button.


The job dial controls volume up or down by twisting it, and other functions by tapping it (intercom on or off), pressing and rotating (next music track/last track) and other functions.
The phone button wakes up your phone and initiates voice commands such as "CALL HOME". When pressed with the jog dial, it turns the unit on or off. Oh, did I mention voice prompts? Yeah, it has voice prompts to help with things like phone paring, intercom pairing, and more.
The entire unit consists of the head unit, the mount,
2 speakers, and a microphone- wired or boom. I use
the boom mike because it stays in place very well.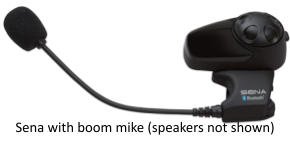 The mount has an adhesive pad to hold it onto the helmet exterior, or (the
preferred method) uses the mounting plate that goes in your helmet and then
is tightened into place with 2 allen screws. This is the back of the mounting plate
that slides up inside your helmet, then tightened to hold it in place.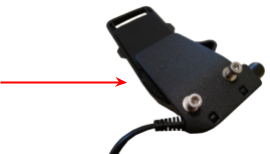 As I said, the head unit easily snaps on and off so you can swap it
to another helmet, recharge it, or update the firmware.
It charges with the standard micro-USB port, so it takes the
same cable as most cell phones.
This is also convenient if your Sena goes dead mid-trip. When we used intercom all day, mine would die after 5-6 hours of constant use, so I'd plug a USB cable into my Sena, and
plug the other end into my USB port mounted on the handlebar near my ignition.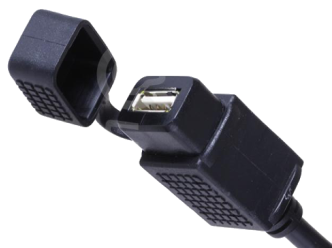 It's a handy thing I'd suggest to everyone, and it allows me to keep my phone
(in a Ram x-mount or tank bag) charged up while using the navigation, or continue
to use my Sena after it's dead from overuse.
As you can see, I'm a believer in bike-to-bike communication. If your riding buddies
have them too, it only gets better. These things really amp up the fun in riding, and
once you've ridden with it, you won't want to ride without it.