BY GEOFFREY GREENE…TENNESSEE
The weatherman says the mountains make it hard to predict the weather, believe it.
The 18th annual TriSTAR was May 22-25 in Sparta, NC. This pleasant little town is located in the northwest corner of North Carolina just a few miles from the Blue Ridge Parkway, and it is darned near impossible to find a straight road in any direction for many miles.
The issues of COVID-19 this year meant dealing with much of North Carolina which had been shut down. This included all restaurants being restricted to only drive-thru or pick-up along with lodging officially being restricted to essential travelers. Groups meeting inside were restricted to no more than 10 and outside groups were supposed to be no more than 25. With the unknowns, it was decided to make TriSTAR a Just-For-Fun event this year.
As the host for the event, I like to be there as people arrive, so I made my reservation last year to arrive on Thursday. Two weeks prior to the weekend, the weather was looking good with little rain and moderate temperatures. Naturally, you can expect some changes in that time frame.
The rumor was that the NC governor would be allowing restaurants to open for the Memorial Day weekend and the Alleghany Inn would definitely be open for us. Despite dealing with the restaurant issues, that all seemed pretty easy. Then it got, well, complicated. It started raining in western North Carolina on Monday and the prediction was for it to continue well into the week with heavy rains and possible flooding.
I left my house in eastern Tennessee on Thursday afternoon in dry weather expecting I had run into rain as I got closer to the mountains. And I did. But despite seeing creeks and rivers well outside their normal boundaries, the rain was not all that heavy. The forecast was certainly foreboding in some directions, but the rain got lighter as I approached Sparta late Thursday. Within the last couple of miles, the rain stopped and it got a bit foggy…like a front had just passed through. I hoped that was a good thing.
I pulled into the Alleghany Inn expecting to see a few bikes, as is normal, but I was surprised. I was the ONLY rider there. I checked in at the desk and asked if anyone else was expected with the answer being "We had a few coming, but they all cancelled." It was a quiet night at the Inn.
Friday morning, the weather was absolutely drop dead gorgeous. There may have been rain in some directions, but in Sparta, it was all blue skies. I hung the MSTA banner and relaxed.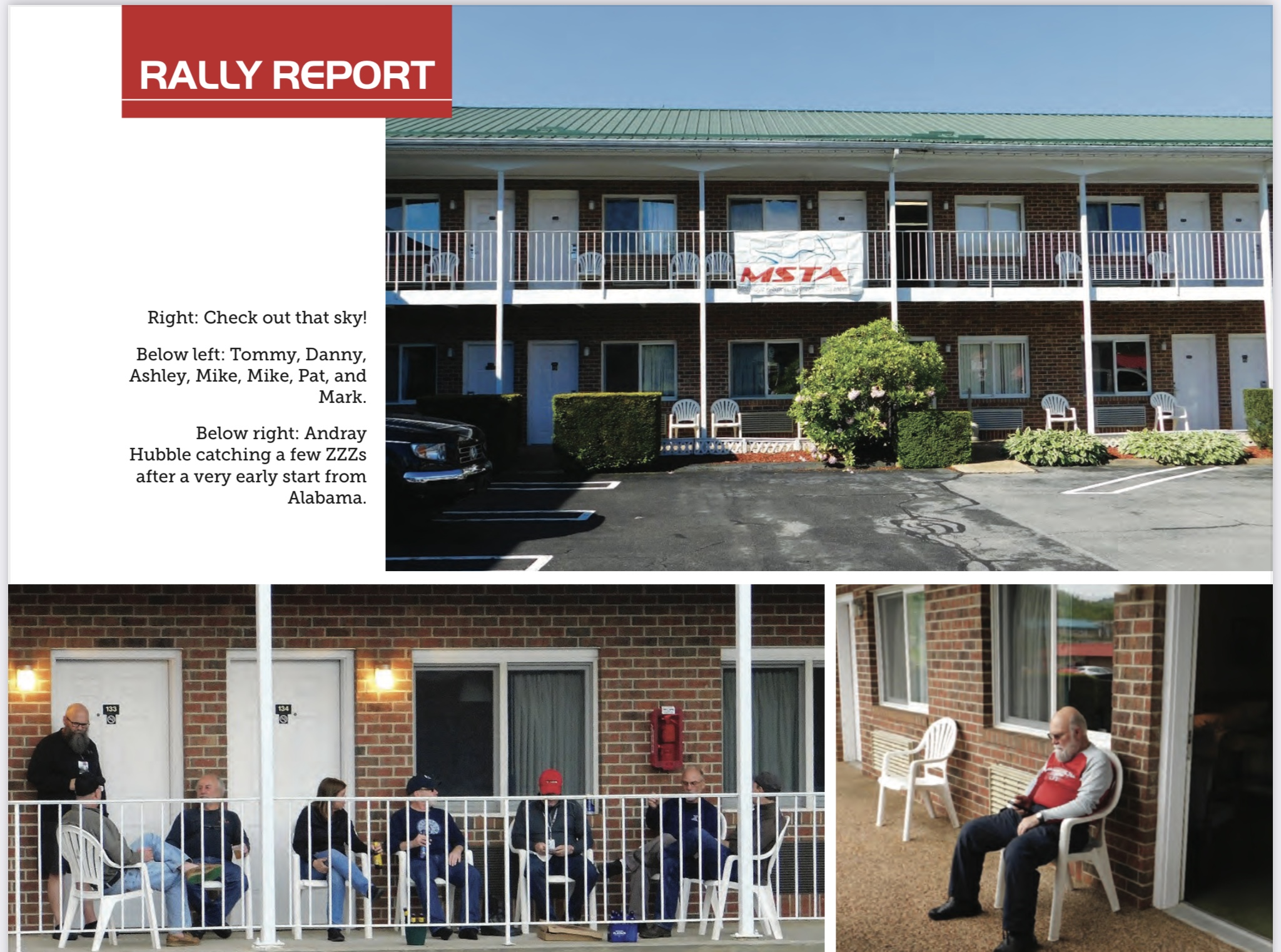 It was about mid-afternoon when folks started rolling in. Many riders were already on site when a brief shower blew through between 4:00-5:00 p.m. But when it was over, it cleared up nicely.
We had good news on the restaurant front as well. The NC governor had officially declared that restaurants could open for indoor seating with a 50% normal capacity effective 5:00 p.m. Friday evening. JB's restaurant, located just across the parking lot, seemed to be doing a booming drive through business and had set up some tables out front to help accommodate folks. It seemed like many of our MSTAers patronized JB's. As usual, folks broke up into small groups hanging around the porch area of the Inn.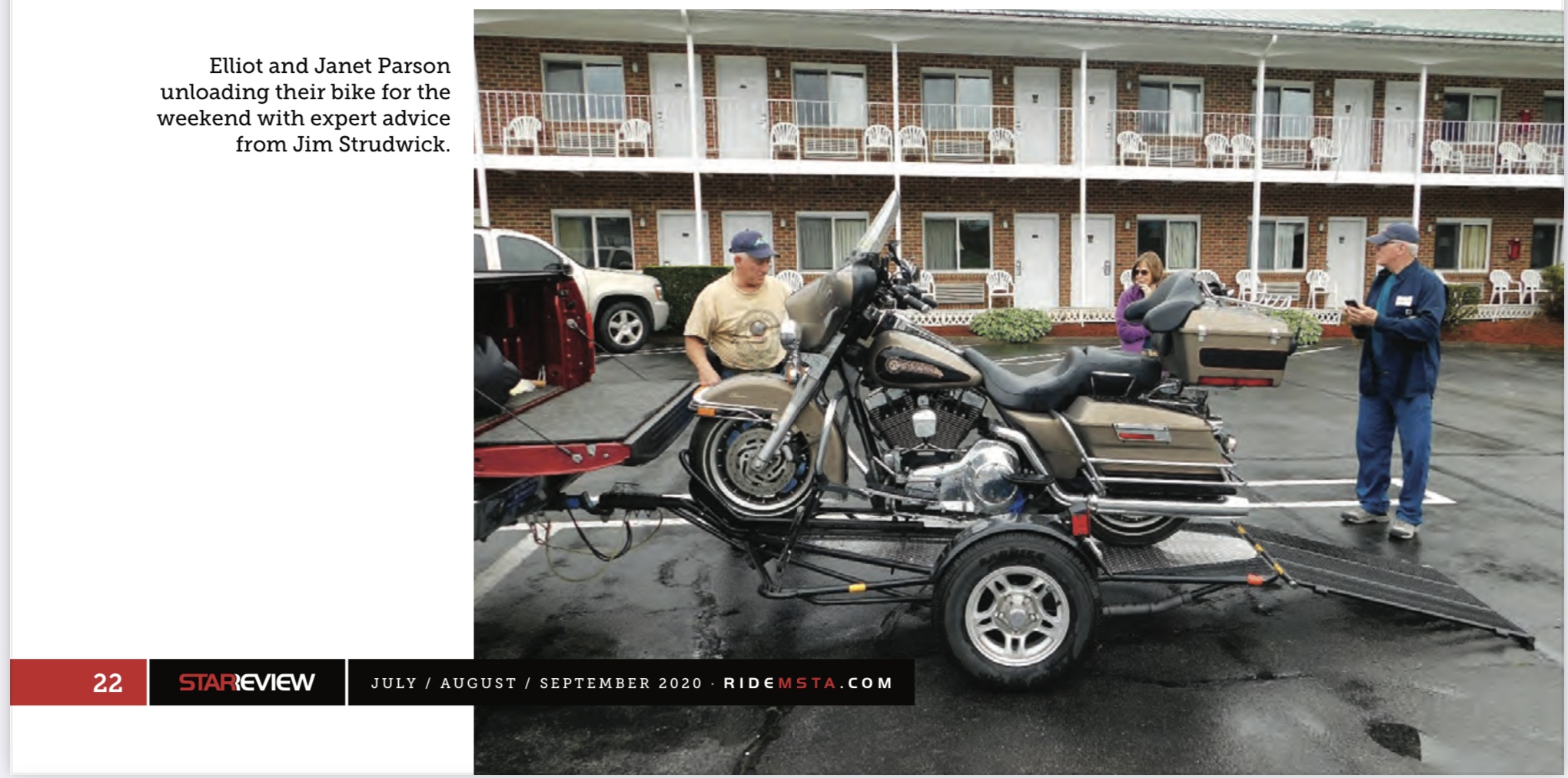 Alas, the previous days of rain had played havoc with ride plans for many. I got several messages from people who had expected to attend saying they were sorry but were passing on riding through the rain to get to Sparta.
Saturday morning, we awoke to weather that was just about perfect. It was 60 degrees by 8:00 a.m. with a predicted high of around 75 degrees with sunshine. Even with relatively few riders, we broke up into small groups and headed off in diverse directions. It was not long before every bike in the parking lot was gone.
While some late afternoon clouds rolled through the area, I do not think anyone saw any rain. It was a fantastic day for riding in every direction.