Larry couldn't make Van's Sebring ride in February and was keen to do something the following Saturday. Eckert was also up for some seat time. Since we hadn't been to Daytona in a while, I suggested heading up that way and doing The Ormond Scenic Loop Trail [map]. Neither of them had ridden it before.
Also, with Bike Week and Spring Break coming up, there was just no way I was going to get in amongst all that humanity just yet. But going up there early, maybe stopping at a bike shop or two and doing The Loop would be a good substitute. Two birds with one stone. We met Saturday morning, shoved off at nine and headed north on US 1.
To add a little spice, at Port St John just below the power plants, we took King's Highway west to Grissom Parkway and then turned north about 4 miles to Perimeter Road. This was the plum to be picked. Perimeter Road skirts around the south and southeast edge of Spaceport Regional Airport back to US 1 [map]. It has about ten really nice curves that you can carry good speed on with short straights in between. There's not much in the way of elevation changes, but it otherwise was almost as good as being in north Georgia – at least for a few minutes. That got everyone's blood pumping again and from there, we got back on US 1 to Daytona.
The Loop Trail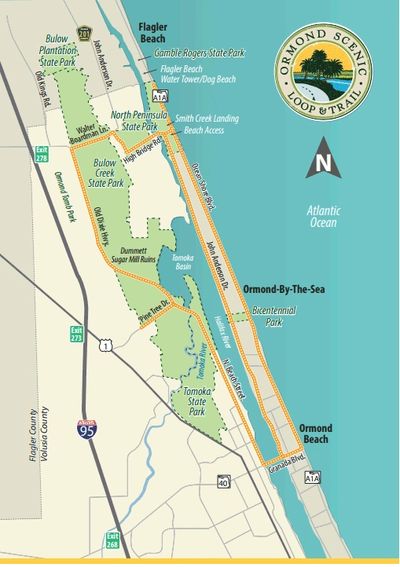 Our first stop was an extended one at Euro Cycles of Daytona, the BMW / Triumph / Energica dealer, for a much needed break and some socially distanced tire kicking. One thing I like about BMW dealers is that most have free bottled water, sodas and coffee. This one's located just across the Halifax River Bridge from iconic Main Street, Daytona Beach.
From there we headed north on Beach Street along the Halifax River into the city of Ormond Beach. The Loop Trailstarts at Grenada Boulevard (SR 40). To run it clockwise, there's about 3 miles of residential area along 2-lane North Beach Street. The nicer homes on larger lots were on the river side to the east. Then we encountered almost two miles of very rural, heavily treed terrain through a section of Tomoka State Park.
Tomoka State Park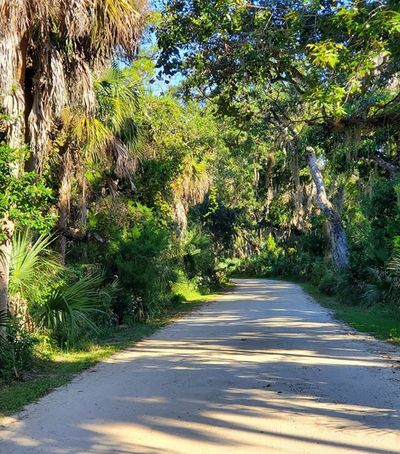 The road began to get curvy as it crossed the Tomoka River into low country with water on both sides. We were now in the lower part of Bulow Creek State Park. The road, now called Old Dixie Hwy, meandered about five miles in a northerly direction through more lowlands and then under a beautiful canopy of old oaks to Walter Boardman Lane. There the loop trail turned east.
Live oak canopy over Old Dixie Highway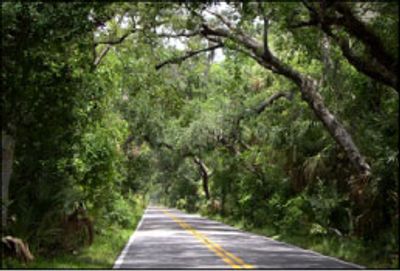 Walter Boardman Lane was about a mile of mildly descending narrow 2-lane. The trees on either side were standing in swampy terrain, and then we were out of the trees and barely above the marsh's waterline. Across a bridge, the trail turned right onto High Bridge Road which headed south then abruptly east, still barely above the marsh waters on either side. Then it rose a bit and crossed the Halifax River onto the barrier island.
On the east side of the Halifax just over the bridge, we found a park on the south side with shaded picnic tables, restrooms and a boat ramp. So we stopped to leisurely dig into our BYO lunches, chat and watch the boat traffic out in the river and the ones launching or trailering. Did I mention, the sun was out all day and temperatures ranged from about 73° to 83° but were mostly in the upper 70's? It was just a beautiful late February day to be out and about.
From there, the Loop can follow John Anderson Drive about 9 miles south along the east side of the Halifax to SR 40. The first part of it is more rural. Or you can continue east 0.2 miles to A1A and follow it to SR 40 – whatever melds best with the rest of your day's plans. Of course, you can also run the Loop counter-clockwise.
Scenic view along Highbridge Road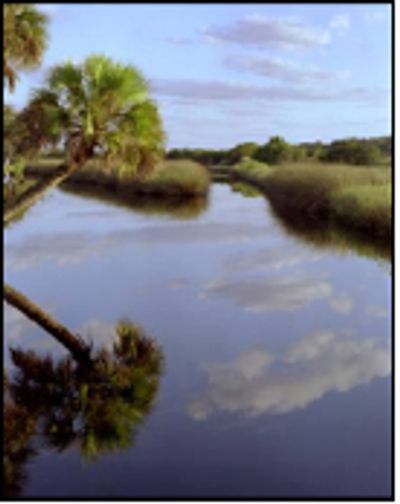 I usually take Anderson, but the two stops we had already made ran a little long. To get Larry home on schedule, we opted for A1A. I'm not sure it was helpful because it seemed like everyone in northern Volusia County was at the beach that afternoon. We didn't make good time, but at least we didn't have to stop until we got to Ormond Beach. And the scenery was great because 2-lane A1A here was just off the beach sands. Much of that area is called Ormond-by-the-Sea.
Even apart from the scenery though, The Loop Trail can be quite enjoyable, especially if you have the opportunity to pick it up a bit out in the rural areas. There are enough curves out there to bump the heart rate up a bit and get a little grin going. It's hard to do during Bike Week because the trail is packed with riders. Plus, there's all the distracting HOG noise. The off season is better.
Ocean view along A1A in Ormond-by-the-Sea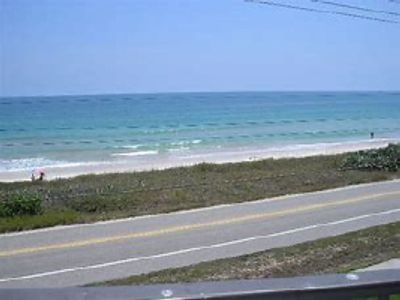 From A1A, we cut across Main Street in Daytona Beach as a further nod to Bike Week, and then followed less-trafficked Peninsula Drive south. Eventually, we took Dunlawton Avenue over to I-95 and then pinned our ears back.
All in all, it was a day very well spent. My thanks to Larry for the motivation and to both he and Eckert for the good company. Larry since wrote that he made it home in time. When I finally wound down, slumber overtook me with a very contented smile still on my face.
Looking east on Main Street, Daytona Beach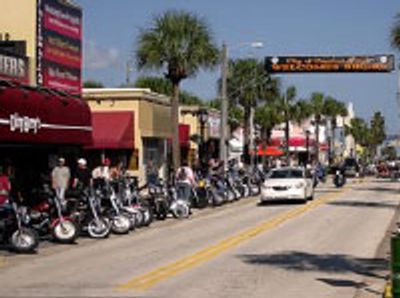 Copyright © 2021 Florida MSTA – All Rights Reserved.