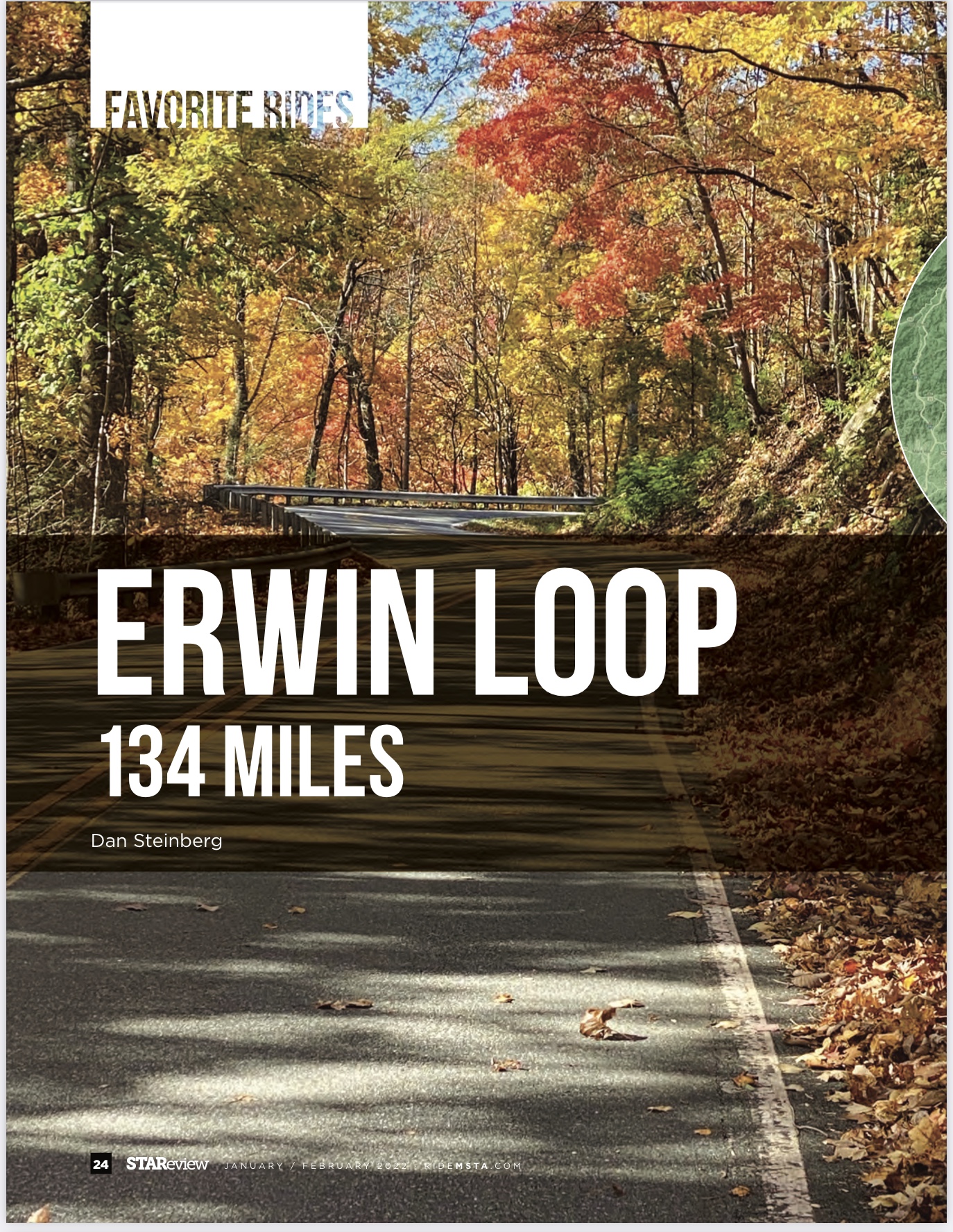 Over the past 35 years I've had the good fortune of visiting some of our country's best riding areas. And while all offer special and unique topography, scenery and of course great roads, in my opinion, the best region to ride (especially if you prefer very technical riding) is the Blue Ridge Mountains.
Two or three times each year my friends and I would trailer our bikes down from Chicago to experience the amazing roads that traverse the beautiful mountain ranges, streams and lakes the region offers. In 2020, things lined up just right and I was able to move to down to North Carolina. I live on Lake James, which is 50 miles east of Asheville, in between Marion and Morganton. So now, after a full year of being a "local" and discovering many secret backroads, I wanted to share with you one of my favorite local loops that include some of the regions very best roads. The pavement quality, scenery and terrain are spectacular, but be warned, this route includes very challenging and technical sections that demand your full attention all day.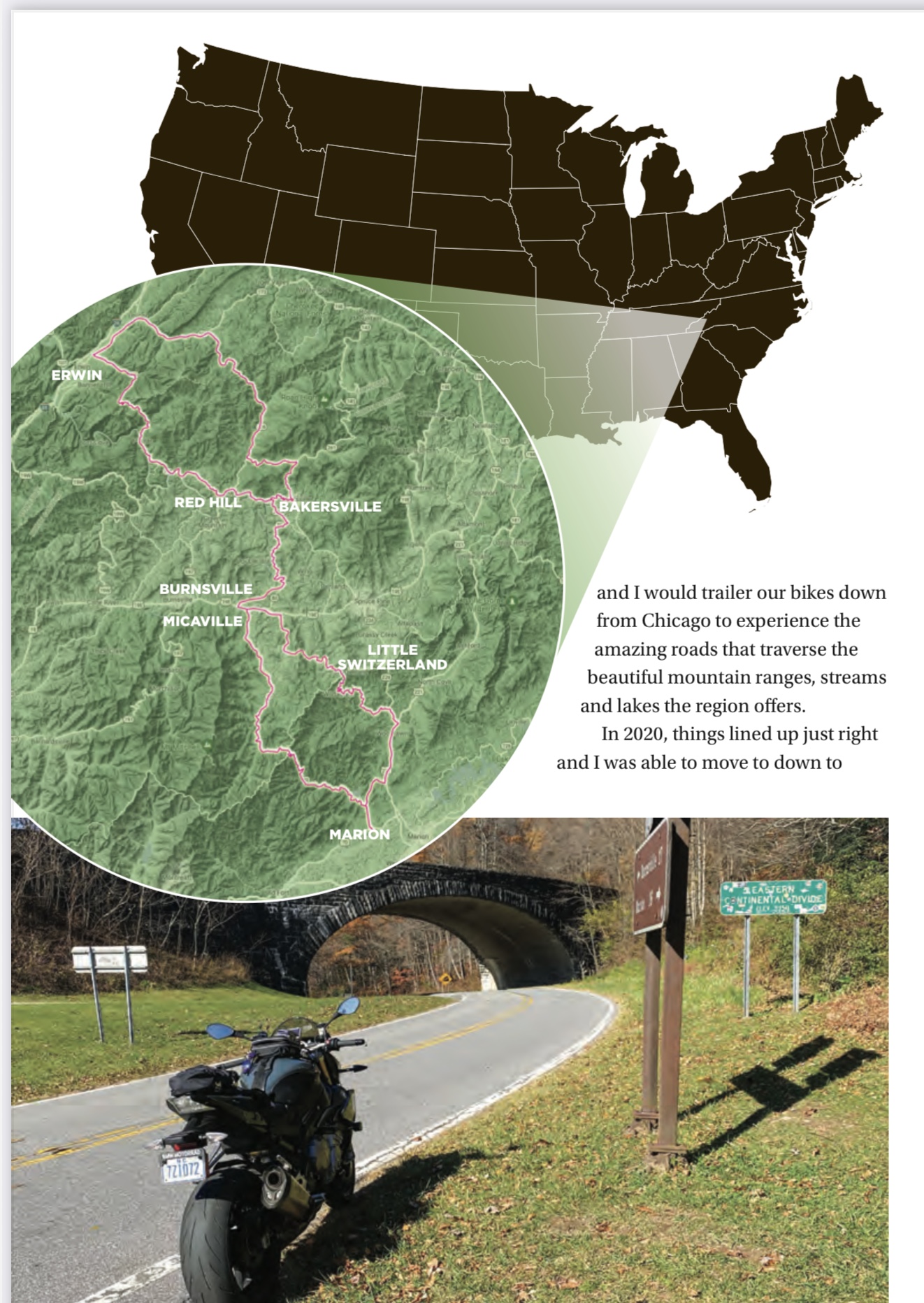 The route starts out in Marion on the lower section of NC 80 heading north (later in the afternoon the route takes us south on
the upper section of NC 80). NC 80 is one of my top 5 favorite roads. Just after traveling around Lake Tahoma, you begin to ascend, the road tightens, and your complete focus will be needed to navigate the ride up the mountain that includes several switchbacks. At the very top of this section, NC 80 crosses the Blue Ridge Parkway. There is a nice overlook area to stop and take a breadth. And the route has only just begun. Take NC 80 back down the other side of the mountain into the small town of Micaville. After making a left at the intersection right in front of the One-of-a-Kind Gallery (If you like cool local art, this is your place) you will then a make a right on Double Island Road. If you thought NC 80 had some tight and narrow corners, Double
Island is even more demanding. There are more driveways to contend with which adds to the challenge. It also offers some beautiful valley views. Double Island Road ends at NC 197 where you will turn right and head into Red Hill. At the Corner of NC 197 and NC 226 to the left there is a small store and good place to stop. Hidden at the end of the building is a great ice cream shop that makes great milk shakes.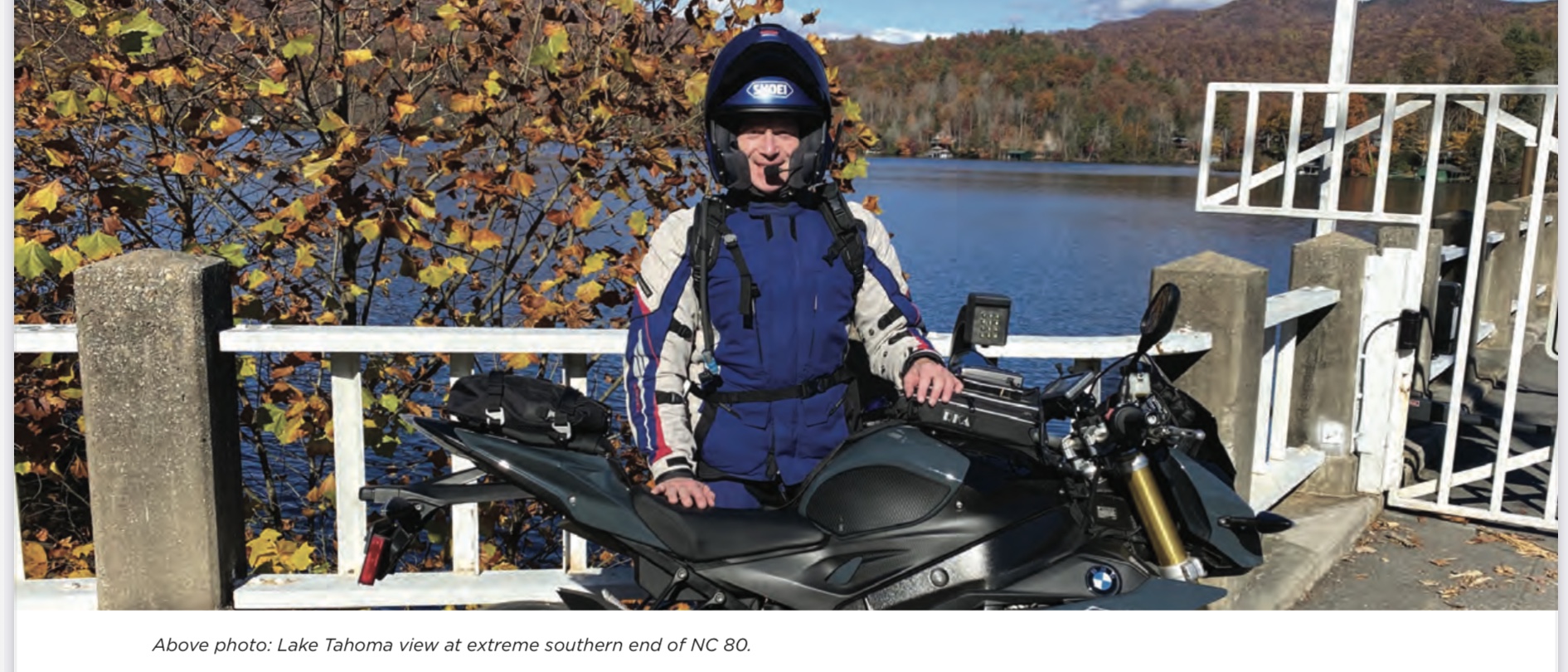 Once back on your bike, continue on NC 197/226 then a quick left to continue north on NC 197. I love this road all the way to Erwin. While not be as technical as NC 80 or Double Island, once away from the small towns, the corners flow wonderfully creating that "rhythm" that makes for a special ride. After you get to the top of the mountain and begin heading back down the other side, another set of really nice mountain views await you. The road also has a "canopy" section that makes for another cool
riding experience. NC197 turns into TN 395 once you enter into Tennessee, and then shortly you will be to the town of Erwin for
lunch. Right before you get into town, there is a restaurant called the Burnout BBQ and Grill. The food is good, and the place offers inside and outside dining. If BBQ is not your thing, continue to the end of TN 395 and turn right on TN 107. Go about a 1/4 mile and on the right, you will find a small strip mall that contains Rocky's Pizza and Subs. The toasted subs and pizza are excellent. The only issue I have with Rocky's is that the owner is a Green Bay Packer fan. After lunch, continue north on TN 107 and if you need gas there is a BP station on the route just a few miles before you head back into the mountains. You will turn right to stay on TN 107 and begin heading east. This section of 107 that eventually turns into NC 226 offers multiple sets of fast sweepers that really flow great together. It's a nice change from the morning's more technical riding. Continue on NC 226 to Fork Mountain Rd where you will turn Left. Fork Mountain Road travels though some beautiful countryside and right through an interesting section where old antique cars are strewn about called "Hillbilly Heaven".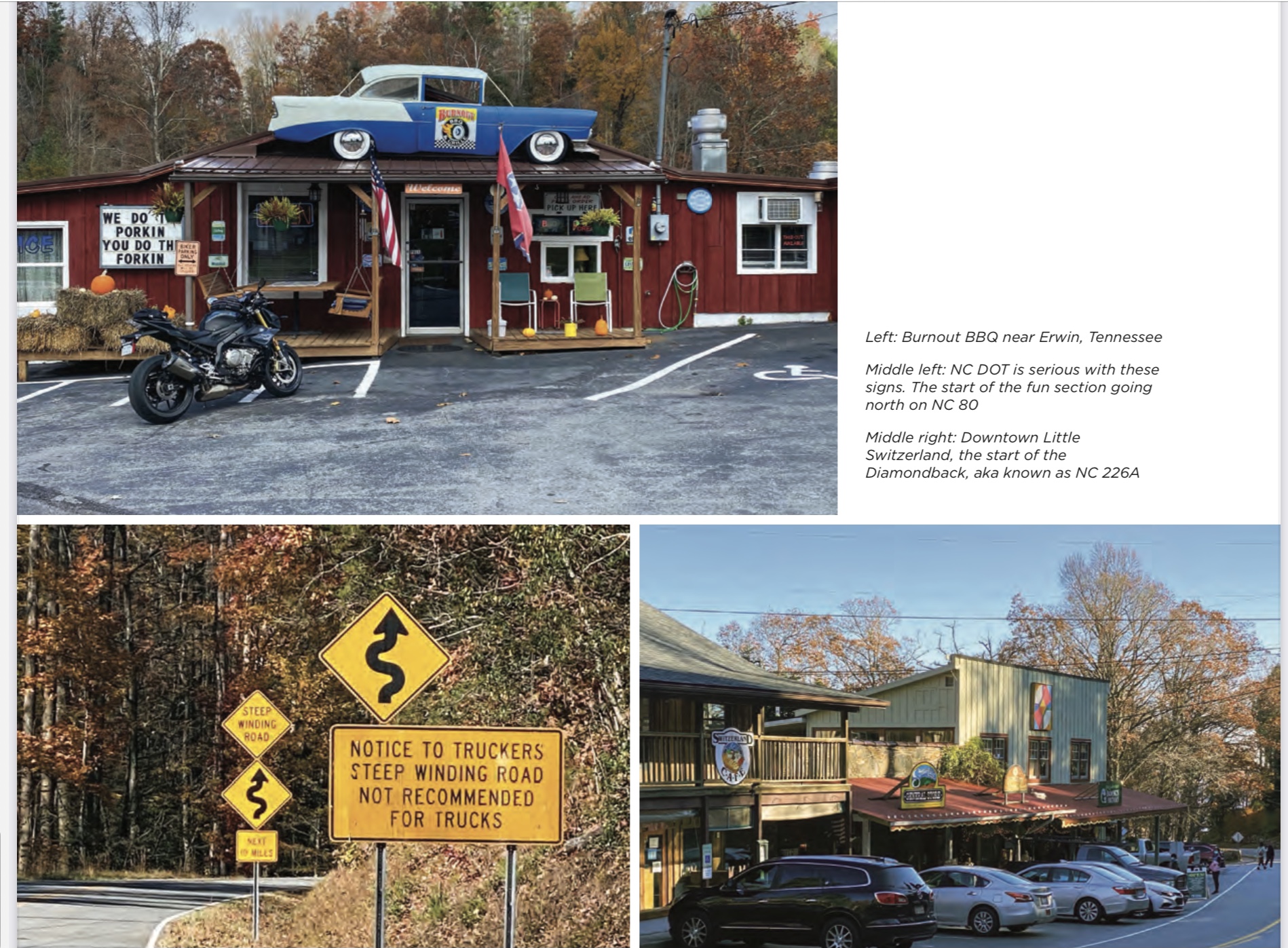 Fork Mountain Road ends at NC 261, and here
is where I will present you a great option to add to this ride. If you go right on NC 261, you will continue on the main route. However, if you would like to add another hour or so to your ride, go left on NC 261 and you will have a fabulous trip up Roan Mountain. With an elevation of 6285 feet, do not miss stopping at one of the overlooks on the Tennessee side of the mountain (TN 143), the views are spectacular. After returning back to North Carolina, stay on NC 261 south into the town of Bakersville. If you like small town café's, try the Southern Ridge Café right on Main St. In Bakersville, NC261 turns into NC 226. Continue south on NC226 and just outside of town turn right on Duck Branch Road. This is a connector road that takes you to the upper section on NC80. Go left then right on NC80 heading south. This section on NC 80 is as demanding as the lower section, with the addition of driveways and small access roads to keep you on your toes. It's a fun, long stretch that ends at NC 19E just outside of Burnsville. Go Left on NC 19E and then right on Crabtree Road that winds down into Little Switzerland. Once in Little Switzerland, Crabtree turns into Bear Wallow Road. Bear Wallow ends at another one of my favorite roads, NC 226A. This road, along with NC 226 make up ittle Switzerland's famous Diamond Back Loop. Go right on NC 226A and prepare for the last section of the route. NC 226A offers everything from positive camber corners to decreasing radius turns and everything in between. You will be going downhill so
watch your speed going into some of the tighter corners.NC 226A ends at NC 226. Turn right on NC 226 then right on NC 221 that will take you into Marion and the end of this awesome route. Enjoy!