Written by Will Bishop
Photos by Moose Parrish
We did it again! Another As you can see in the Young Brent really successful River City Ride (RCR). In fact, the 32nd annual event! This is the longest running regional event in the MSTA, and we are very happy to continue the tradition. This year's River City Ride was held July 30 – August 1, in historic Corydon, IN. After last year we were very happy to return to a normal format. Features included meals on both Friday and Saturday evenings, a total of 13 riding routes, and plentiful door prizes.
We continued with the excellent Holiday Inn Express as our event headquarters, due to the quality facilities, hospitable and accommodating staff, and the perfect setup for our outdoor activities. They've made improvements including new picnic tables, some remodeling, and even bought a refrigerator for our food storage! There is a picnic area conveniently near the bike parking at the rear of the hotel,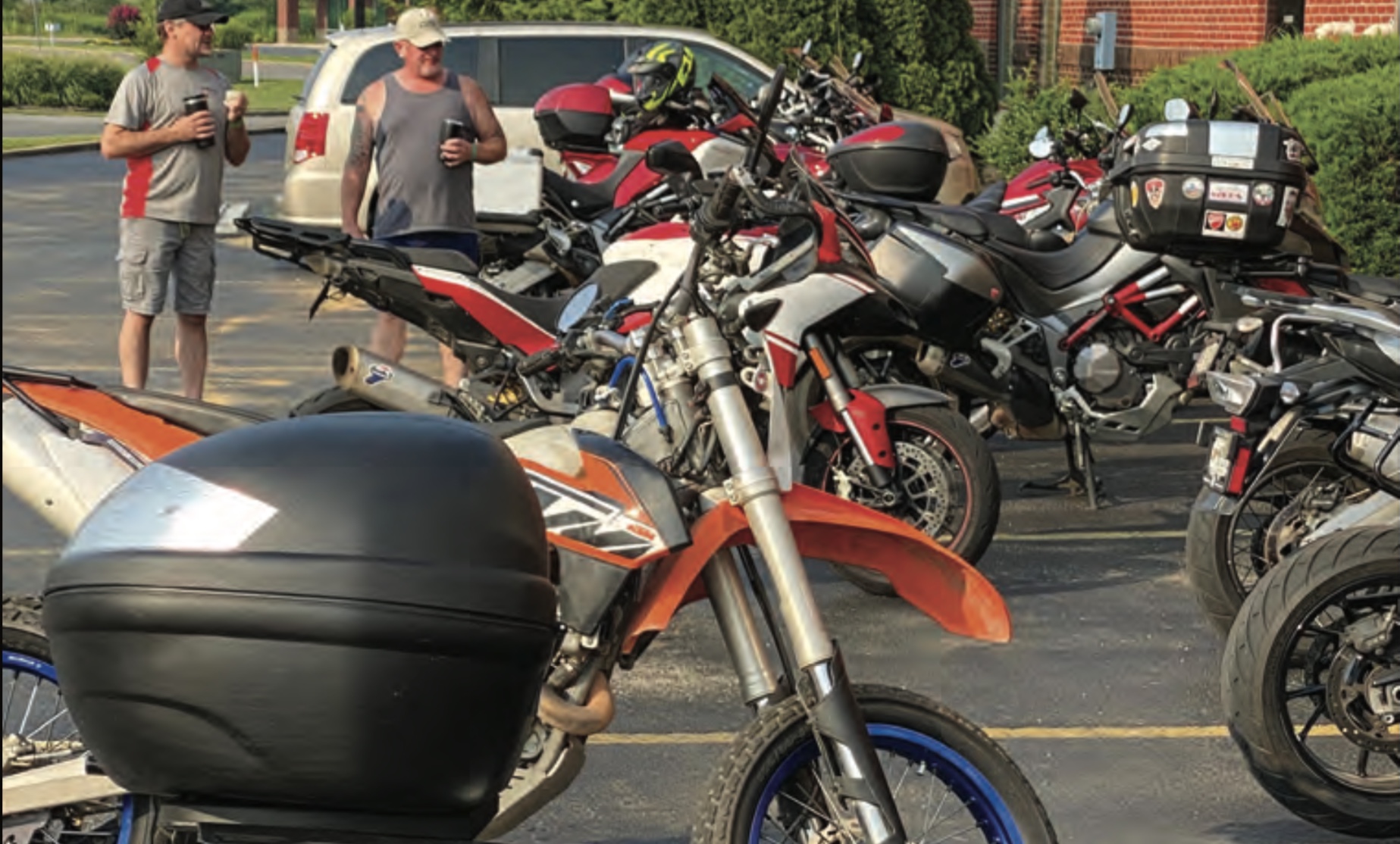 which is perfect for our outdoor dining and the usual evening socializing and refreshments with friends old and new. And our volunteers brought in plenty of chairs, tables, and canopies to accommodate everyone. Unique T-shirts have been a feature of RCR for many years, and this year's is very special. Just by chance, in a round- about way, we ended up with Moose Parish's granddaughter, who is an accomplished artist, as the designer for the 2021 RCR logo. And, surprise, there is a mini-Moose hidden in the logo!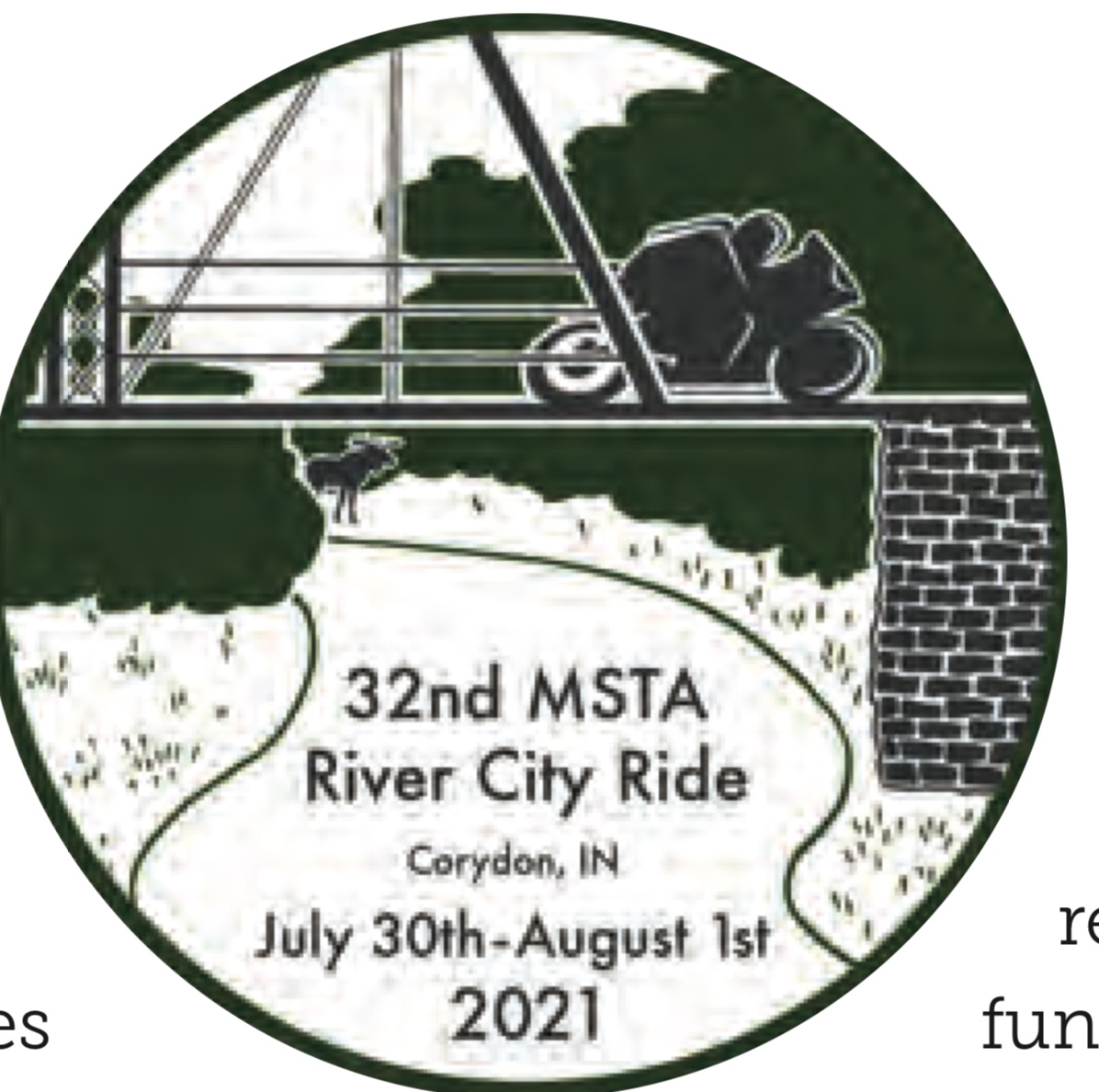 The 38 attendees had plenty of interesting curvy roads to choose from. Norm Kern generously updated 13 routes from previous years which we offered to attendees in gpx and paper formats.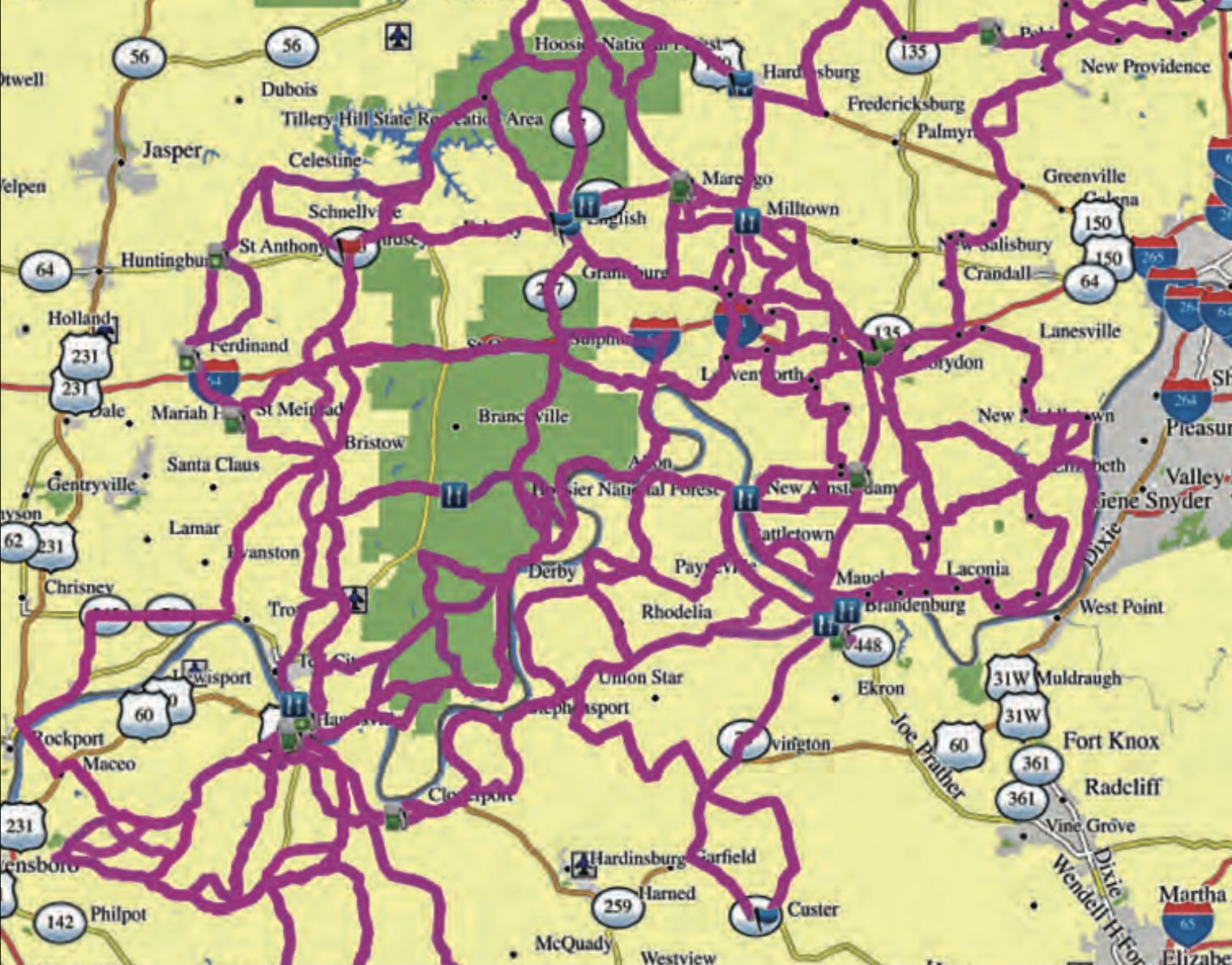 There was a prediction for rain over 50% of the area on Saturday, which deterred some from attending. But the showers were spotty, and most riders said it didn't interfere much with their rides. Fortunately, it stopped in the evening, allowing our outdoor cooking and dinner to go on as planned.
One of the first-time attendees was Jeffrey Henderson who had asked Moose Parish several questions in preparation, mostly about who rides with who, how fast/slow we ride, etc. To make it more interesting, Brent, Jeff's grandson would be the passenger riding two-up. Moose answered as best he could, emphasizing that everyone should ride at a pace that is comfortable to them. When Moose got to RCR he made sure Jeff and Brent got acquainted with several attendees in preparation for the Saturday ride. Turns out Jeff knew quite a few of us already and was right at home. The kicker is that Jeff ended up leading the Saturday ride that included John Reinhardt, Dave Kaler (who traveled from Texas to attend the event) and Craig Voris! So, he was able to ride at a comfortable pace! He enjoyed the weekend and commented that the ride "made his heart happy" and the old guys really know how to have fun! Brent was enlisted as co-MC for the Saturday evening meeting, drawing the tags for the door prizes and calling out the winners. Since there were more than enough door prizes, thanks to our generous sponsors, Brent won a nice one himself, and enjoyed bargaining with others to trade up to something he wanted even more.
John Reinhardt was definitely "boy scout prepared" for that Saturday ride. Due to some road debris, Bill Carr's bike suffered 2 flat tires. John had a mini compressor and two tire plugs on board his bike. Without these, the group would have been stranded for several hours and missed out on some good riding. Unfortunately, that same group came upon another rider group stopped due to an accident. Wayne "The Wayne" Williams had run off a curve and hit a tree for an unknown reason. His riding companions were able to summon emergency services, and Wayne is making good progress on his recovery in a Louisville hospital.
One very odd occurrence happened with Jeff Henderson's brakes. While parked at the hotel, he checked the brake fluid in his handlebar mounted reservoir. Upon opening it for inspection, he found a razor blade (see picture) inside it! Weird!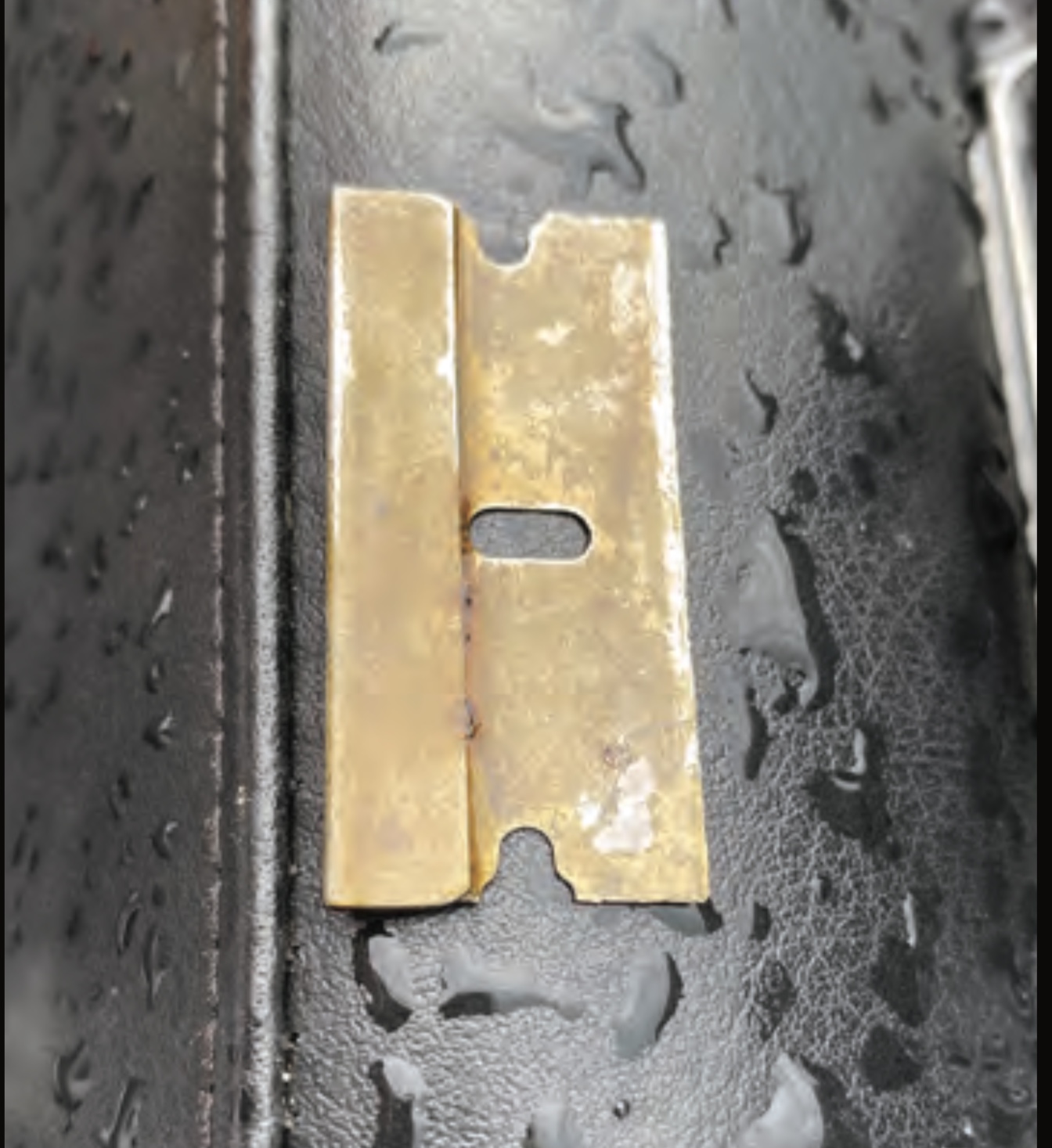 As usual, the attendees were very generous with their donations to the Ride for Kids. One very generous MSTA member pledged $200 if we would get at least $200 in cash donations. Thanks to Cathy Payne's persuasive arm-twisting, we got $260 from individuals, bringing the total to $460 for this small event! One incentive to donate was that the ticket drawing winner got their choice of the door prizes. The lucky person was Don Wade, a first-time attendee, who chose a great Shoei Neotec II helmet donated by John Reinhardt. RCR is one of the few events that includes two full evening meals. Friday was the bratwurst burn, with lots of potato salad, macaroni salad, chips, Cathy Payne's coleslaw, baked beans, desserts, and more. We had a complication on Saturday, as Carl Freed, who makes his fabulous meaty spaghetti sauce each year for the Saturday evening dinner, had to miss the event due to last minute complications. Using Carl's recipe, we made some great sauce, but not as good as Carl's!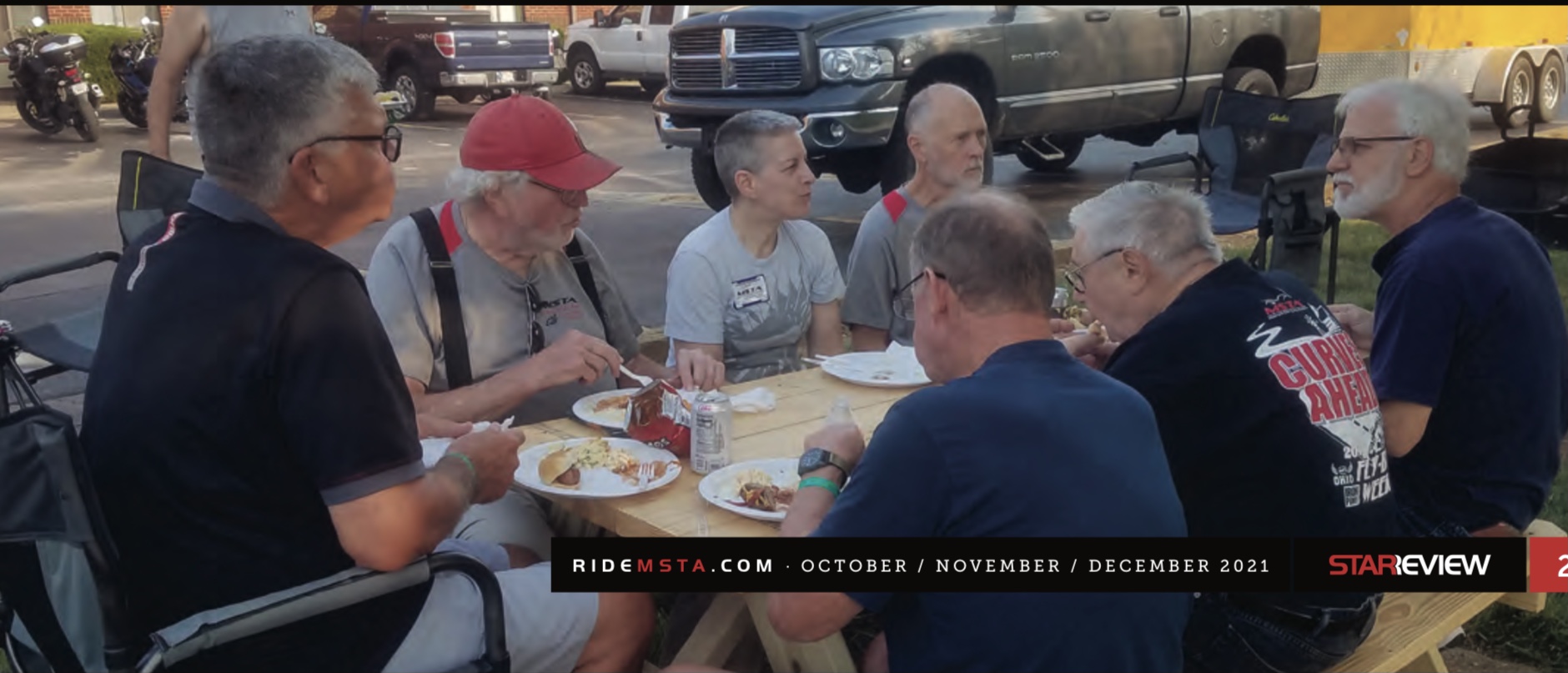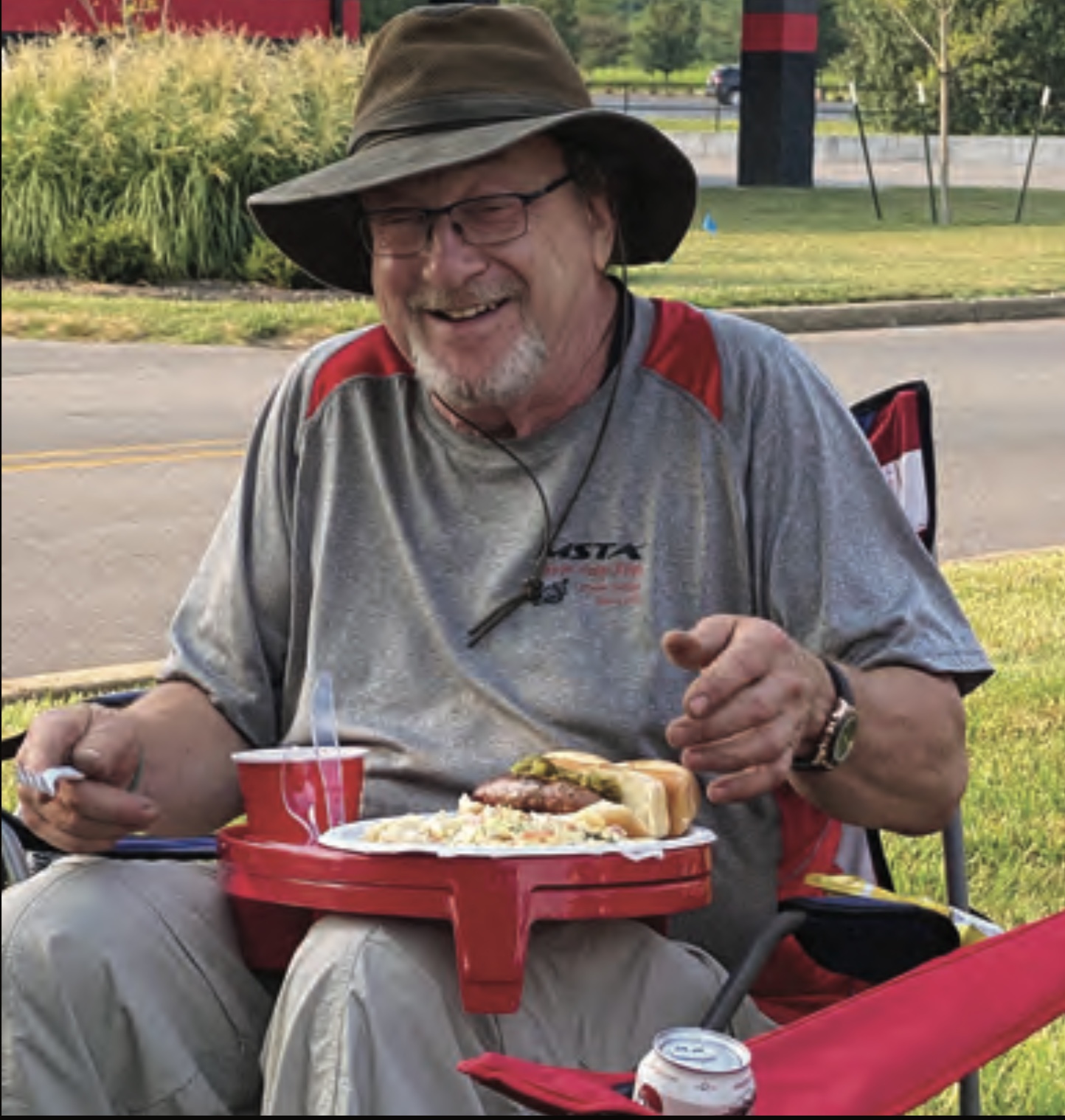 The club owes thanks to the many volunteers who make these events possible, including Helene Villemure, Cathy and Don Payne, Norm Kern, Moose and Wade Parish, and Carl Freed. And to John Reinhardt, Ron Dison, and others for donating door prizes. That includes Bill Carr, who contributed a very nice door prize, and took the time away from a busy weekend at his dealership CarrMoto to attend the event. And we have to appreciate those who established the tradition by organizing the event for the last 31 years, including the Paynes, Moose, Ron and Linda Dison, and others. As they say, don't mess with success. We plan to keep the existing location and basic formula for next year, although we will make some improvements. Plan to join us for the 33rd RCR in 2022!