By Tom Blake
(originally in the Florida Gator Tale newsletter from October 2022)
The Fly-By Rally takes place Monday-Sunday during the 3rd week of August. It is now the largest regional event in the MSTA. And as Norm Kern, the event coordinator, puts it, we want to ride all day, every day (now that's an MSTA kind of mindset). He says some riders can only come for the weekend, but whole-week participation is growing.
It's centered at Marietta, Ohio, alongside the Ohio River, which separates that state from West Virginia and Kentucky. The route list has grown to a total of 31+ variations (24 road and 7 adventure), totaling over 4,000 miles of fun roads in southern West Virginia's mountains and southeastern Ohio's hill country. Now, don't poopoo those hills. They may not quite have the elevation changes of mountains, but these can be every bit as fun and challenging to ride – even for experienced riders.
You can find everything worth knowing on the event website: www.Flybyweek.com. (the 2023 website will open sometime next year) There are details on Registration, Routes, Hotel/Camping, the Event Guide, Photos, a GPS Users Guide and more. Everything is downloadable and printable anytime except for route files in PDF and GPX formats, which can only be accessed around event week. But routes in HTML format are accessible anytime – just click on MAP for any route.
Non-riding activities include bike washing, dinner tours, professional massage therapy, help with downloading files to your GPS, finding someone to ride with, a seminar, camaraderie and local sight-seeing (the Ohio River and Marietta have rich histories). Norm really has gone all out. This is an exceptionally well-organized event. The HTML route maps, in addition to the route itself, show gas station locations (gas pump icons), and if applicable – the lunch stop location (knife & fork), destination location (camera) and areas of broken or poor pavement (red flags). Some had alternate routings (color-coded) that offered the option of including or excluding sections of bad pavement or perhaps a longer or shorter variation. Except for the short loops, GPS routes included a Part 1 (outgoing), and a Part 2 (returning) with the starting point (green flag) identified for each.
To illustrate, the "05 – Norm's Ridge Inn 210 – 276" map is shown below. It's #5 on the route list. 210 and 276 refer to the distances for the shorter and longer options. There are three GPS files for this route. Part 1 is the blue line excluding the section of red flags but including the magenta line which shoots way northeast briefly. The longer all blue Part 1 Technical includes the red flag section. Part 2 follows the red line back to the hotel in Marietta. Marietta is at center, right. The lunch stop is center, left. Two gas stations are located along Part 1, pre-tech.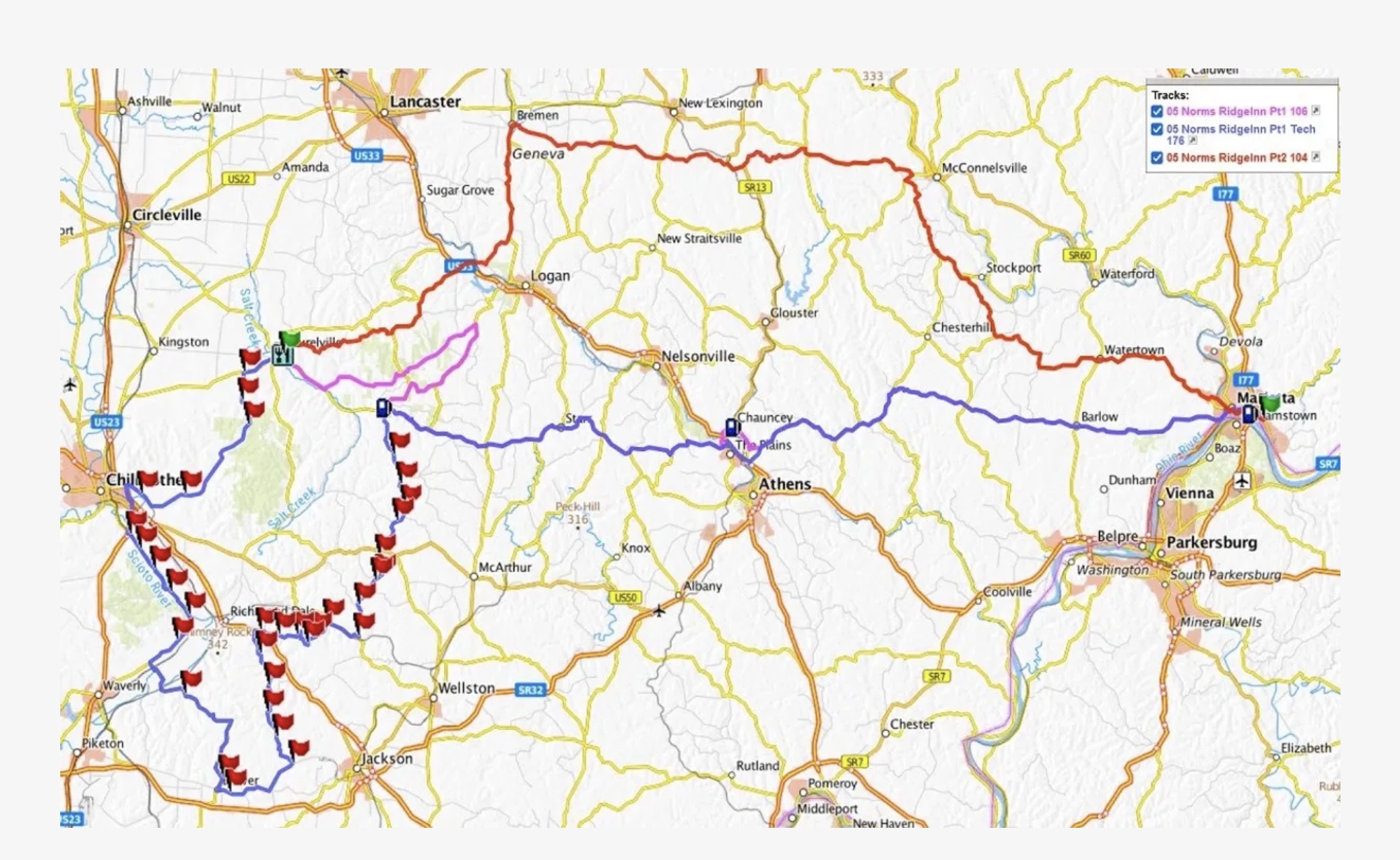 Coming from central Florida, I'd never attended before because of August's heat and humidity. But one of my riding buds, Ken, from North Carolina was planning to go again this year and said we could split a room. So, to beat the heat, I decided to trailer the BMW RT. Turns out, I would be the only Florida rider there. The host hotel was the Comfort Suites of Marietta about a mile east of I-77. When Ken inquired, they didn't have any rooms left with two beds. Right next door, literally steps away, was a Fairfield Inn & Suites by Marriot which did. We booked there. Tent camping options were also available for those so inclined. It took me Saturday and Sunday to drive up. The Fairfield Inn was fairly new, clean and quiet. My bed was very comfortable. Their COVID protocols were thorough including sensitizer dispensers everywhere. Breakfasts were well above average. We were quite pleased with the hotel… not to mention its close proximity to rally activities next door. Weather forecasts leading up to rally week did not look great at first but steadily improved. By Sunday, only a low chance of r-a-i-n was predicted for Monday, and the rest of the week would be sunny with temperatures from the upper 60's to low 80's. Just about perfect. And that held true.
Monday morning, a little precipitation to the east was showing on my phone's weather app. So, of the 24 road routes, we picked "05 – Norms Ridge Inn 210" for our first ride. See the route map above. It was a substantial and fun ride to the Ridge Inn Restaurant in Laurelville and back. We encountered a short stretch of gravel, probably in the magenta section running partly through Hocking Hills SP. It slowed us down, but we made it through okay. What little moisture we encountered was minor. Ken, not yet reacclimated to the scarcity of gas stations in this part of the country, passed by the two available along Part 1. And with only about a 200-mile range on his Goldwing, was running on fumes as we got back to a station on the west edge of Marietta. He made sure not to let that happen again.
Tuesday, we did the "02 – Bridge Ride 315".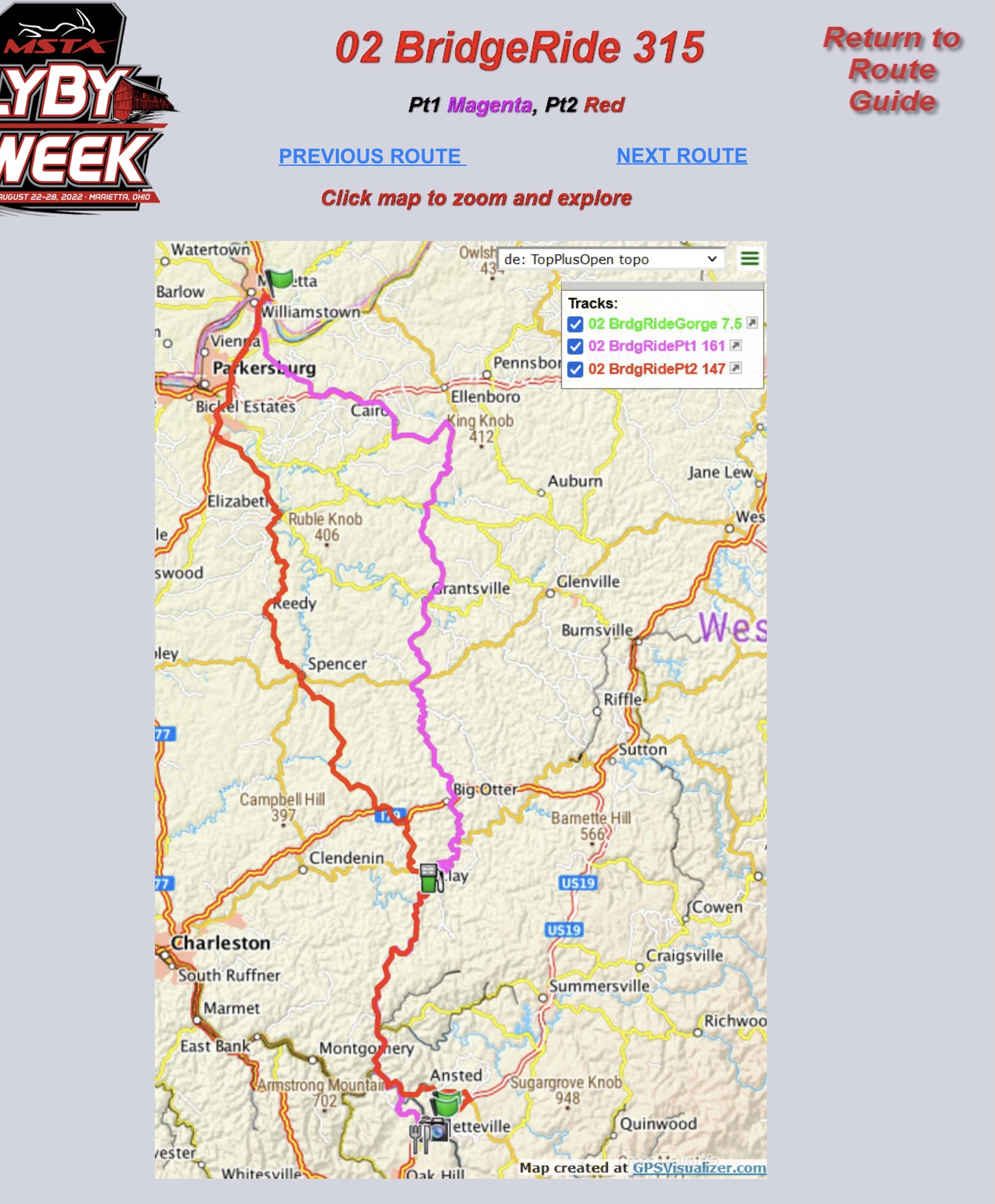 This tour bike friendly route squiggled southeast through the mountains then way south to lunch at Pies & Pints in Fayetteville, WV, which is near Beckley. Then we rode across the New River Gorge Bridge just east of town. The view was spectacular. A narrow, 7.5-mile road zig-zagged down below the bridge and along the water where rafters were enjoying their float downriver. And down there, we were absolutely awestruck with the massiveness and height of the bridge as well as the depth and width of the gorge. Just how on earth did they ever construct that bridge? At 315 miles, it was the longest ride offered, and we may have shaved a little off by letting our GPS's find the fastest way back to the hotel.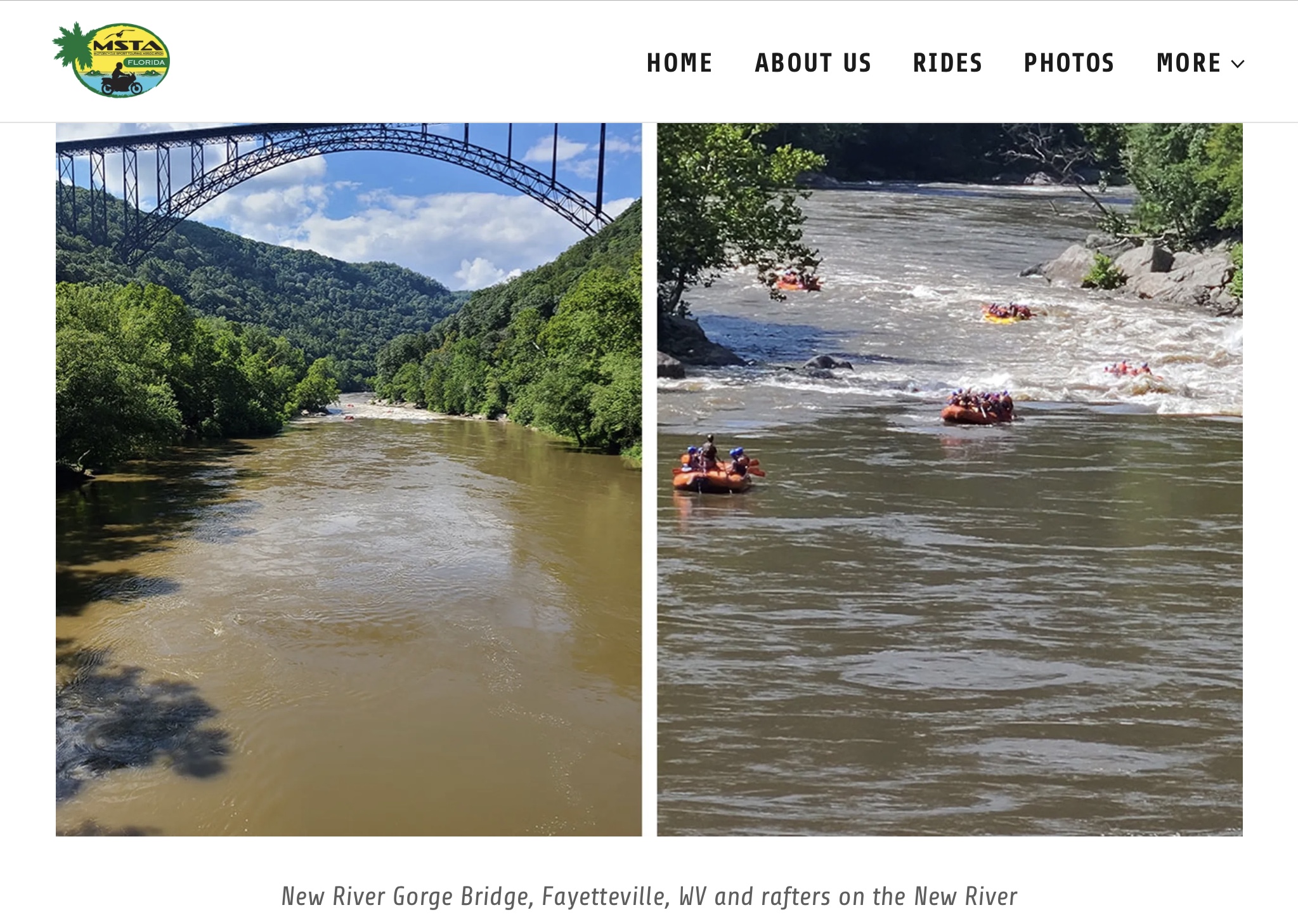 Wednesday, we did route "11 – Tour 2 190".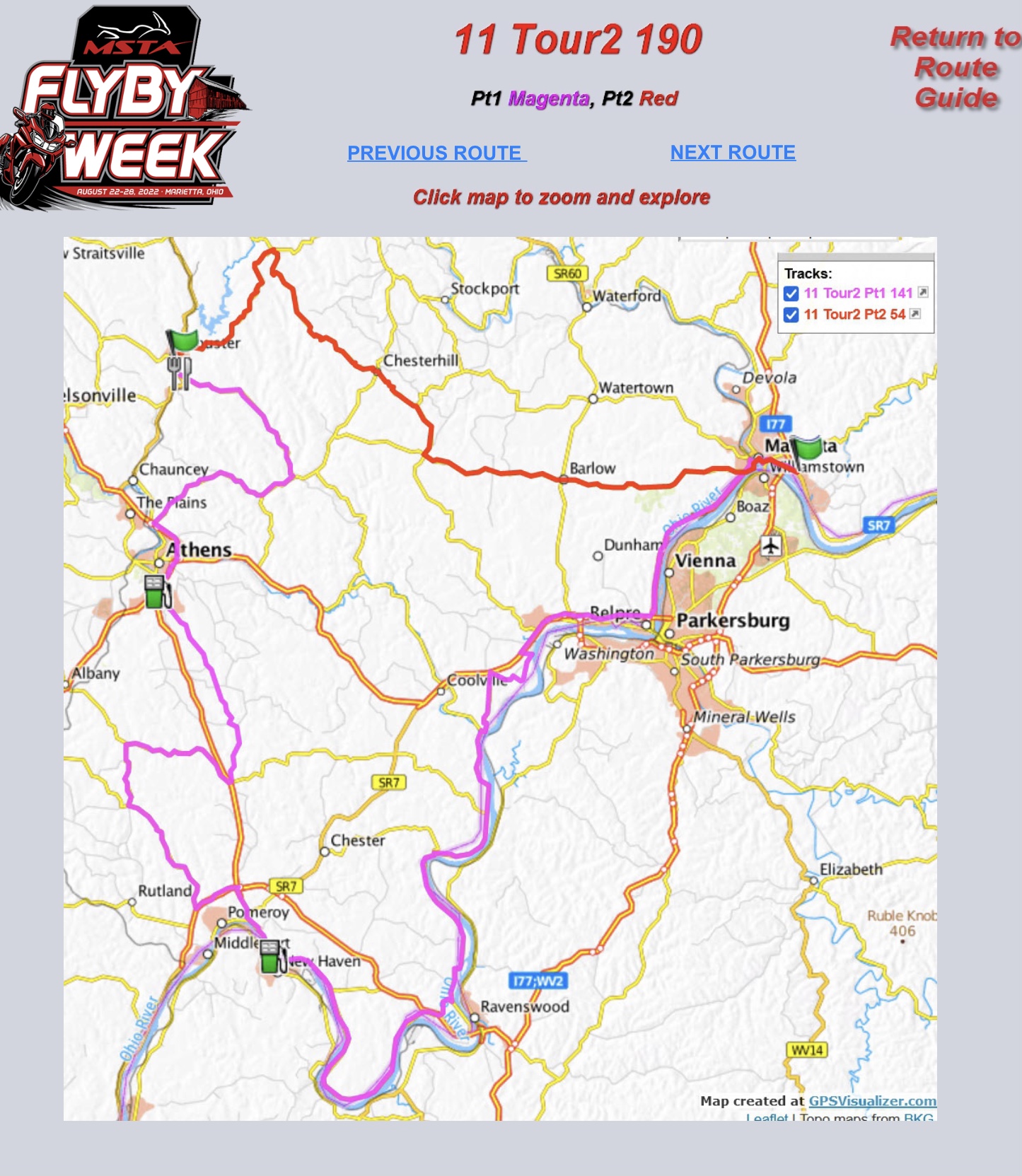 Described as a twisty route, it initially meandered gently south from Marietta, west of the Ohio River. After the long, twisty, mountainous bridge ride the day before, this low energy stretch of highway was relaxing and welcome. Our GPS's then vectored us onto a more scenic road heading toward the river, but a local advised us of a collapsed bridge further down. So, we returned to the highway and picked up the scenic route a little further south. Near Pomeroy things changed. Our path took a north-northwesterly track up into the hills, twisting and turning, rising and falling. Beyond Athens, the heading was more to the north-northeast, but the twistiness and hills continued. The restaurant at Trimble was unexpectedly closed so we pressed on. At Ringgold, the route turned southeast onto Ohio's famed triple nickel – OH 555. We followed the triple nickel for nineteen glorious miles down to Bartlett. After some convenience store grub and a needed breather, we turned east to Marietta. That section of 555 had to be the gnarliest piece of road I'd ever been on. Good pavement, just twisty, hilly and highly engaging. Now, I crave spirited cornering. The strategy is to enter blind turns somewhat conservatively then roll it on as the situation presents itself. But here sight distance was limited by the hilly terrain, and I was caught off-guard on a couple occasions by a curve's abrupt appearance and sharpness. This put my RT's anti-lock braking system to the test when the backend got really light under hard braking. Even the front tire was skittering on occasion. MAN!
"04 – Ferry-Covered Bridge 217" was Thursday.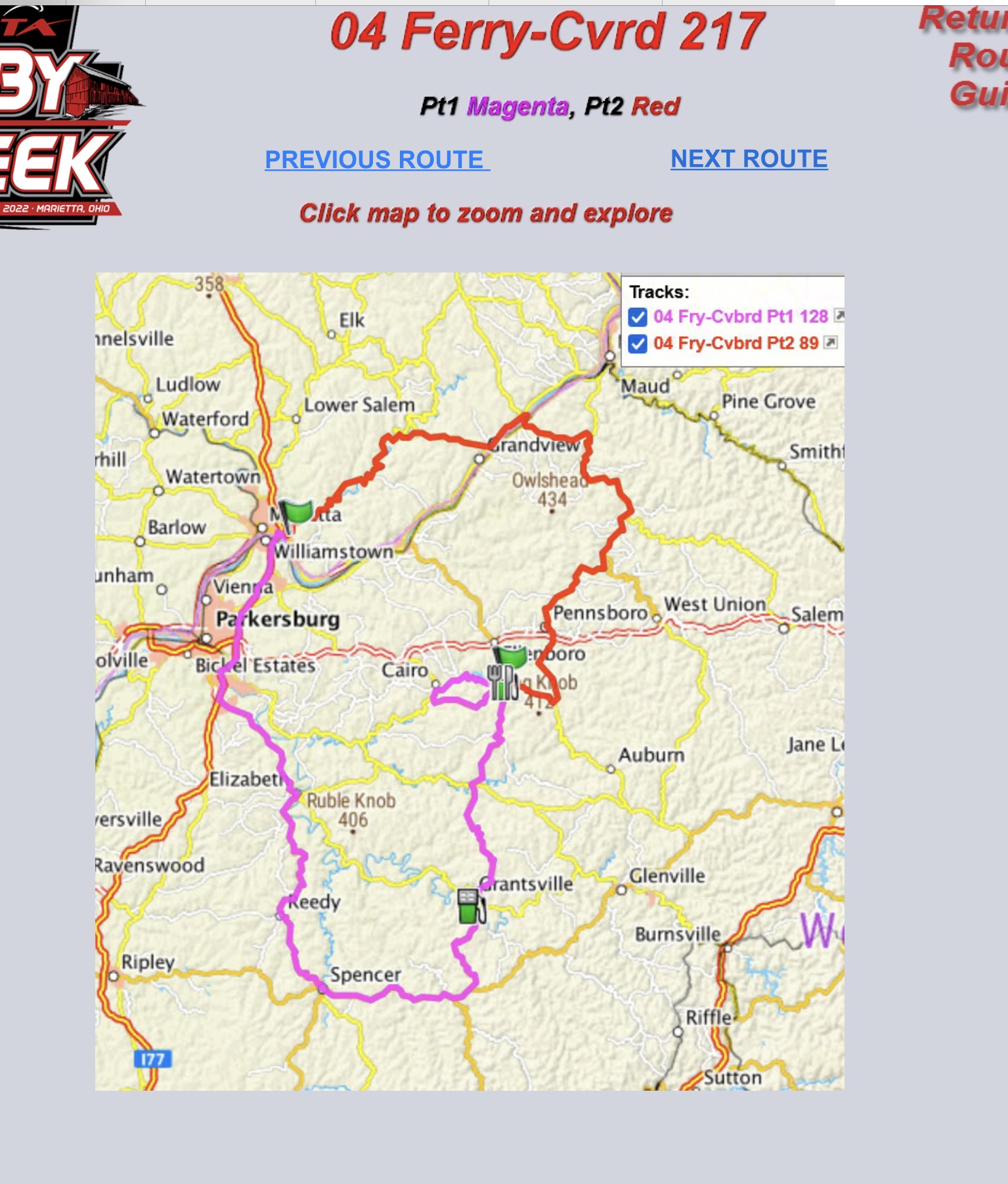 We had dinner Monday evening down along the river with a couple from Connecticut and were pleased to have them join us for this ride. The tour-friendly route went south on I-77 for a few miles then southeast, east then north through the mountains to Harrisville, West Virginia where we had lunch at the Pizza House Family Restaurant. Everyone but Ken had GPS routing issues around Harrisville. Only he correctly rode the 19-mile loop through North Bend SP coming into town while we waited for him at the restaurant. And we all took off in different directions after eating. I finally hooked back up with Ken, but Don and his wife had disappeared. We were relieved when the Sistersville, WV ferryboat skipper said they'd already crossed the Ohio River there. Anyway, we did note two covered bridges on the final leg between the river and Marietta. In retrospect, I think the routing issue probably had to do with "route settings" differences or limitations among our GPS units and perhaps oversimplification of the .GPX data in the Harrisville area. Norm was informed, so it will be resolved by next year.
On Friday, looking for a shorter ride, Ken and I did the "22 – OH Windy 9 Taste of the Nickel 108".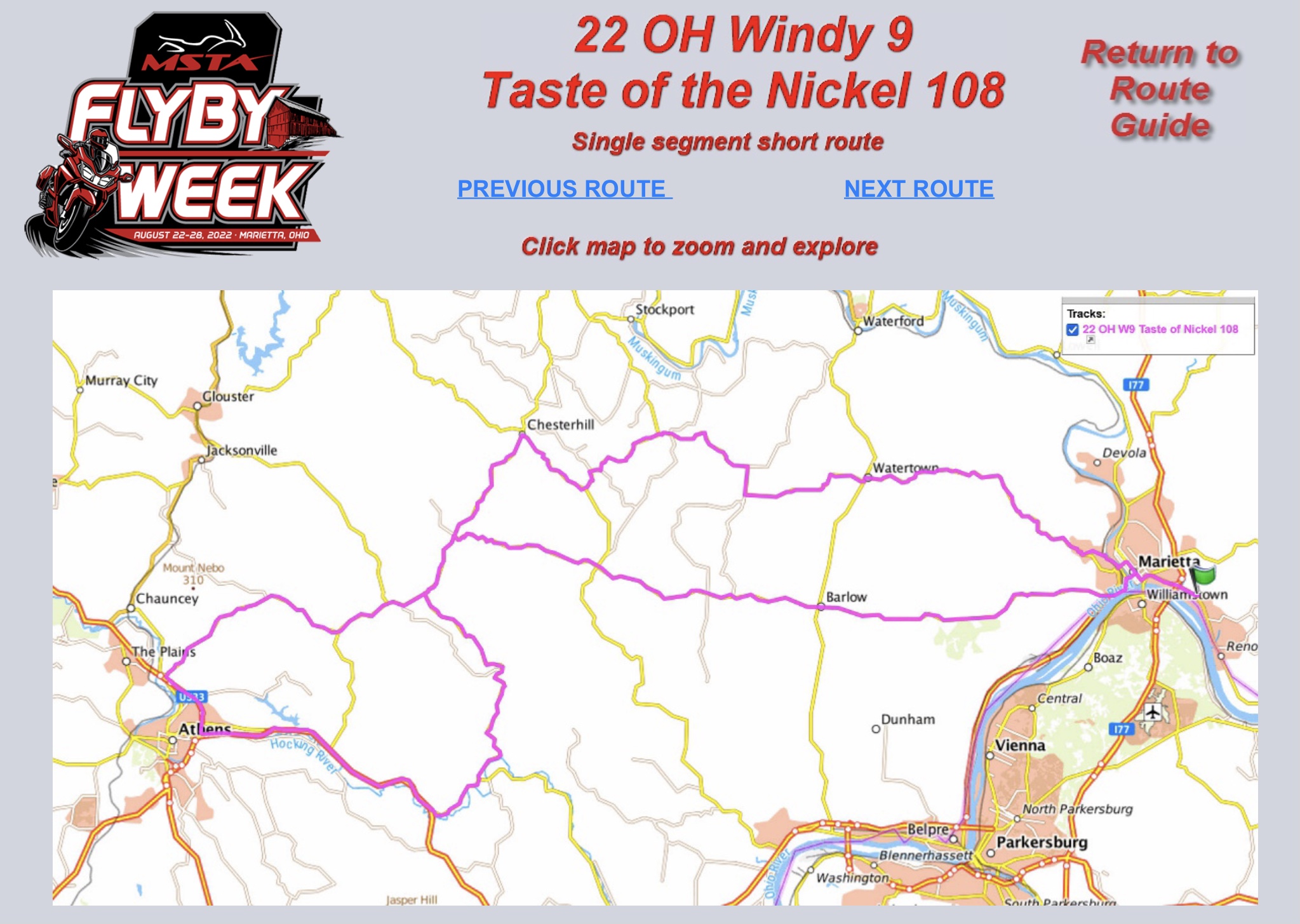 This tour bike friendly route headed due west out of Marietta, dropped south and then west again into Athens. Then, it vectored northeast to Chesterhill where it turned southeast for a 3.4-mile "taste" of OH 555 before turning east back to Marietta. At only 108 miles, there was no lunch stop. Perfect. Good afternoon for a bike wash and massage
Hotdogs were calling us Saturday. This was the "06 – HB Hotdogs EZ 200 – 228" tour bike friendly route.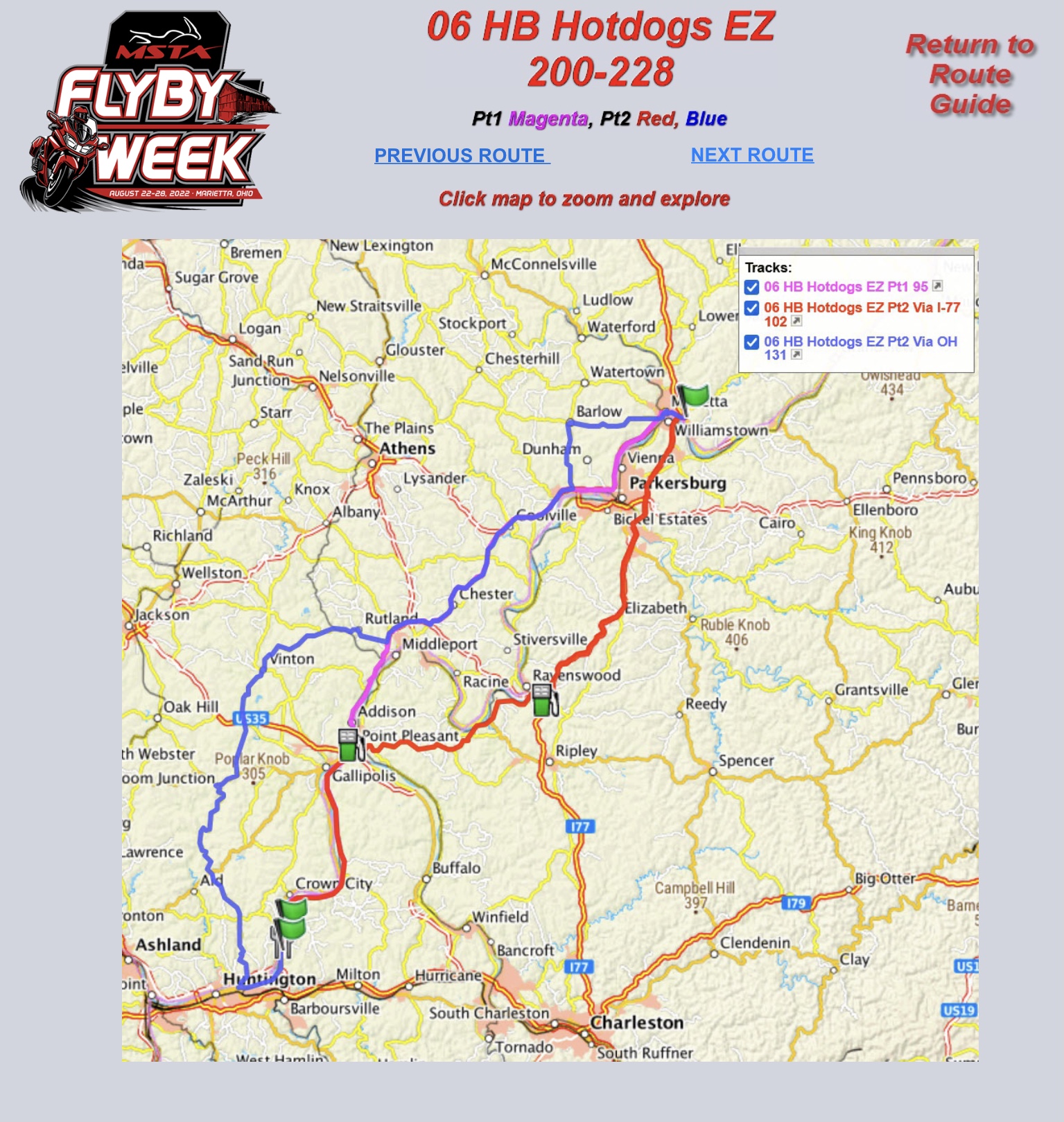 Like our Wednesday ride, it again followed the Ohio River south, this time hopping it for a stretch into Lesage, WV and the Hillbilly Hotdogs Restaurant. My God, it looked like a junkyard! But I finally decided – on purpose. They fixed hotdogs every which way it was possible to fix 'em. I ordered two chili dogs and fries. At the other end of the spectrum, you could get "The Original Homewrecker" – a 15-inch 1-lb. weenie with 2 lbs. of toppings for $22.50. Or "The Original WidowMaker" – a 30-inch 2-lb. weenie with 3 lbs. of toppings for $35.50. Good lord! Instead of I-77, we took the longer, twistier Ohio backroads option north and northeast on our return to Marietta.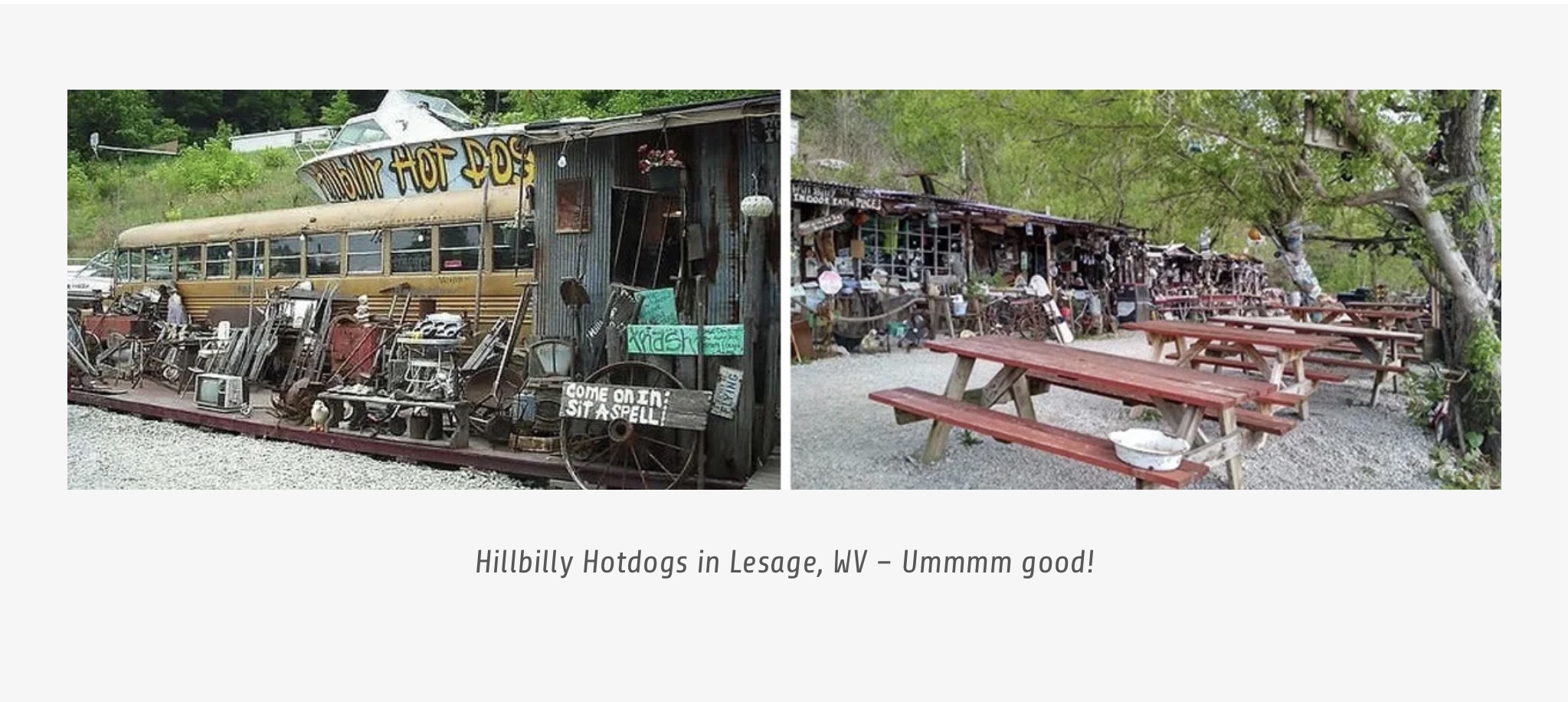 Closing ceremonies were Saturday night in the tent-canopied lounge area set up behind the hotel. After recognizing attending MSTA officers, area directors and event volunteers, door prizes were handed out. Almost everyone got something. Norm mentioned that 168 had registered. I have to think that number will climb as word gets out about just how great the riding is up there and how good this event really is.
Finally, on Sunday, while everyone else was heading home, Ken and I did the new for this year tour/twisty "29 – Morgan's Raid Road 223".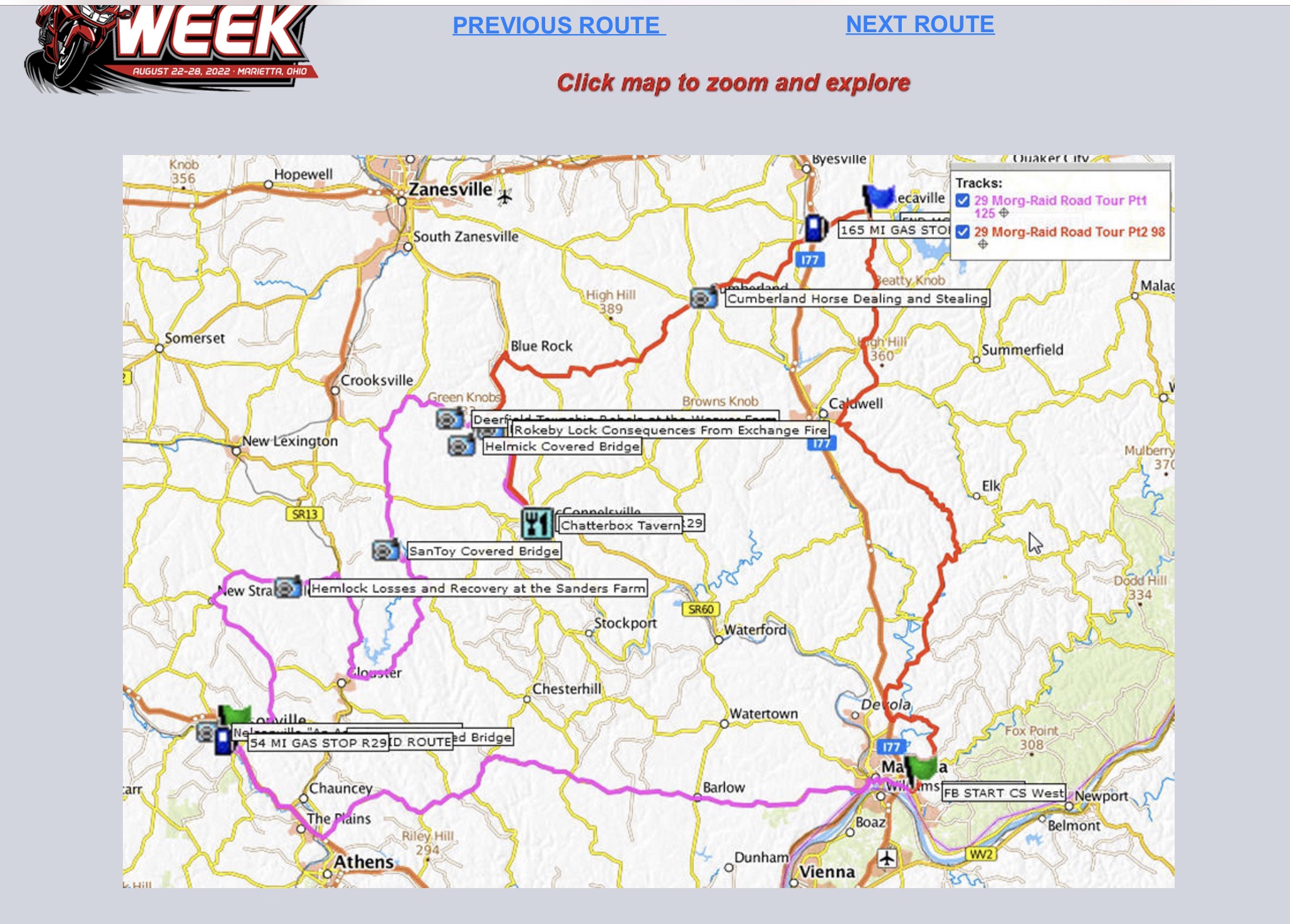 The route went west to near Athens then zigzagged northeast to McConnelsville, OH where we had lunch at the Chatterbox Tavern. Then, we proceeded north and east-northeast to Senecaville, OH where the loop turned south to Marietta. A failed 1863 Confederate army raid into Ohio followed roughly the path we traveled from just above Athens all the way to Senecaville. Then we encountered a long stretch of gravel road south of that town which slowed us way down but we got through OK. Norm has already eliminated the gravel from next year's route.
As you can tell, we got in a lot of riding – ranging from relaxing to challenging, short to long, flatland near the river to hills to mountains – all of it supremely satisfying. Whatever we felt like doing on a given day, this rally had an answer. To fill in the blanks when we weren't riding, there was bike washing, massages, dinner tours, a seminar on medical evacuations, camaraderie and local sight-seeing. And, we were blessed with great weather, to boot. What more could you ask for?
Next year the event will be held August 21- 27 at the same Comfort Suites hotel. What I saw of it was nice. I might go back and choose from the 17 road routes we didn't ride this year or maybe mix in some of the seven we already did. Perhaps, there'll be even more to choose from by then, but I'll leave the 7 ADV routes for others.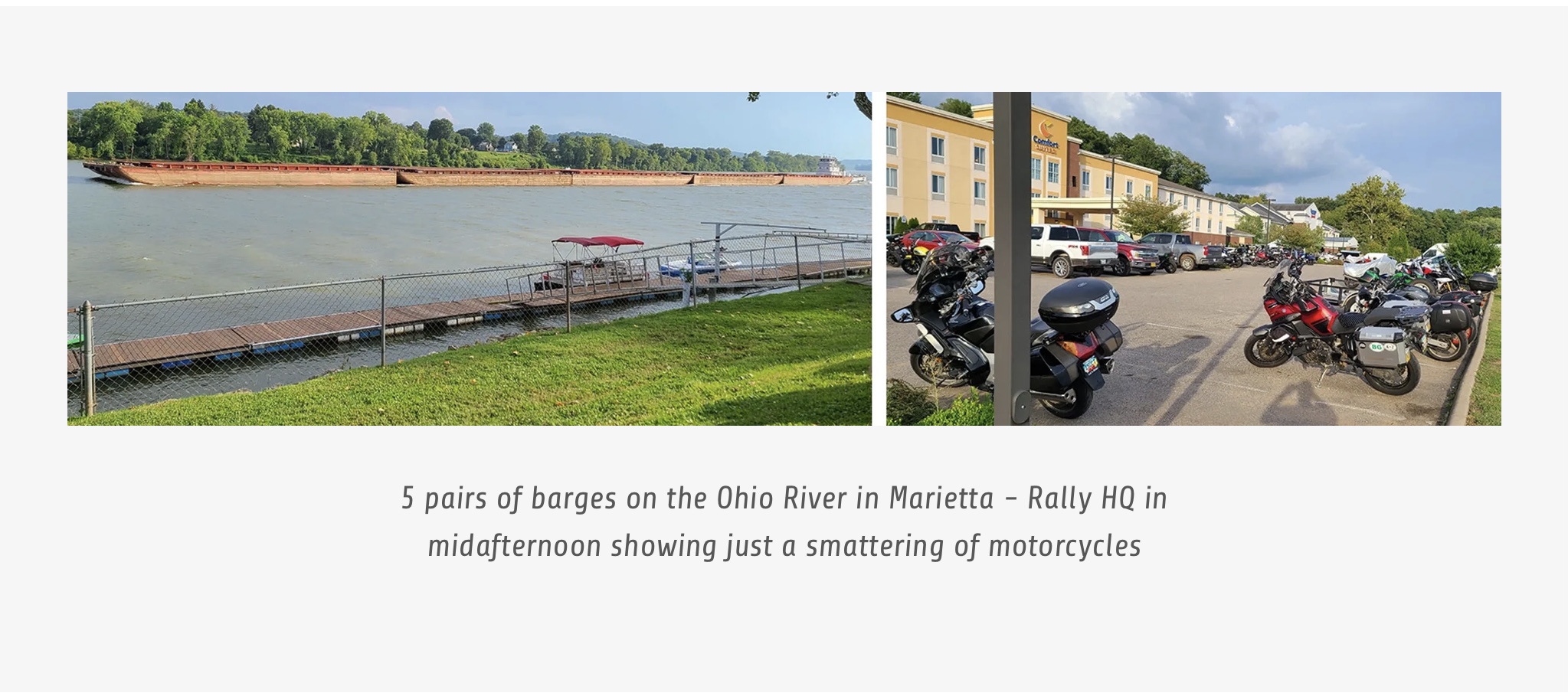 BTW, almost every barn in the area had a large Mail Pouch Tobacco ad painted on it. I recall the event used to be called the Mail Pouch Fly-By and was a weekend event. But as Norm explained – when he took over, not wanting to be associated with a brand, he shortened the name (and lengthened the event) to Fly-By Week – just in case you were wondering, too.
Safe journeys,
–Tom Blake
Copyright © 2022 Florida MSTA – All Rights Reserved.