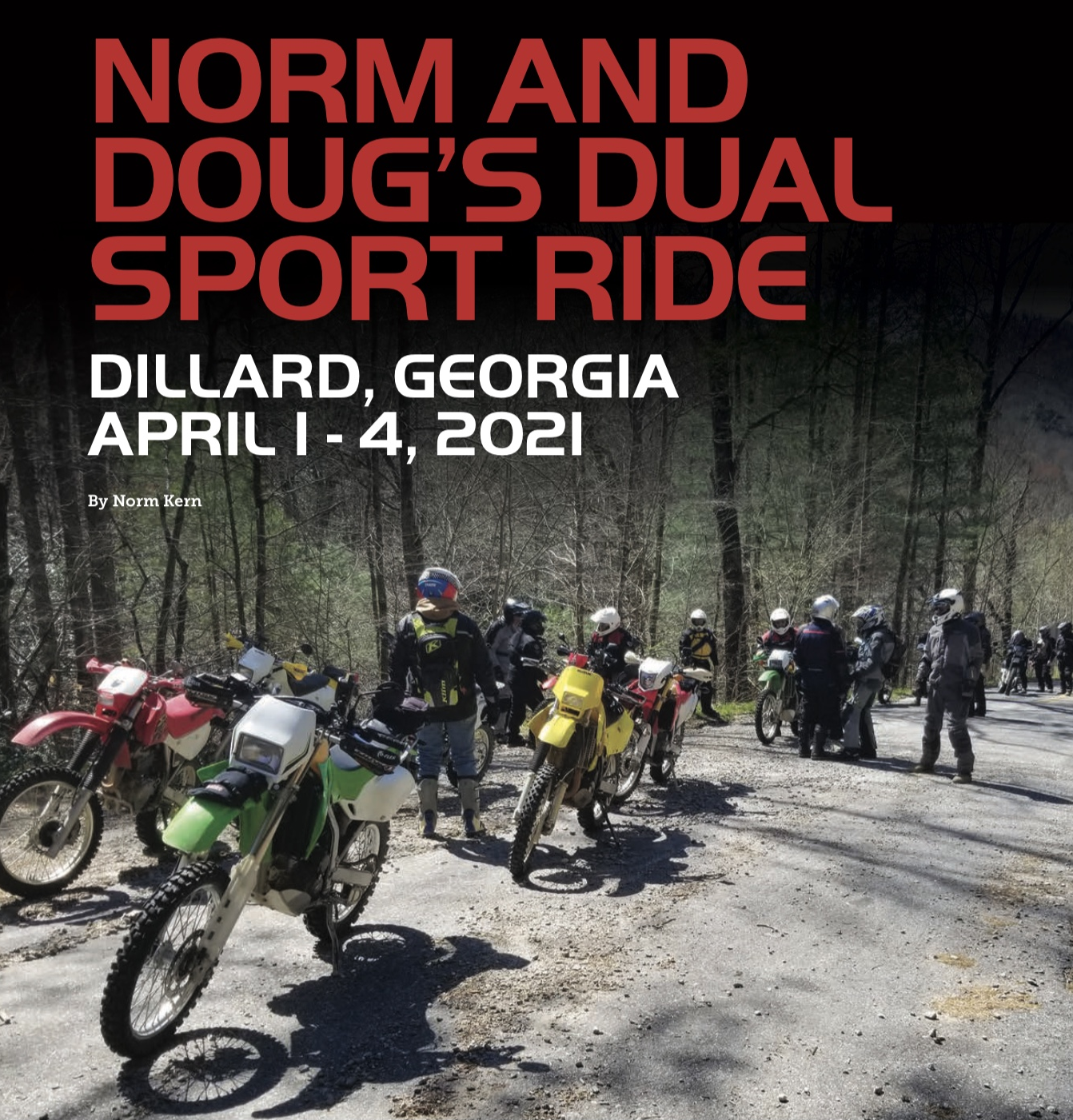 My "Sport-Touring" season started off with lots of fun at the MSTA Just-For-Fun Norm & Doug's Dual-Sport ride at Dillard Georgia. We had about twenty riders, all of whom came prepared with capable bikes, riding gear, skill and experience. We didn't know in advance how well things would go, as there was 1.5 inches of rain on Wednesday, and Thursday was COLD with the temperature
getting only to about forty degrees. Weather was still cold and breezy with a high temperature of only 50 degrees. We waited until 11 am to start -the temperature was still a little under 40, but the sunny clear sky helped a lot! Due to the late start, we ran a short 85-mile route that went east from Dillard and included parts of North and South Carolina.
There were about a dozen riders for Friday's ride, and we started out in a single large group. About thirty miles into the ride, there was a road Doug hadn't ridden in a couple years that turned out to be blocked off with big mounds of dirt, so we turned around and came back out to the paved road. Six of us, Mike Lauvray, Ritch Prindle, Allan Skinner, Ron Vess, Jim Goody and I went north and picked up our route on Walking Stick Road. We didn't know that Doug's local contact had advised him that this road might be too wet and muddy right then. So, while we forged ahead, Doug took the rest of the group south on an alternate route. Walkingstick Road was pretty technical with huge gullies, some more than 4 feet deep on uphill and downhills. Fortunately, the walls of the gullies sloped enough that if you went into one, you just slid down the side and rode in more rocks and mud until you got a chance to get out – nothing too steep, and not too muddy. Creek crossings were up a bit but were not a problem.
Once past Walking Stick, we rode another fifteen miles of the route and eventually passed Doug's group going the other way. Due to the late start and shorter route, there was no lunch stop. We got back to the hotel about 3:30 PM, so we grabbed an early dinner at the Cupboard Cafe in Dillard. That turned out to be a good plan, because by the time we left there was a long line of people waiting to be seated.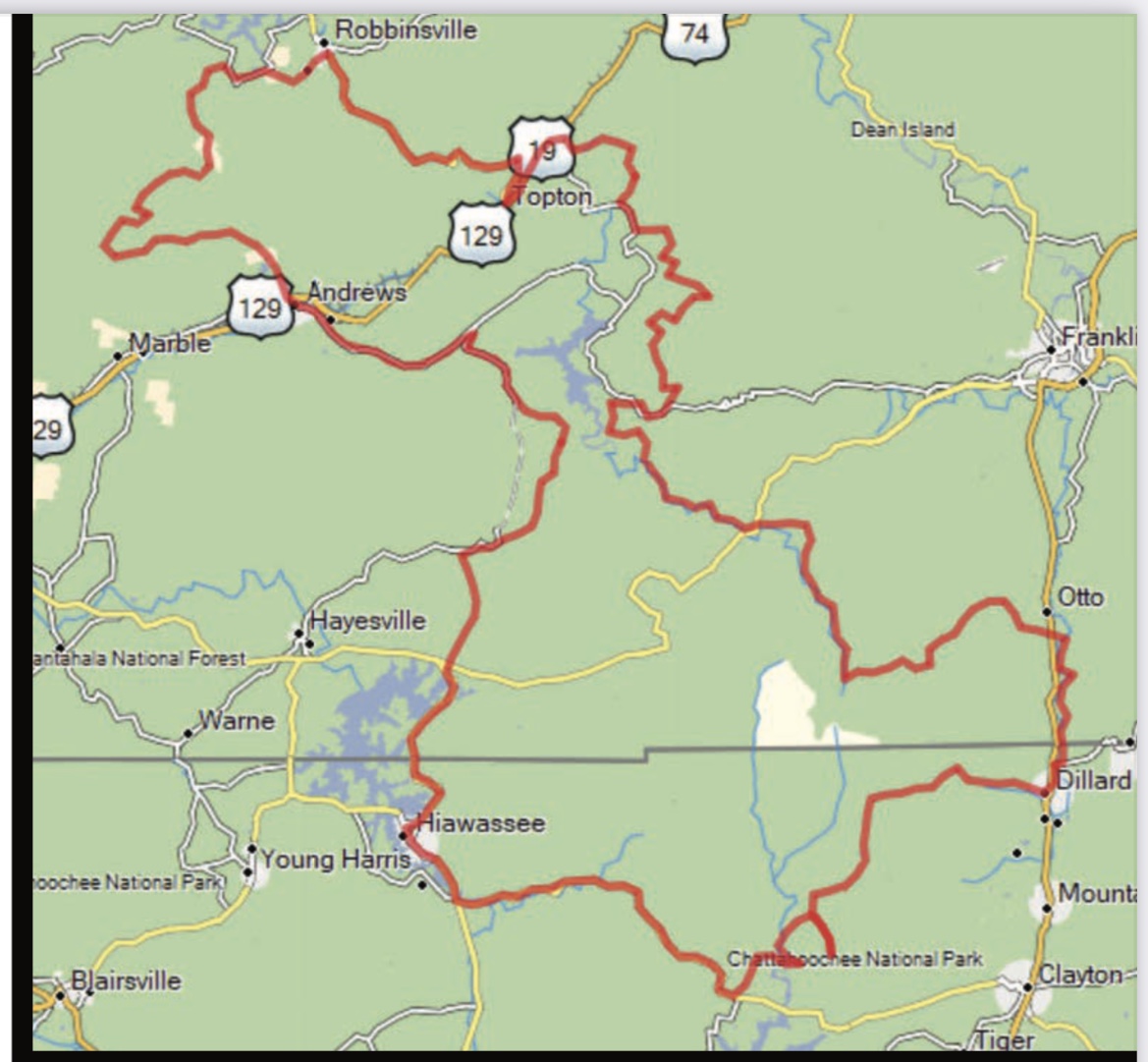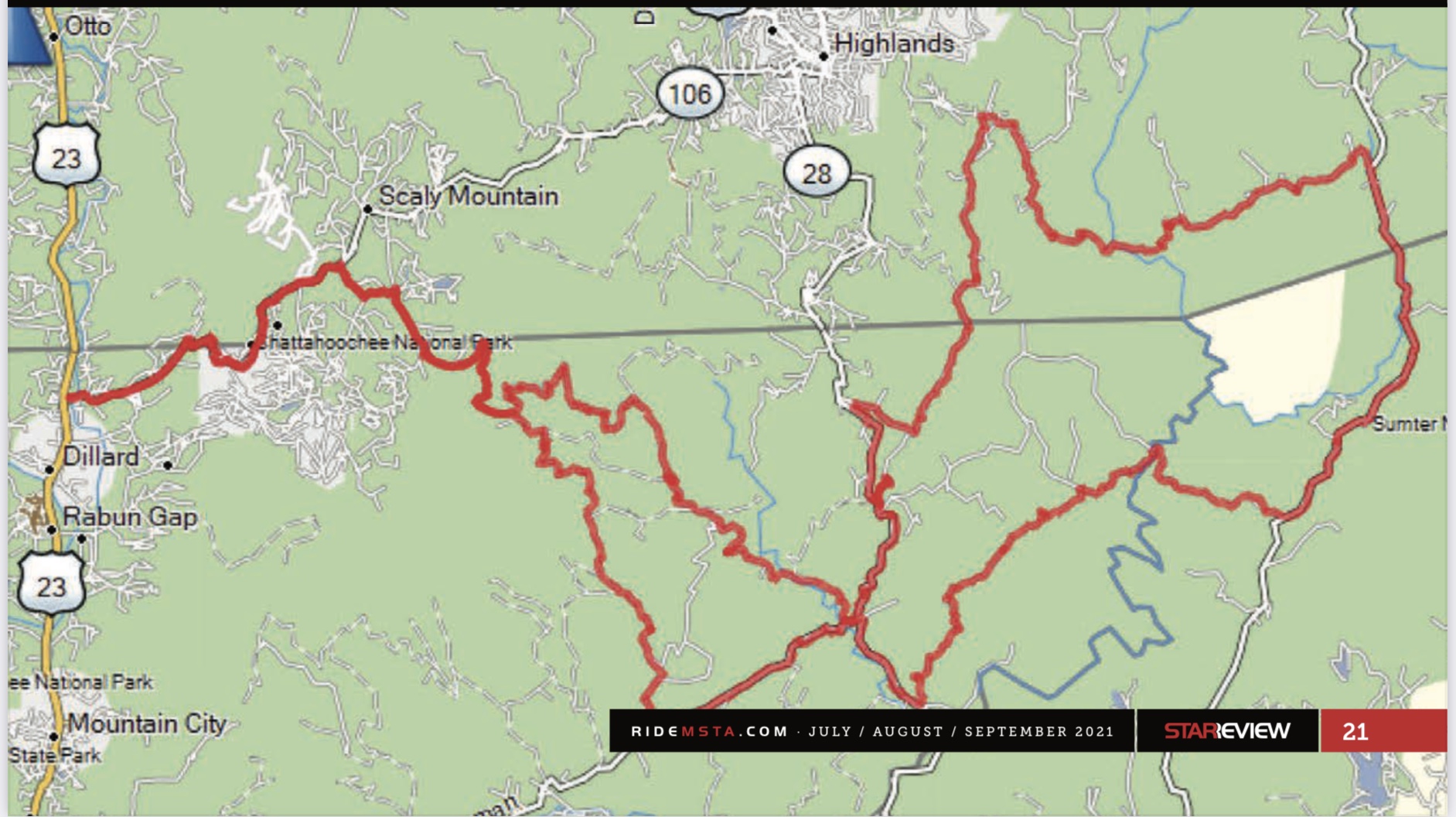 The weather was about ten degrees warmer than Friday, but it still took until about 10 AM to reach 40 degrees. We
started the day with eighteen riders for the 180-mile route. Doug's plan was to detour around the Charley's Creek section to avoid some jeep trails that were sure to be badly rutted and muddy. That involved a last-minute change to much of the first 60 miles of the route, so Doug led everyone in a single group. The only mishap of the day was at a water crossing. It was about fifteen feet
wide, but about a foot deep in the middle with fast running water. Doug went first and started getting swept sideways by the current. He revved his bike and flipped it coming out the other side. He was OK and the bike didn't land in the water. After that little demonstration, everyone else made it across okay. Once we got back on the regular route, we split into two groups. At
around 2 PM, about 105 miles into the route, we stopped at Lynn's Place Restaurant in Robbinsville, NC. It's one of our favorite lunch stops – plenty of good food served by friendly waitresses who speak with the loveliest Southern accent you will ever hear. The riding had been great all day, but after lunch we had some drama added to it. Allan Skinner passed a slow
Jeep driver on a rough gravel road who then took off after him and demanded he stop. The Jeep driver claimed that Allan had "roostered" him with a rock that chipped his windshield. Turns out there was lots of other damage to the front end of the Jeep, and it definitely was not fresh. Even the small chip in the windshield looked like it had been there a while. Allan gave him insurance info and we went on. Saturday's route wound up being a glorious 192 miles on a beautiful sunny day, but four miles from the finish, a German Shepherd dog ran out to chase us. He went right in front of Mike Lauvray, who ran over him and went
down. Mike's bike got bent handlebars and some scrapes on the right side. He hit the pavement, but his gear did the job. He got a small abrasion on his right arm and one bruised toe. The dog ran away and could not be found.
The owners of the dog called the police and three county sheriffs, and a state trooper showed up. They questioned witnesses and explained the law in North Carolina, which is basically that animal strikes are an "act of God" and there is no legal liability either way. They declined to write a report, but it still added another hour to an already long day. By the time we got back to the hotel, loaded the bikes and got a shower, it was 8:30 PM. We went to the local Mexican restaurant for some Negro Modelo
draft beer, margaritas, and dinner, seasoned with lots of good conversation. Got to bed late, came home Sunday. All in all, it was a fantastic start to the riding season.