BY Jerry James, Event Coordinator
GREAT WEATHER, GOOD FRIENDS, AND ZERO ACCIDENTS MAKES THIS OZARK ESCAPE ONE OF THE BEST RALLIES OF THE YEAR!
WOW! I am sitting here starting to write the ride report from this year's Ozark Escape. We never thought that this event would get as large as it has become. This is the 5th year that we have had this event and each year it seems to get bigger and better! Jamie and I are proud to host this "Just For Fun" event.
Thursday, April 21
We had been watching the weather for the past week and this morning we were greeted with bright skies and a weather forecast that looked very promising. This is the main reason we moved the event back into late April.
Jamie had to work today, so she would be driving up after teaching her last class. I finished loading up the bike and headed out to Eureka Springs around 2PM. I was excited to get the event underway and the ride to the springs just wet my appetite. It was going to be a wonderful weekend.
Jamie arrived and we had dinner with our friends and awesome Dual-Sport ride leaders Dustin & Kate. This event would not be the same without them. They know the trails of Arkansas like no other. Their vast knowledge and awesome riding skills were on display as they led the dual-sport rides on Friday and Saturday. Go check out their social media @solivesoride – Thank you Dustin & Kate for making this a memorable event.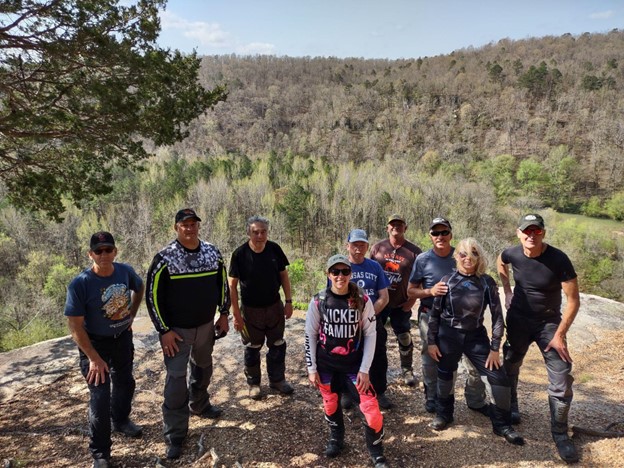 We had a great dinner at Sparky's with Dustin, Kate, and Yeeha Stephen. We were all excited about the weekend. The twisty roads and off-road trails of Arkansas and Missouri were waiting for us. We all called it a night fairly early. I think we were all excited about what lay ahead for the weekend.
Friday, April 22
I have to admit that I did not sleep as well as I should have. I was so excited, to see everyone. Thursday night we counted over 30 bikes in the lot, so I was excited to see how many more riders had shown up. We had 52 riders pre-register, so I knew we were going to have a full house. When I walked out to the parking lot I was greeted by many fresh and excited riders. This was going to be a great Friday!
The parking lot was abuzz with activity. Riders were coming in and having breakfast, before heading out to the parking lot to kick tires before the ride meetings at 8:45am. Some of the street riders hit the road early as they wanted to get a few twisties under their belt before stopping for breakfast.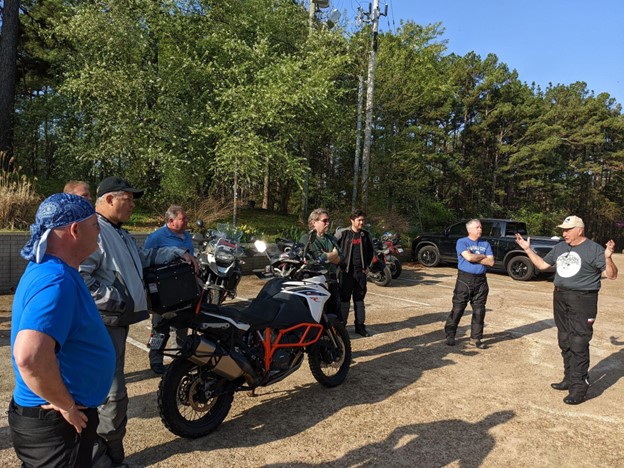 We had 10 riders for the street ride and the dual-sport gang showed up with 10 as well. We had our quick safety meeting before hitting the road. Everyone seemed excited to hit the road. The gang was fueled up and ready to ride. Todays route was 240 miles and we had it planned to have everyone back no later than 3:30pm so we could rest some and prepare for the 1st hamburger cookout in Ozark Escape history. Let's ride!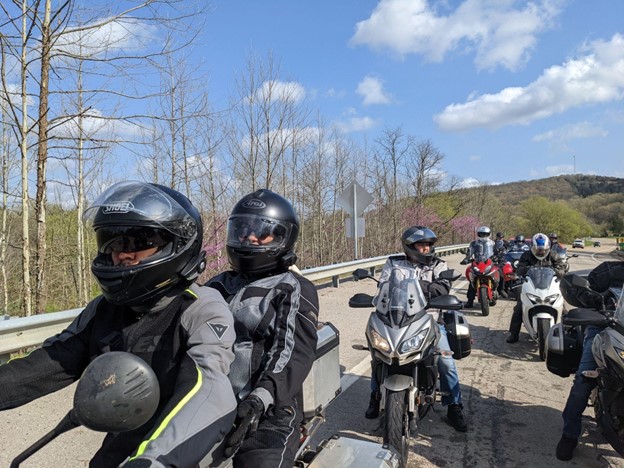 Jamie and I were leading the street ride and we set off with the group in tow. We were out of town fairly quickly. Our route was going to take us down AR23 into Huntsville AR. That would be our first stop for the day. We would top of there, as the fuel stops would become more scarce further along in the ride.
The weather was already in the 60's so it was great for riding. The group headed out of Huntsville to ride more of the famous pigtrail AR23 before turning off on one of my favorite roads. AR16 is a great road with lots of fun twists and turns, without all of the traffic that we saw on the pigtrail.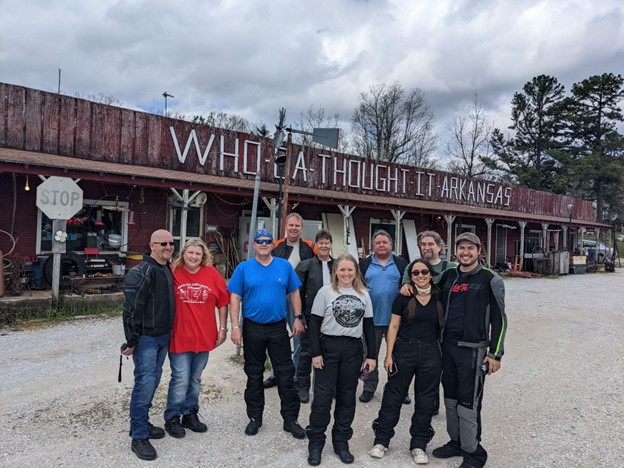 We had a fun-spirited ride down 23 and then on 16. The pace was good and it seemed that everyone had a great time. We took a break at Who Da Thought it Arkansas. We had never stopped there, as it always seemed closed when we rode by. Today it was open and a number of the riders and pillions were excited about the clean restroom.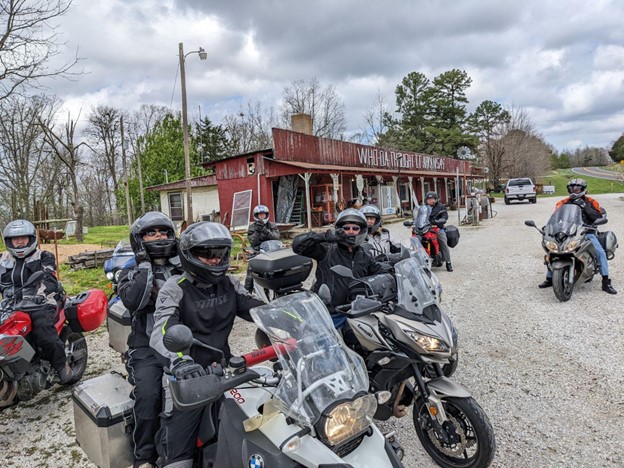 After our short break, we hit the road again. This time we jetted up the exciting road of AR123. The tight turns made for a fun ride and some good conversation as we rolled into Jasper AR for lunch. Our lunch stop was the Ozark Cafe and as always the service was top notch and the food was even better! When you are riding in Arkansas don't miss the Ozark Café.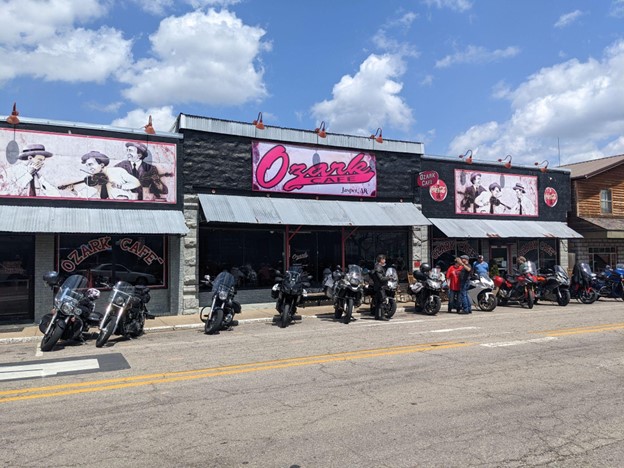 After lunch, we headed out on AR 74 and made our way back to Eureka Springs. We put 245 miles on the bikes and I have to say that the smiles were abundant as we got to the hotel. It was a great day of riding and everyone seemed to have a good time. The dual-sport riders were also back when we rolled into the hotel.
Dustin and Kate (check them out on social media @solivesoride) had a great group ride out with them on the trails. It seems that they all had a blast and no one hurt themselves so it was a great ride. This was our first year of having an organized dual-sport ride. I think it was a huge success. From the feedback we have received, we will do it again next year!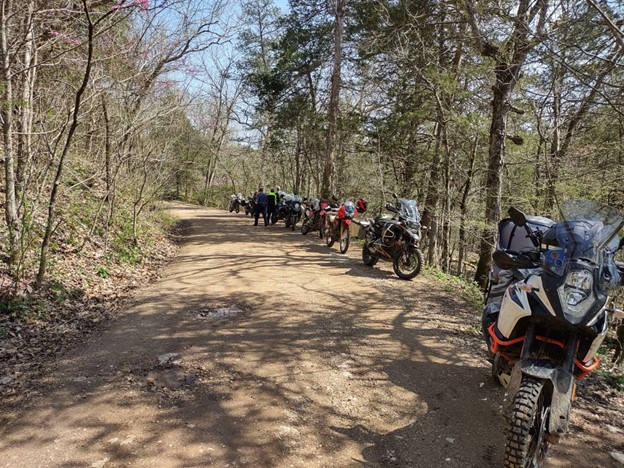 It had been a great day of riding for all. Now we were all ready to take a shower before the hamburger cookout started. I want to thank those that helped us set up for the cookout. Many of the riders came by to help out and offer support. Mostly they came over to laugh at us, but we were good with that.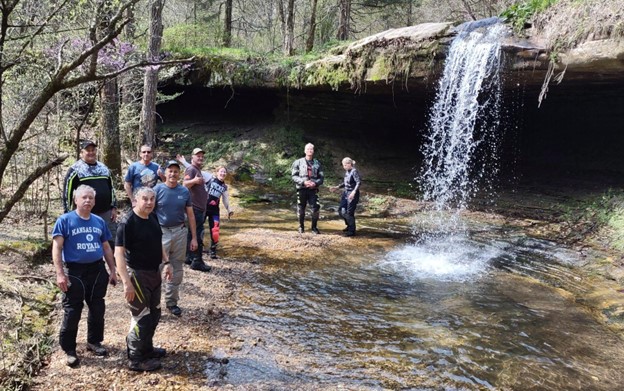 We had a fantastic evening. We cooked up some Angus burgers and the riders all hung out and traded stories about the day. I did the best I could cook on the camping stove that we carry in our Jeep on camping trips. Jamie was inside, making burgers and handing out chips, cookies, and brownies. Everyone seemed to get enough to eat and the conversations were entertaining to say the least. We learned a lot during our first hamburger cookout, however, I still think it was a success.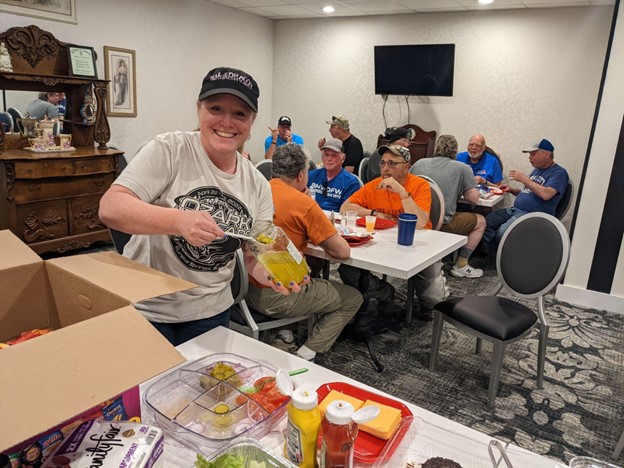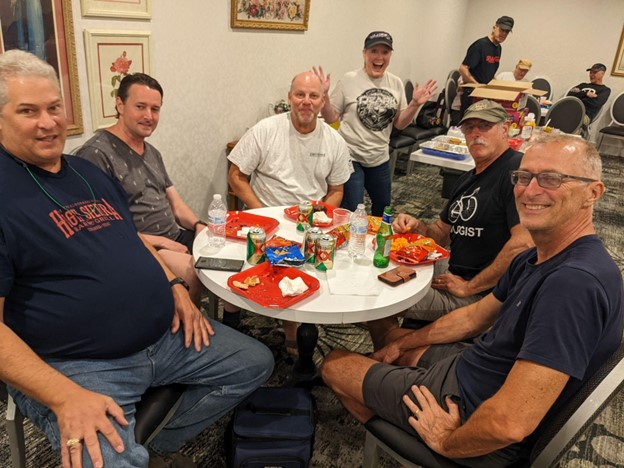 Saturday April 23
We woke up to another beautiful morning. The birds were singing and another great day of riding was on the horizon. We ate a quick breakfast and got the group together for another safety meeting. Today we were riding into southern Missouri, heading east to the Ferry, and then lunch at a new place that we had never tried before. It was looking like day 2 of the Ozark Escape was going to be a good one. It would be hard to top the ride that we did on Friday, but we were going to try.
We had an enjoyable ride, took some back roads, and enjoyed each other's company. Michelle was toting around her dog in the coolest-looking trailer. That dog was living his best life! We had a blast zooming through the Missouri countryside. We even jumped on a Ferry to get back into Arkansas. For those of you that have never taken the Peels ferry you are missing out. It is the last FREE ferry running in Arkansas.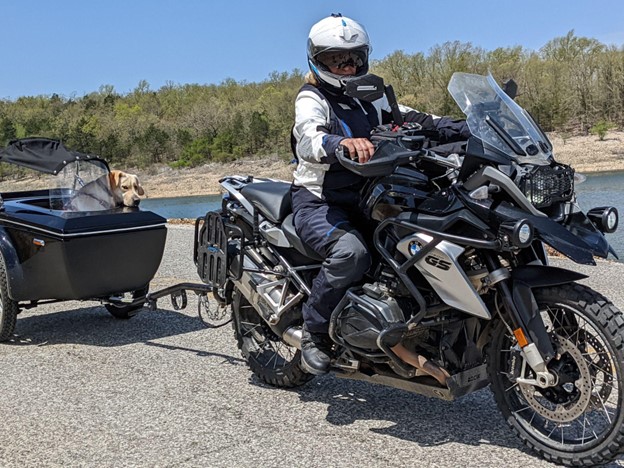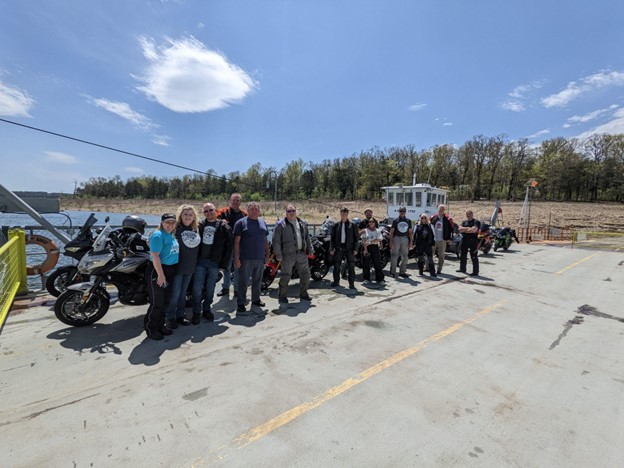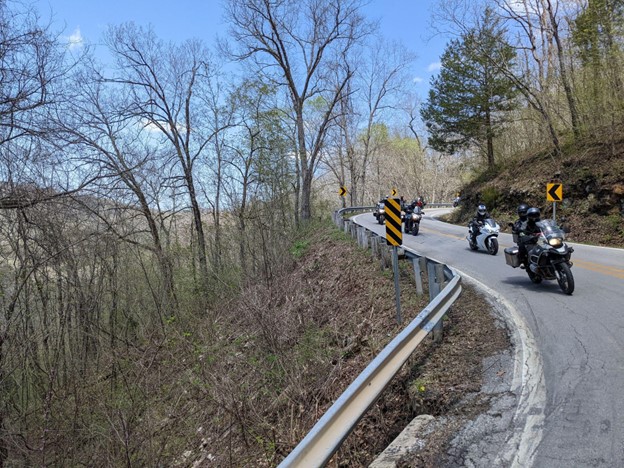 We had a great lunch at the Bunker Grill. It is located at the golf course in Lead Hill Arkansas. The folks had our table ready and the food and service were good and very affordable.
Sitting outside the restaurant was a beautiful Trans am. I loved that car back in the day. We took our time and enjoyed lunch.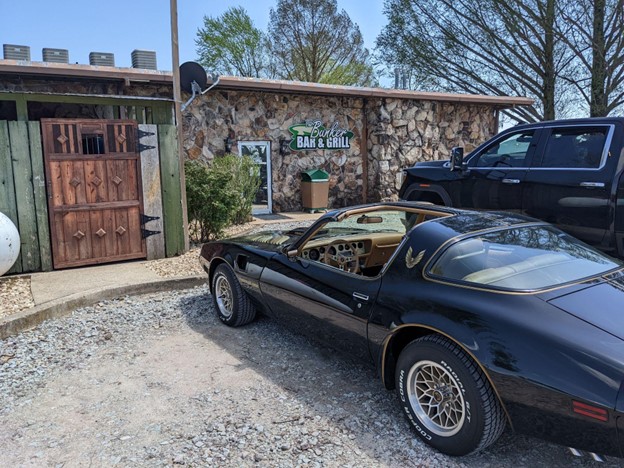 We got back to the hotel around 4:30. It allowed for everyone to take a shower before hitting the town for dinner. It was a great ending to the day.
The Dual-sport gang rolled in a few minutes before us. They finished both days with no one injured and all of the bikes still running well. Today's trails were a lot more technical and muddy. Everyone seemed to have big smiles and lots of stories to tell. It seems that the dual-sport rides were well received and will be on the agenda again for next year's rally.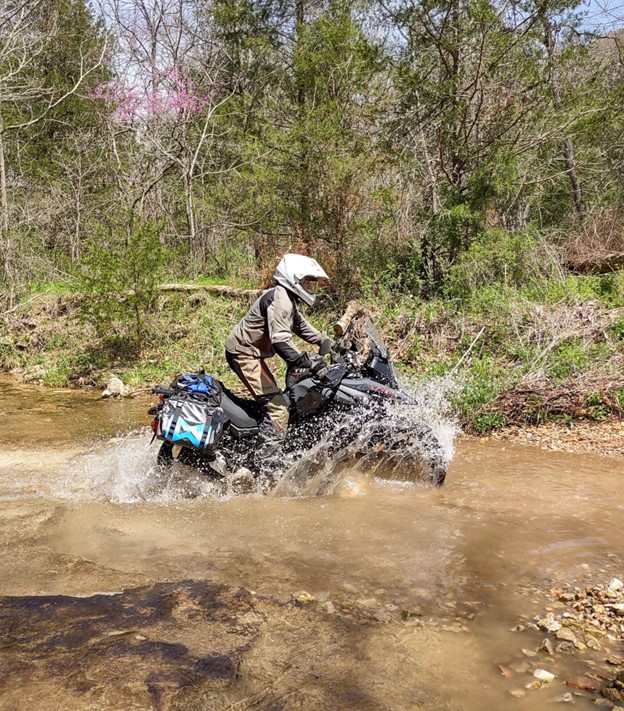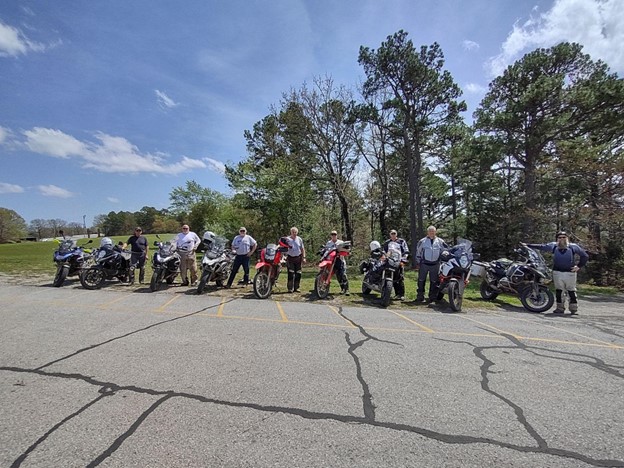 Sunday, April 24
The weather forecast was rather ominous for our departure day. Some of the riders decided to take off late Saturday after dinner, and more left as quickly as they could on Sunday morning. The rains came around 4am and lasted until 8am. Then the skies cleared and the rest of us decided to not push our luck and hit the road. I made it back home without getting wet.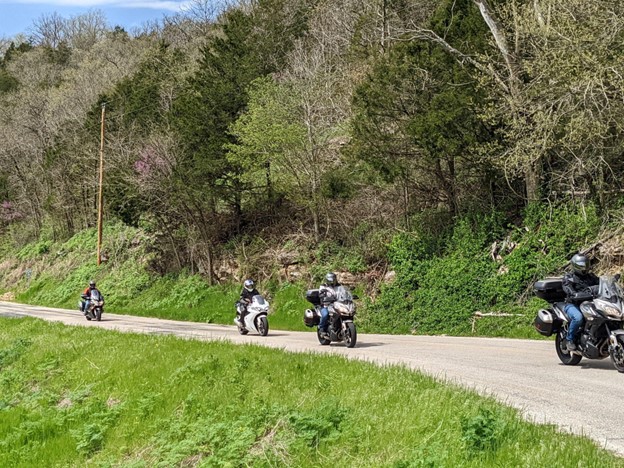 The weekend was so much fun. I put 600 miles on the bike over the weekend. We saw so many old friends and made some new ones. Everyone seemed to have a good time and that makes all of the hard work worth it. We are already planning next year's event. You can see all of the pictures here in our Ozark Escape gallery. LoneStarLobos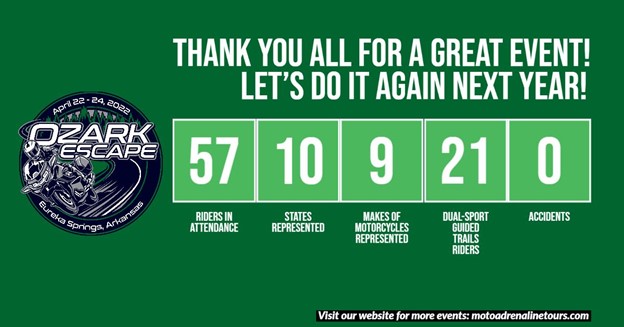 Until next time. Be Kind and Ride Safe!