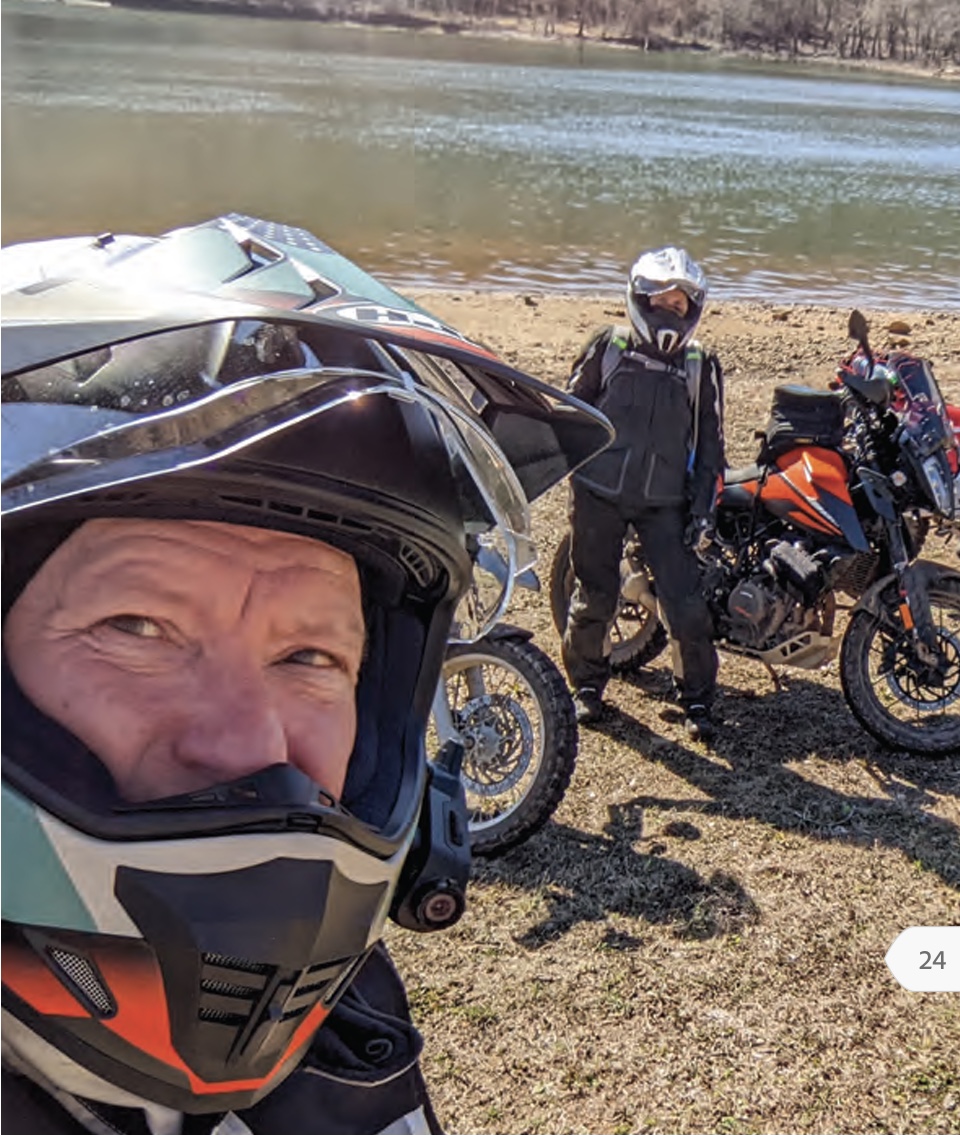 I have been riding a motorcycle since I was 14 years old. My brother and I rode a friend's Honda Elsinore 125 during the summer of 1976. It was the only experience I have riding a motorcycle in the dirt. My father bought me my first street bike when I was 16, after I graduated from the motorcycle safety course, and I have been riding on the street ever since.
Fast forward to the fall of 2021, my wife and I are sitting in a local pub when a friend sends me a link about a used KTM 390 Adventure. I don't know if it was the adult beverage talking, but for some reason, I texted the seller of the bike. After a number of texts and a quick phone call, I was the proud owner of a dual-sport motorcycle. It was one of the most spur-of-the-moment purchases I have ever made. Then the reality of owning a dual-sport motorcycle hit me. What do I do now? I did not own any adventure gear, and I had not ridden off-road in over 40 years. What was I doing? I have always enjoyed being outdoors. This activity usually involved my Jeep and some sort of camping excursion. I used to tell friends that I did not need a dual-sport motorcycle as I had my Jeep. I love camping, and we have done many trips on the motorcycle which involved some sort of camping. My ultimate day of riding includes taking on many miles of twisty roads, before ending the day at a campground.I had resisted making the jump into adventure riding. I decided to buy the KTM to find out for myself what all the fuss was about. I figured worst-case scenario: If I did not enjoy it, I could turn around and sell the bike. What did I have to lose? Many of my long-time street riding friends have become adventure riders, taking trips that involved dirt and street riding. Some had even tackled a few of the backroad discovery routes. The thought of riding off-road and taking in the back roads on two wheels appeals to me, but I won't lie, I have some major apprehensions.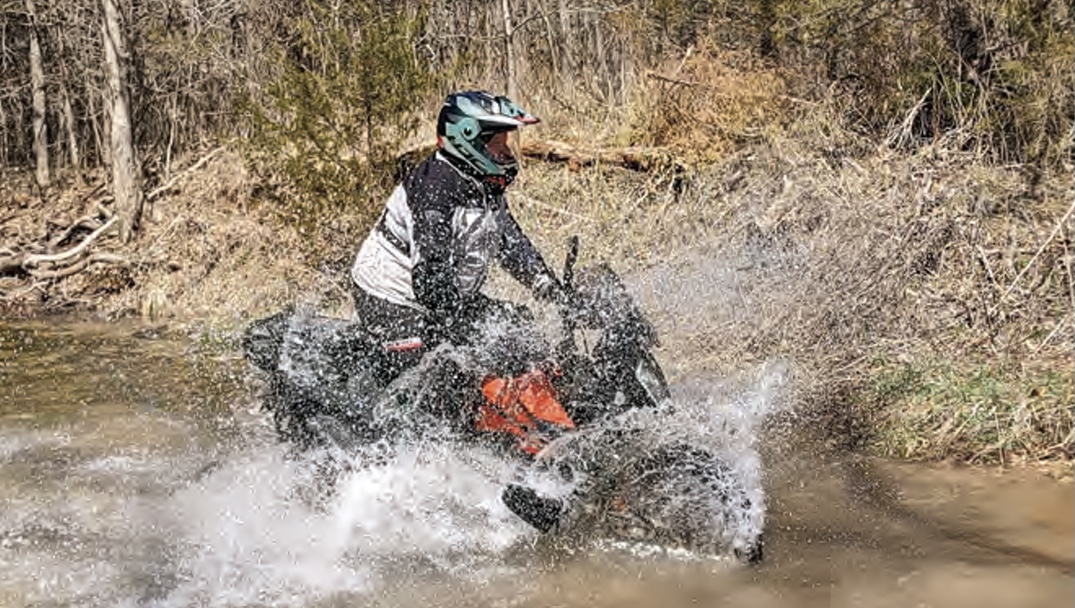 I'll need to learn a distinct set of skills. I consider myself a good street rider, who enjoys a spirited ride along a twisty road; however, I have come to learn that riding on the dirt is different. I never feel 100% stable when riding on the dirt. The front and rear wheels are all over the place, and at times, it feels like I have no control of the machine. I am trying to get more comfortable standing up on the pegs while navigating turns and uphill climbs. It takes a completely distinct set of riding skills that I am not used to. I almost feel like a beginning rider. I understand the physics of riding on the dirt, but it is going to take some time to gain the confidence that I have when riding on the street. The other important thing in my head is the thought of hurting myself while riding off-road. At 57 years of age, I do not seem to bounce back as quickly as I did 10-15 years ago. I know it is inevitable that I will drop the bike on one of our off-road excursions. But I can't lie, it still scares me. I have purchased the correct gear, and I have taken as many precautions as I can to prepare the bike for the day that we fall down and go boom! I would hate to become injured during an off-road get-off. That would hamper the rest of my street riding season. I know that sounds odd, as I could become injured riding on the street as well. This is the struggle I am having in my head.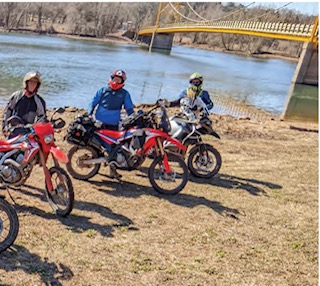 I have forced myself to get out and take little rides to become more familiar with riding the little KTM, while also learning the little nuances that make a good dual-sport rider. I am going to sign up and take an off-road class, but until that time, I am doing what I can to get out there and get better. I am becoming more comfortable and excited; with each mile I spend on the dirt. It is extremely rewarding to climb off the bike after doing a section of trail that has taken me out of my comfort zone. I genuinely enjoy being in the forest or on a secluded dirt road. Nothing beats that freedom. Riding for miles without seeing another person has a calming effect. I am looking forward to spring so that I can throw some camping gear on the KTM and take off for a good 3-day weekend adventure. I am proud of myself for taking the leap and trying something different on two-wheels. I will continue to practice and gain the experience needed to fully enjoy this new journey. Will I ever become a diehard dual-sport enthusiast? Who knows? I am taking on a big challenge in May as I head off to do my first backcountry discovery route (BDR) in New Mexico. Oh yeah, then I am doing the Mid Atlantic BDR in late August. I guess that after this summer, I will know if playing in the dirt is for me.