By Doug "Coach" McPeek, Ohio State Director
On Thursday Howard Baumwell, John Boyd and I rode from Columbus to Mt. Sterling, KY for the Red River Gorge Ride hosted by MSTA President Pat Mogavero. We left at 8am and rode through a steady, light rain in southern Ohio. After enjoying tacos at Blacksheep Burrito in Huntington we zipped over to Grayson and followed half of Pat Mogavero's 4 Parks route. This took us on some fun curvy roads through rural easten KY. Around the southern tip of Cave Run Lake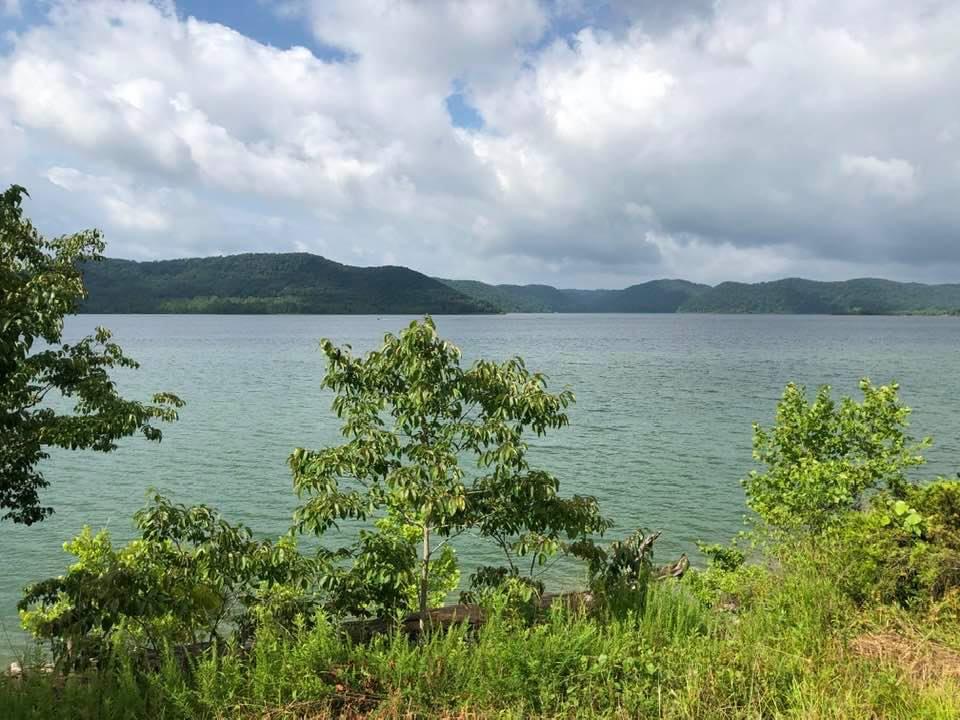 my GPS and I had a disagreement. Looking at the map now I cannot figure out I ended up running part of the route in reverse. We cut the route short and did not go through the Nada tunnel. We would go through it each of the next two days, so it was no great loss.
I had loaded only the new routes for 2021, which were very similar to each other. We found ourselves enjoying certain roads over and over throughout the weekend. These were fun roads that we never ride, so again it was no loss. We spent little time on the centers of our tires and our chicken strips were reduced to snack size.
On Friday the three of us rode the Hillbilly Triangle route, which took us south to Booneville. The ride was entertaining and we had no GPS conflicts. We found barbecue at Thatcher's in Slade. Burnt brisket ends were indeed a bit burnt, but tasty. It was a popular place. Full from a late lunch, we required no dinner that night. Instead of dinner we socialized on the patio.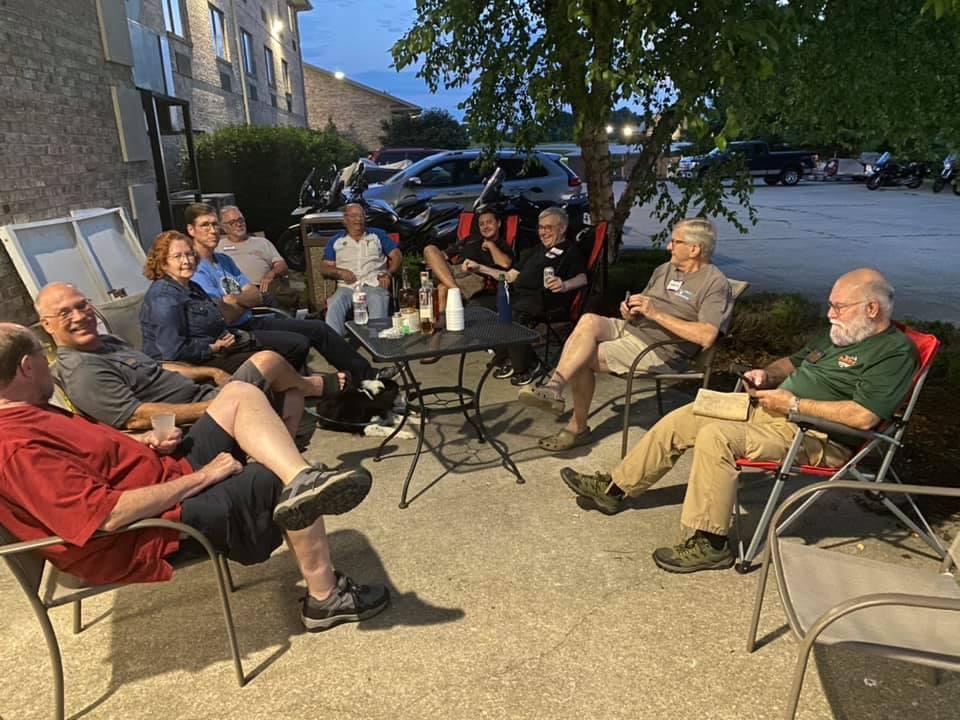 I spoke with several Ohio members. I counted at least 20 Ohio members and I know there were a few more I had not met. It was good to see a number of familiar faces from around the MSTA. Andray Hubble kept us on our toes by "testing" the siren on his ST1100 police bike.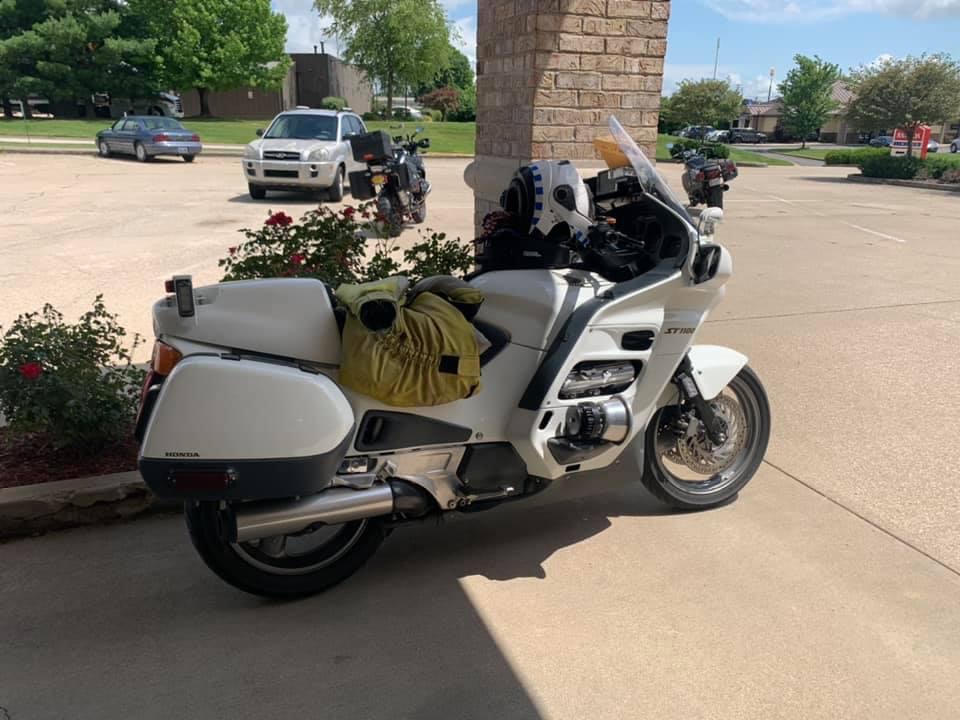 You don't want to go through the Nada tunnel with him. 😉 Don "Moose" Parish was as fun to hang with as ever, even with a bad hoof.
On Saturday we were joined by 4 more riders – Jim Roberts from Iowa, Steve McMinn from MO, Jaimie from Dayton and Steve from Indy to ride the Rock and Roll route.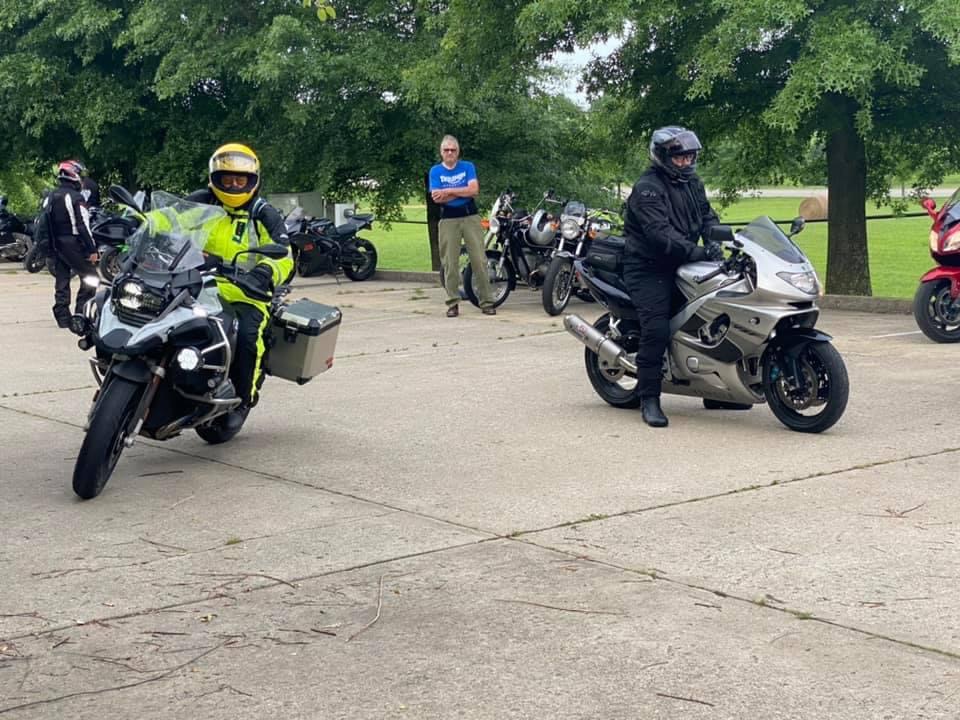 At one point we came upon a road that looked like it wasn't right. Over the intercom I asked, "Is that the road?" Jim replied that it was. Sure enough, the three GPS units in our group all agreed that Harvey Ratliff Road was on the route, so we went down the one paved lane with shrugging acceptance. "Maybe it'll be interesting." Any optimism was soon washed away as the pavement ended at the top of a steep climb. Our group of seven contained only 2 adventure bikes, so U-turns were in order. The narrow and steep road made those a challenge, but after a few minutes we were sorted out. We found the state road that we figured was supposed to be on the route and blamed an unintended Basecamp short cut. The rest of the day was less adventure and more sport touring fun. The only rain we saw was a few miles just before lunch. A strong recommendation was earned by the Sky Bridge Station and their burgers and over-stuffed quesadillas. In the afternoon Jim suffered a mechanical failure when his FJR overheated. He found that the recently recall-serviced transmission was rattling in a bad way. Pat Mogavero came to the rescue with his trailer and the rest of us continued the ride.
Sunday was another exemplary day. We rode the 4 Parks route to near Olive Hill, KY then used I-64 to put some distance between us and the storm that was stalking us. We stayed dry until a hard rain finally caught us in southern Ohio.
This was a great weekend of riding and socializing with MSTA friends. There were complaints about the understaffed hotel, but none about the rest of the experience. I totaled over 1200 miles in 4 days of riding. I would definitely do it again.
Doug
"It's bad luck to be superstitious."