About a month ago I got this email sent to me through the website…..
"Hello,
My name is Melissa and I'm reaching out on behalf of Gryphon. We are a family run protective motorcycle clothing company. We were recently a vendor at the BMW MOA Rally in Virginia and had great success and feedback from customers. I just wanted to see if it was possible for us to become part of your member benefits program and offer your members and exclusive discount on our website. If you would like to check us out our website is http://www.gryphonmoto.com
Thanks so much and looking forward to hearing from you soon.
Melissa"
This immediately made me take notice. It is not every day that we get a company reaching out to US and asking if they can set up a discount for our members. Usually, it is us reaching out to them. So, this was pretty unique. Right away I responded in a positive manner, and we quickly got the discount set up. 15% off on everything they sell! But it didn't end there. In the course of our emails sent back and forth, I mentioned that we have a bi-monthly club magazine that goes out to all members, and would they perhaps be interested in becoming a Merchant Member, and then placing an advertisement into the magazine? Today, that became reality. Welcome Gryphonmoto to the MSTA family!
Now you are probably asking yourself, who or what is Gryphonmoto and what do they make, or sell, or do? In a nutshell, Gryphonmoto is a family run business that produces top quality motorcycle riding gear for both men and women and sells it at a very reasonably priced level. Top level gear, without the top shelf pricing. My kind of company. But I'll let them tell you more……
"Gryphon – a family owned and operated business with an office in Indianapolis and Ontario, Canada. Started in 2020. Gary & Jenny Cuzner – founders/owners husband and wife team – wanted to create a brand made with high quality materials, well thought out design with always keeping the rider experience top of mind. Follows our brand motto of Style – Function – Protection
Gary's daughter (Melissa Dvorak) and her husband (Mark Dvorak) also work with us. Melissa looks after marketing and Mark manages both the accounting and warehouse.
Our brand name and design were a challenging part of the business process. We wanted it to be something that would stand out but also something people would be proud to wear. We were exploring our heritage more and took the Ancestry DNA tests. Gary found that the (McGuigan) family shield on his mother's side (Irish) had a Gryphon on it. Also, his father's side of the family immigrated from Wales. The Welch flag has a red dragon type emblem in it. Then Gary was driving one day and thought about his high school mascot, a Gryphon. He liked the sound of Gryphon and immediately had some ideas on how we could design the logo. Gryphon was born.
Before Gryphon, Gary worked in the motorcycle industry for over 40 years and was an avid racer in his younger years as well.
Gary said: 'My career allowed me to take part in product development and design, laying the foundation for a keen understanding of market needs. I have been exposed to many influential subcultures that have molded today's motorcycle industry. The birth of the Sport Bike, Sport Touring, Gold Wing, the explosion of the Harley Davidson, the coming of age of Adventure Touring, Development of the Naked Bike and the timeless Café Racer. Gryphon is the culmination of all of these experiences, allowing for the creation of a product line based on sound fundamentals of quality and design. We look to develop an unbeatable riding experience that will provide you with the peace of mind to enjoy the ride."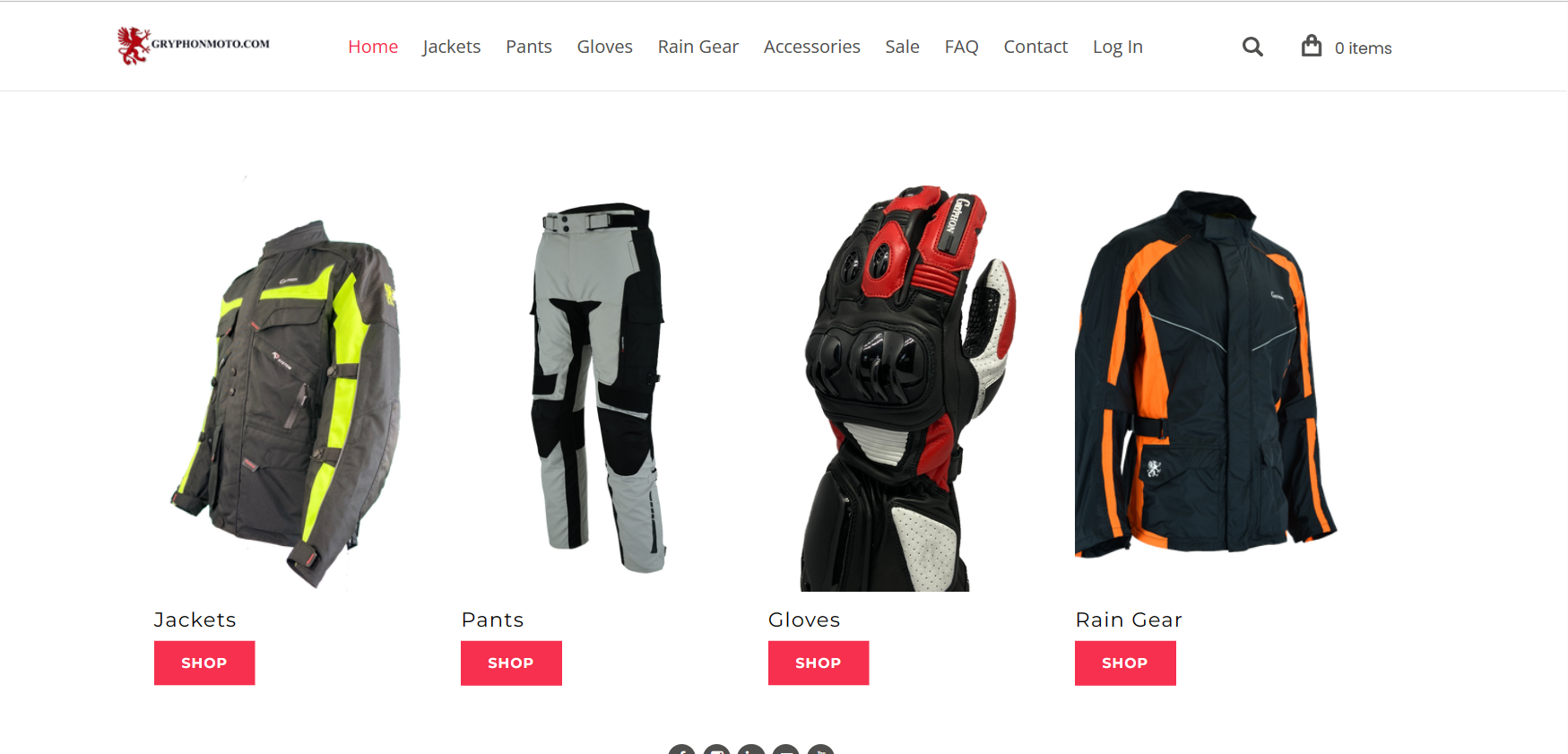 After visiting their website, and looking at the gear available and its benefits, features, and pricing, I could see that this should be a slam-dunk for the club and its members. I then went on-line seeking opinions from others, and I found a few very favorable reviews.
From Webbikeworld: Gryphonmoto Jacket Review
From Rider magazine: Renegade Canvas Jacket
And in the latest issue of the BMWRA Magazine, On the Level, we have a review written by RA Member #44542, Ed Disimone. In the end he sums it up this way regarding his Ridge Jacket and Canyon Pant set,
"Living in northern Ohio, I subjected it to nasty cold temps for the upper 30sF to highs near 80. Sometimes on the same day! I also rode through some insane rain with hurricane-like gusts and stayed completely dry. So far, I am quite happy with this setup and feel it can stand its ground with my other two suits. Don't get me wrong, I love my 'Stitch and KLIM suits, they are both top notch kit. But I can see myself reaching for my Gryophon more often since they fit better and weigh less.
"So there you go folks, if you're in the market for new riding gear, click on over to the Grophon Moto website and take a peak….I think you will be very impressed."
I couldn't have said it any better myself.
You can find them on the web at www.gryphonmoto.com