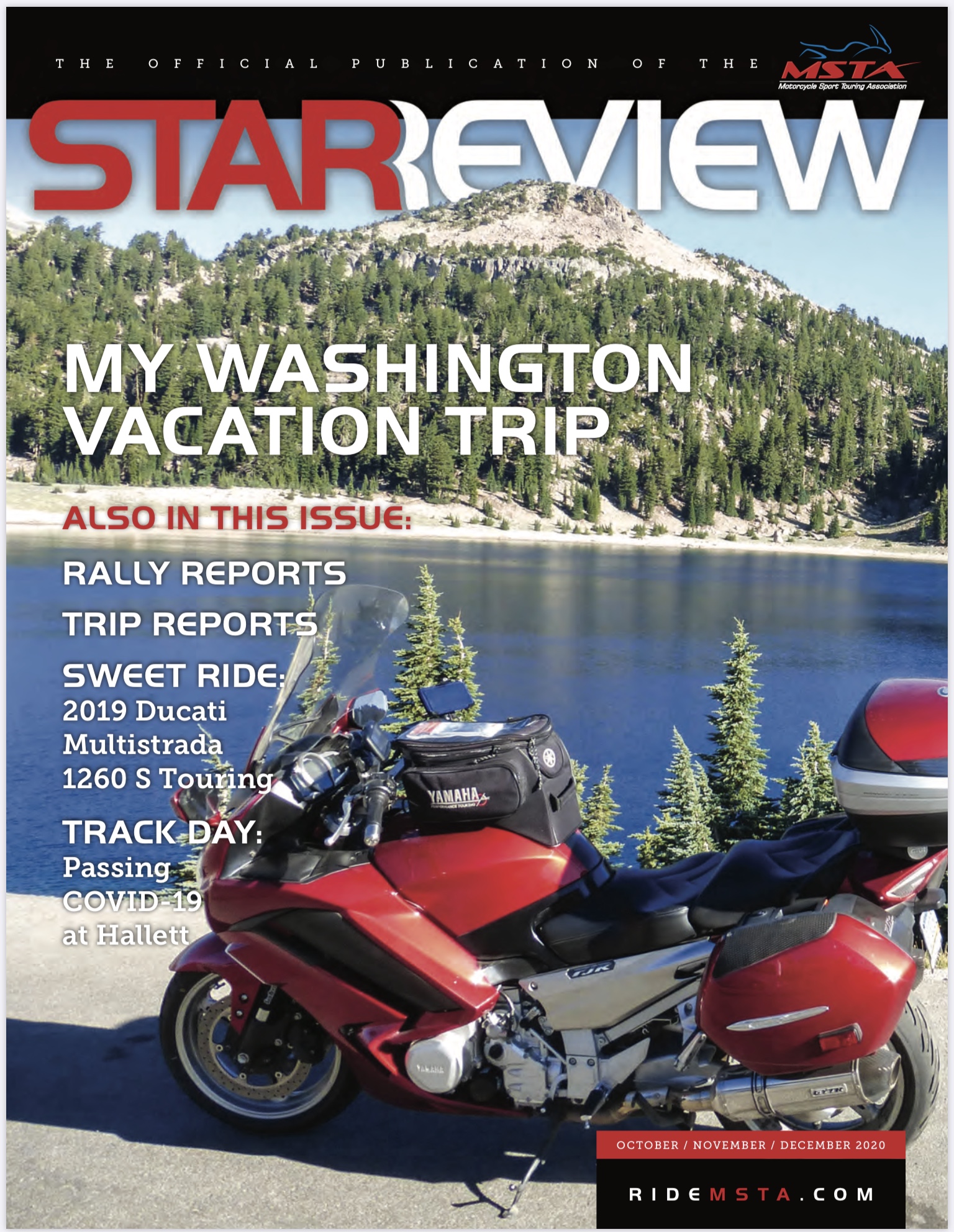 The STAReview is the official bi-annual magazine/newsletter for the Motorcycle Sport Touring Association (MSTA). Join us today and receive full access! Still not sure? Here's one of many articles being included in our next publication …
Detour Into A Summer Squall
By Dan Larson
I woke up that morning last August in North Platte, Nebraska. I was on my way to Custer, South Dakota and the weather app on my phone wasn't giving me good news. It showed a big mid-summer storm sitting right on top of the highway I'd planned to drive that day.
My plan for that day called for riding my motorcycle – a bright red 2010 Honda 1200 VFR – up State Highway 2 through Nebraska's famed sandhill country. However, the radar image of this storm meant it was time for Plan B.
When you're on the road, that's called a detour.
My detour took me onto the Indian reservation and through Pine Ridge, South Dakota. While making a quick rest stop at a Conoco station in town, I had encounters with two of the locals. The first came from a man inside the gas station.
"You on your way to the rally in Sturgis?" he asked. "No, I'm on a Honda," I replied, as if that explained my motorcycle gear and destination.
The second encounter came outside the gas station, as I was on my motorcycle suiting up get back on the road to Custer, South Dakota.
A woman approached me and held out her hand to show some things she was selling. She appeared middle aged and asked if I was interested in buying any these. "I have three children at home," she said.
The first was a pair of earrings; large hoops of gold with a bluish stone in the middle. The second was a keyring with the New England Patriots logo. The third item was too small to quickly identify.
"I don't think I can buy anything this time," I said. She appeared to be kindly and not altogether needy. I was only interested in being on my way.
So, I headed off on my "Viffer", north on US18 across the reservation. By now, the northern sky was turning ominous shades of gray with dark billows bubbling downward. Custer was to the northwest, so I ought to skirt the worst of the storm, I thought.
The further I travelled, the darker and more threatening the clouds became. Half the northern sky was a solid grey with offshoots that appeared even more severe, if that was possible. I've seen dark, threatening storms many times; this one ranked in the Top Five
The sky continued to darken and envelop more and more of the horizon.
Riding across the rolling hills of northern South Dakota made the horizon seem to go on forever. I'd come up over a hill and the only landmarks were an occasional grain silo or power pole. No trees, no bushes and no dwellings.
I was riding across the heart of the Great Plains.
I rolled quickly through one little town and a short time later, I zipped past the fabulous Prairie Wind Casino and Hotel. The thought of stopping for shelter zipped through my mind at about the same speed.
Still I pressed on.
Topping the crest of another small hill, I found myself driving right into the maw of a fierce squall the likes of which would make The Weather Channel proud. This storm had everything: 50 mile-an-hour winds, quarter-size hail, torrential rain, arms-length visibility, lightning, thunder and possibly a pitchfork or two.
Slowing the motorcycle as quickly as I could without grabbing too much brake was the only thing on my mind. As I pulled to a stop, I found myself on the narrow shoulder of a paved, two-lane road, on a hill, with no shelter in sight. Fortunately, the right-to-left wind allowed me to put down the kickstand and keep the bike from toppling over.
I was protected from the worst of the storm by my ballistic riding jacket, pants, boots, full-face helmet and gloves, so I wasn't in immediate danger. However, the machine-gun racket of hail driven by near-hurricane force winds on my helmet, face-shield and jacket was deafening.
I needed to get out of the line of fire and quickly.
Going down on one knee beside my motorcycle provided some protection from the hail, which was blowing sideways. It occurred to me this was probably what U.S. Cavalry soldiers did when they were caught in similar storms on the Great Plains 150 years ago, only they had to somehow get their horses to lie down.
Next, I found myself contemplating which would kill me first:
a lightning strike on a metallic object at the highest point for a half mile – with me right next to it;
a sudden gust toppling 580 pounds of motorcycle on top of me;
a stray, airborne farm animal smashing into the motorcycle and then me;
or most likely, a large SUV travelling at unsafe speeds suddenly bearing down on me as I crouched partly on the roadway beside my motorcycle.
For some reason, none of these possibilities scared me. I was simply considering the situation and running through the possibilities.
Later, I realized how precarious the situation was but by then, riding north on US 18 toward Custer, South Dakota, I was more annoyed at how wet and cold I was, than relieved I had somehow survived.
The summer squall passed in ten minutes. I was still crouched on the side of the road, head down, one knee on the highway stripe and it seemed like a giant water valve closed. The hail stopped, the wind diminished and the buckets of rain became a light mist.
When it was safe to stand, my thoughts turned to resuming my journey. This detour had added a couple of hours to the day's travel and if I didn't get moving, it would be dark by the time I arrived at my friend, Robert's place in Custer.
Then I hesitated. Icy ball-bearings on the road turns driving a motorcycle into a risky proposition. I paced up and back on the side of the road, weighing the odds.
Had the storm had actually passed? Was there a sequel on the way?
Then, almost as quickly as the storm closed around me, the hail melted on the warm roadway leaving only small patches of standing water.
Just then, for the first time since I stopped to shelter besides my motorcycle, a vehicle drove by. As predicted, it was a large tan SUV and it never even slowed down as it went splashing by.
Soon I was back on the motorcycle cruising at the speed limit. My rain-soaked riding gear felt like I was wearing a wool blanket that someone had just fished out of frozen lake. I was getting colder by the mile and needed to stop.
Finally, at a highway junction in Hot Springs, South Dakota, I stopped at a gas station to find relief, refill the tank and warm up a bit. Maybe there was an actual hot spring nearby.
Here, just twenty minutes from where I was storm soaked, the sky was clear, the sun was shining and the streets were dry.
"You're soaked," observed the sharp-eyed cashier inside the station. "We haven't seen any rain here all day."
"Ran into a little rain back on the reservation," I replied.
An hour later, after driving through another, less dramatic hailstorm, I carefully pulled into the gravel driveway at my friend, Robert's place.
"How was it?" he asked.
"Pretty wet," I said. "Where's the shower, hope you have plenty of hot water."
Sometime later, after an extended and very hot shower, a cocktail and a fantastic meal, I recounted the story of how I had crouched beside my motorcycle in a driving hailstorm, on top of a hill, on the side of the road.
"Someday, huh" said Robert. "Any damage to your bike?"
To my great relief, I found on close examination there was no damage to the bike or any of its plastic parts. I realized I too had escaped damage.
Remarkable.
All I had to show for the whole episode was a purple spot on the nail of my left index finger that had taken a direct hit by a hailstone. In a month the spot had moved up the fingernail and was gone. Now, the only thing left is this story.
To this day, I wonder if things might have turned out differently if I had bought the keyring with the knockoff New England Patriots logo from the lady at the gas station.
I guess I'll never know.