Protecting People and Possessions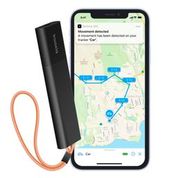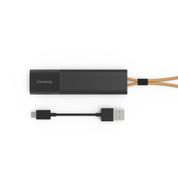 The Cellular GPS Tracker by Invoxia makes keeping the people and possessions in your life safe easier than ever. One of the first trackers to be compatible with the LTE-M update of 4G cellular networks, it is discreet, compact and portable enough to be placed virtually anywhere. It has a host of advanced features and thanks to a novel combination of radio technology protocols that switch between Bluetooth and LTE CAT-M1 4G, it works inside and outdoors and has an exceptional battery life of up to 4 months!
Easy to place in glove boxes, backpacks, purses or strollers, the Cellular GPS Tracker is ideal for keeping cars, bikes, motorcycles and scooters safe or locating often misplaced valuables like bags, luggage and backpacks. It also keeps loved ones of all ages protected and secure.
Advance Features
• GPS Tracking – Visualize exact location of items and loved ones at any time within the companion app. Location data can be requested any time or sent every 5, 10 or 30 minutes when on the move.
• History – See precise route of the Cellular GPS Tracker during any time period.
• Anti-Theft Alerts – Receive notifications in real-time when an item is moved or suspicious activity is detected. Alerts can be triggered by moving an item or by gentle vibrations such as lock tampering.
• Panic Alert – Emergency button feature helps notify an individual if their loved one is in trouble through a push notification.
• Geofencing Alerts – Set geographic areas in companion app to be notified when Cellular GPS Tracker enters or leaves the security zone.
• Proximity Radar – Access hot/cold proximity radar on a smartphone to find valuables more easily inside and outdoors.
• IFTTT Compatibility – Connect Cellular GPS Tracker to favorite connected products and services to automatically trigger actions E.g. Setting the house alarm when leaving the home or opening the garage door when entering a driveway.
Technical Specifications
• Discreet Size: 30 grams and 4.13 x 1.06 x 0.35 in
• Sleek Design: Ultra-thin black aluminum case with leather cord
• Extensive Battery Life: Rechargeable 250mAh battery that lasts between 15 days and up to 7 weeks, depending on tracking intensity and travel time. The battery can last up to 4 months if users track their own vehicle, thanks to smart battery management.
• Compatibility: Works anywhere in the United States through 4G networks that support LTE-M
• Indoor/Outdoor Use: High-precision indoor and outdoor tracking, thanks to GPS and nearby WiFi network locating technologies.
• App: Accompanying iOS and Android app
Availability
Cellular GPS Tracker is available with a one-year cellular subscription priced $129, no additional fees or monthly subscriptions are required. It can be purchased on Invoxia.com and Amazon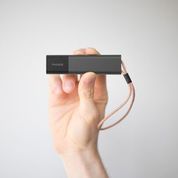 About Invoxia – Global Leaders in Tracking
Invoxia is a French company founded in 2010 with offices in France and the United States. It develops and commercializes a range of consumer and professional trackers to monitor cars, motorcycles, people, and any valuables that can get lost or stolen. It specializes in smart GPS trackers augmented with Artificial Intelligence that power smart services such as recognizing suspicious movements.
Invoxia's trackers are the best-selling standalone GPS trackers in Europe, having helped retrieve several thousand stolen vehicles. In addition, it offers Tracking Pro, an enterprise platform for professional uses such as those monitoring fleets of vehicles, valuable deliveries or professional equipment.
In parallel, the company's innovation division, Invoxia Innovation Lab supports major companies in their innovation processes, developing custom hardware sensors that integrate AI into tracking devices. Invoxia has developed innovative products for the likes of BIC, Richemont, Amazon and Verisure.
Invoxia is sending Nicky a unit to test and review. Watch for the review in a future issue of the STAReview. They are also offering MSTA MEMBERS a 10% discount. You can find the discount code in your updated Benefits newsletter, located in the Members Only section for the MSTA Forum.
Find out more about Invoxia at
Invoxia,USA