Kentucky is a phenomenal state to ride in. It has millions of miles of twisty roads, with smooth pavement, and light traffic. It has great scenery and many wonderful places of special interest to ride to. The food is good, the people are friendly, the horses fast, the women are beautiful, and the sun always shines. If you don't believe me, just ask any of the people that showed up for the 2020 edition of the Red River Gorge Rally this past July and they will tell you that at least some of this is true. Depending on where they went and when, they may not agree with all of it though. There might be some dispute with the part about the sun always shining, but I can say that Saturday was a beautiful day with sunny skies, comfortable temperatures and lower humidity.
Registration for the event opened on January 1st, and right away some people registered for the event. But when mid-March came around and the COVID situation became really serious, the registrations stopped coming for awhile. A week before the event they picked up again and by the time of the event there were 31 people registered. Just a little under ½ the number of people that had come in 2019, but not an unexpected situation given that many people have just decided to stay home this year and not travel. Imagine my surprise then when I showed up on noon the Thursday of the event weekend and found 3 people already there! Not only that, but by the end of the day there were another 15 people that were at the hotel. At that point it certainly appeared that my expectations in regards to expected attendance needed to be adjusted. It turned out that was exactly correct, as more and more people came in on Friday and Saturday that had not pre-registered. In the end, we had 29 people show up and register at the event. A dozen of the people showing up were not MSTA members at that time, but had found out about the event through Facebook. Mostly they were members of either the BMWRA or the ST-Owners club. Many of them have since become regular MSTA members. In total, we had 57 people from 13 different states.
This being an MSTA-Sanctioned event, but without meals, the registration fee is only $15.00 per person for regular members and $13.50 per person for Sustaining and Lifetime members. After some small expenses related to ice and water were taken out, we raised almost $650.00 for the Dan Clark Safety Fund from the registrations. In addition, Geoffrey Greene rode up on Saturday and did a drawing for the Ride for Kids Charity and raised $356.00 for that great cause. Thank You to all that attended and to all who contributed to the Ride for Kids total.
I'm hoping to expand the rally next year with more routes and there is a good possibility that the local dealer will be attending and offering demo rides! Watch for more information as time goes on. Registration will open up the first of 2021.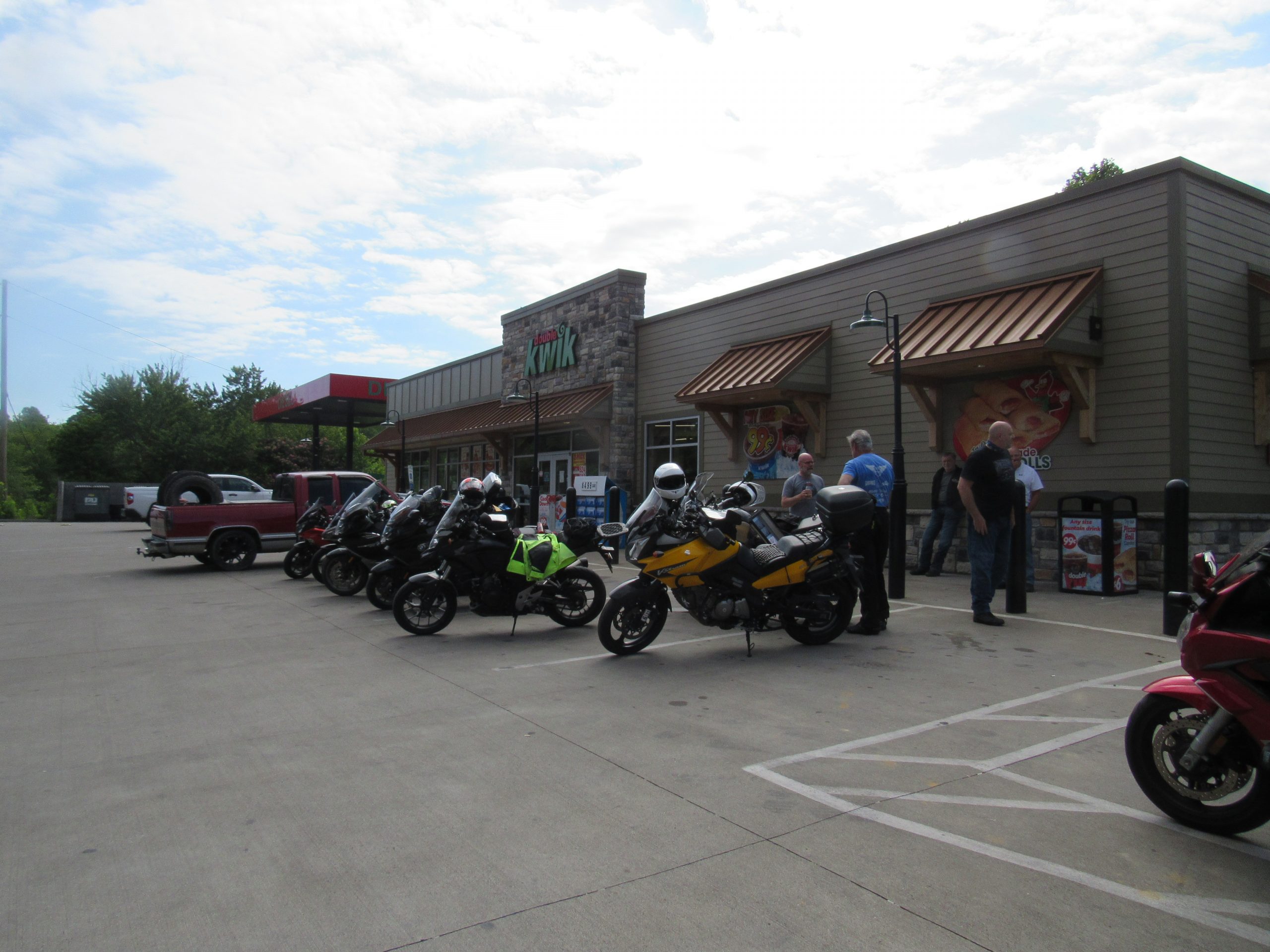 Something new this year was a group ride for 1st time attendees on Saturday. We had 17 people sign up for a 225 mile romp across the Eastern Kentucky hills, with a stop at Carter Caves State Park for lunch. At the park, we were able to split up into a few tables and had the dinning room to ourselves. The route had a combination of tight technical sections, open scenic sections, and forested covered roads. I tried to give everyone a chance to experience all of the different kinds of roads that can be found throughout the state.

The riding in this part of the state is outstanding! It is a very rugged and rural area, with no large cities and only small towns, farmland, and national forest. The roads flow along the top of ridges before plunging down into sharp valleys and then rising up over more ridges and hills. Many follow streams that flow into or out of the many lakes. Several of the lakes have been formed by dams that were built to control the once yearly floods that caused much damage to the towns and villages. Over time those rivers cut deep into the ground and formed the hills and hollers that Eastern Kentucky is famous for.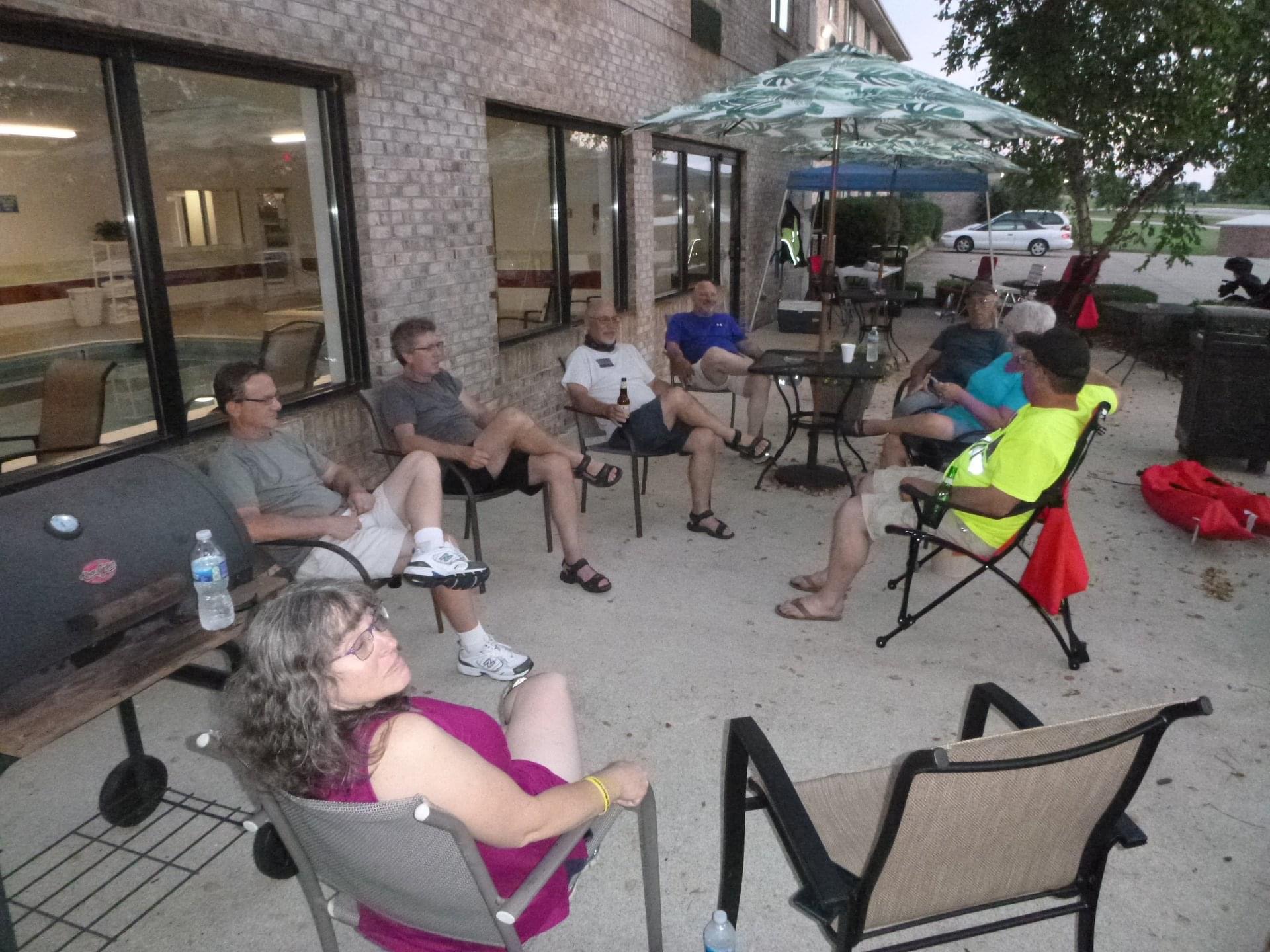 The always popular rear patio area is a perfect place to hang out during the evenings. It has plenty of space to spread out in, yet is private and shaded. The hotel allows our group to have the back patio and rear parking lot for our exclusive use. It allows the attendees to park their bikes in a secluded area that also allows them to mingle and "tire kick" without being in the way of traffic or other patrons.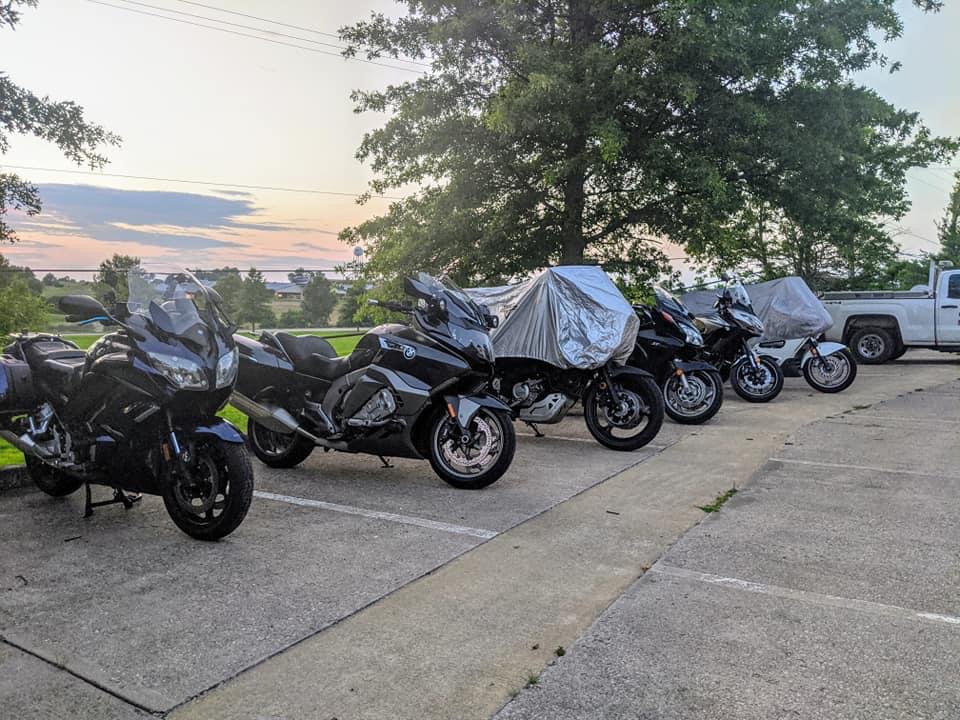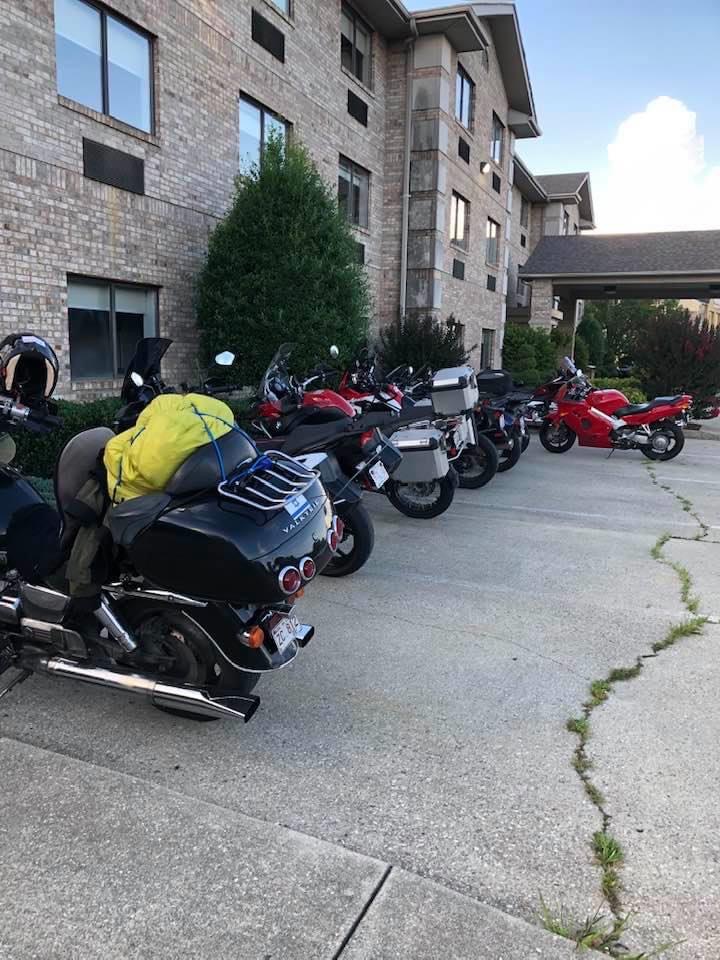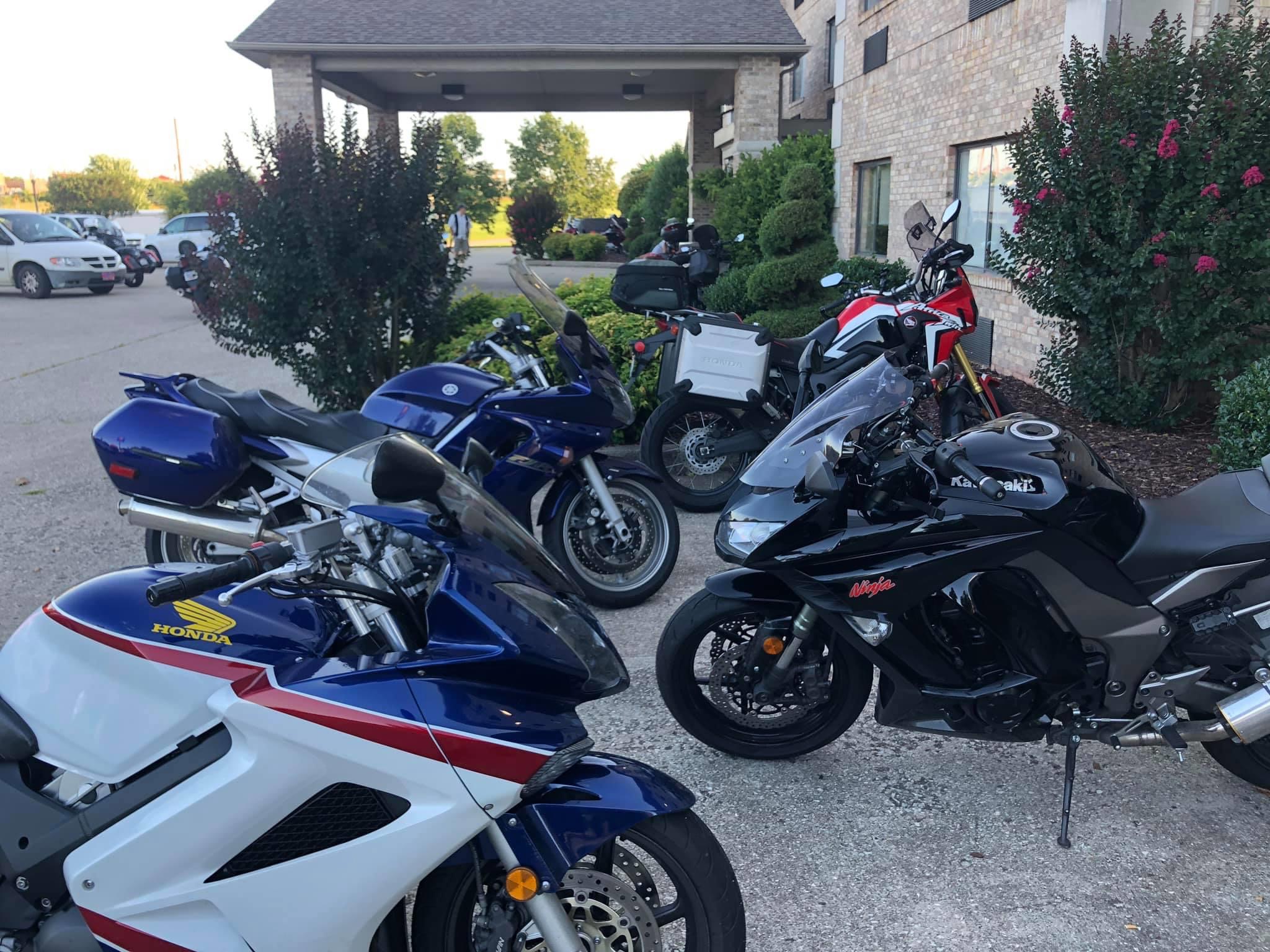 There's always a wide variety of bikes at this event, everything from cruisers to race replicas, and many different brands.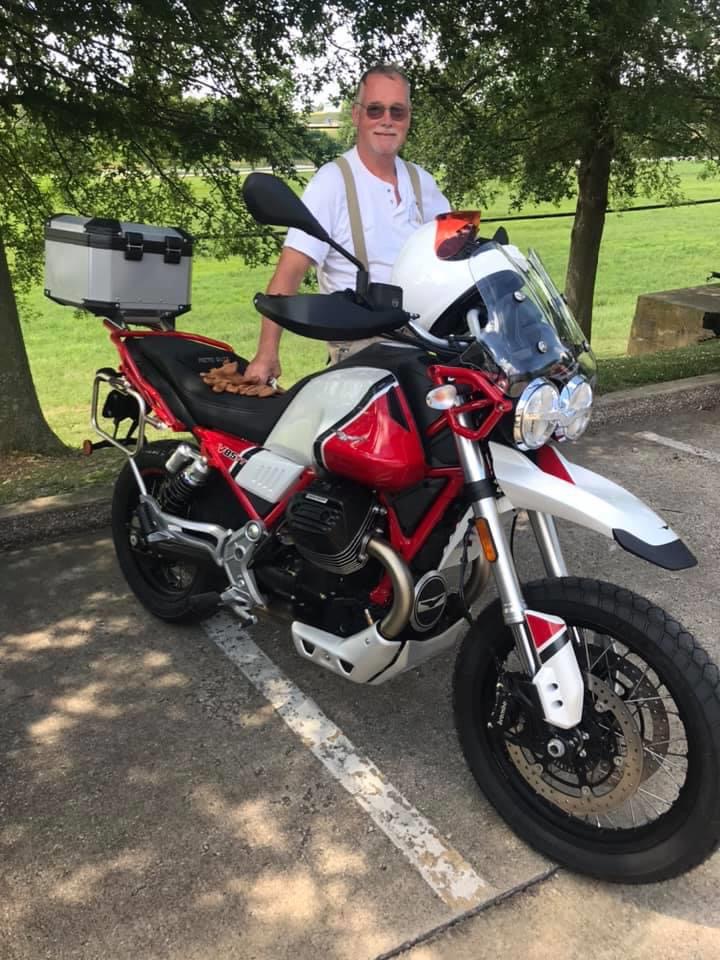 Tim Mullins took the opportunity to visit the local dealer, Gateway Cycles, and make a deal on a new MotoGuzzi!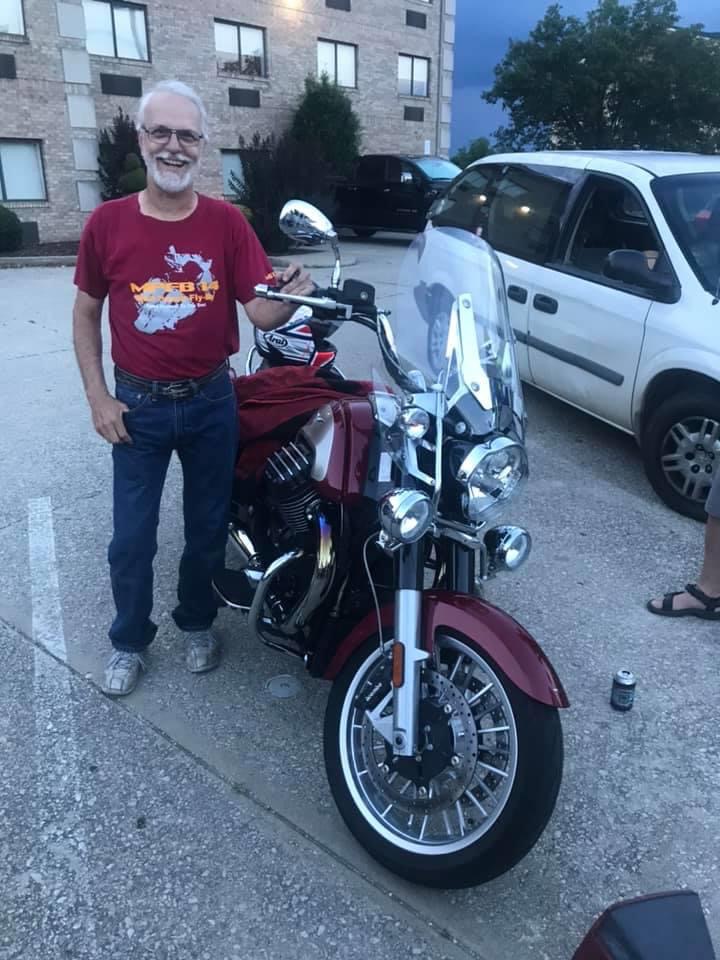 Tom McKeirnan stopped by on his back home in Cincinnati to show off his new ride, another new MotoGuzzi!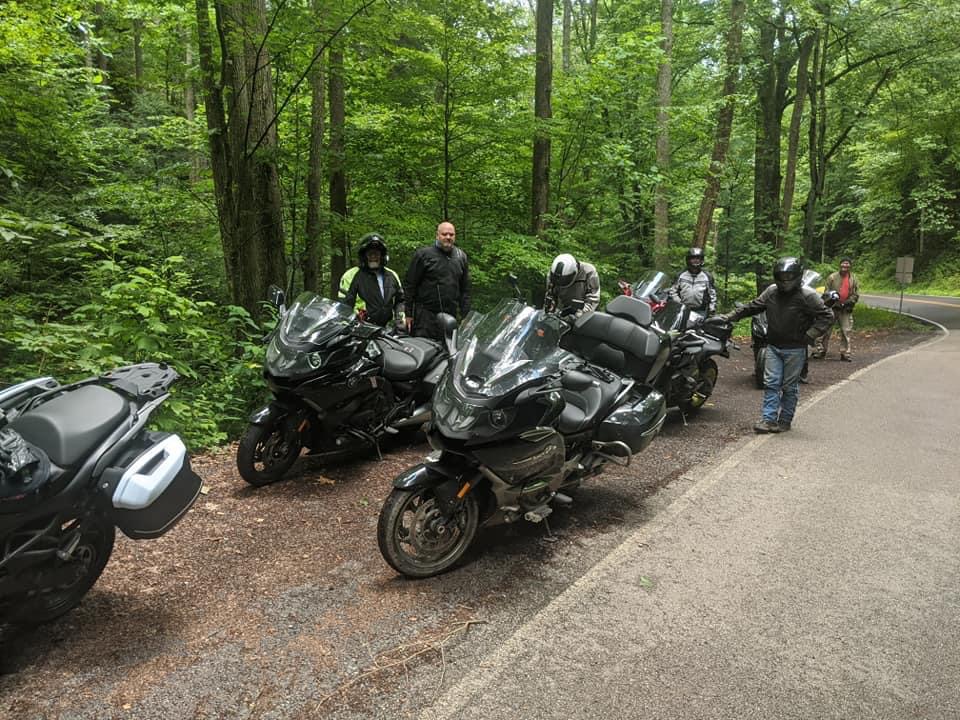 But the main attraction is and always will be the great riding found in this area. There were several different self-guided routes to choose from and small groups were out all day Friday and Saturday trying different ones out. From the sounds of the evening conversations, nobody came away disappointed!