The annual Big Lunn Lodge Rally has now come and gone for 2022, but don't worry it will be back next July and it will be just as good as this year's was!
I was joined on my trip by Luis Santiago, and Mike Laatsch and we left Northern Kentucky on Thursday, the 14th of July under sunny skies and nice cool temperatures.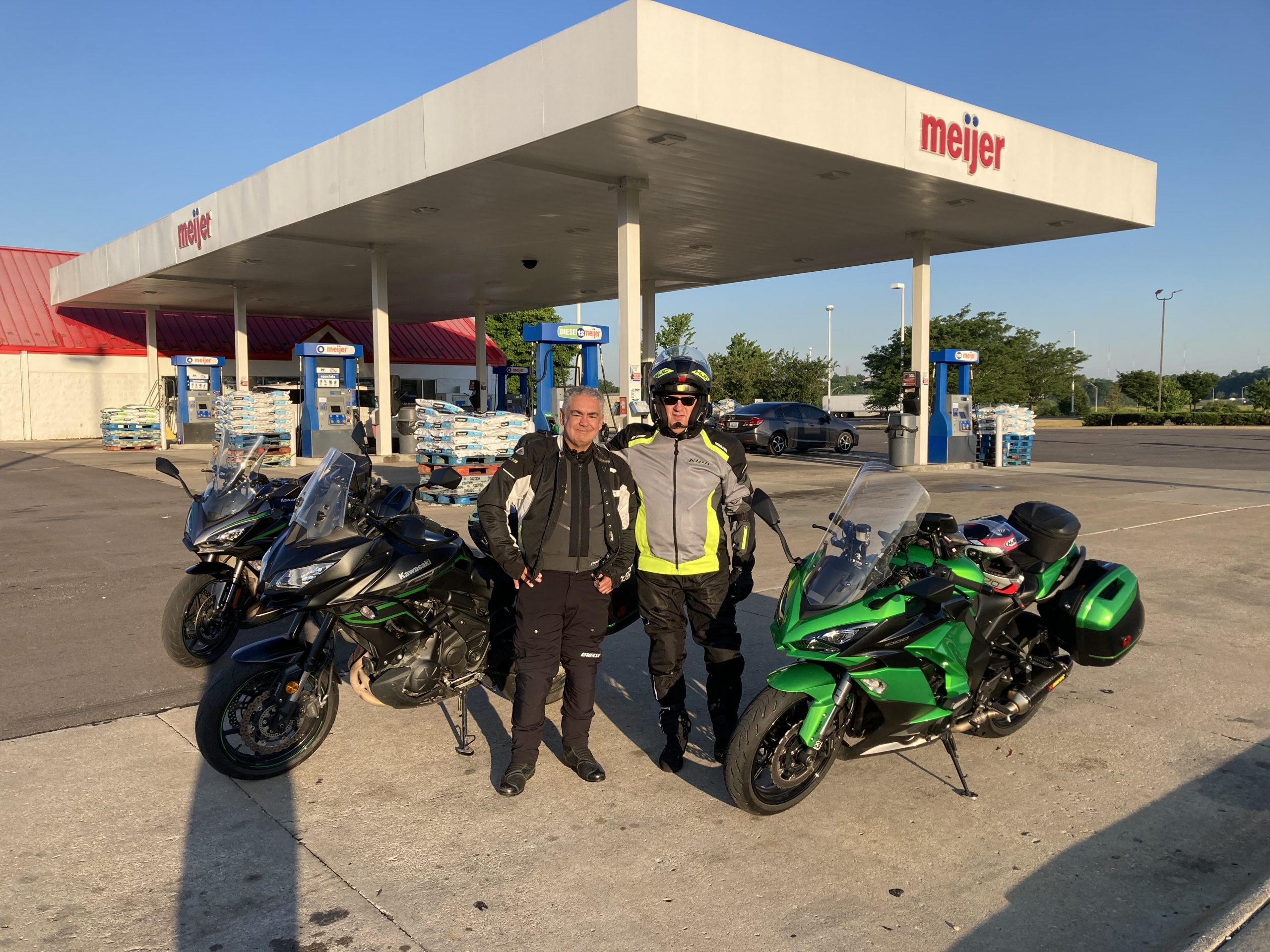 With a 380-mile journey ahead of ourselves, and most of it being of the backroads type, we planned an early departure and were on the road by 7:30 that morning. The first few hours were pretty uneventful as we worked ourselves through the eastern part of the state, heading south. Once we got down near the Virgina border we took a few small backroads that brought us down into the little town of Cumberland, Kentucky, where we stopped for gas. A few miles down the road we came to Lynch, Kentucky and made a stop at the Backroads of Appalachia site. We stopped there to sign their wall and take the obligatory picture before heading up SR160 and across Black Mountain into Virginia.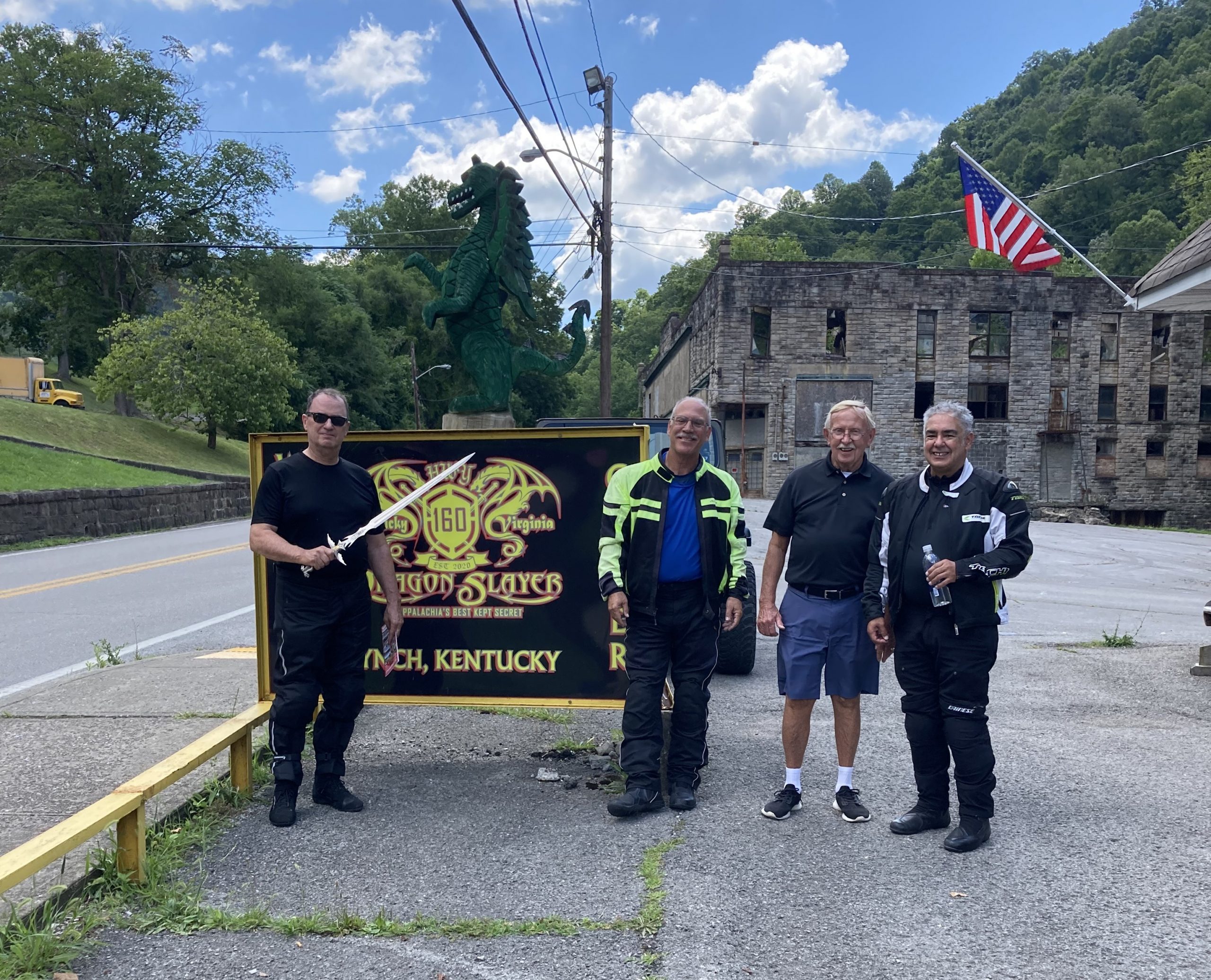 A "local" who had driven up from Florida to visit his hometown asked if he could be in the picture. He was a nice guy who filled us in on some local history and facts, so we said sure.
Leaving Lynch, we went up and over Black Mountain (the highest point in Kentucky at 5,200 feet) into Virginia. This is a terrific road, tons of nicely engineered curves and freshly repaved this past year over a 20-mile stretch. Had a blast!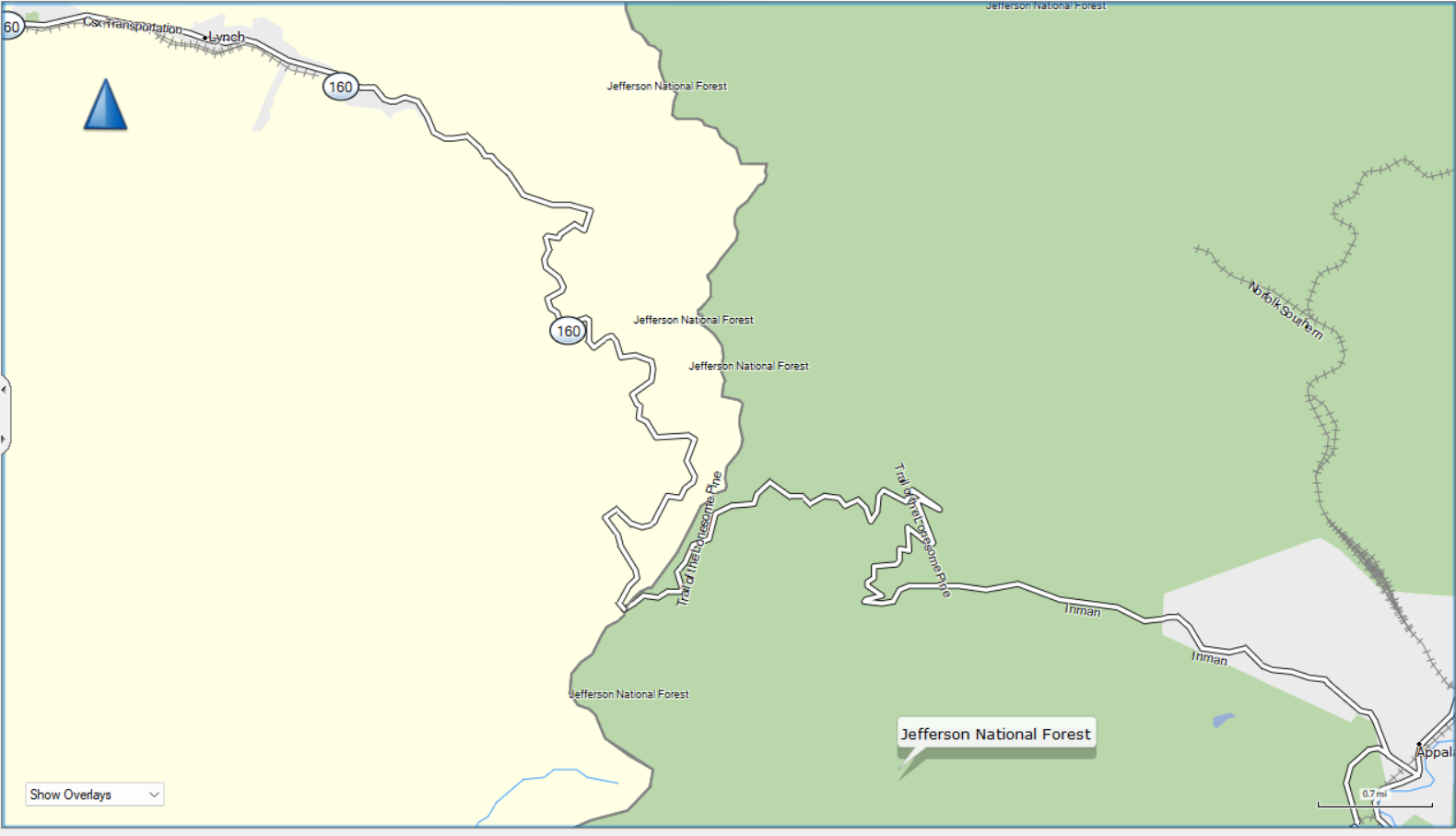 We came to the little town of Big Stone Gap, Virginia and stopped for lunch at Curklin's. Mike had stayed near here before and had eaten there, so we went with his recommendation. Nice place with good sandwiches and ice tea. Tator Tots too!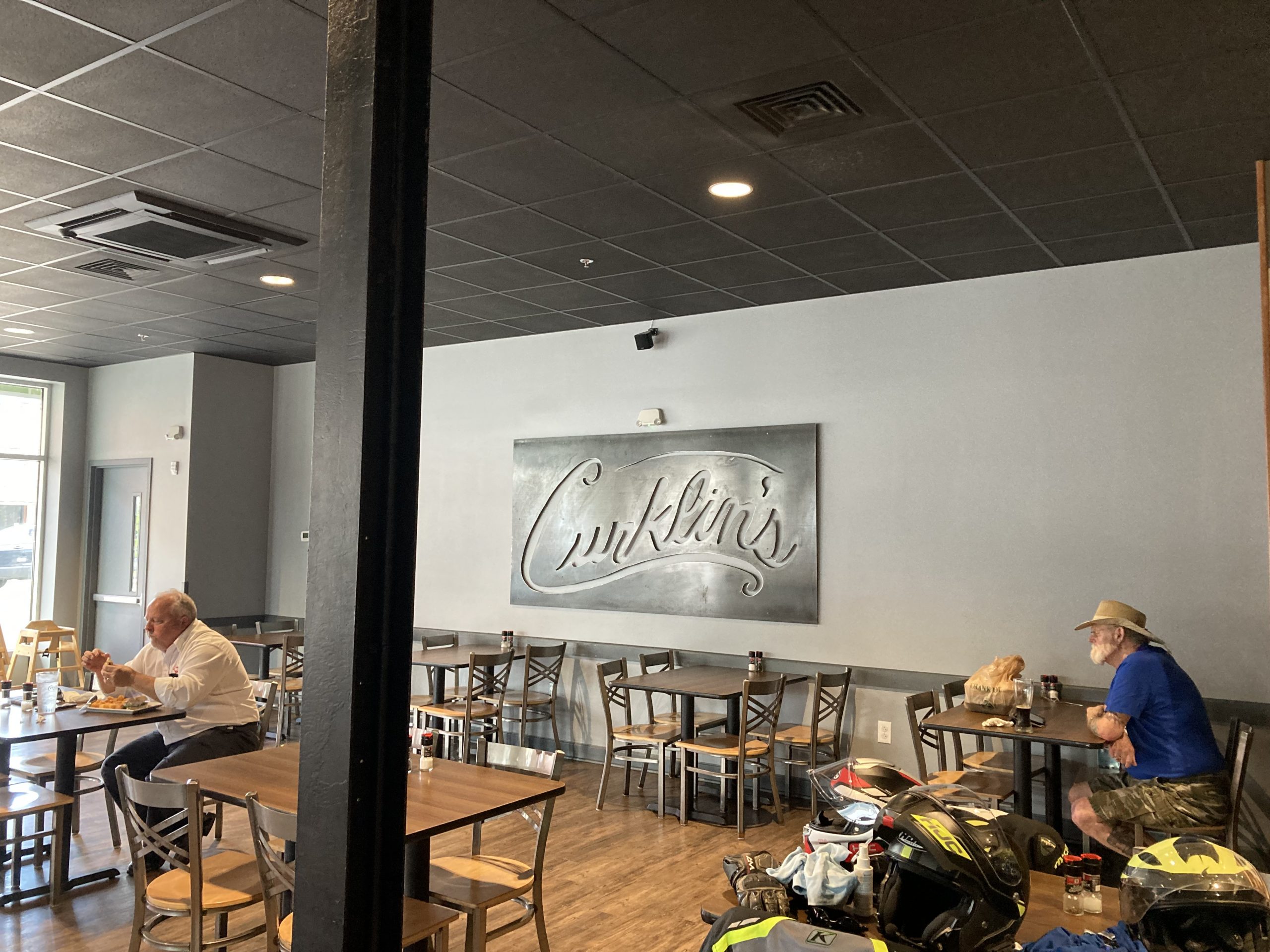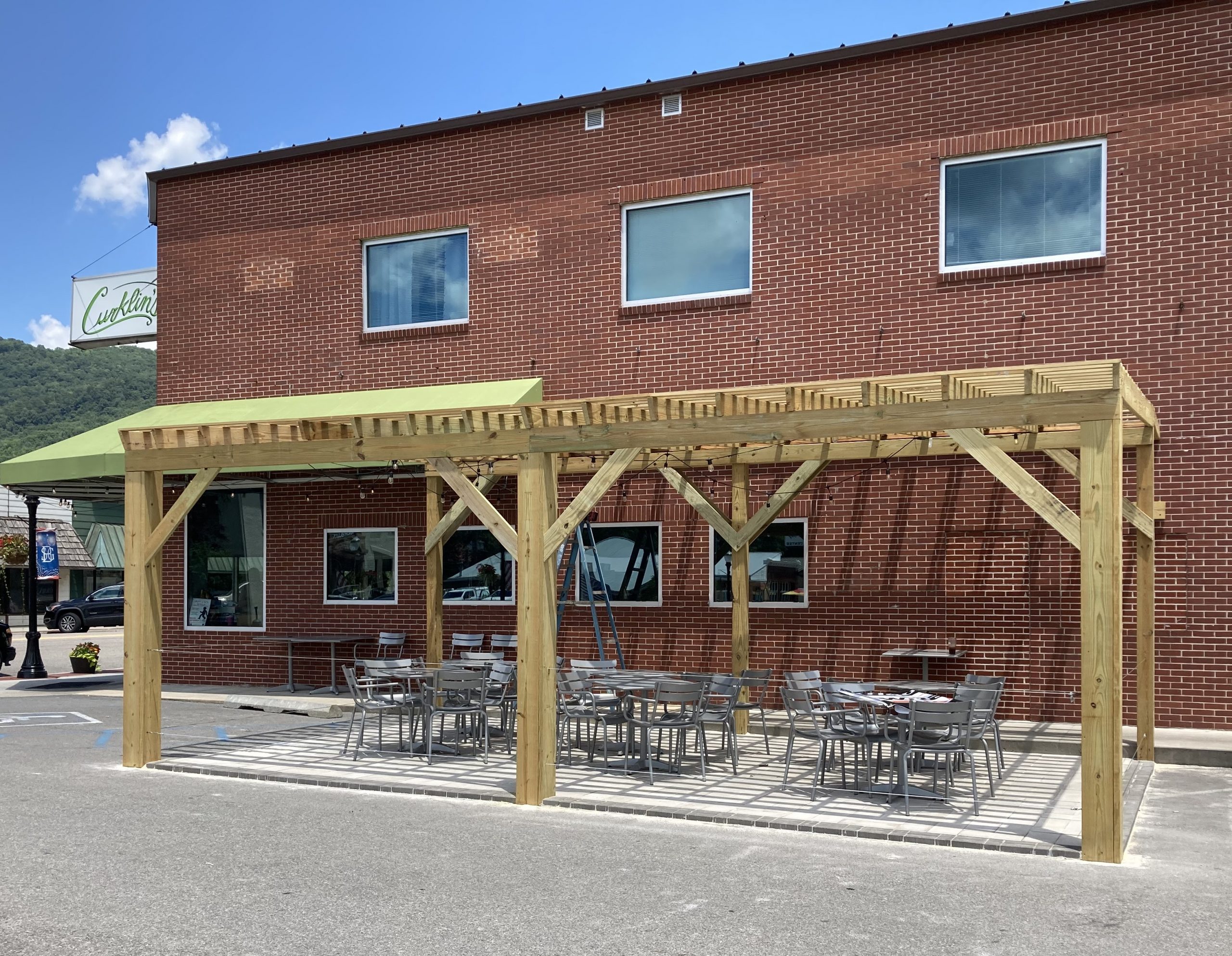 They were just finishing building the outdoor patio so we sat inside, but I can see where that will be a nice place to sit in the evenings, especially if they have some live entertainment. The community tourism facility is right next door. It has a nice outdoor seating area too.
After lunch we were on SR23 for a while, until we reached I-26. These two roads took us through Kingsport and Johnson City, Tennessee, and on into North Carolina. Johnson City is where we held a STAR a few years ago, and it remains our largest attended rally ever. Hope we can go back some day. We got off of I-26 at Unicoi, and it was backroads the rest of the way. We arrived at the Big Lynn Lodge right at 4:15 that afternoon, having done 381 miles from our meetup point. A really nice ride down with a portion being 2-lane twisty roads, and a portion being 4-lane state highways and interstate. Little or no traffic the whole way and temperatures that were warm but never got us overheated.
Upon arrival, we checked into our rooms and then got ourselves checked into the rally. Dave Brickner, the rally chair was running registration in the lodge lobby.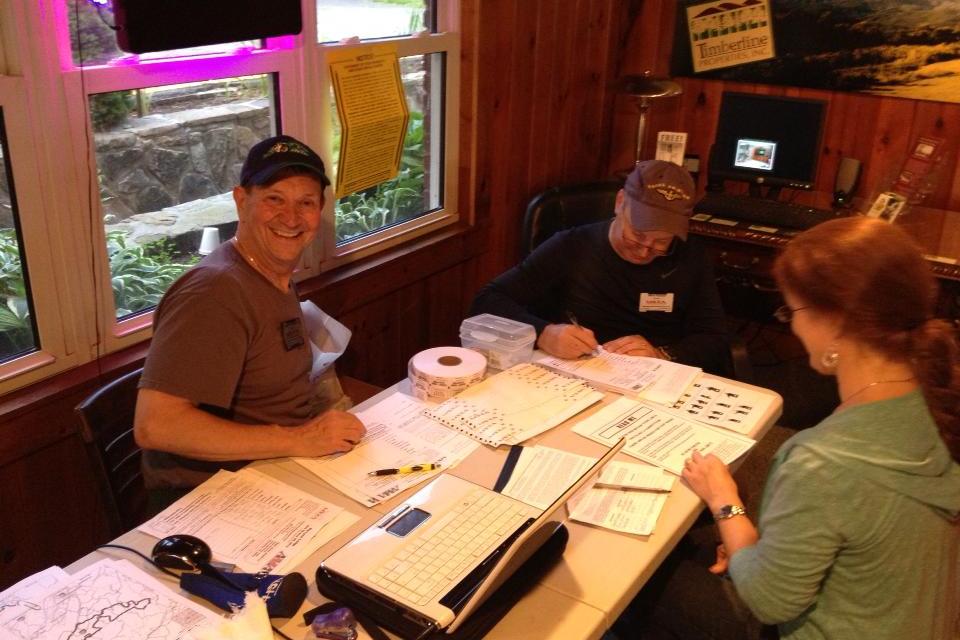 After gettting that out of the way, we headed for the rooms and a pre-dinner shower and beer. There were dozens of attendees already there when we got there, and more arrived while we were waiting for dinner. One of the things that I always enjoy about our smaller regional rallies, is the chance to sit and talk with people that we don't always have the chance to do at some of the larger rallies, where there are so many people and so many things going on. The "local" rallies are a bit more relaxed and laid back and offer more opportunities to just mingle and visit. The Big Lynn Lodge includes a full dinner and breakfast with your room rate. The start seating you at 6pm and you sit at the table assigned to your room. For events such as this rally, they move tables together so that most people were sitting alongside another room's occupants. Everyone basically gets served the same thing for dinner, too. This first night it was salad w/choice of dressing, turkey, carrots, peas, mashed potatoes w/gravy, choice of beverage, and cake for dessert. Other nights it was roast beef, ham, and fish or chicken. Along with the salad, sides, and desert.
After dinner, people gathered around the bikes to kick tires and tell lies or headed back to their rooms to sit on the porch in the rocking chairs and talk with neighbors.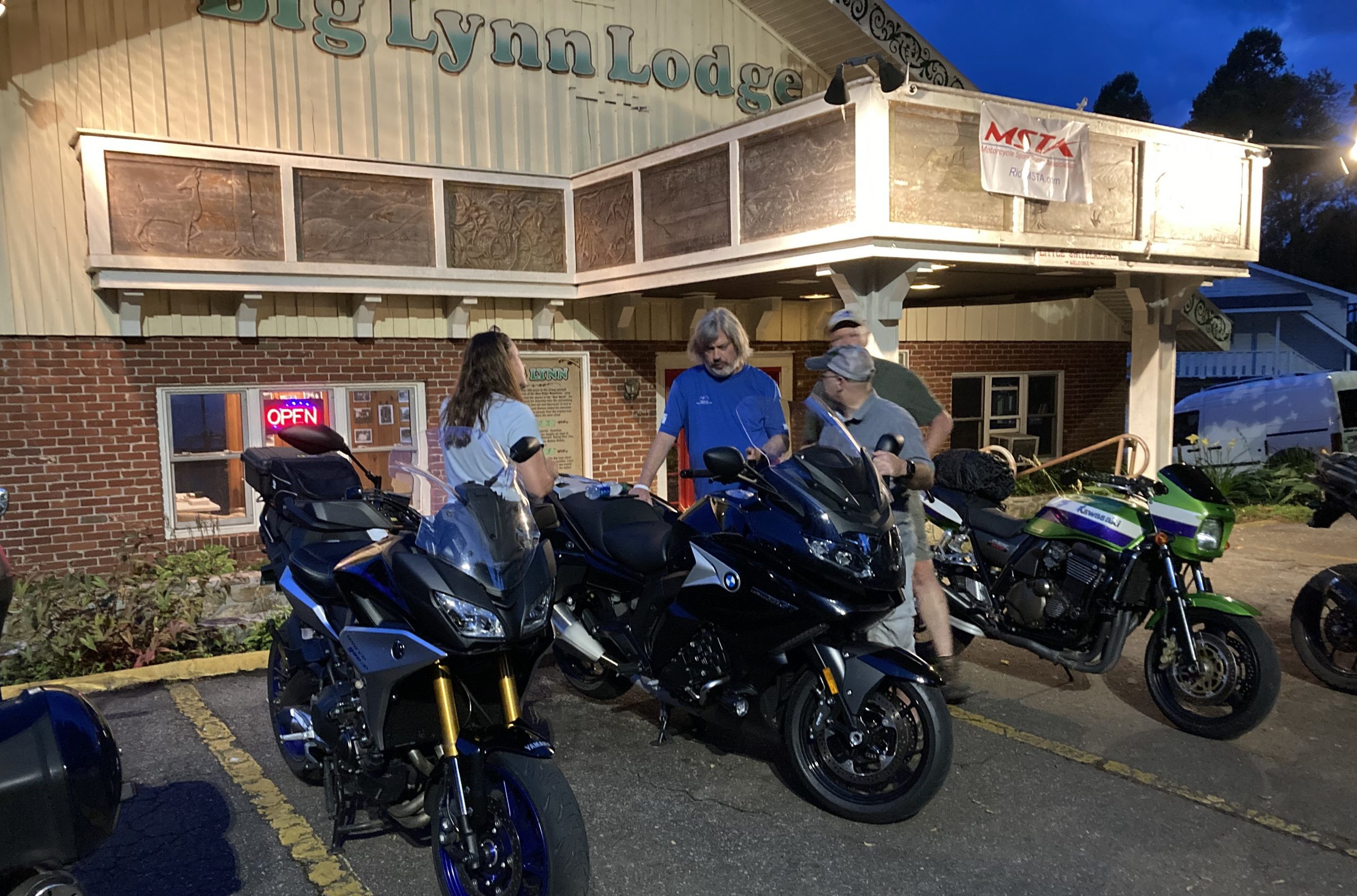 Having gotten up extra early that morning, and having had a full day of riding, I visited for a while and then headed back to the room for a good night's sleep. I knew that the next day would be another tiring day of riding, so by 10pm I was ready for sleep.
Day #1 at the rally:
we woke up to nice cool temperatures and plenty of sunshine that morning. After a good breakfast in the lodge restaurant, we planned to go riding for the rest of the day. Luis and I were planning to stay until Monday, so we favored a shorter ride on this day, followed by a longer ride on Saturday. However, Mike was planning on leaving Sunday and wanted a longer ride this day and a shorter one on Saturday. We compromised and did the longer ride today. A couple of people staying in rooms next to ours, and parked where we were, asked to come along. So Steve from Florida and Rick from Ohio came along with us. Mike and Luis were riding Ninja 1000s, Steve was on an FJR, Rick on a V-Strom 650, and I was on my Versy 650. A god mix of bikes and riders. We decided on the 3-States Route and set out around 9am that morning.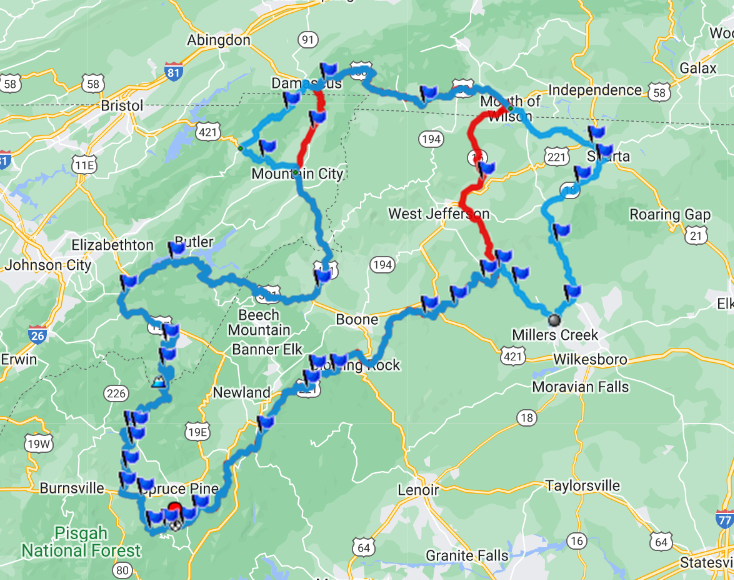 Normally we all make sure that we fill our bikes up with gas the night before, but we had missed stopping at the gas station on the way in, so the 1st stop was up the road just a little bit to Wally World for fuel.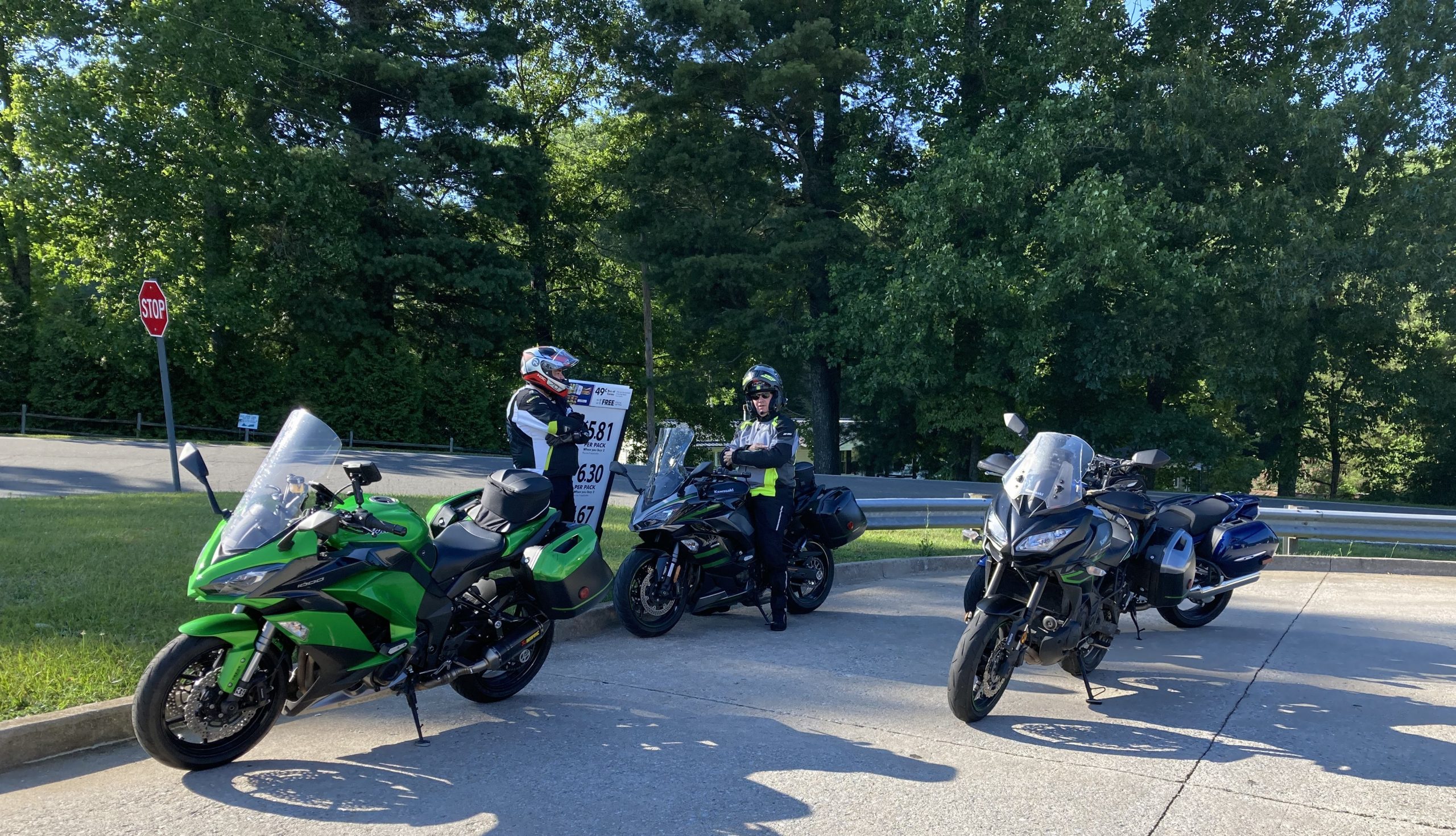 Upon getting there, Rick discovered that he had left his wallet back at the lodge, so we waited while he ran back for it. When he got back, we decided not to backtrack and continued north on 226 to 19 west, instead of doing the 1st little bit of backroads. A few miles down 19 we turned right onto 80. What a road! Switchback after switchback after switchback for 20 miles. It was a fun start, but a bit tiring too. North of 80 the route continues and takes you up and over Roan Mountain. Many times, this part of the route is socked in with fog, but today it was clear and sunny. Mike had never ridden route 321 before so this was his chance, as the route then takes a turn down this road and twists and turns along the south part of Watauga Lake. However, I've always found this road to have heavy traffic, and this Friday morning was no exception. After about 15 miles of agonizingly slow drivers, we reached 421 and turned north toward Mountain City (when I do this route again, I'll stay on 67 all the way to Mountain City and skip 321). When we reached Mountain City we stopped for a break and to decide which way to go next. It was getting near lunch time, and we had to decide where to eat. The suggested route takes one up 91 to the east of Damascus, but I suggested that we continue on 421 and do the bottom half of "the Snake" to Shady Valley,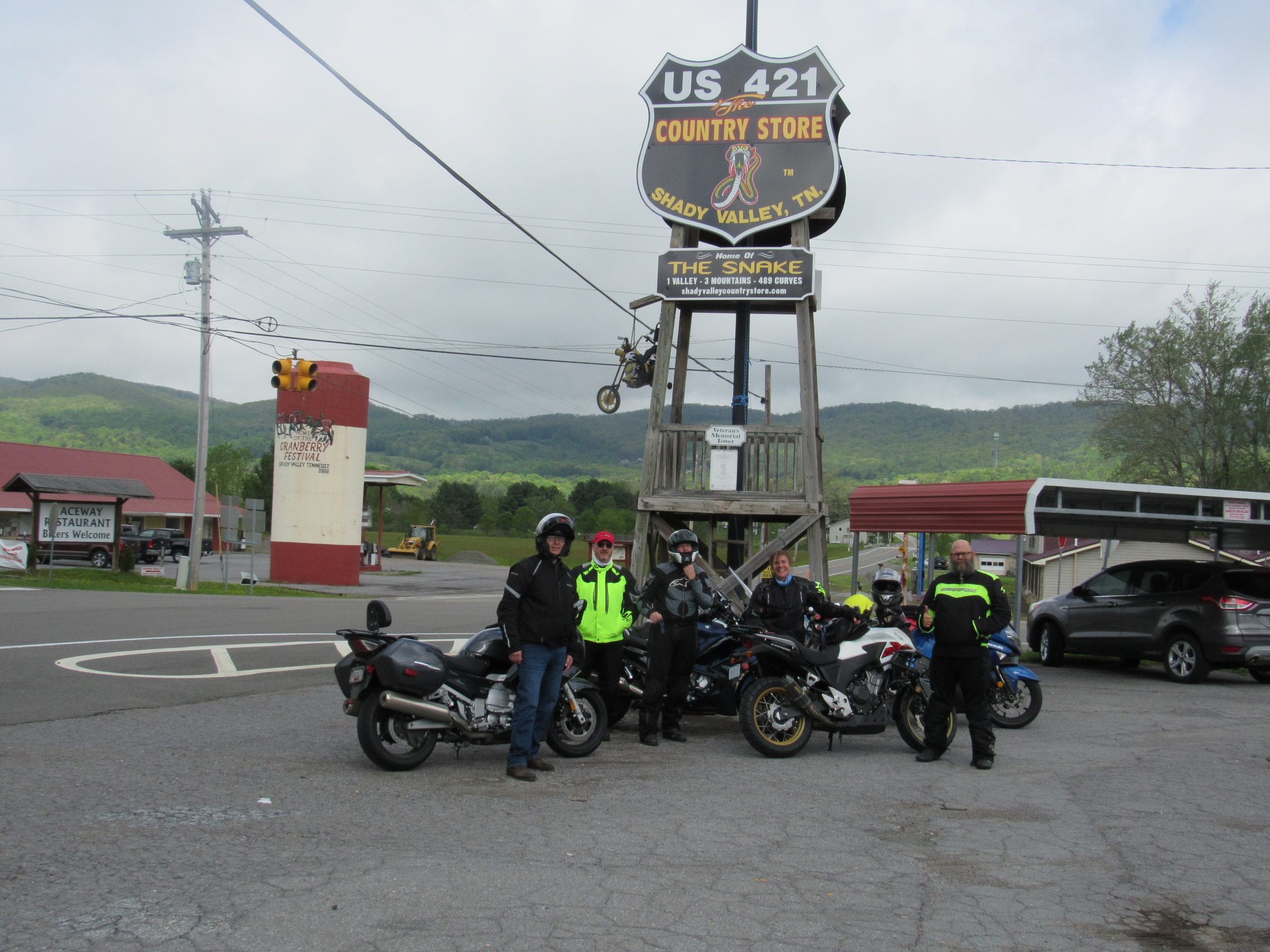 before heading up 133 and stopping for lunch in Damascus. Everyone agreed, so on we went. if you're a regular reader of this blog, you are probably familiar with this road, either through actually riding it or through word of mouth. IMO it is everything they say it is. Curvey, climbing up and over a mountain, great pavement, not much traffic (this morning) and fun, fun, fun! 133 ain't too bad either! Pulling into Damascus I had my mind set on one thing, lunch at the Wicked Chicken.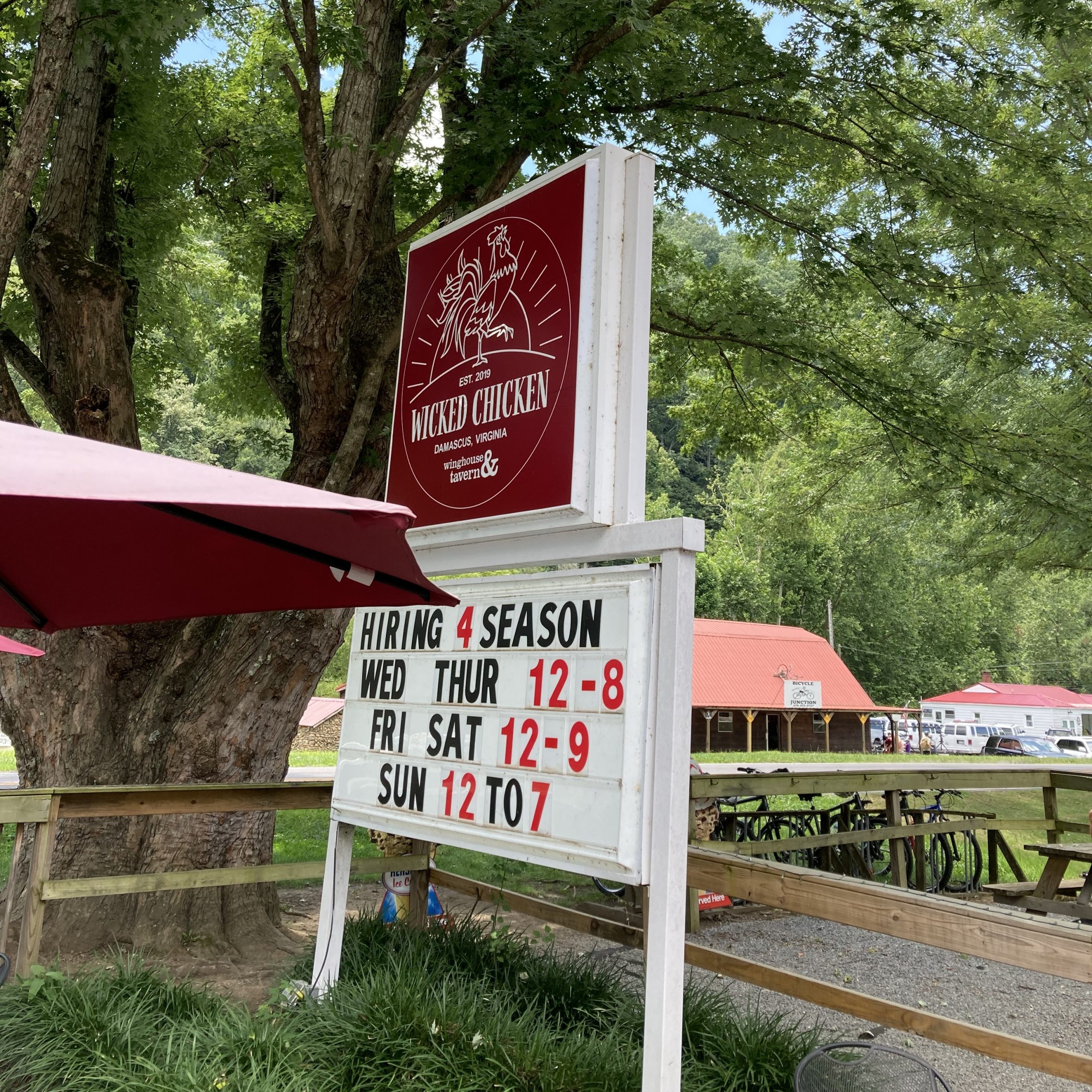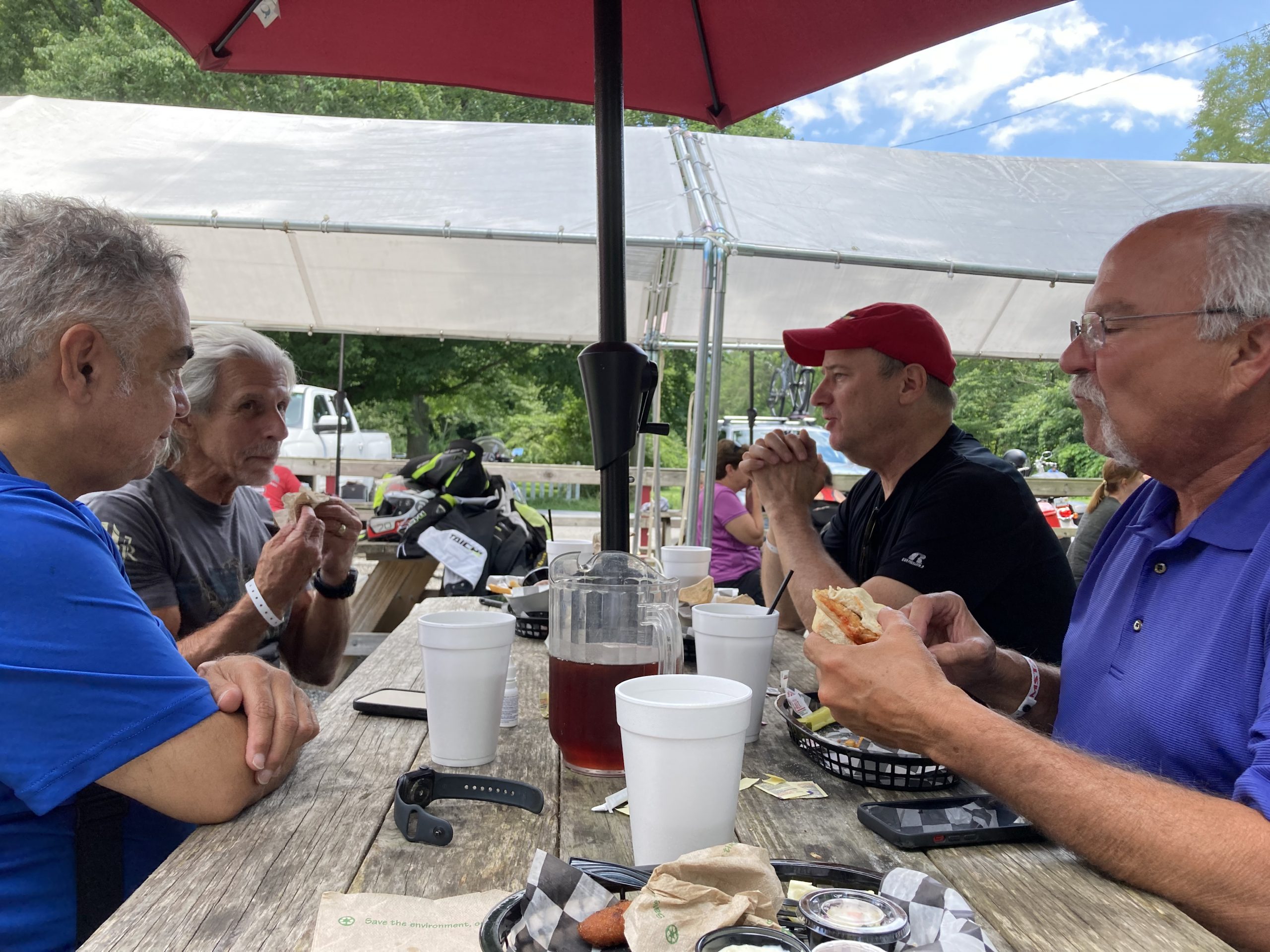 After satisfying everyone's need for refreshment, we started on the homeward stretch of the route. The first leg was a run from Damascus to Mouth of Wilson via 58, AKA the "Crooked Road". Simply put, if you haven't ridden this road you need to. It is wonderful, one of my favorite roads anywhere to be found.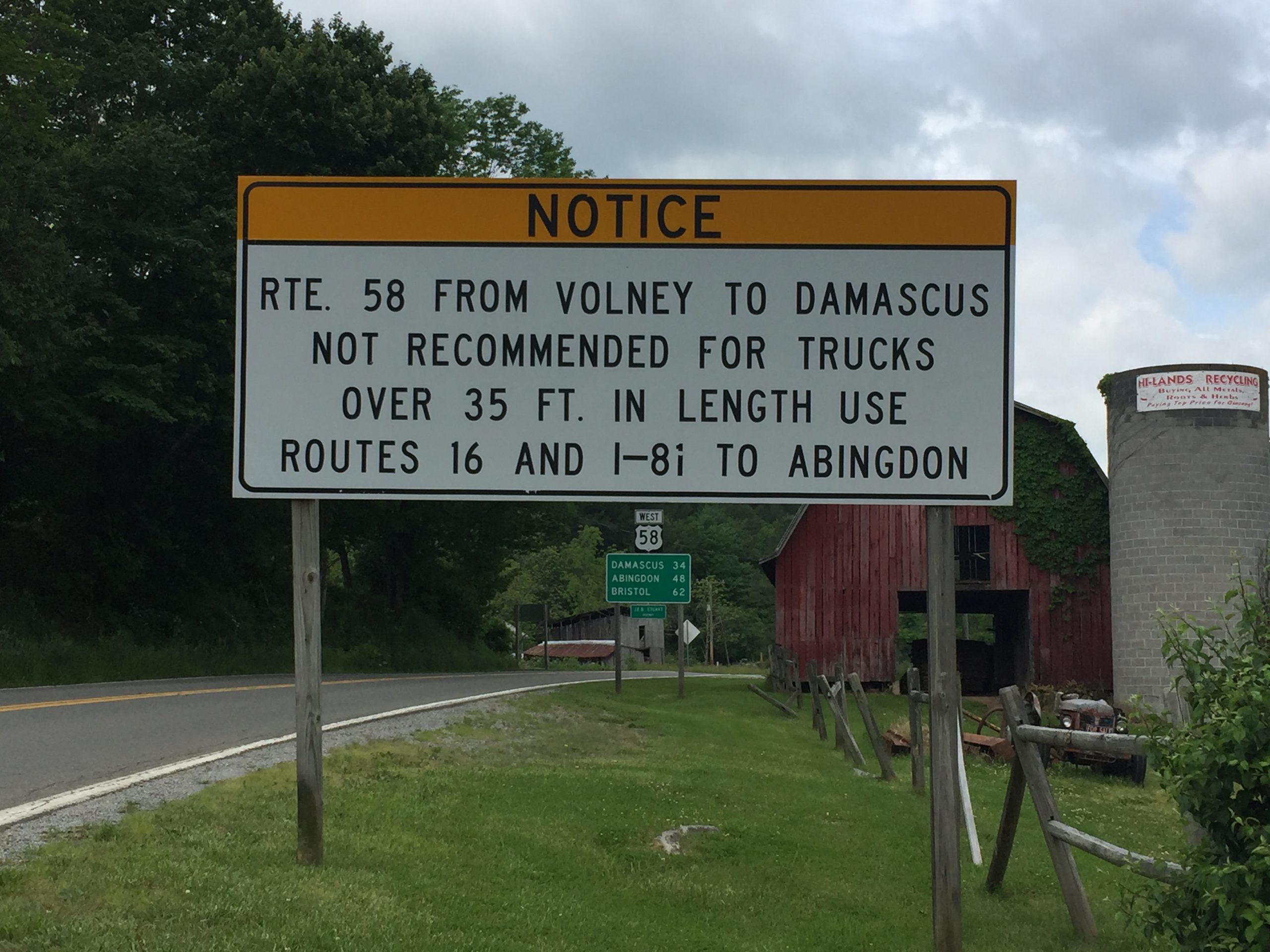 We pulled into a little country store at the intersections of routes 58 and 16, so that some of the iced tea consumed at lunch could be disposed of properly.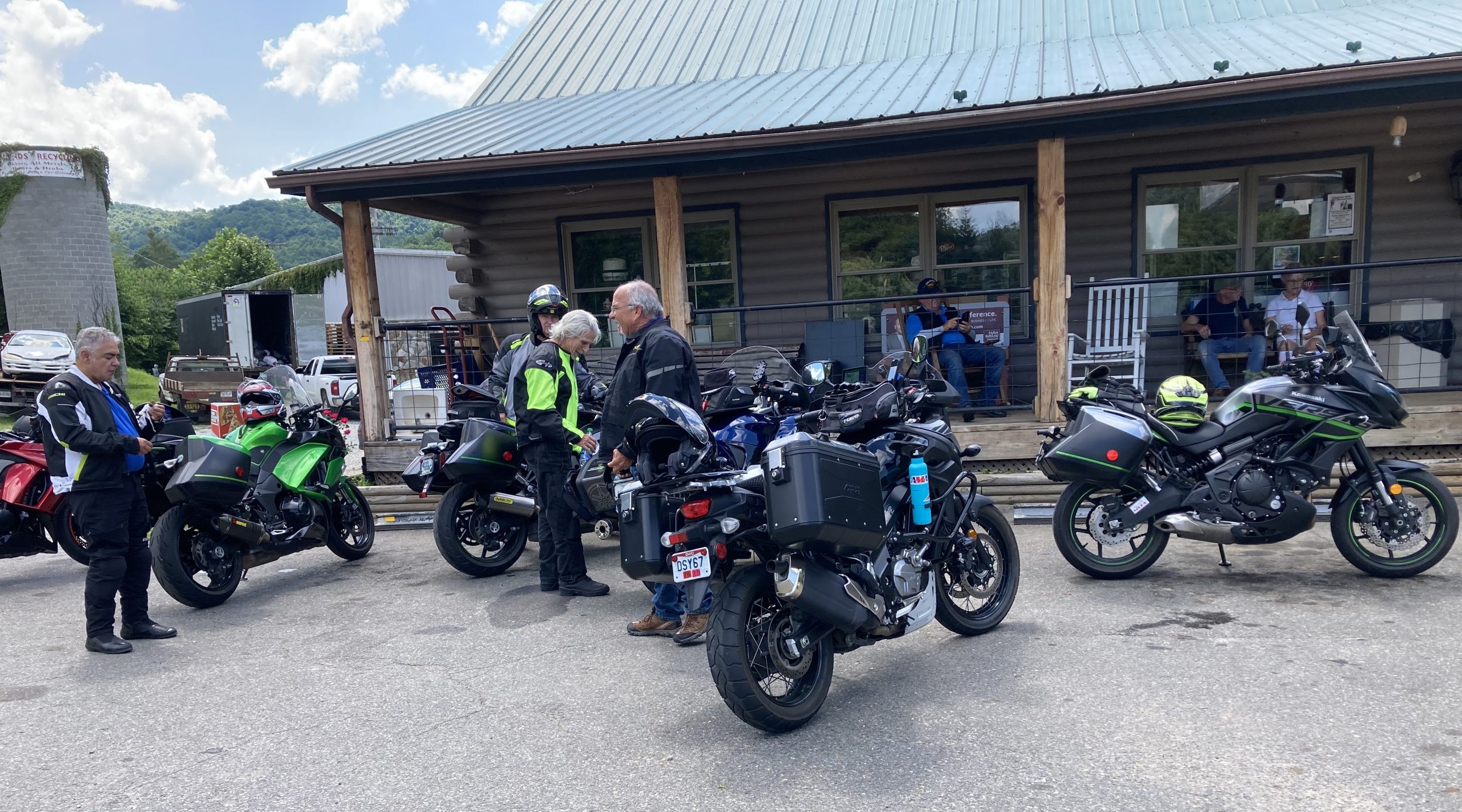 From there, we took 16 down to the Blue Ridge Parkway, which we would use to get back to the Big Lynn Lodge. While up on the Parkway the weather took a slight turn for the worse. After seeing nothing but sunny skies all day, we suddenly started seeing wet roads and dark clouds. However, other than a few sprinkles, we never got rained on. Reaching the lodge after an hour or so, we noticed that there were deep puddles in the parking lot, but the sun was shining there. Evidently, they got a nice cloud burst sometime during the afternoon, but we missed it. It was a 280-mile day filled with too many twists and turns to count, no bike problems or mishaps, and lots and lots of smiles. But it wasn't over yet!
After a shower, a beer, and a nice dinner in the lodge, we had entertainment. Brick had arranged for some friends of his, who called their group Almost Vintage to play for the attendees that evening. Setting up on the porch of the main lodge building they played several sets of 70s-80s music and keep the group entertained until late in the evening.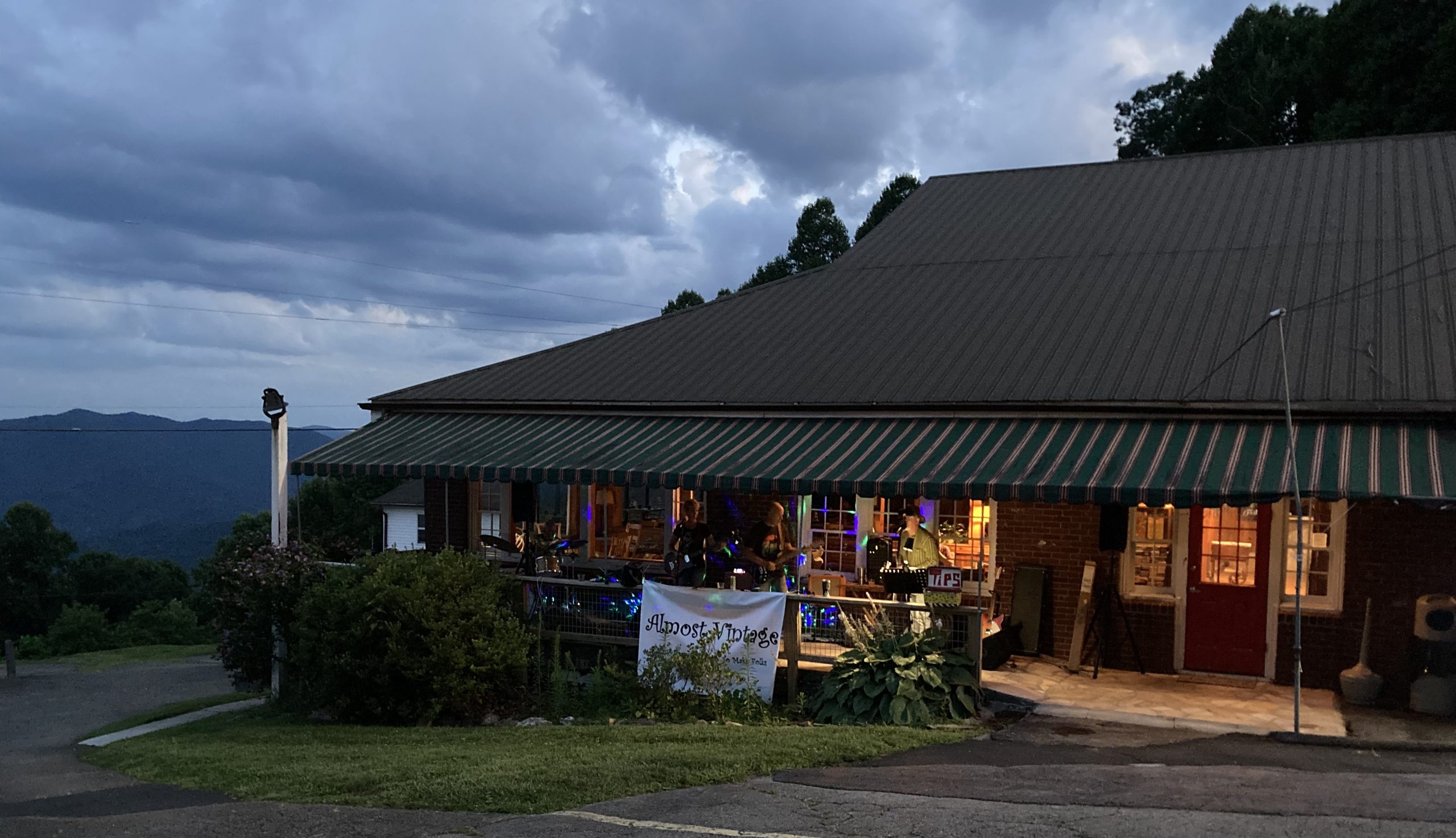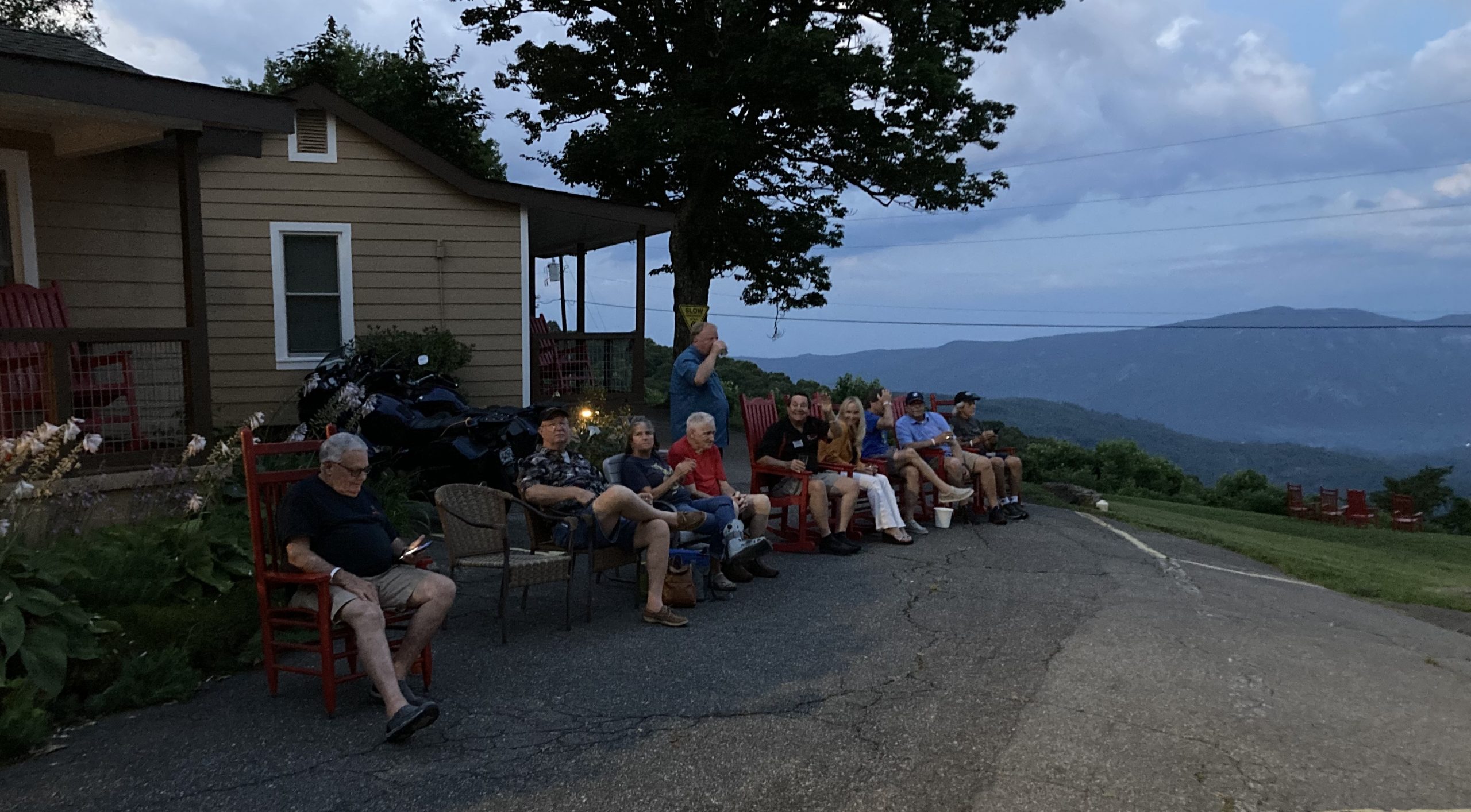 So ended the 1st day of the rally, with the promise of even more fun to be had on days 2 and 3.
Day 2
More of the same! Breakfast, followed by riding, followed by dinner, followed by drinks, conversation, laughter, and fellowship with other attendees. Sleep, Eat, Ride, Eat, Sleep, Repeat.
Mike would be heading home on Sunday, so today we opted for a shorter ride and did the 157-mile loop.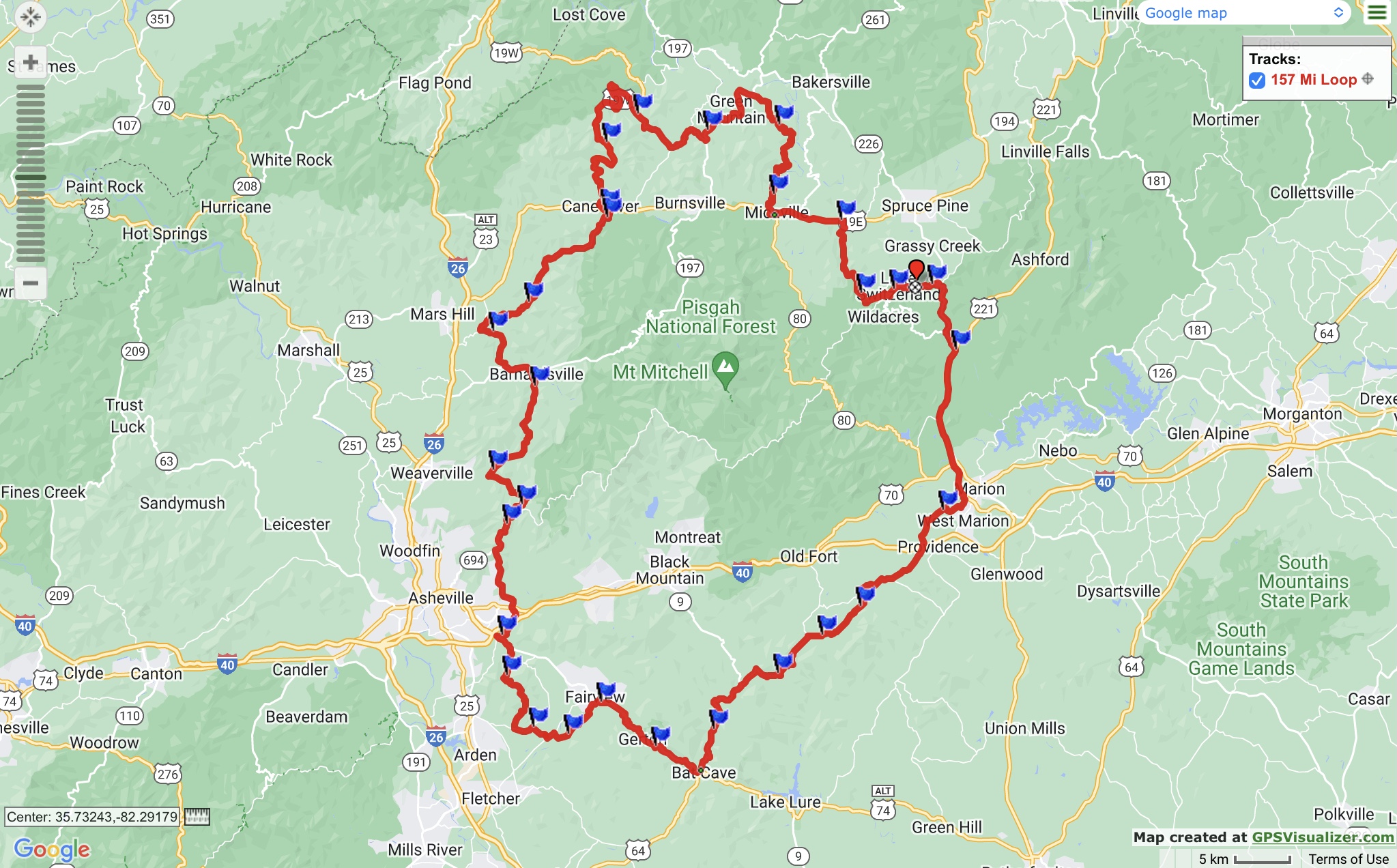 The route started out by taking us south towards Marion, then cuts west along a lot of little twisty roads towards Bat Cave. From there it cuts back northwest and heads for Ashville.
I had a secondary reason for heading that way, as I wanted to make a stop at Eurosport BMW/KTM in the south of town, near Biltmore Village. My favorite riding gloves had finally developed a hole in one of the fingers on the way down to the rally, and it was time to get a replacement pair. I also wanted to oogle some of the new bikes they had there and possibly talk with the GM regarding the 2023 MSTA raffle bike. I got the new gloves, oogled some new bikes, spoke with the parts manager, but the GM was tied up running the service department and I missed talking with him. Later for sure.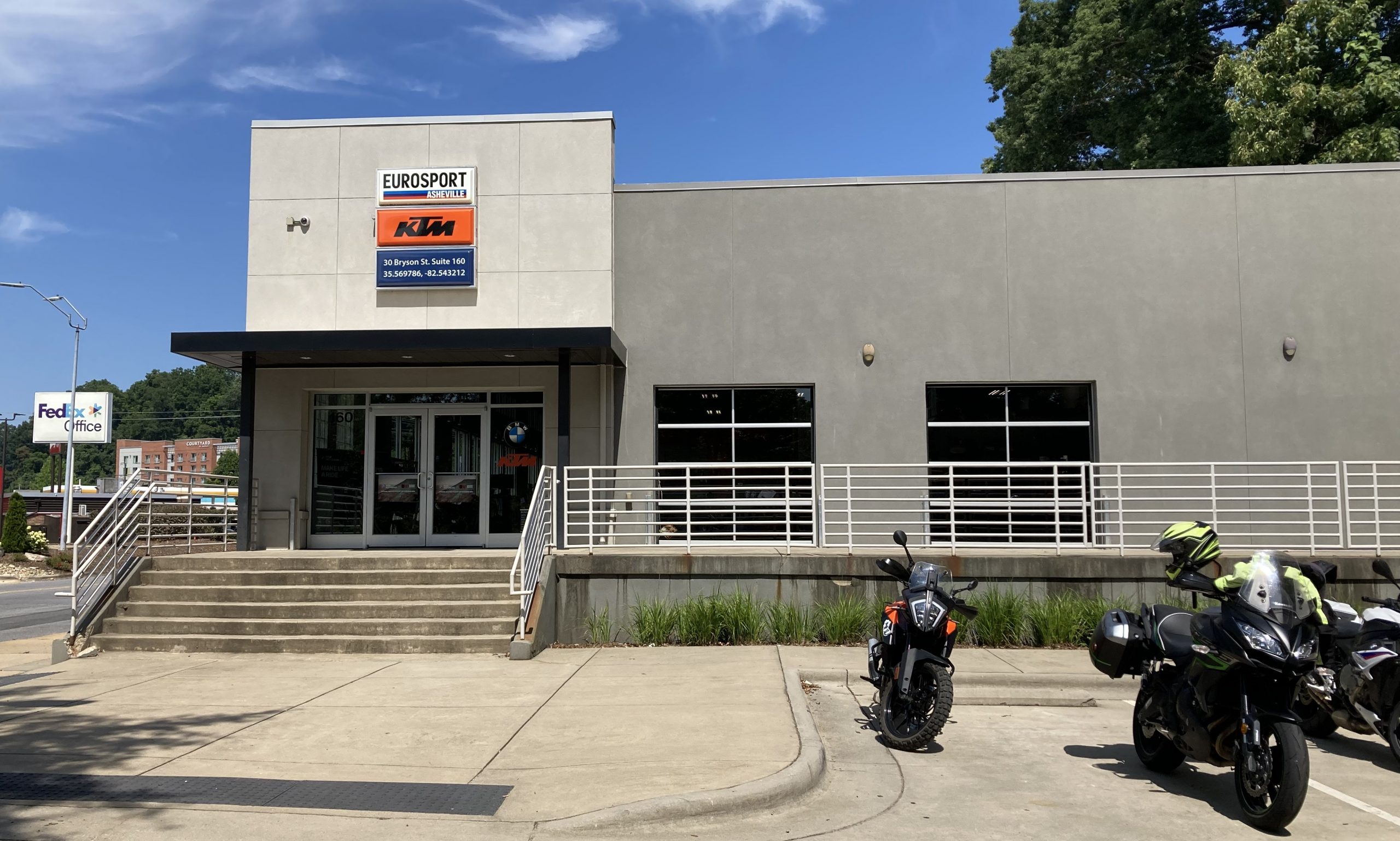 From there, we started heading north up more twisty (!) roads until we eventually made it to Double Island Road. I want to encourage every rider that loves twisty technical roads to seek this road out and ride it! It is one of those roads that you don't often find but is worth seeking out and making a special trip for. But be aware, you need to be on a bike that is suited to riding technical stuff, and you need to be sharp mentally when you ride it. We stopped in Spruce Pine for a late lunch at the Western Sizzling Steak house, where we stuffed ourselves on the buffet and deserts. Sufficiently worn out and having our bellies full, we returned to the lodge for showers and a quick afternoon nap.
An hour or so later, I got up and joined the others on the front porch for some conversation and to relive the great ride that we had that day. We followed that with dinner (none for me, I was still stuffed from lunch) and some adult beverages in the parking lot until it was time for more sleep.
Day 3
This being Sunday, 95% of the people were leaving for home. Luis and I had decided to stay an extra day because I could, and Luis would be returning to his job travel on Tuesday. He wanted to get as much riding in as he could before hitting the road for work duties for the next month. I got several shots of people leaving the rally….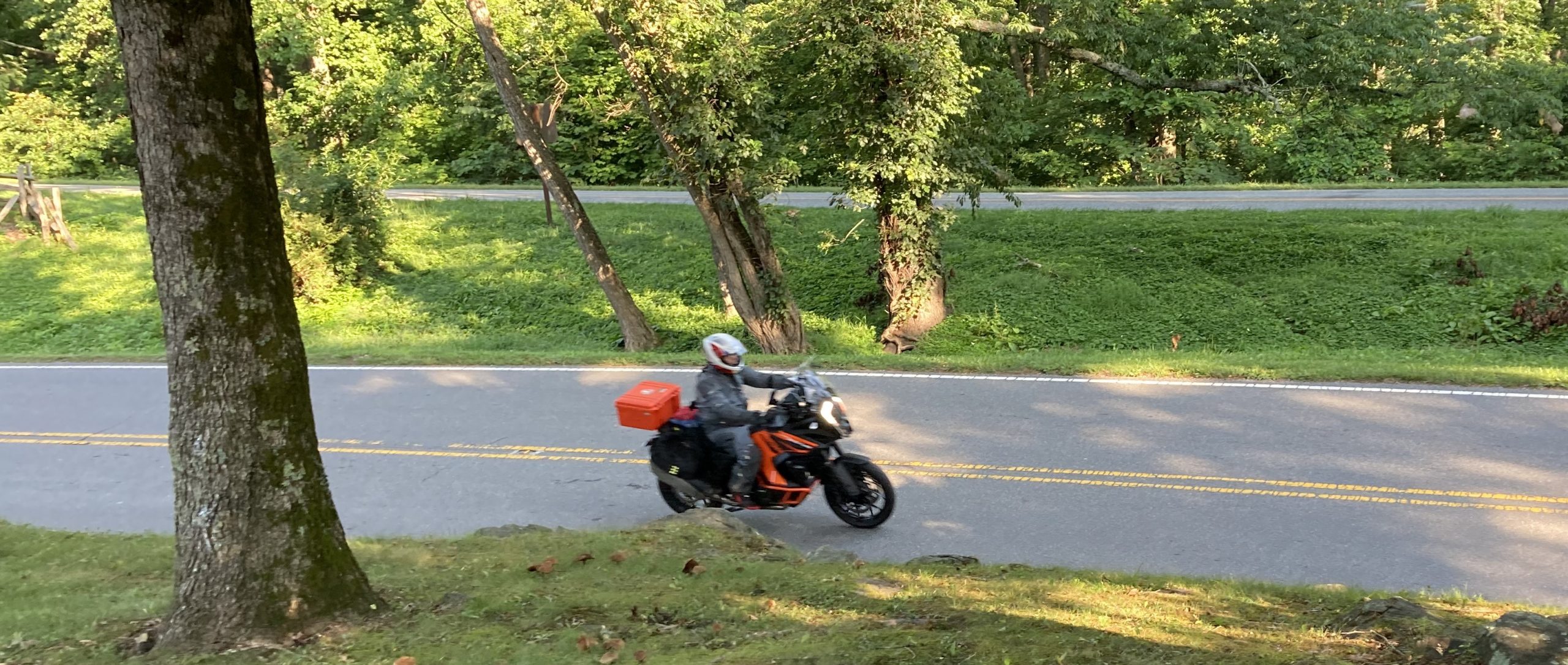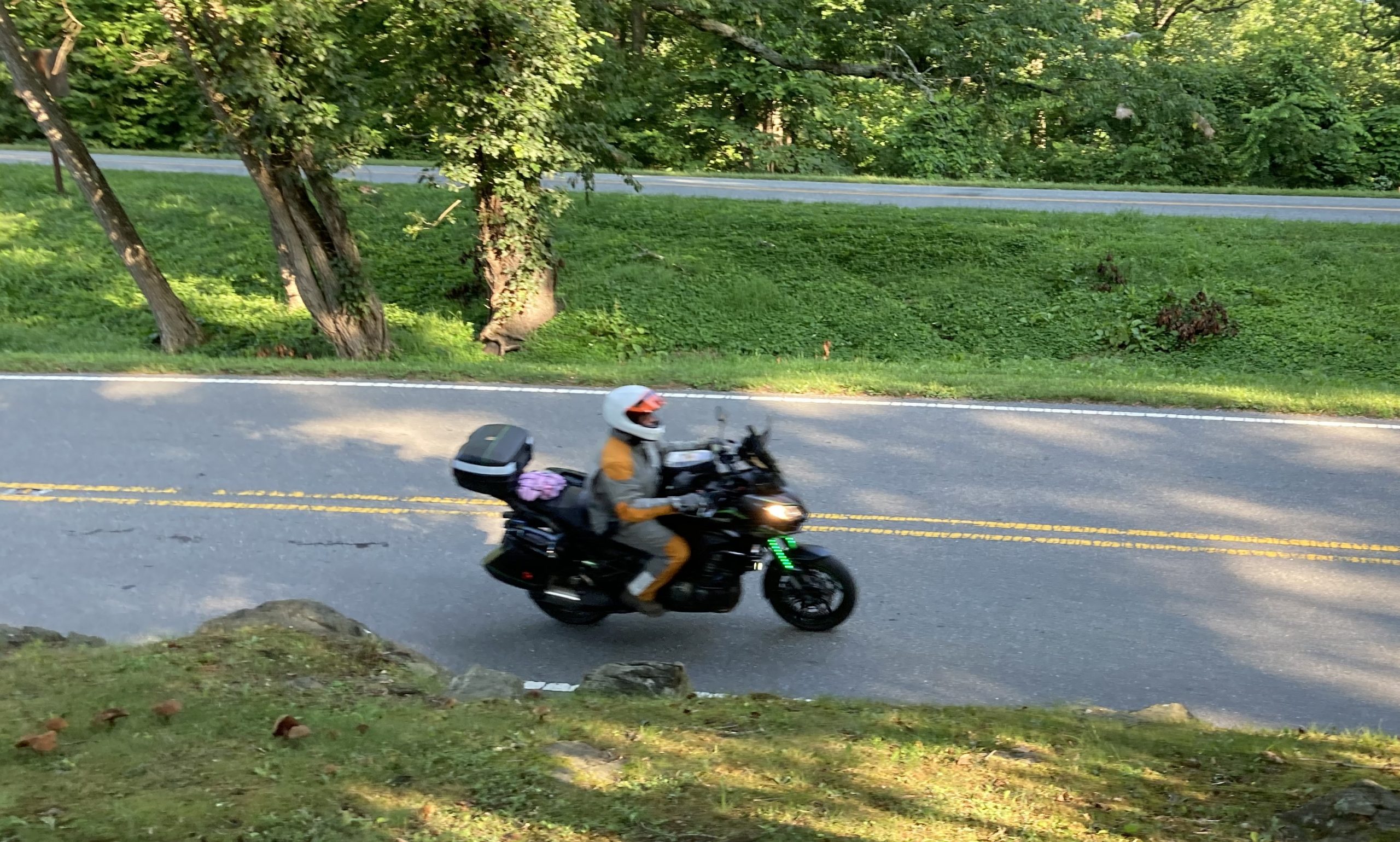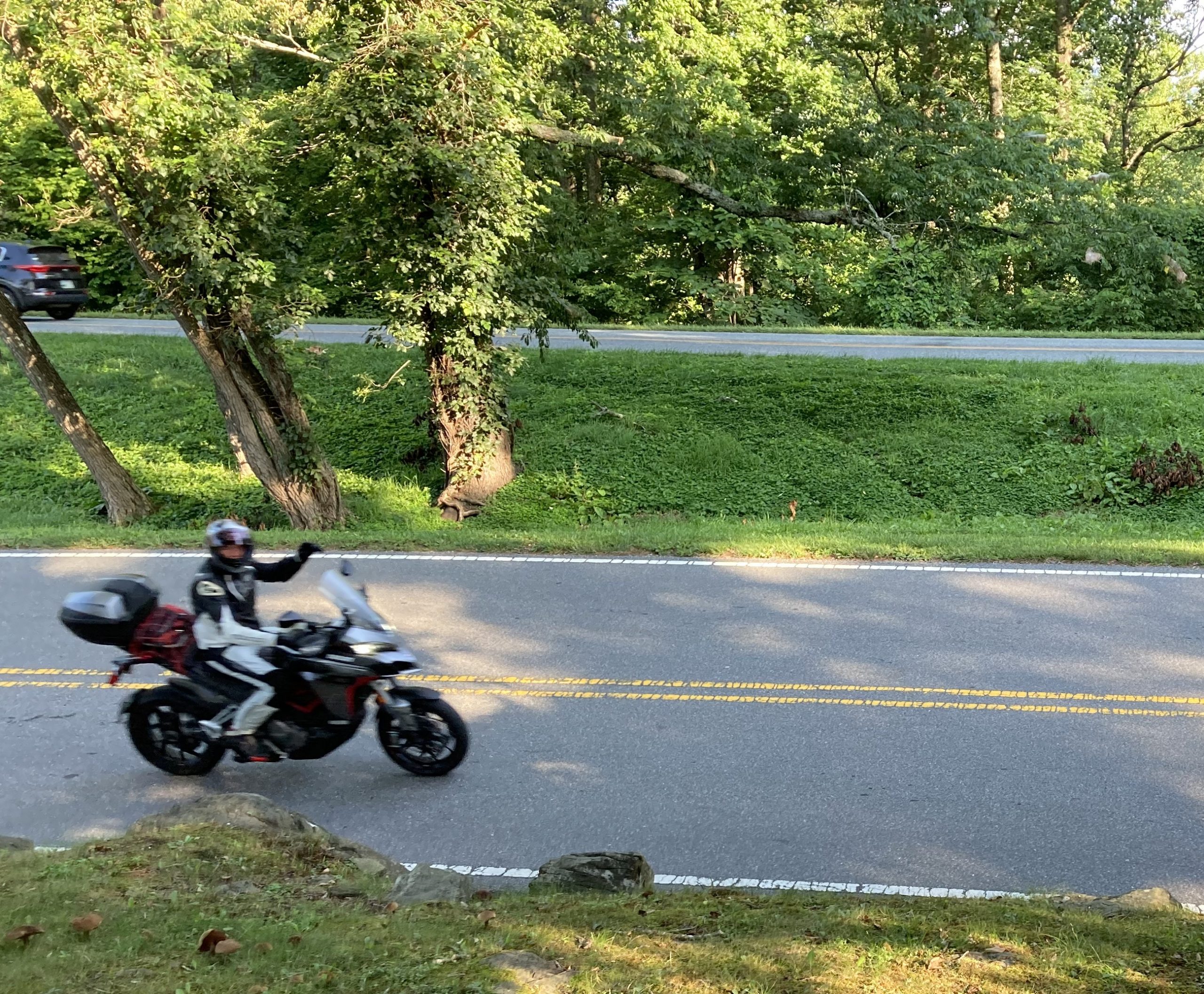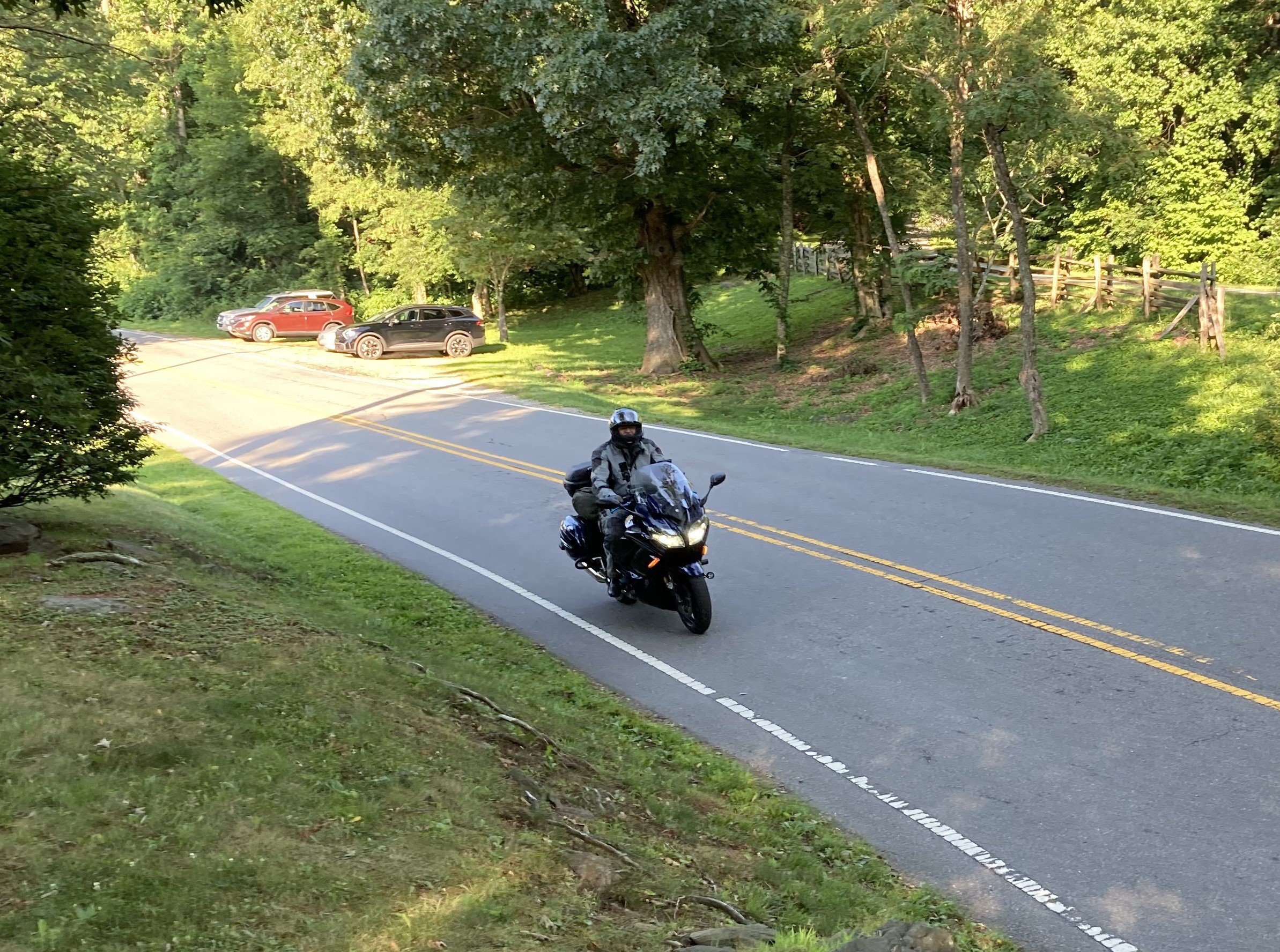 …..and soon the main parking lot was all but empty.
Luis and I headed out around 9am that morning to do a southwestern route of a little under 200 miles.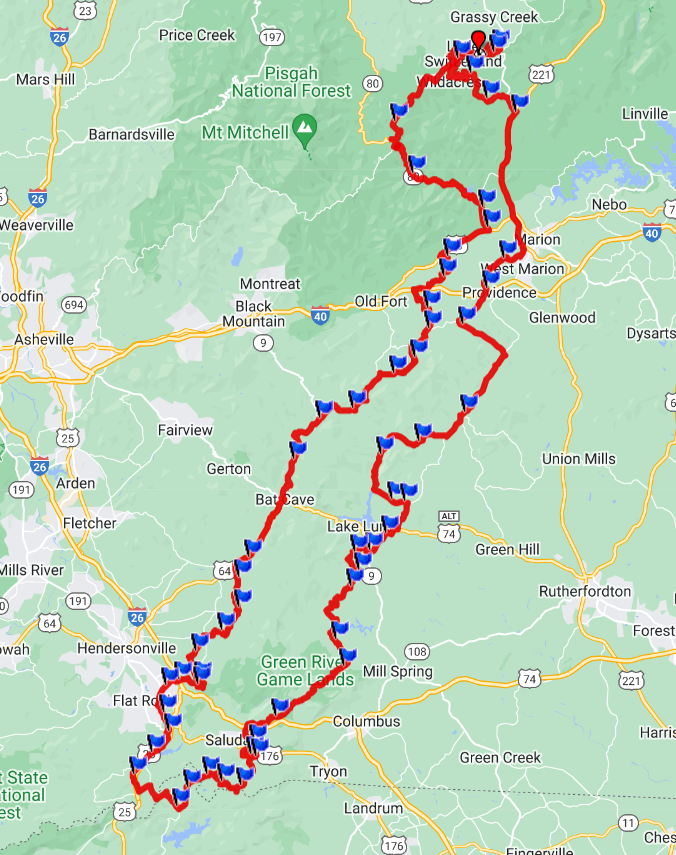 It being Sunday morning, we expected little traffic. The weather was just about perfect where we were, but there was a very large rain front that was heading across the northern part of Tennessee and most of Kentucky and southern Ohio. Back home it was wet, but we had clear skies and comfortable temperatures.
We did fine as we followed the route for the first 80-90 miles. But all of a sudden as we came around a curve on a little back road northeast of Hendersonville, the pavement ended. The road continued but was manly made up of dirt and large rocks. Neither of which we wanted to ride on the bikes we were on. So we backtracked about a mile to a more main road and turned south looking for a bypass around the dirt road. Stopping at a gas station (that was closed this Sunday morning), I pulled out my America Rides map set and looked for good roads in the area that would give us an alternative route. What we ended up doing was heading back northeast towards Marion. From there we headed across some great roads that Chris Parker had taken me on years before and which were highly recommended by map author.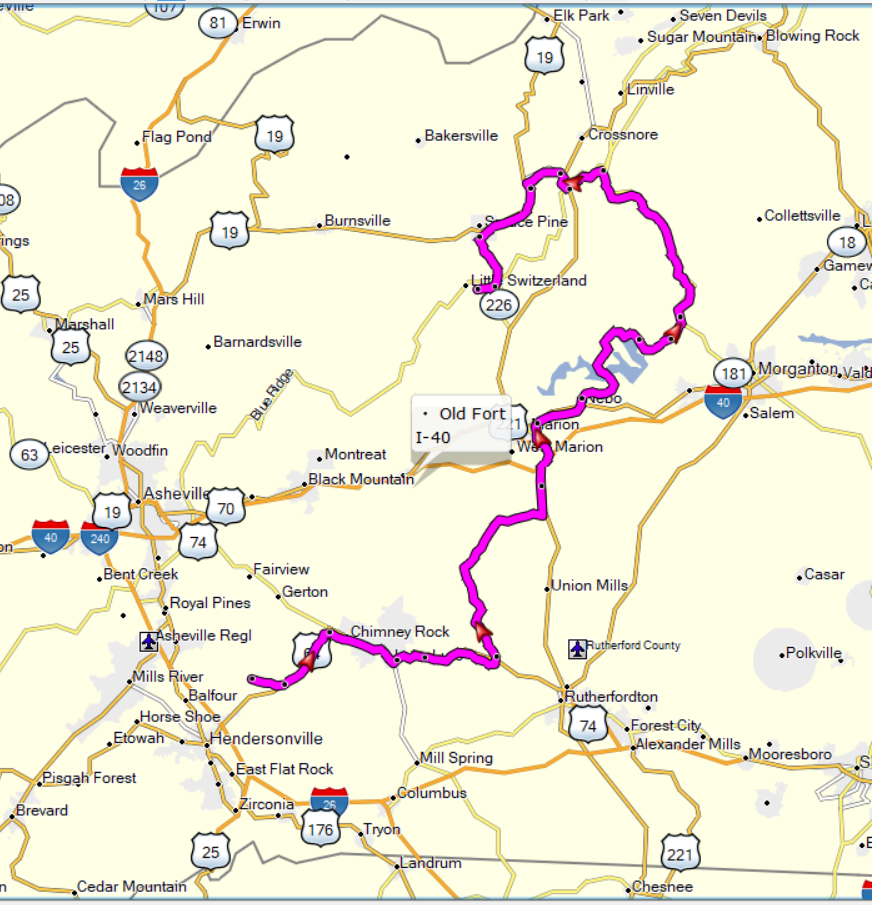 This enabled us to take a ride up one of my most favorite roads anywhere, 181 from north of Morganton up to just below Blowing Rock. This is one of the finest "sweeper" roads that you will find anywhere. A key part of it is that there are ample passing lanes along its entire length as it climbs up from the lower valley back into the mountains. You'll always see several riders on sportbikes on this road that have come up from Charolette and other areas to ride this road. At the top of the hill, we turned left onto 183 and a couple of miles later we were stopping for lunch at Famous Louise's Rock House.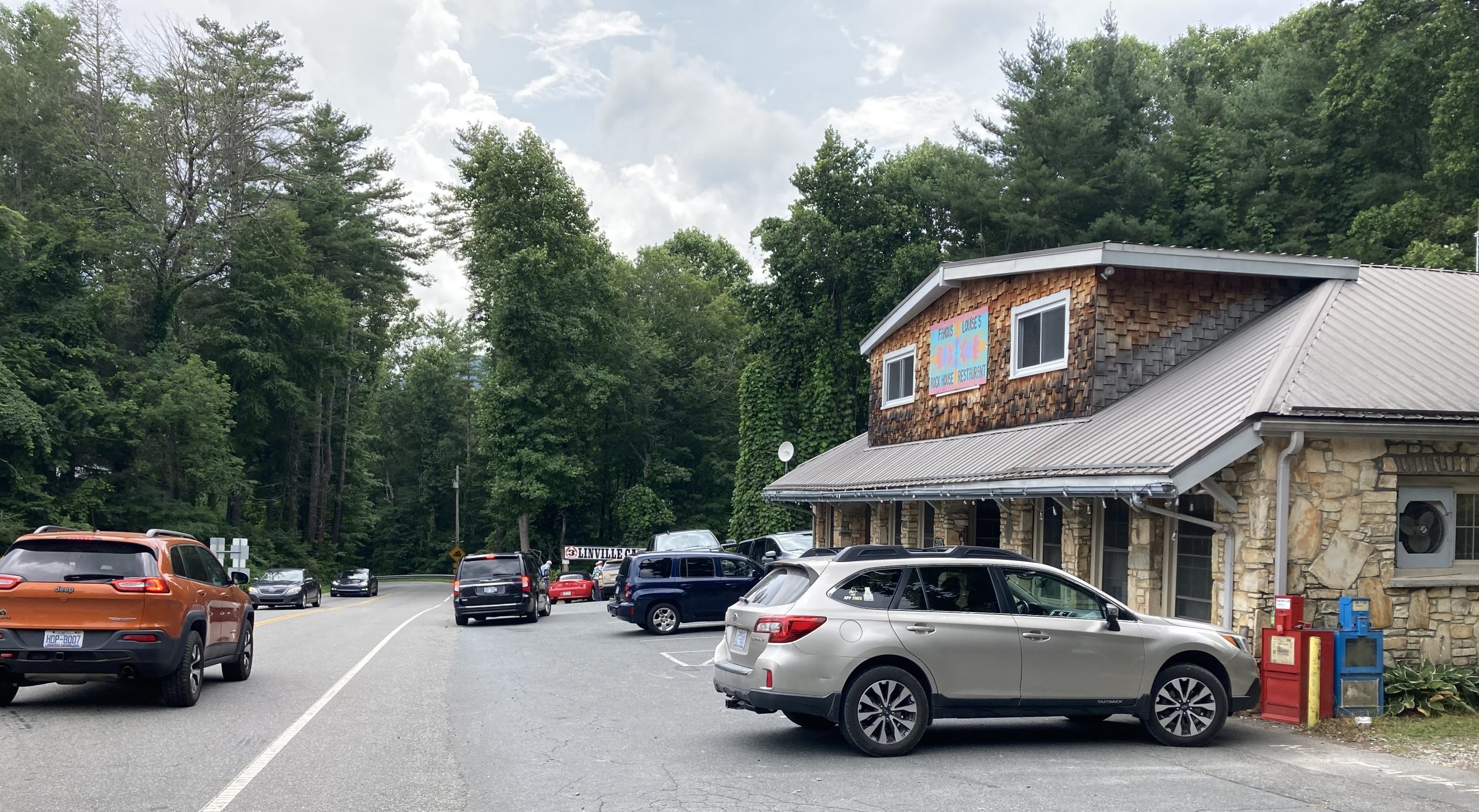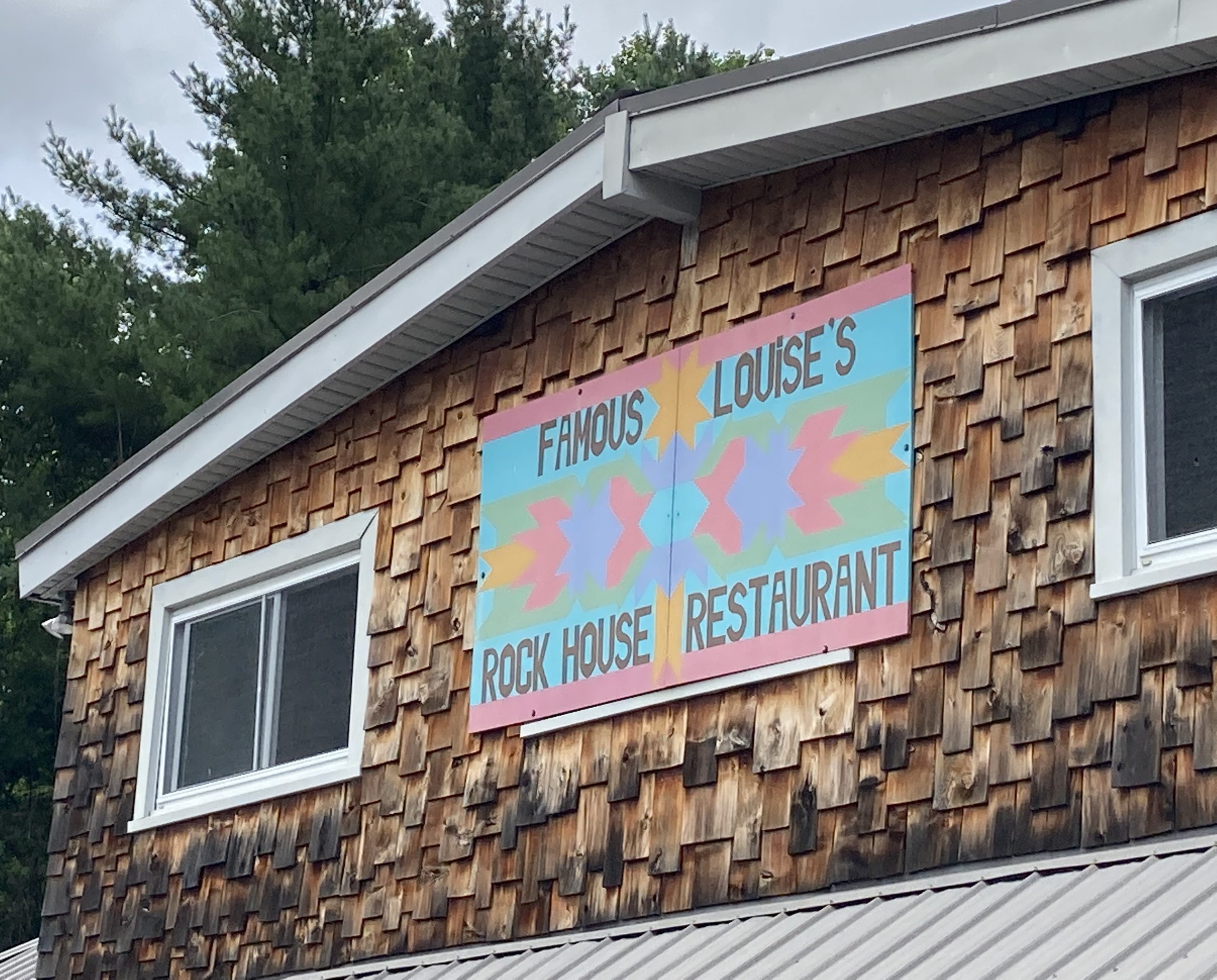 It was crowded as the after-church crowd was there, or was coming in, but we waited for 15-20 minutes and got seated. A note here is that they close at 2pm on Sundays and they stop seating at that time. We got one of the last tables that they seated, and it was worth the wait. Luis highly recommends the strawberry-rhubarb pie! From there we only had a short ride back to the Lodge. It was a quiet evening as only a few of us were still around and having a long day ahead of us we weren't interested in staying up late. Out plan was to be fully packed tonight so that as soon as we got done with breakfast in the morning, we would hit the road for home.
Day 4
To home! The rainstorms that had run into Kentucky on Sunday were still lingering but had not yet reached down into North Carolina, SW Virginia, or NE Tennessee. The forecast said that they would be gone from Northern Kentucky before we reached home, but we figured that we would have to ride through them somewhere between the Lodge and home. We wanted to get as far north and as close to home as we could get before hitting them, and we wanted to make sure that we weren't riding small little twisty backroads when we did, so we opted to head for I-26, then skirt west along the south edge of the mountains on 4-lane state routes, before using the Cumberland Gap Highway to head towards I-75 and home. We had just a fabulous morning of riding, with no traffic and nice cool and sunny skies. We made quick time and 3 hours later we were stopping for gas in Tazewell, Tennessee. Looking at the weather radar on my phone while we were stopped, I saw that there was steady rain showing in the Corbin, Kentucky area and northward. Since Corbin was another 35 miles, and we were still under bright sunny skies, we decided to forego putting rain gear on just yet and headed north on 25. However, only about 15 miles further south, when we got to Pineville, we changed our minds quickly when it started raining. Pulling to the side of the 4-lane highway on a wide shoulder, we quickly put our rain suits on. it's a good thing that we did, because not 100 feet further up the road it opened up and poured on us! By the time we got another 10 miles further north to Bourborville, Kentucky there was standing water in the road. But by the time we reached Corbin, the rain had slackened and even though it never quit until we got to Richmond, Kentucky we were still mostly dry and warm. Luis had never been to a Buc-eee's, and a new one had just opened up on I-75 in Richmond a few months before, so we decided to stop there for gas and lunch.
If you've never been to one of these places, it is hard to imagine just how big they are. First off, they have about 50-60 Gas pumps, and none of them are for trucks. In fact, trucks are not allowed on the premises. Then the main building is about the size of a large grocery store. You can find just about any kind of snack or food you'd like in there, they have a large gift shop area, and they are even smoking and serving brisket! Only in America! LOL
Once we reached Lexington, we got off the highway and headed up backroads through horse country towards Cynthiana, and then north on 27 to home. It had turned dry and partly sunny by this time, but we left our raingear on mainly because it was considerably cooler. It isa good thing we did because mother nature wasn't finished with us! Just north of Falmouth, Ky we ran into the hardest rain we had seen all day, for about 5 miles. Then it quit completely, and the sun was shining by the time I reached my home 20 minutes later. Happy to be home and to get a warm shower!
All and all it was a great trip. Luis and Mike are great traveling companions. The Big Lynn Lodge is a nice place to stay. The roads are fantastic, and the Rally is one you need to put on your schedule and attend. I'll plan to return next year for sure!