Story by Ken Snodgrass
Editor's Note: This story was originally published the July 2014 edition of the MSTA Michigan Chapter newsletter. The story has been edited to match the MSTA website's style.
Day 4: Monday 5/12 (17 miles)
"It never hurts to ask. …."
Meeting two good hearts on the same day is really something special. David, the manager of the gas station where I took refuge during the big storm, picked me up at 5 a.m. on his way back to the station and my motorcycle. The bike was OK except for the broken windshield and adjustment mechanism. 
Riding east to Lincoln in the rain and mist really wasn't much fun, which convinced me that I had to find a windshield or head back home. It was Monday, the nearest BMW dealer was closed and the windshield manufacturer said there was no way to make any kind of temporary repair.
I decided to take a walk and explore the University of Nebraska and consider my options. I came across Great Plains Motorcycle supply about a block or so from my hotel. I had all day, so I stopped and asked if they could help.
As I suspected, the young guy at the counter didn't think they do anything for me. But it was a pretty cool place and as much a motorcycle museum as a store and shop. Just happens they had my first motorcycle – a 1967 Yamaha 250cc Big Bear – on display. A kinda hip guy came up and we started talking about the Yamaha and he goes and pulls out an original brochure for it. 
He introduced himself as Noah, the co-owner of the shop. I told him my story and he wandered off and came back with an old box with a windshield for my 2003 BMW R1150RT. I was dumbfounded and couldn't hardly reply when he said, "How does $25 sound?" I mean this is a GERMAN product and you expect to pay GERMAN prices for everything for it. I went and got the bike, pulled it up in his shop right next to another old bike I had had – a 1973 Honda 350.
There were none of the, "No customers in the shop" regulations at Great Plains: Noah worked on rigging the adjustment mechanism as we bench raced, and I checked out the other vintage stuff he had in the corners. The job was finished in about 30 minutes and we went back to his store to settle up.
Noah: "How does $20 for labor sound?"
Me: "You are not charging me enough."
Noah: "Make up the difference by helping another rider someday."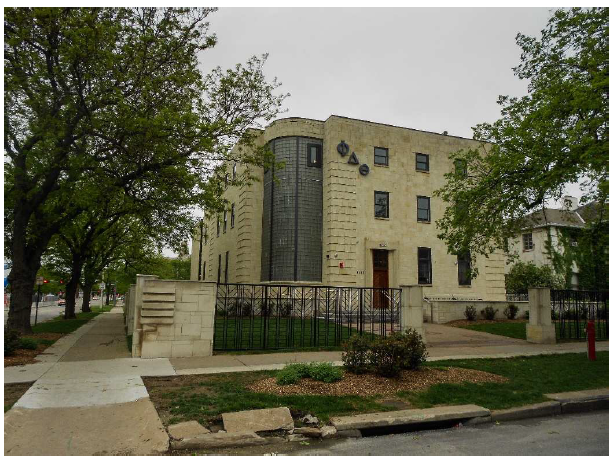 With the BMW fixed, I resumed my tour of UN Lincoln. I discovered an incredible Art Deco fraternity house and had a wonderful pho noodle dinner at a nearby Vietnamese restaurant.
Day 5: Tuesday (494 Miles) 
"Following the North Platte"
The weather was cool, clear and a little windy asI left Lincoln. Traveling west is definitely sailing upwind. It was a little hard to tell if the new windshield was as effective as the broken one since it was locked in the full down position. I I got off Interstate 80 at Ogallala and headed northwest on U.S. Route 26 – where, for me, the real west begins. Big sky, rolling hills and no people. The one thing you do see is mile long coal trains heading east. One goes by about every 15 minutes.
Temperatures dropped throughout the day and rain squalls occasionally interrupted the sunshine. After two  nights in a basement room of a budget motel, I really wanted to camp out at the state park outside of Guernsey, Wyo. 
When I arrived in town, the bank sign said,  "7:15 p.m. / 44 degrees" and the wind was blowing 15-20 mph. The small motel in town looked pretty inviting, but I decided I didn't come all this way to stay in another small room and continued on. 
I felt a little like the Omega Man as I rode through the park – lots of campsites and picnic grounds with only a small camper in sight. The skies cleared, wind died and a full moon came up just as I finished setting up camp. Mars, Jupiter and the space station were clearly visible overhead. More good karma.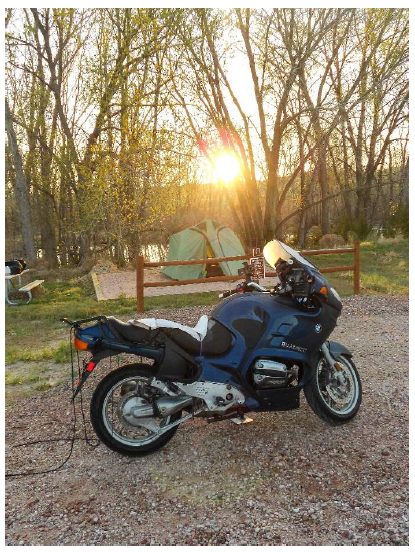 Day 6: Wednesday (289 miles)
"With Equal Justice for All (most of the time)"
Every town in Wyoming has a history museum, but I limit myself to one museum visit a day. Today it was the Caspar museum, which had a photo display of the Girl Scout troop at the Japanese internment camp that was located just out of town during WWII. 
Along with the photos were contemporary letters from girls in the troop. They told their story of being forced from their homes in southern California and the shock of being relocated to Wyoming. At the time, they did not see the irony of repeating the Pledge of Allegiance and saluting and marching with the American flag while being held in an internment camp.
I had intended to camp at the end of the day, but I really wanted a good meal. So, I found a motel in Lander, Wyo. Down the street was a brew pub and I had some great Korean steak tacos for dinner. 
Between the coal, natural gas and oil, it seems like good times in Wyoming. Six days out and just under 2,000 miles – close to my goal of 350 miles/day.