I love lists of places to ride to. I also love checking out General Stores. When someone sent me a link to a list of General Stores that was published in Southern Living Magazine I just knew I had to read it. After reading it I knew that i had to share it too. In addition, I knew that I wanted people to share their favorite General Stores to visit with me, and that I wanted to share them with you. So the 1st 35 stores you see here are the ones that Southern living included in the article, and then I will add the ones that others have sent me. This should be fun and hopefully will give you plenty of ideas on places to ride to this season. Here we go!
"Whether you're looking for local produce, jars of jams and jellies, or an old-fashioned root beer float, you can bet you'll find what you're searching for at a general store. So named because throughout the years they've provided a variety of goods and sundries, general stores can be counted on to have a hodgepodge of offerings. Many of the ones you'll find in the South today have long histories and still provide their own unique spins on one-stop shopping. Don't be surprised if you find bait and tackle next to shelves stacked with bottles of hot pepper relish. One thing that's for sure? It's easy to while away an afternoon browsing in these story-filled shops. You never know what you'll find inside.
Boyce General Store
Alvaton, Kentucky
Brie and Brad Golliher purchased Boyce General Store in 2012, and these days it's home to The Pie Queen, a newer venture that has set up shop inside and turns out scratch-made pies–like Kentucky, pecan, and fudge–for locals and passersby. Visit for a taste.
Bradley's Country Store
Tallahassee, Florida
North Florida knows that if you want a sausage dog, you have to head to Bradley's. It's been an institution since 1927, and new generations are keeping the spirit alive. You can still find their famous smoked sausage, country milled grits, and local honey on offer. Grab a patch of shade and rest awhile under the mossy oaks.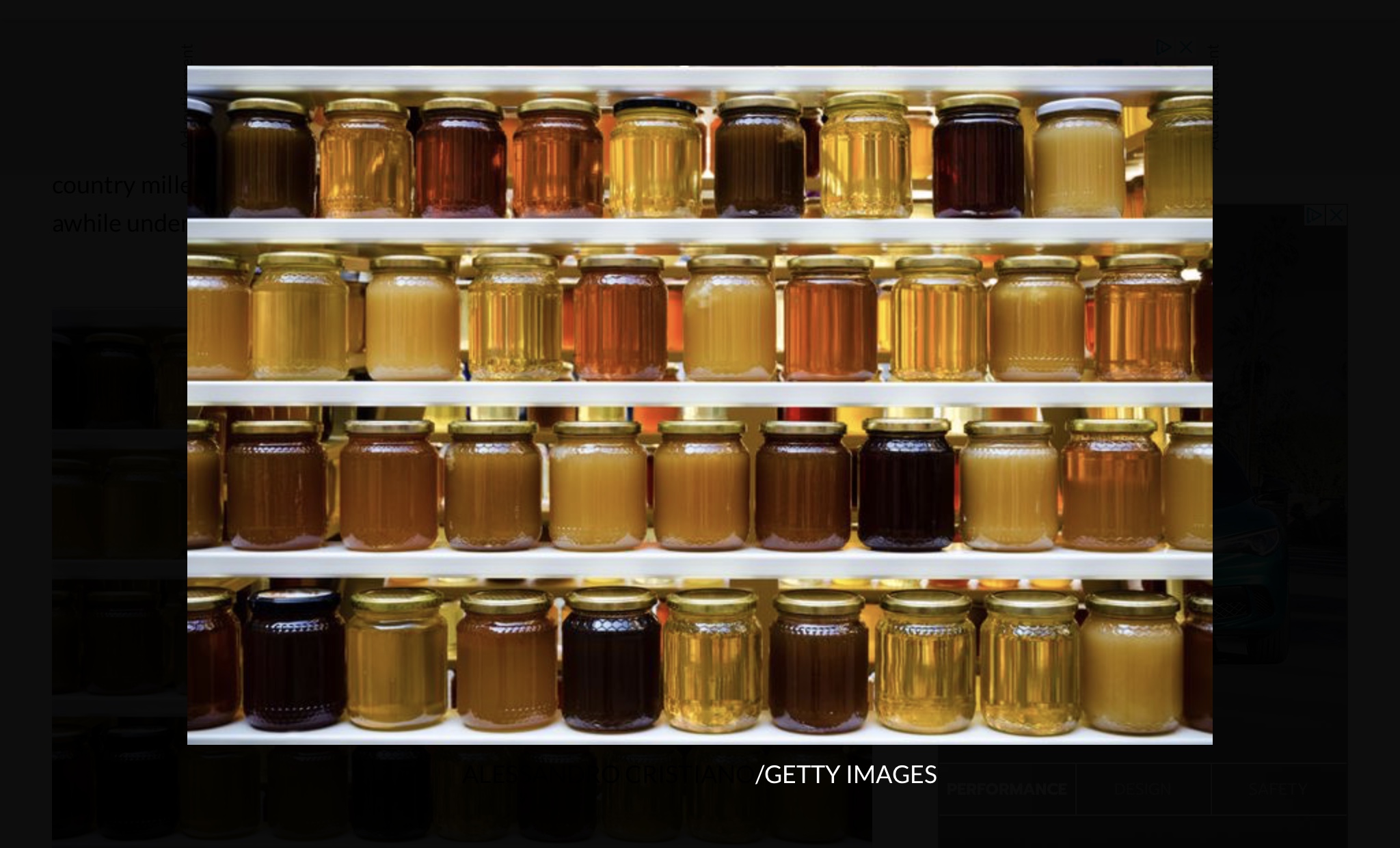 Callaway Gardens Country Store
Pine Mountain, Georgia
Beloved for its breakfast menu, the Callaway Gardens Country Store is both a shop and restaurant, offering grits and preserves, gifts, and gardens merchandise on the shelves as well as a sit-down menu with tables looking out over the forest. The stone building dates to the 1950s.
Castell General Store
Castell, Texas
Located in the Texas Hill Country near the Llano River, Castell General Store makes its home in a building that dates to 1927. You can find burgers, beer, and bait (because of the proximity to the river) here, as well as a new event space called The Roost. Don't miss live music on Saturdays.
Crane's Country Store
Williamsburg, Missouri
For 134 years and counting, Crane's Country Store has been Williamsburg, Missouri's go-to place for tools, apparel, and boots. Nowadays, you'll find big-name brands inside with plenty of variety to keep you browsing all day long.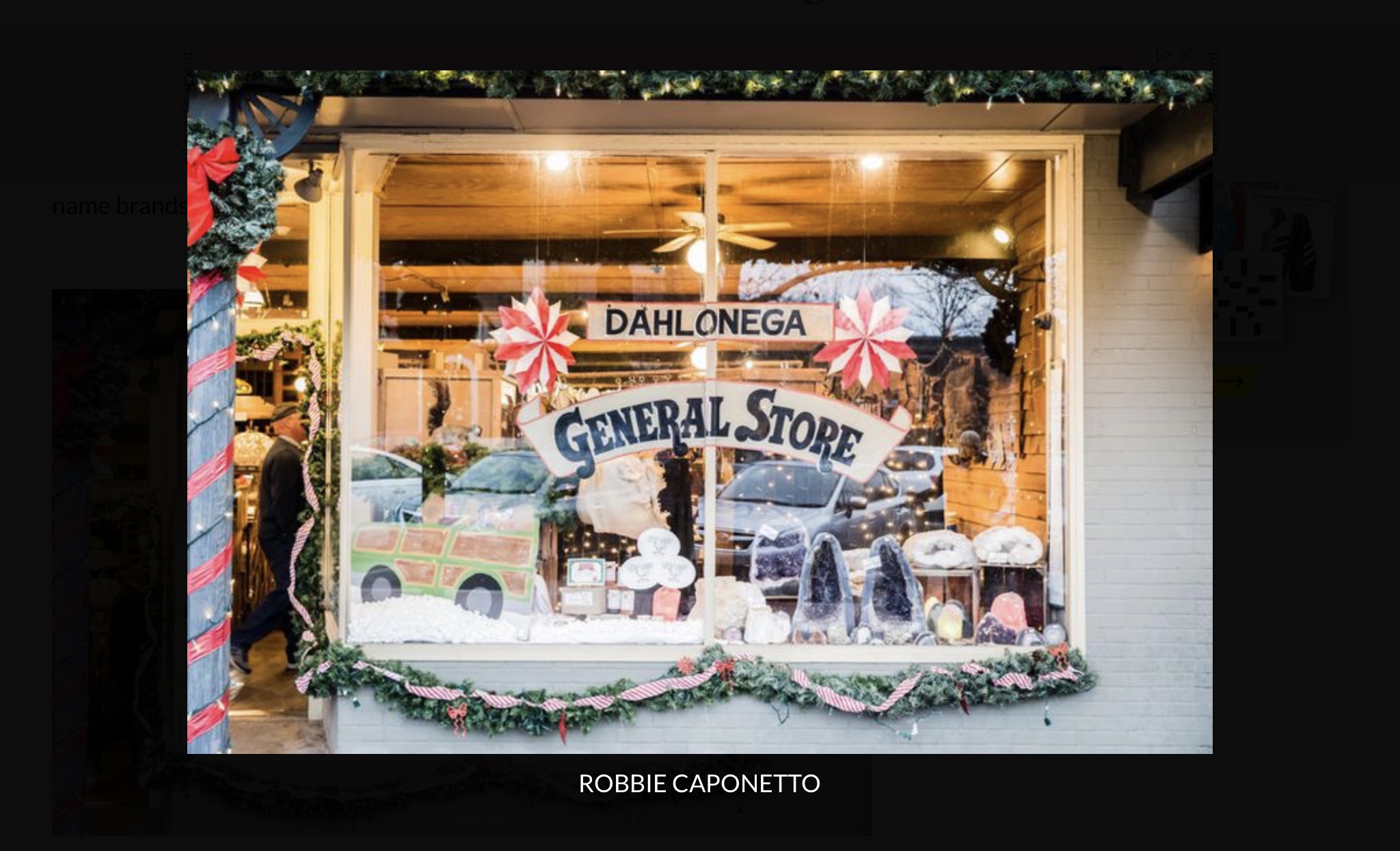 Dahlonega General Store
Dahlonega, Georgia
There's plenty of old-timey charm to discover in Dahlonega, especially in its general store, where you can find foodstuffs like jams, relishes, and old-fashioned candy as well as marbles and wooden toys. You can get your fill of freshly roasted peanuts and the five-cent coffee that's brewing too.
Dick's 5 & 10
Branson, Missouri
With a history spanning more than 50 years, Dick's 5 & 10 has been a downtown Branson institution for decades and is still a destination for shelves full of shoppable curiosities and collections–including a soda pop shoppe and a candy emporium. Here, every aisle is the "fun aisle."
Edge General Store
Hearne, Texas
You can find lunch and dinner at Edge General Store, which was built in 1907 and served as both a post office and general store. It closed for almost forty years before opening again in 2007. Dig into the burgers, sandwiches, and salads that are on the menu as well as the retro malts, shakes, and homemade pies.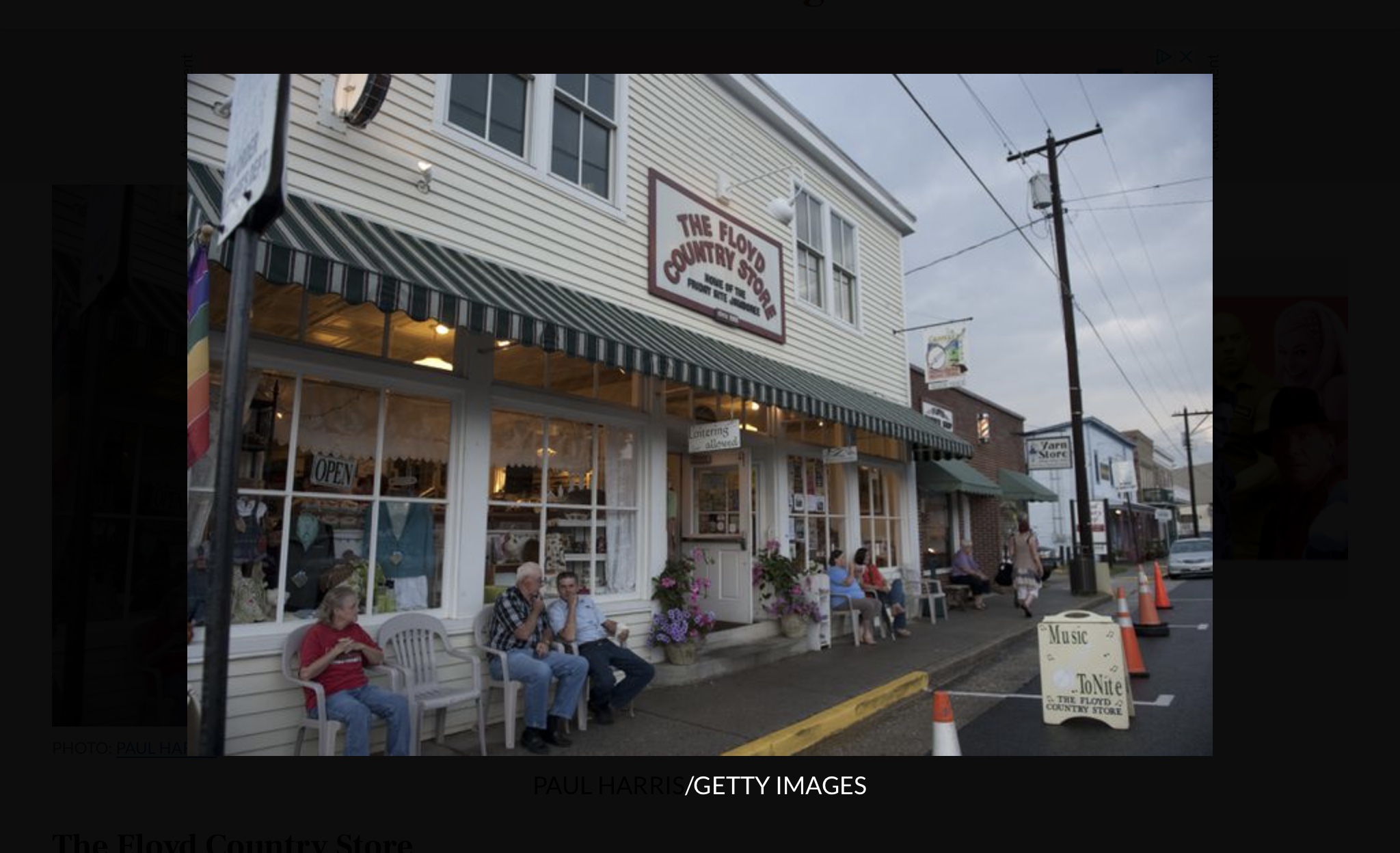 The Floyd Country Store
Floyd, Virginia
The Floyd Country Store is a place with a long history and a reputation for a good time. It's tucked in the Blue Ridge Mountains of Virginia and is a store, a cafe, and a soda fountain reminiscent of yesteryear. There's also a schedule of Americana and mountain music (with dancing!) year-round. The sign on the porch says, "Loitering allowed." You don't have to tell us twice.
Fred's General Mercantile
Beech Mountain, North Carolina
Fred's has a few claims to fame, one being its elevation. It has the distinction of being the highest general mercantile in the U.S. and stands at an elevation of 5049 feet. Plenty of hometown charm, as well as a deli where you can enjoy your lunch inside or out, keep folks coming back to Fred's.
Fulmer's Farmstead
Beaumont, Mississippi
Situated in Southern Mississippi, Fulmer's Farmstead is a farm, bakery, cafe, and general store. Homemade jams, jellies, and cane syrup as well as canned produce from the farm is available to shop in the store. That's in addition to freshly baked breads and the cakes and pies you can order for pickup.
General Store 30474
Vidalia, Georgia
Located in downtown Vidalia, this fun shop has a focus on local and organic items. There is a variety of items on offer, from gourmet foodstuffs to specialty teas, candles, and cookbooks. It's located on Church Street and has exposed brick walls and corners filled with neat things.
Huck's General Store
Blue Ridge, Georgia
They say, "There's something for everyone at Huck's," and when you visit, you just might see that slogan proven true. Bulk candies in buckets, shelves of gifts, rows of apothecary goods–you can browse to your heart's content.
Jefferson General Store
Jefferson, Texas
A hardware store and general store since the late 1800s, Jefferson General Store has lots to browse, including pralines, jams, jellies, relishes, honey butters, pickled vegetables, much of which is Texas made. There's also 5-cent coffee and a retro soda fountain.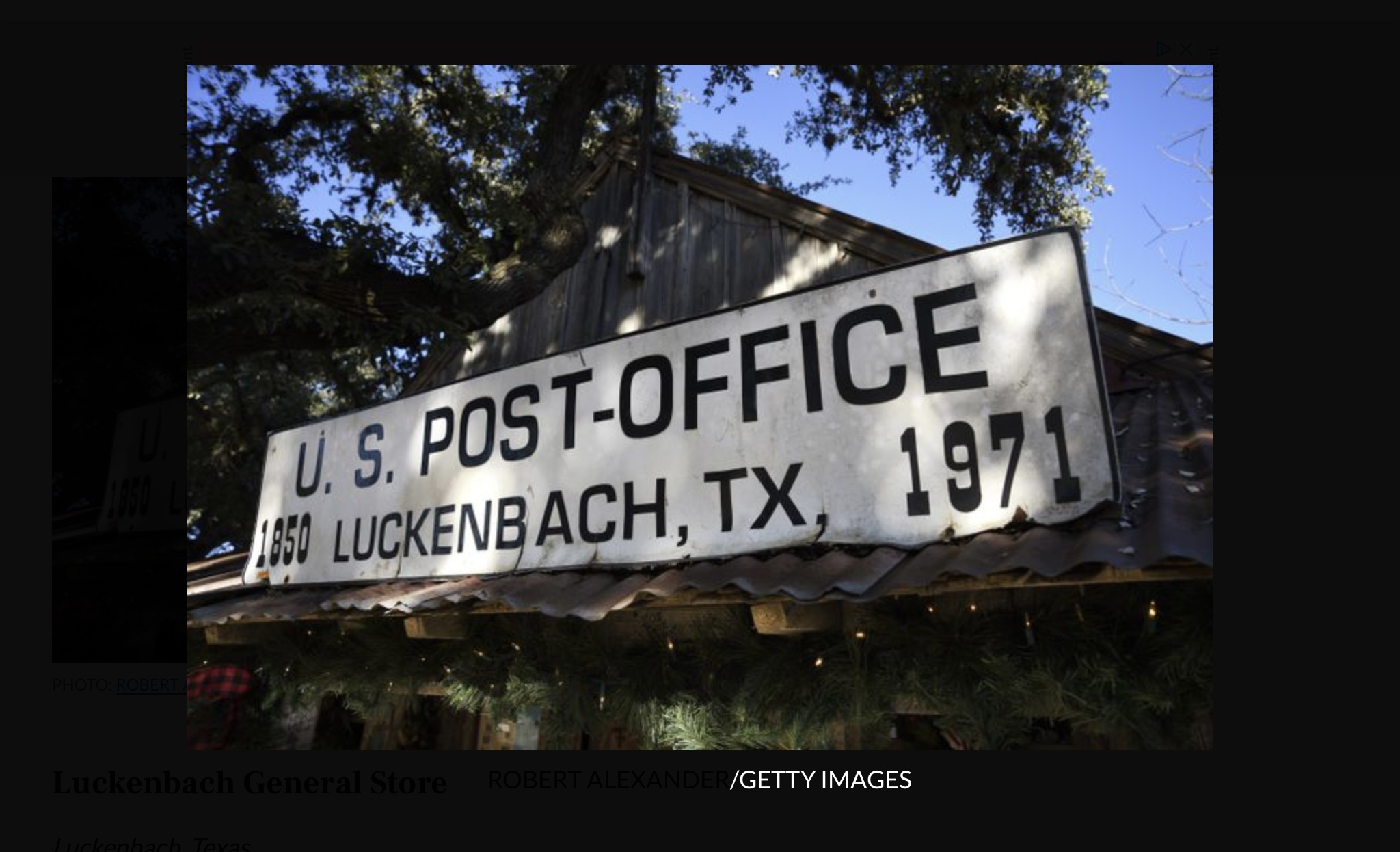 Luckenbach General Store
Luckenbach, Texas
Just a stone's throw from Fredericksburg, Texas, you can pay a visit to Luckenbach and its historic general store, bar, and dance hall. Browse all of your small-town souvenirs here, and be sure to hear some live music while you're in the area too.
Mast General Store
Valle Crucis, North Carolina
The original Mast General Store (established in 1883) is located in this North Carolina mountain valley. Pay a visit, and you'll find a bustling destination that's home to both the local post office and a general store (where you can still find a cup of coffee for a nickel). Bygone toys and cast-iron cookware are just some of the treasures you'll find inside. Other Mast stores can be found around the South.
Mentone Market
Mentone, Alabama
Mentone, a tiny town atop Lookout Mountain, has views, local artists' galleries, and a great little general store known as Mentone Market. You can order lunch and sit on one side of the building to enjoy your meal, or you can browse the grocery on the other side, which is stocked with foods and sundries as well as Alabama-made gifts and souvenirs.
Oark General Store
Oark, Arkansas
Nestled in the Ozark National Forest, Oark General store opened its doors in 1890, making it the oldest continually-operated store in Arkansas. These days, people stop in during hiking and biking trips for a meal at the cafe.
The Old Mill and General Store
Pigeon Forge, Tennessee
As the name would suggest, this spot got its start grinding grains, and today it's still a working grist mill. You can shop in the general store, which greets you with a door covered in old nails that once held notices of community happenings. Today, visitors take home bags of stone-ground yellow grits, spring water taffy, and pecan pies.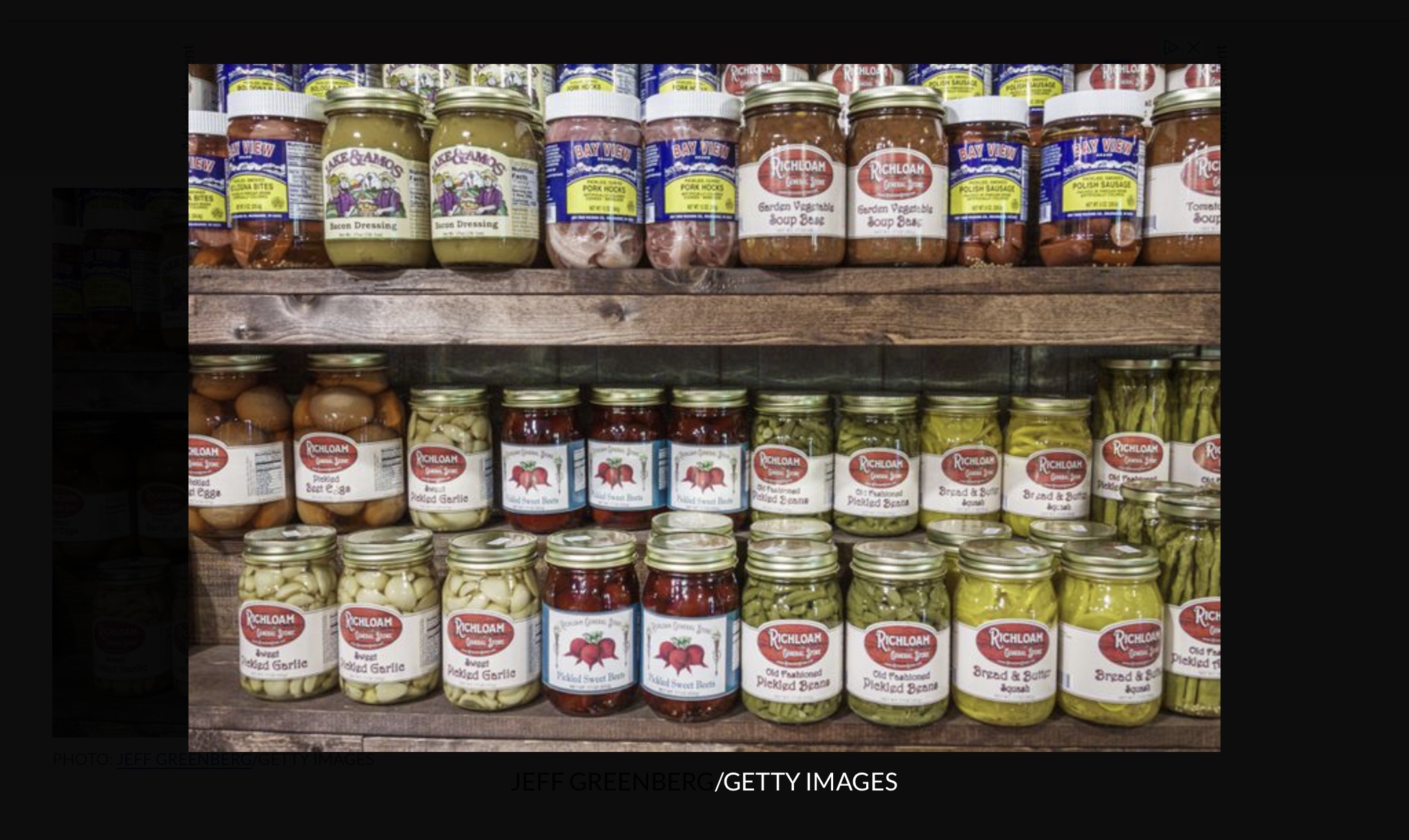 Old Sautee Store
Sautee Nacoochee, Georgia
You can bet that a business established in 1872 is a local legend. When you visit Old Sautee Store, you can order sandwiches and salads at The Market, and you can also shop the store, which has food gifts like cherry butter, vidalia onion and Georgia peach hot sauce, and sweet fire pickles.
Old Village Mercantile
Caledonia, Missouri
Established in 1909, Missouri's Old Village Mercantile, is a destination for hundreds of varieties of old-fashioned candy, decadent fudge, and gifts. It's also a creamery with handmade ice cream and smoothies. Not one to be outdone, the beautiful, two-story interior also serves as a coffee house and antiques gallery.
Paint Bank General Store
Paint Bank, Virginia
A small-town spot with a lot of charm, Paint Bank General Store has a red-brick facade and a two-tier porch outside and old wood floors and tin ceilings inside. Find your fill of groceries, gifts, and cuts of meat. Don't forget to visit The Swinging Bridge Restaurant before you go.
Pawleys Island General Store
Pawleys Island, South Carolina
You can find an array of local wares at Pawleys Island General Store, which carries handmade jewelry, artful housewares, and apparel as well as plenty of grocery items like jarred molasses, rice, and grits.
Philomont General Store
Philomont, Virginia
Located in the picturesque piedmont of northern Virginia, Philomont General Store is a lovely road trip stop. Here, in a building dating to 1913, you can browse wines, foods, and gifts. It's a local staple–the post office still makes its home in the back.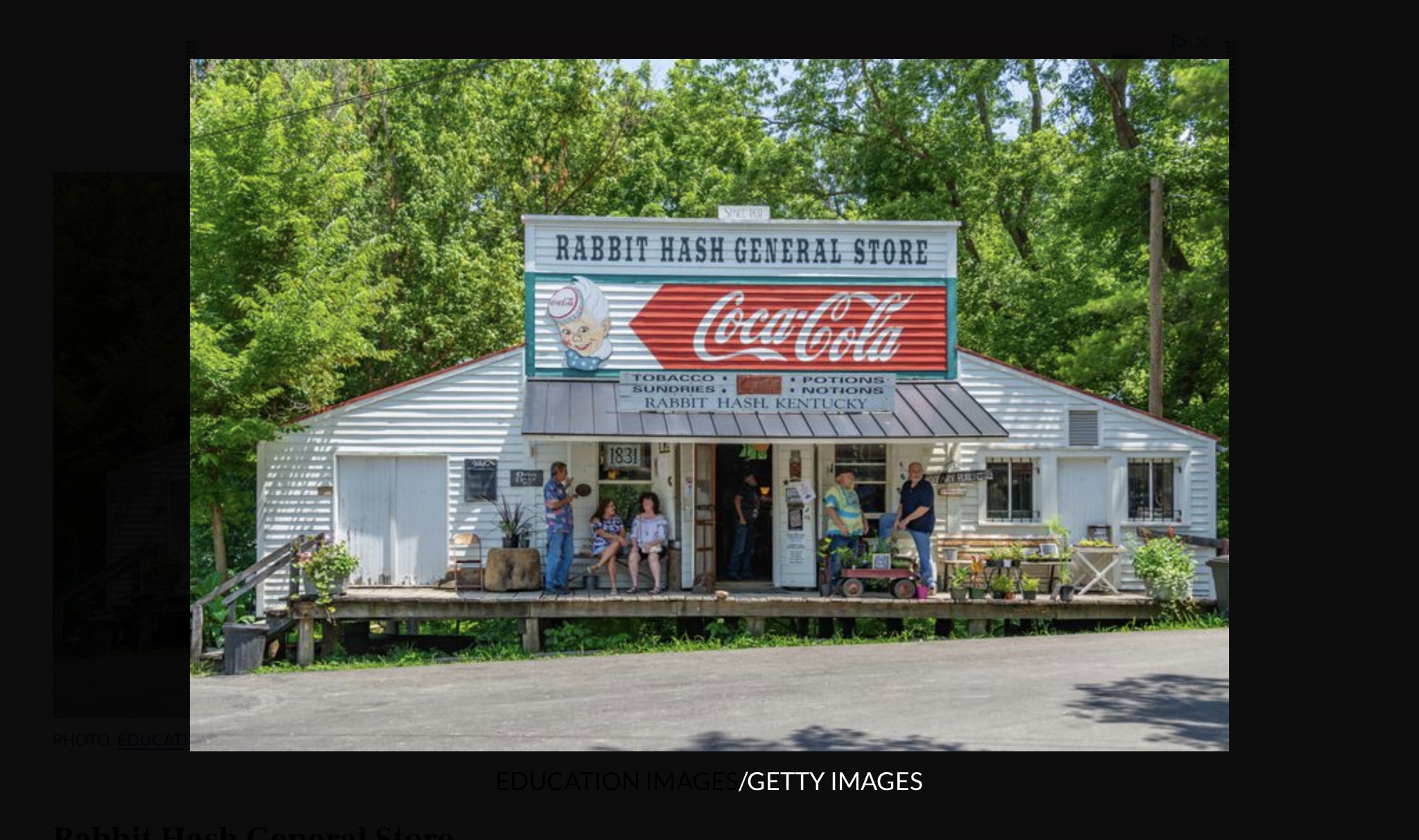 Rabbit Hash General Store
Rabbit Hash, Kentucky
The sign on the front of the building where Rabbit Hash General Store makes its home says "sundries, potions, and notions," and the shop still offers lots of those local favorites–hot sauces, pulled cream candy, and general store merchandise (such as pins, patches, and t-shirts) among them.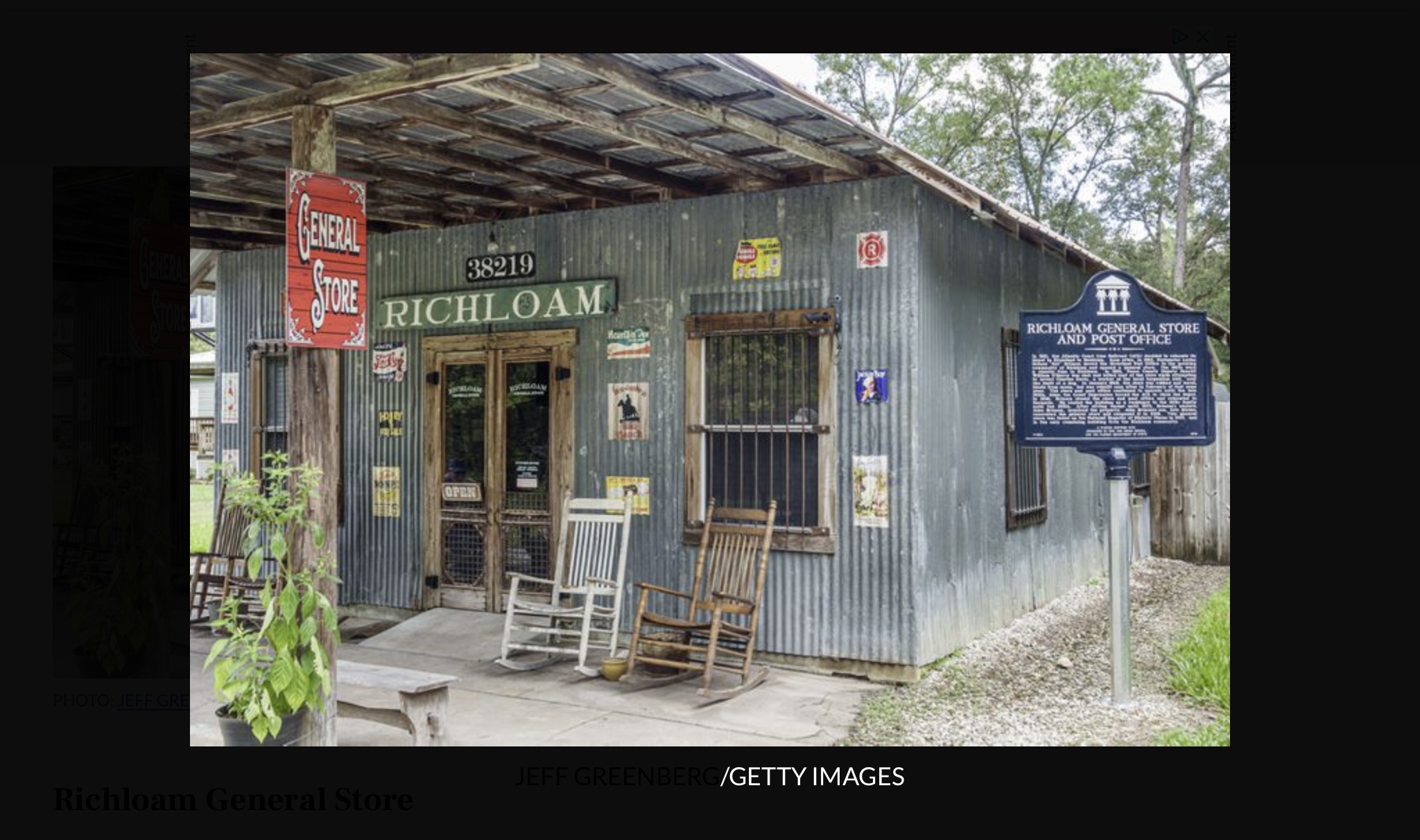 Richloam General Store
Webster, Florida
This shop was founded in the 1920s as a post office and general store. These days, you can find produce, dry goods, and sundry items for sale. You can even fill up a cotton bag with your dry goods, just as you would have in days past. Be sure to visit during the holidays when it dresses up in its Christmas finery and Santa pays a visit.
Scotsman General Store & Woodshop
Laurel, Mississippi
Those who watch Home Town will likely be familiar with Scotsman General Store & Woodshop, a business from Erin & Ben Napier, where you can find flannel shirts, candies, gifts, and lots of glass-bottle sodas to sip on. You can also peek in on the Scotsman Co. woodworking teams who are hard at work in the shop.
Sunrise Grocery
Blairsville, Georgia
This family-owned general store is tucked in the mountains of North Georgia. Owned by the Clemmons family since the 1980s, it's a roadside stop for sourwood honey, berry preserves, locally made soaps, and Choestoe Valley bumper stickers.
Stripling's General Store
Moultrie, Georgia
With seven locations across Georgia, you're never far from a Stripling's General Store. It's where you'll find custom-cut meats (don't miss the famous Stripling's sausage), as well as jerkies, cheeses, marinades, and all manner of gifts in the market.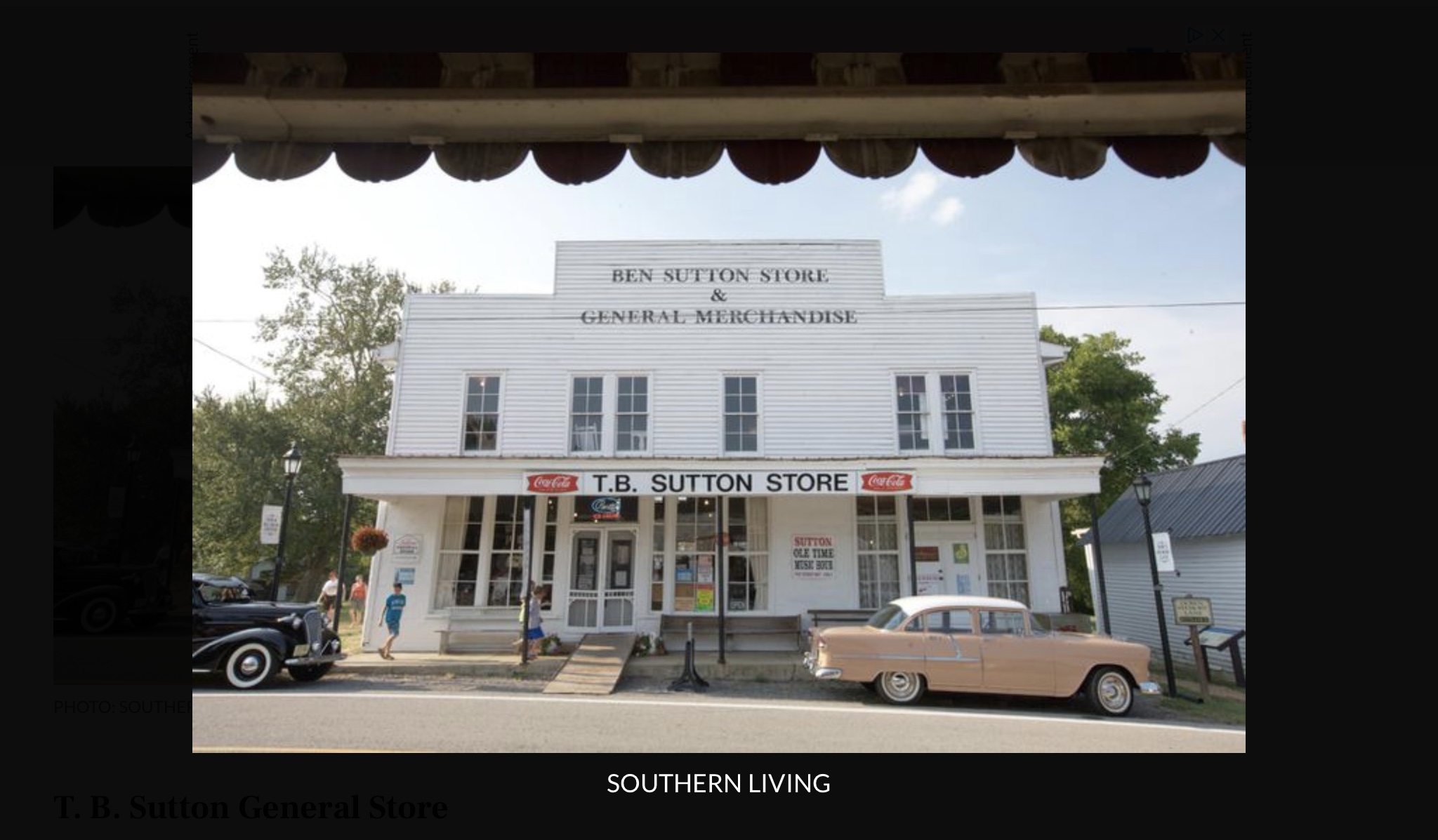 T. B. Sutton General Store
Granville, Tennessee
This storied business was built in the 1800s and has served the area since then. Nowadays, it's a reliable spot for shopping–cookbooks, pocket knives, old-fashioned candies, etc.–and you can also catch live bluegrass music on the corner stage during the Sutton Ole Time Music Hour.
Troutt Old Time General Store and Market
Paducah, Kentucky
This business is a newer addition to the general store scene. Located in Paducah, Kentucky, you can find lots of locally made and handcrafted items inside, as well as freshly baked goods, single slices of decadent cakes, and lunch-ready sandwiches.
U.G. White Mercantile
Athens, Alabama
Provisions, dry goods, gear–U.G. White Mercantile has it all. Browse their website, and you'll see a glimpse of what's inside: pocket knives, vintage-style toys, cast iron, green tomato relish, and much more. As a business with a history spanning over a century on the square in Athens, Alabama, it's still a beacon for locals and travelers passing through.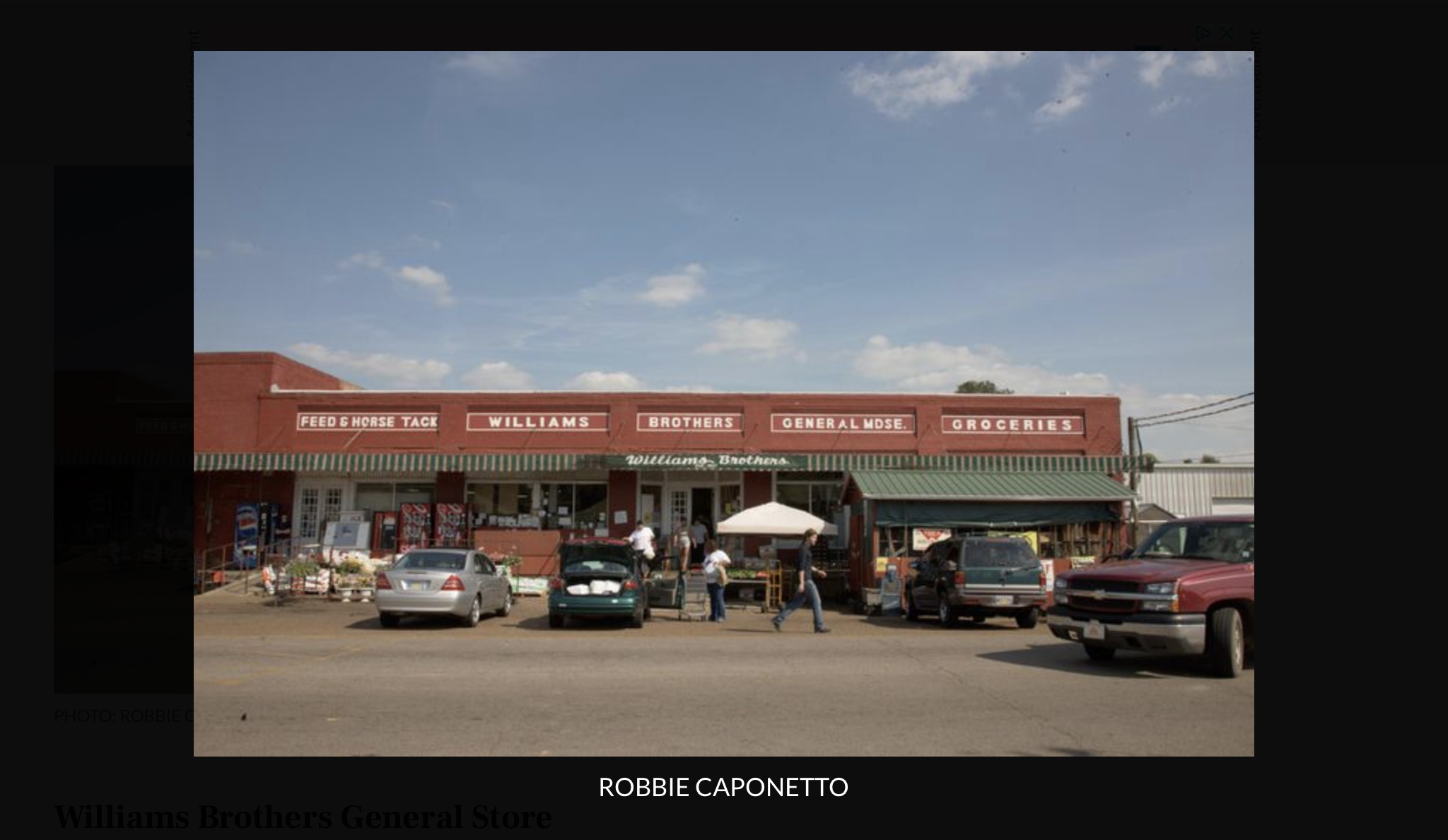 Williams Brothers General Store
Philadelphia, Mississippi
This small-town general store has been in business for over one hundred years. It got its start in 1907, and the family-owned-and-operated spot is still supplying Philadelphia, Mississippi, with everything from apparel to butter beans.
Williamsburg General Store
Williamsburg, Virginia
When you're looking for a souvenir to commemorate your visit to Williamsburg, look to the general store. Filled with all sorts of things, from hats and mugs to Virginia produce and boxes of Cheerwine, you can find something for everyone on your shopping list.
Wilson Store
Clear Spring, Maryland
The front of the red building where this general store operates is painted with the words "Old Country Store" and "R.H. Wilson & Son." Inside, the walls are lined with wooden shelves that are stacked with candies in glass jars, jams of all kinds, jewelry, and handmade soaps."
And here are the ones that I've been sent to add to their list:
Shelby Forest General Store
Millington, Tennessee
Oldfield & Son
Mize, Kentucky
Glencoe General Store
Glencoe, Kentucky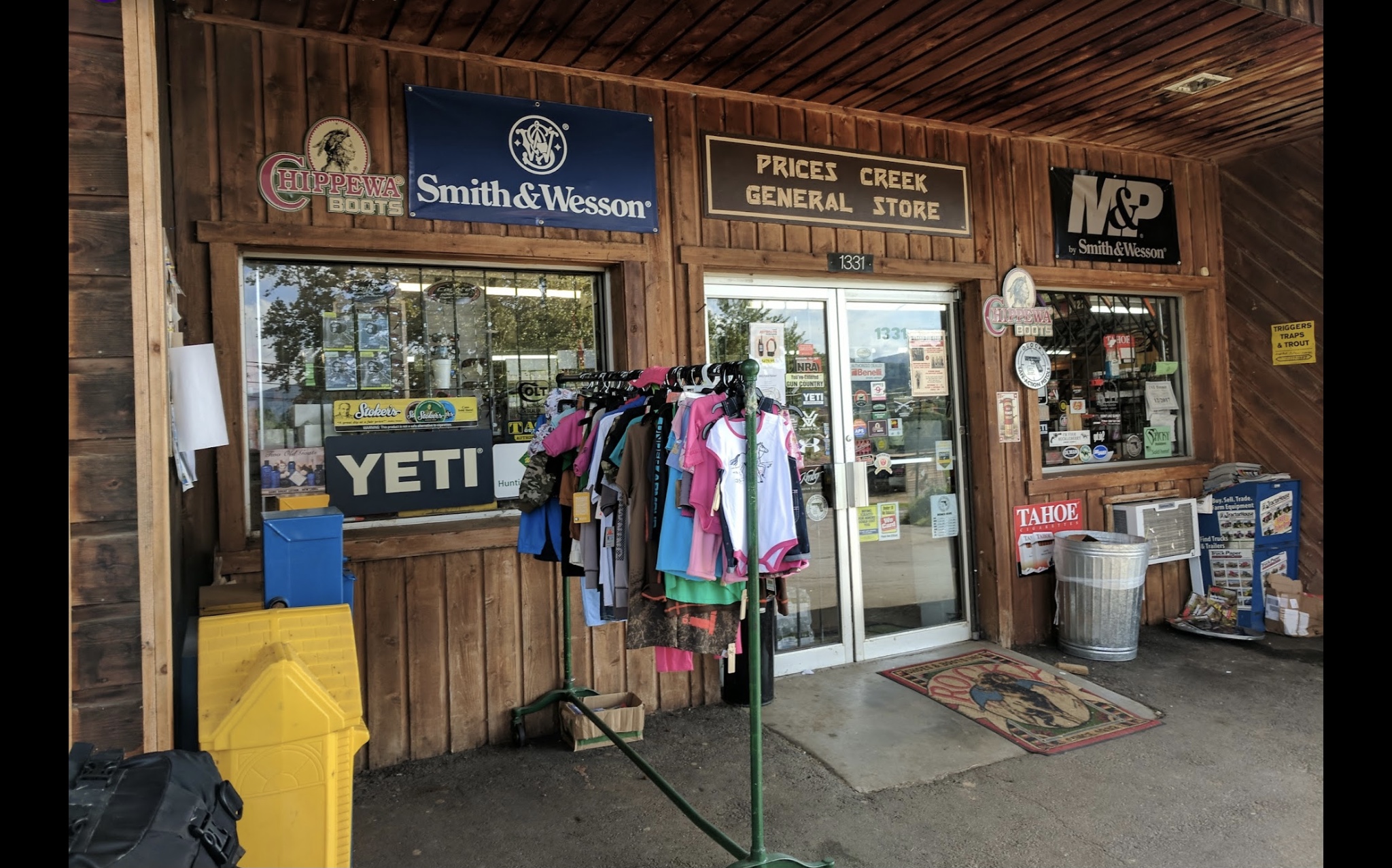 Price's Creek General Store
Burnsville, NC
Wannamaker's General Store
Kempton, Pa
Boyer's Junction
Fleetwood, Pa
Trail's End Amish Store
Vernon County, WI
Evanston General Store
Micanopy, FL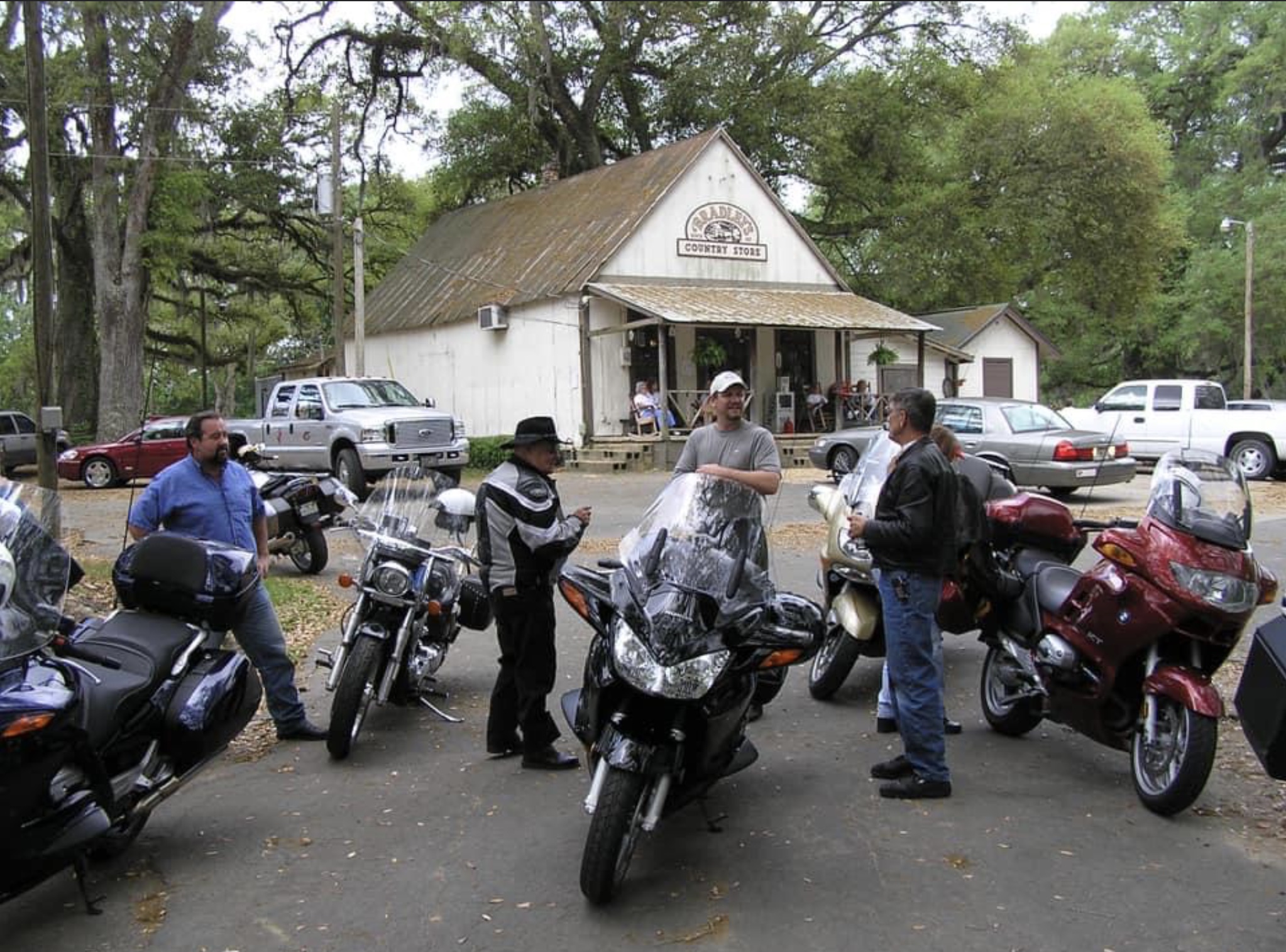 Bradley General Store
near Tallahassee, Fl.
RockFord General Store
Dobson, NC
Shady Valley Country Store
Shady Valley, Tn.
JJR's General Store"
Bainbridge, Oh.
Yokum's Motel and Store
Senneca Rocks, WV
Forbus General Store
Pall Mall. tn.
Crane's Country Store
Williamsburg, MO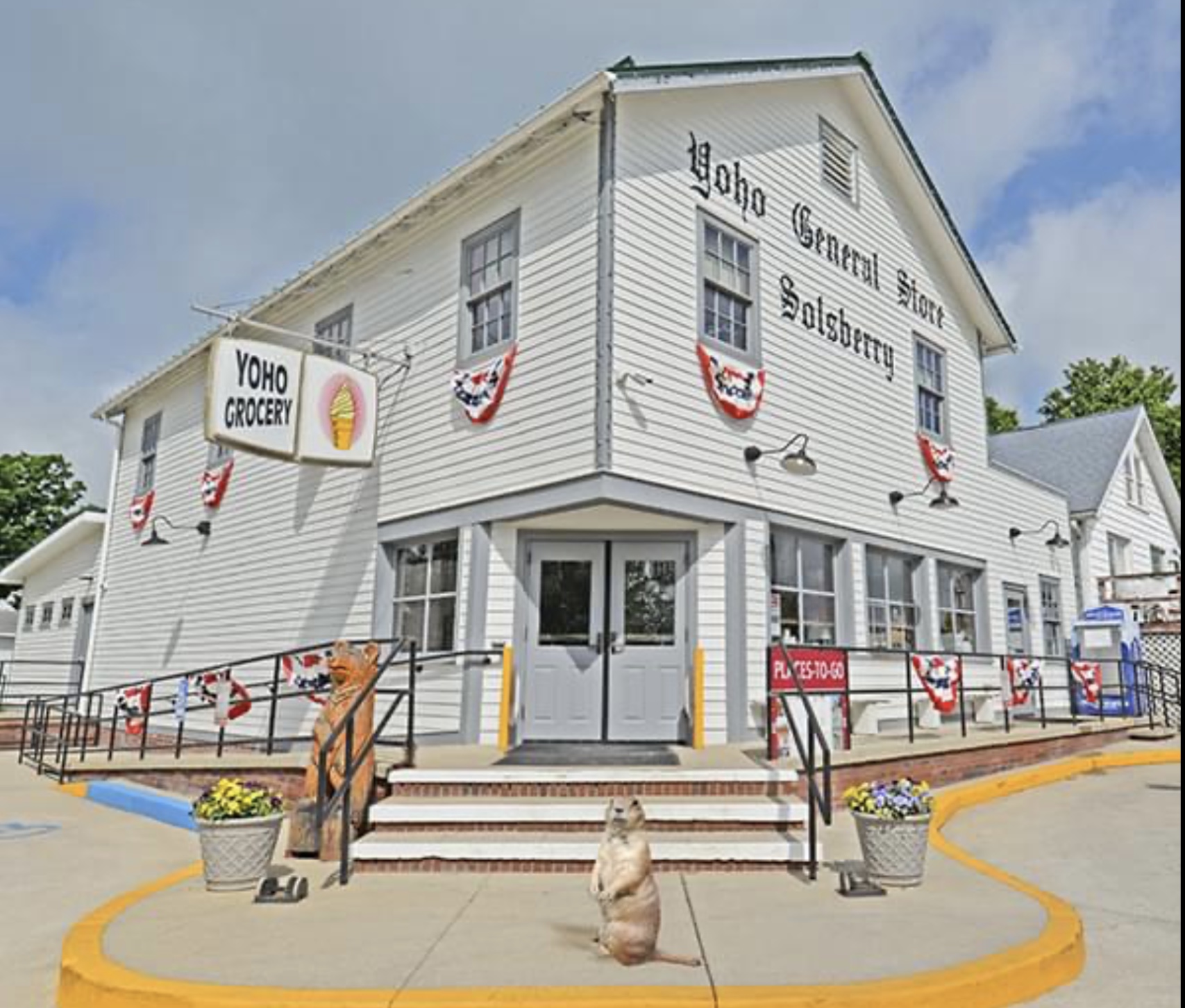 Yoho General Store
Solsberry, IN.
Jefferson General Store
Jefferson, TX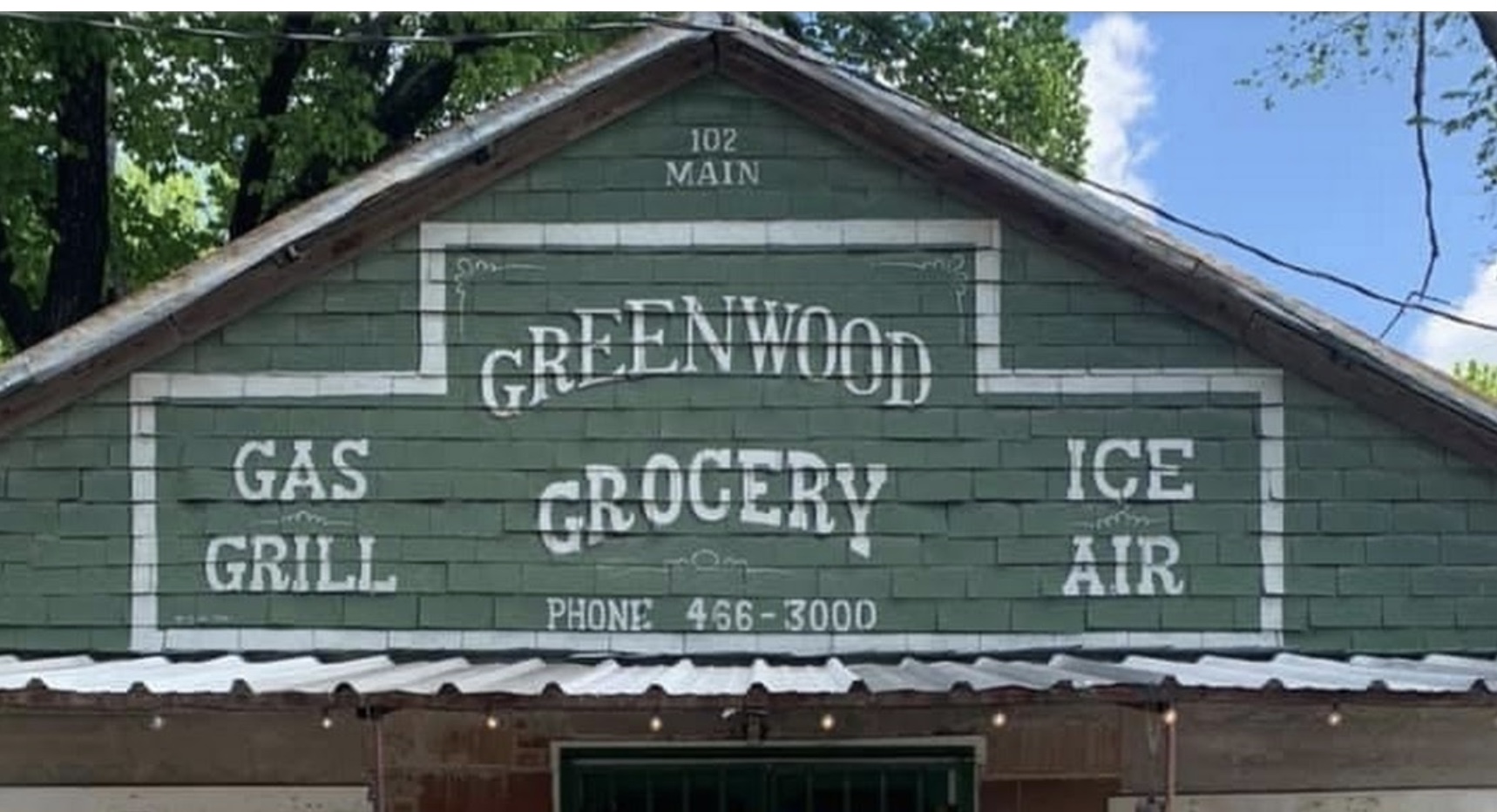 Greenwood Grocery
Decatur, TX
6666 Supply house and General Store
Guthrie, TX
Dutchman's Hidden Valley
Hamilton, TX
Camp Verde General Store
Centre Point, TX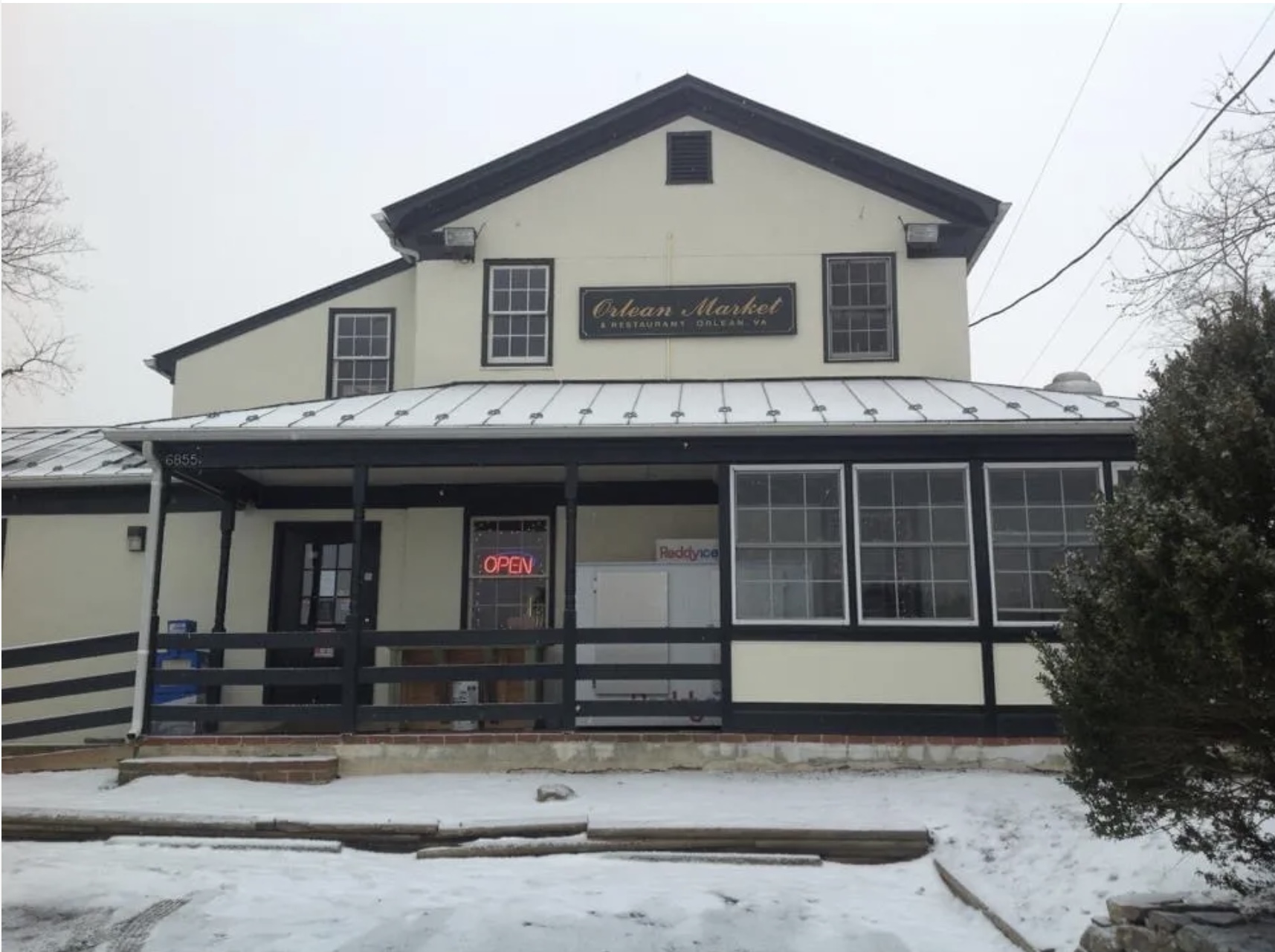 Orlean Market
Orlean, VA
Fox Creek General Store
Troutwell, VA
Poor Farmer's Market
Meadows of Dan, VA
to be continued….
Update: The Northeast
This article came to me as part of the regular Road Runner Magazine newsletter.
6 Unique General Store Lunch Stops in the Northeast
6 Unique General Store Lunch Stops in the Northeast | RoadRUNNER Motorcycle Touring & Travel
As any motorcyclist knows, there's magic in discovering new backroads. A part of that magic is exploring the markets and general stores tucked away from the hustle of the city.
They let us experience a little piece of the history of the general store—an important aspect of commerce and growth in America's early days. Here are six places you may want to check out on your next tour.
The Brick Store – Bath, NH
In the village of Bath, on the banks of the Ammonoosuc River in northwestern New Hampshire, there is an establishment that can legitimately lay claim to be America's oldest general store. In business since the early 1790s, it has served continuously as a general store, a post office, law offices, a millinery shop, and a press.
Since the early 1880s, The Brick Store has operated as a general merchandise store, earning its stripes on the National Register of Historic Places. Today it serves as a deli, offering a full menu of sandwiches and refreshments. The owners also plan to add ice cream and coffee to the offerings.
The walls are covered with memorabilia, which suit the smell of smoked meats and the pour of old-fashioned root beer. The sandwiches are thick and there's cheese and pepperoni smoked on-site.
Nearby is the Bath Covered Bridge, and there are a host of small, curvy roads that wind in and around this picturesque part of the state. If your riding takes you through New Hampshire, The Brick Store deserves a detour.
Find it at 21 Lisbon Rd, Bath, NH, (603) 747-2074.
Vermont Country Store—Weston, VT
Where else would you get Grade A Vermont maple syrup than in Vermont? Buy it alone or with the "Wake Up to Pancakes" gift box at the Vermont Country Store, a classic emblem of American general stores.
The establishment sells everything from sweets to shirts, bedding to toys—generally, almost anything you might need. Of course, that was the function and definition of general stores.
The Vermont Country Store was founded in 1946 in the village of Weston, VT. Today, 77 years on, the store is still in the family, run by seventh and eighth-generation Vermonters.
The family lineage preserves the atmosphere and functionality, as well as the charm, set forth by the owners' parents and grandparents. The Vermont Country Store boasts that they're stocked to the rafters with quality merchandise from around the block and around the world.
There's plenty to peruse here, so give yourself time to look and shop, as the store prides itself on stocking products that aren't sold anywhere else. It overflows with decadence in the form of treats, cakes, pastries, candy, and a range of Vermont cheeses.
Nearby, there's the Old Mill Museum and two live theaters—the Weston Theater and the Playhouse. Also, there's the Farrar-Mansur House & Museum, which was built in 1797 as a tavern and is preserved as a historic house. The Country Store has a sister store in Rockingham, allowing you to tie the two establishments together with a ride.
Find it at 657 Main St, Weston, VT, (802) 824-3184
Warren Country Store – Warren, VT
Located between the Fred Johnson Wildlife Management Area and Roxbury State Forest in central Vermont, you'll find the Warren General Store. A classic country store into its second century of serving the small township, the building has transitioned from a stagecoach stop to a hotel and gas station before assuming its current status in the '70s.
The Warren Country Store is run by a smiling crew of locals under Vermont owners. The crew is ready bright and early with their signature Capital Grounds coffee, as well as a full line of espresso drinks. They also serve a wide range of teas and, in season, Mexican hot chocolate.
Deli sandwiches start with fresh bread baked daily on-site and are augmented with in-house blended condiments. Depending on your state of mind, the Warren Store has you covered, with either grab-and-go offerings or a proper sit-down dinner.
The store is stocked with essentials, like eggs, milk, and a large selection of Vermont maple syrups. If you want to browse, upstairs you'll find clothing, jewelry, bath and beauty supplies, and toys.
The village of Warren sits on SR 100, one of the many roads that twist and turn their way through the surrounding rolling countryside. The area is ripe for two-wheel exploration, with surprises such as Moss Glen Falls. Plan your trip carefully as Waren gets its share of snow in the winter.
Find it at 284 Main St, Warren, VT, (802) 496-3864.
1856 Country Store—Centerville, MA
If your travels take you anywhere near Cape Cod, plan to visit the 1856 Country Store in Centerville, MA. Originally built in 1840 as a cranberry storage facility, the building was transformed into a shoe store in 1842, and then became a general store in 1856—hence the name.
A classic penny candy store when it was in operation, through a spontaneous whim the store changed hands to its present owners. They maintain its charm, ensuring its beloved status as a central piece of Centerville and nearby Cape Cod.
The town itself is made up of sea captain's homes and brims with the colors, sights and sounds of Cape Cod Bay. There are roads that circumnavigate the periphery of Cape Cod, and with an extended ride you might want to venture to the northern tip of the peninsula to visit Provincetown, where you'll find Herring Cove Beach and Long Point Light Station. The 1856 Country Store still nostalgically offers penny candy.
Find it at 555 Main St, Centerville, MA, (508) 775-1856.
Adirondack General Store—Adirondack, NY
The Adirondack General Store takes you back to what the hamlet of Adirondack was like in the '40s and '50s. The building was originally established in 1855 as a company store for the local tannery before transitioning into a boarding house and a post office. Eventually, it became a general store.
The store has been intentionally preserved to showcase all its old-world charm. A functioning general store that carries a wide range of practical goods, the Adirondack General Store also has table service, serving breakfast and lunch daily, with dinner served on Friday and Saturday nights. The menu is based around American fare.
There are also gifts, a full deli house, groceries, smokehouse products, and—to fully substantiate themselves as a small-town lakeside general store—they have fishing tackle and night crawlers. There's a lot more as well, so allow plenty of time to wander through the old store.
Situated on the east shore of Schroon Lake, the store embodies the relaxed atmosphere and small-town warmth perfect for an upstate escape. Nearby are various motorcycle-friendly roads that will take you, among other places, to Natural Stone Bridge & Caves. There are also hiking trails in the Pharaoh Lake Wilderness Area.
Find it at 899 E Shore Dr, Adirondack, NY, (815) 494-4408.
Barnard General Store—Barnard, VT
Located in the Green Mountains of central Vermont is the pastoral village of Barnard. In the center of town, standing as one of Vermont's oldest general stores, is the Barnard General.
The store has weathered the ravages of COVID, which, sadly, closed so many of the country's amazing original general stores. First opened in 1832, the Barnard General Store is representative of a more genteel time, with its ardently American architecture, nestled on the banks of peaceful Silver Lake.
Stepping through the front door from the tranquil lakefront setting to the wood-floored interior transports you back in time. There's a wood-burning stove for heating in winter, and the shelves are stocked with groceries and household supplies, reminding you that this is a functioning store for locals.
For the traveler passing through, there's an old-fashioned lunch counter that serves breakfast and lunch daily, as well as seasonal ice cream seasonally. The deli boasts fresh meats, seafood, and baked goods.
Of special interest to motorcyclists, the Bernard General Store sells gasoline, including non-ethanol, making it a perfect (and entertaining) backroads pitstop to fill your bike and yourself. Situated on SR 12 in the small enclave of Barnard, the General Store is surrounded by 50 square miles of hilly forests near the Connecticut River, with numerous winding roads providing plenty of options for exploration.
Find it at 6134 VT-12, Barnard, VT, (802) 234-9688.​