One of the real benefits of being an MSTA member is that there is a real wealth of knowledge in the club members combined hundreds of years of riding experience. Very often I find that things I wonder or worry about are shared concerns with other members, and that often they have already found the solution that I was looking for. It is also often the situation where through another members comments or posts that I am exposed to a product that I would have otherwise never have been aware of. That is certainly the case here with the Brake Free product.
The age old question is, How to make ourselves more visible to the cagers we meet out on the road? Very often this means adding more lights to our bikes. Driving lights on the front of the bike and more brake lights or running lights on the rear. Some people have added reflective tape to the bikes or put a flasher unit into the rear brake light system. But what if you have more than one bike? That would mean having to do the additional modifications on all the bikes, right? That gets expensive in a hurry! However, there is a solution. Instead of modifying the bikes, modify your gear. In the past, I have seen brake lights added to jackets and top cases that could be moved from bike to bike. A couple of years ago we had a vendor at STAR that had a system that was mounted on the helmet, but which required a sending unit to be integrated into each bikes brake light system. The receiver could be moved from bike to bike, but only works if the bike is modified too. A step forward, but not true flexibility. This is where Brake Free comes in. Like the other system, it is mounted on your helmet. Unlike the other system, there is no need to mount anything on the bike. In addition, with the use of additional mounting tabs, you can even move the unit from helmet to helmet if you want.
Here is how it works…
You receive a very simple kit that includes the unit, a mounting tab, a charging cable, a mounting template, and instructions.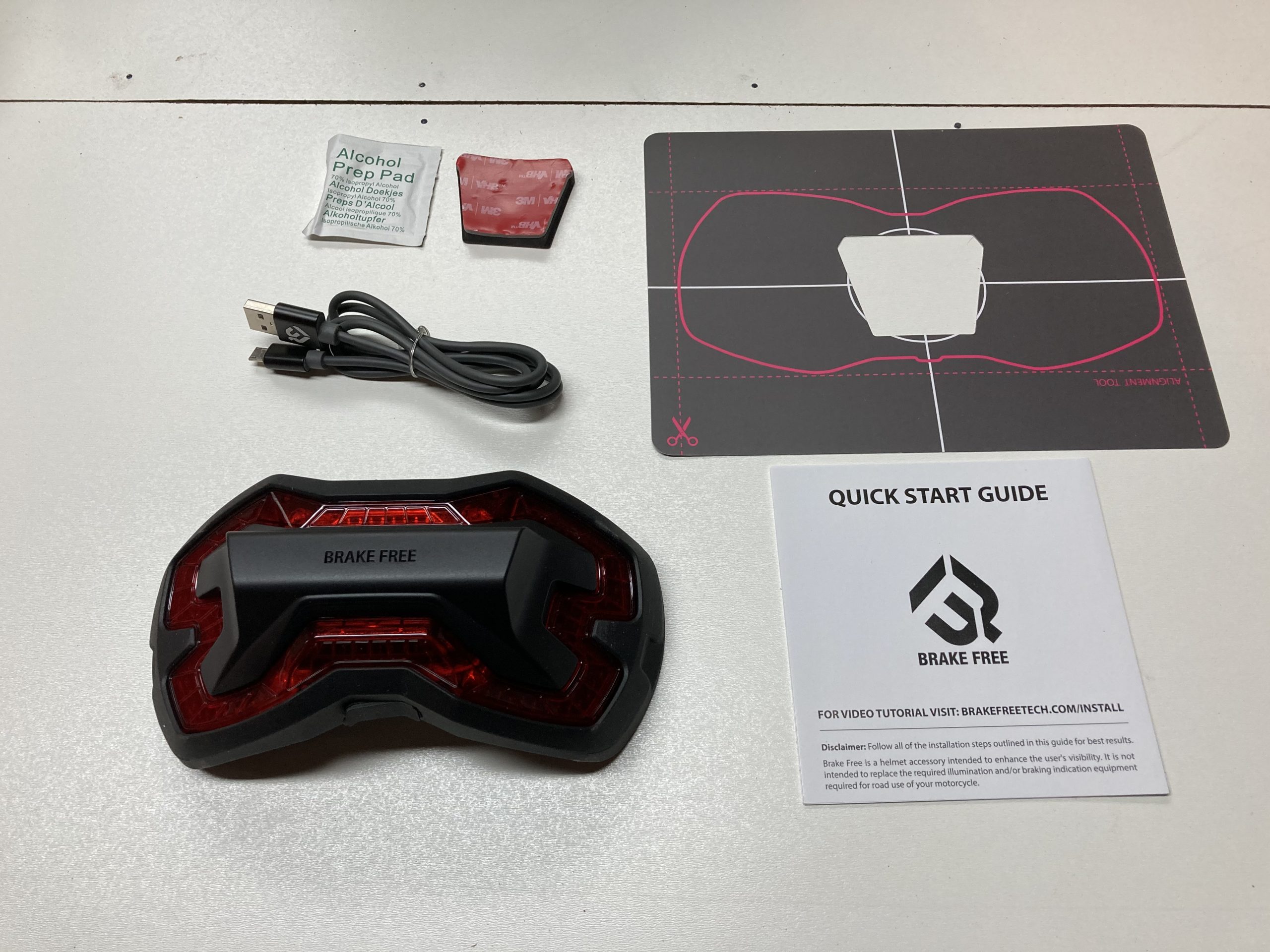 Using the template you decide where best to put the mounting tab on your helmet. Clean surface using the wipe that is included, peel off the tape cover on the mount, and stick it onto you helmet. Next, using the cable included, plug the unit into a computer or an outlet and charge the unit. It will fully charge in 2 hours or less from complete discharge, and a full charge will last 8-12 hours. Once it is fully charged, just click the unit on to the mounting tab, turn it on, and you are ready to go. No wires to connect, no apps to download, no sending units to integrate into your bikes brake system. There are 3 different settings that can adjust the system for how bright it gets, how many lights are used, etc. You can even set it up to flash continually and then get really bright when you slow down.
So how does it work?…..Brake Free uses gyrometer + accelerometer in combination with their own patented brake detection algorithm to detect all kinds of braking. Including Engine Braking! For people that ride like me, and really don't use their brakes much, that's a game changer. It really works just that easy. in fact, one of the tests that you can use to show how easy and well it works, is to take your helmet after you have mounted and charged the unit and swing it with your arms from one side to the other. Swing it hard and stop…it lights up!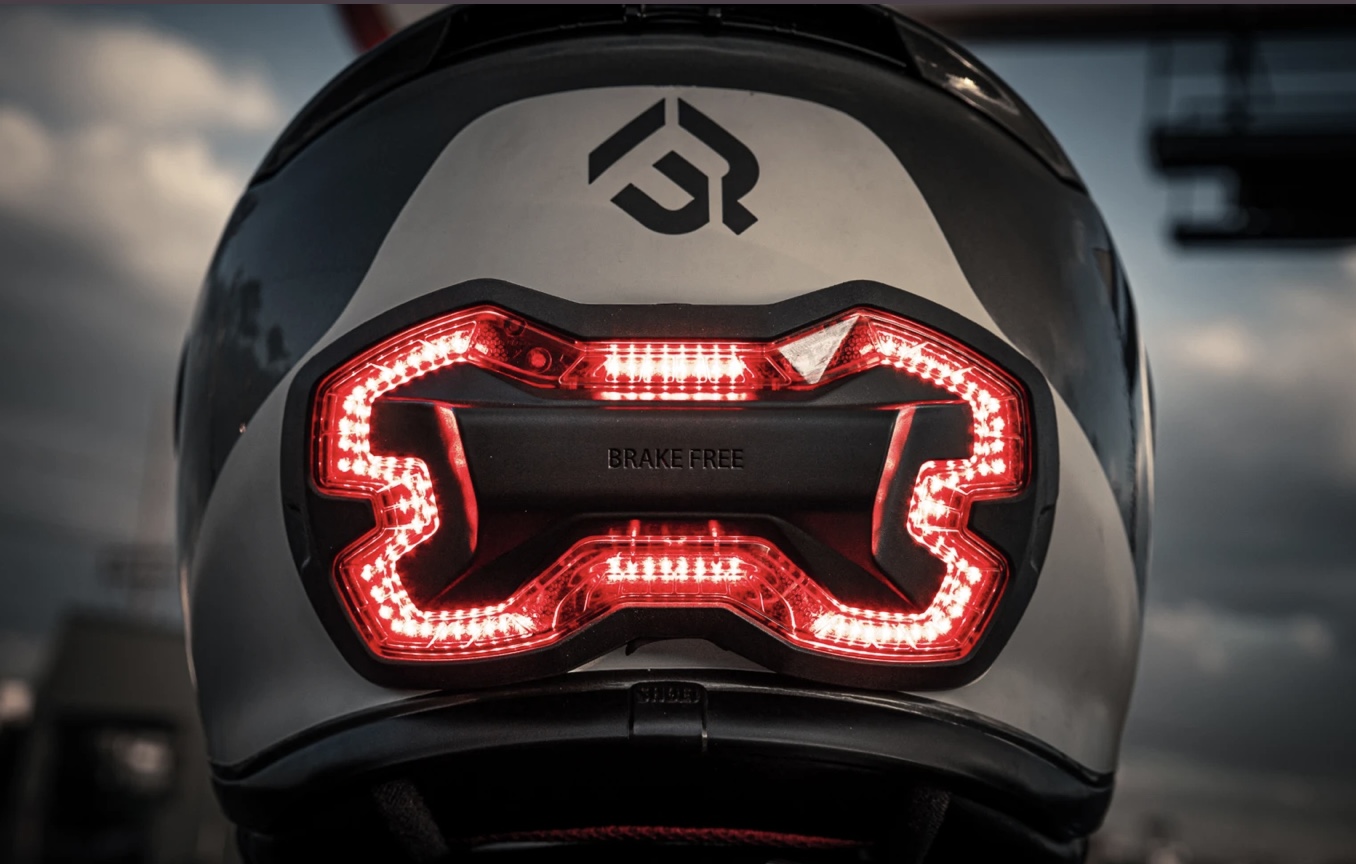 The unit itself weighs about 1/2 of a pound, is waterproof, and is easily put on and taken off. It took me about 10 minutes to get it mounted initially. I don't feel a thing with it on while riding and it doesn't seem to add to any wind noise either. The unit they sent me to review will be one of the door prizes at STAR, but I do plan to purchase my own unit. I highly recommend it to anyone that wants to increase their visibility from behind, especially if you ride at night or in traffic. Consider it a high Mount brake light, just like you see on cars and trucks. A high mount light has been proven to reduce rear end collision in cars, and it should work just as well for us riders. Easy safe, and fairly inexpensive.
www.brakefreetech.com
Can purchase it though Amazon too.