Looking at my bookshelves I can see that I have accumulated many books on the subject of Road Food. I've bookmarked even more places on the web and have several apps on my tablet too. You see, when I travel, I don't like to eat in chain restaurants. In fact, even when I'm home and the wife and I head out for a meal, we will rarely go to any "name" places. We prefer the local dives and mom and pop places over the national chains. I've a feeling that many of you feel the same way. However, it seems to me that the books, the websites, and the apps pay particular attention to the bigger towns and cities and leave out the places that are found on the backroads of America, and often are not even found "in" a town at all. In this series, I'm going to highlight some of them I've found in the area I live in. The Tri-state area of Southwest Ohio, Southeastern Indiana, and Northern Kentucky. These are places that I have personally stopped at during my local days in the saddle. Along the way, I might even add some in that I've found traveling to and from MSTA rallies. But all of them will be ones that I have stopped at, eaten at, and personally recommend. I'll be adding to this list as I go along, so please make sure to check back every once and awhile and see what's new. I'd also like to include some places that YOU have stopped at and recommend. So please send me that information (including pictures) and I'll add it to the list!
What makes a place suitable for addition to the list? Pretty simple really, it can't be a chain. It has to have good riding around it. It has to have good food. It has to have "character". That last one is hard to describe, but as Pirsig said, "You'll know it when you see it".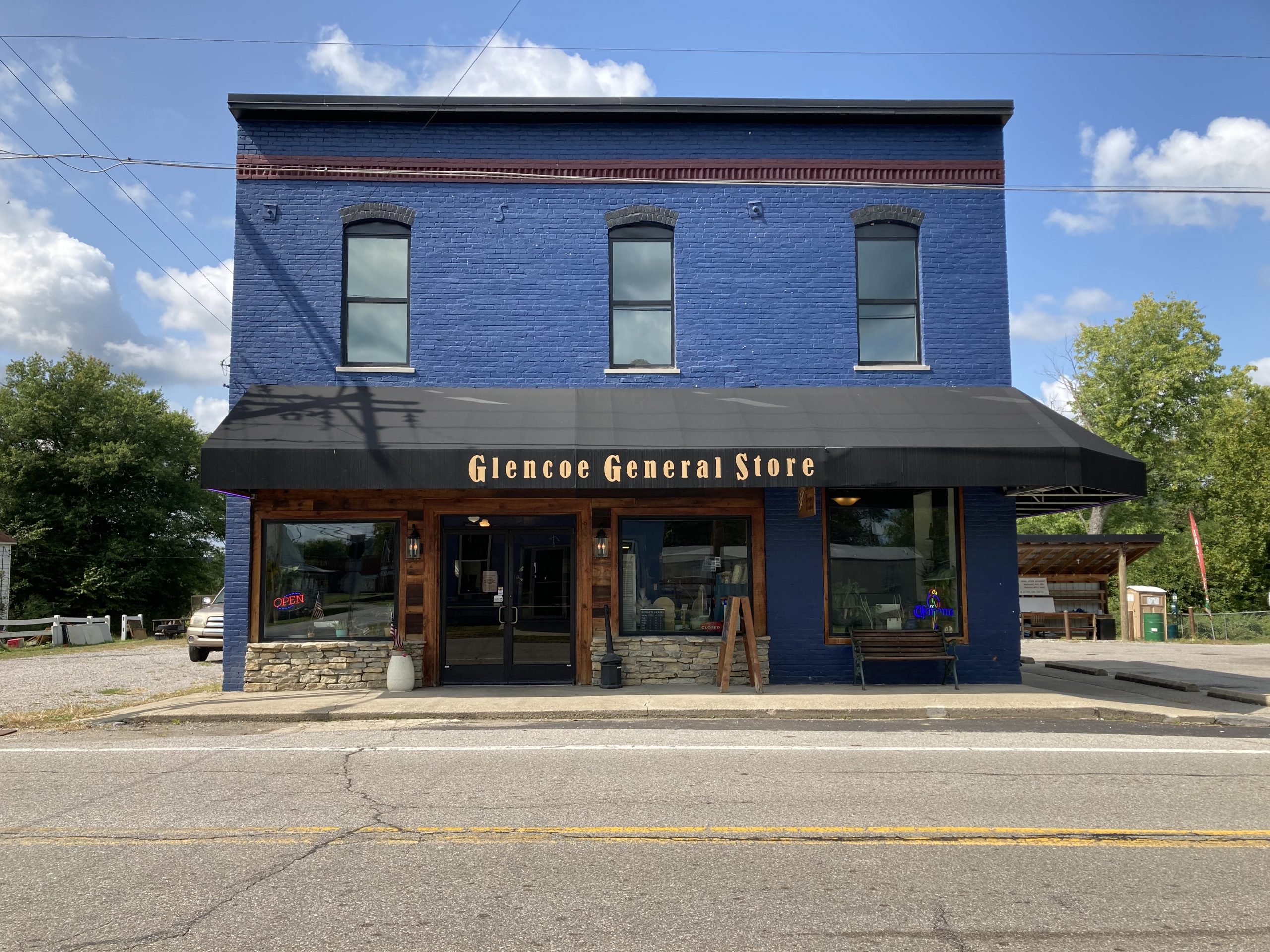 First on the list (in no particular order) is the Glencoe General Store, in Glencoe, Kentucky. For many years this was nothing more than the local shop where people would pick up staples for their homes. A few years ago, it even closed for a while. When it reopened it had gotten rid of much of the hard goods and had set itself up as a restaurant. I went by it for many years before finally stopping in one day for lunch. Immediately upon walking in I was impressed by how clean and bright it was.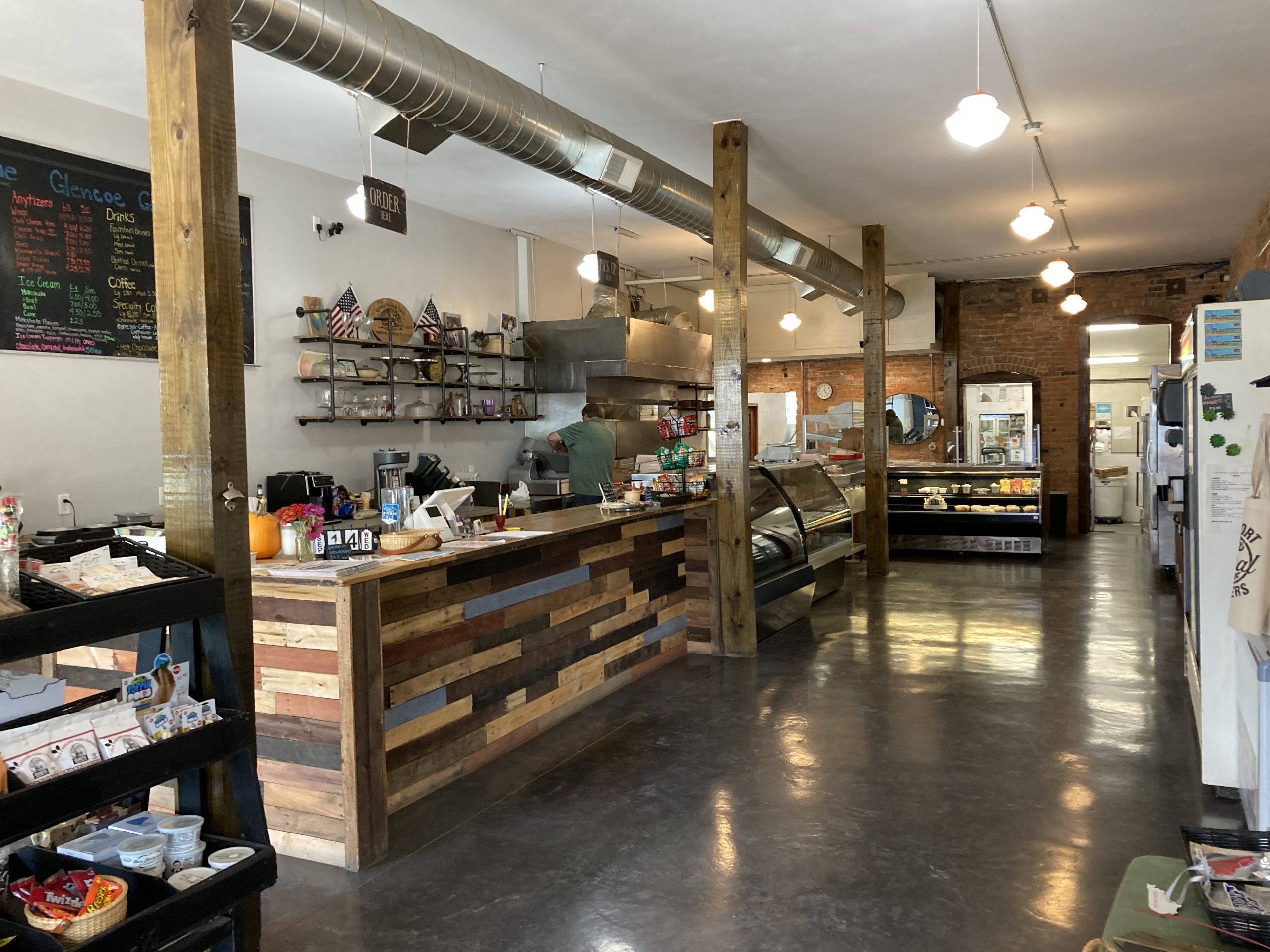 The menu is posted up on the wall behind where you order, but they also have paper menus for you to use.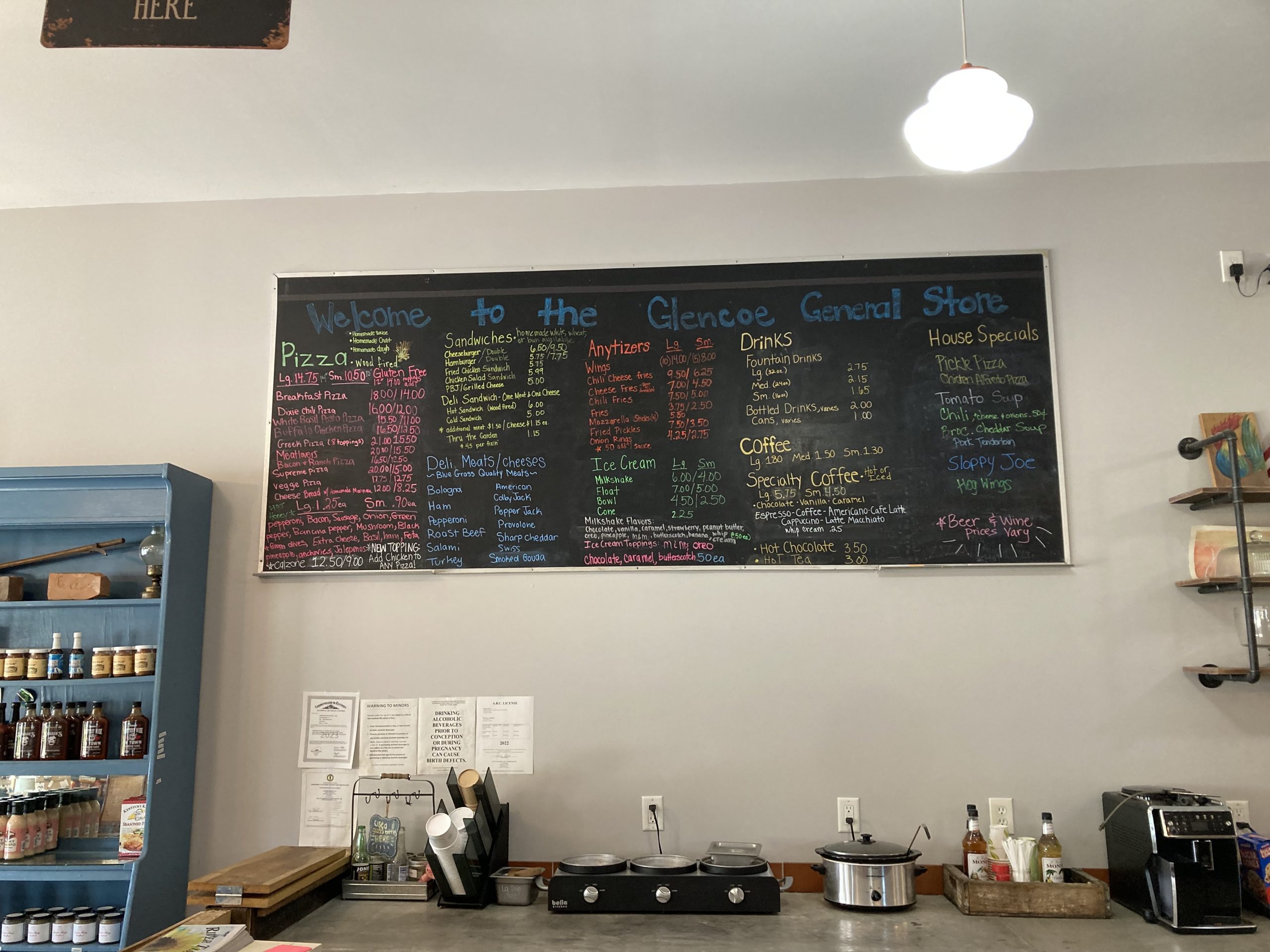 On the wall opposite the counter are coolers and dispensers from which you can choose your drinks, soft drinks, coffee, a soft drink dispenser, and even a cooler with craft and national beers. Behind that wall is the seating area. Long and narrow, but with room for plenty of people at small wooden tables and on either benches or chairs, all set along brick walls and hard wood floors that were impeccably clean.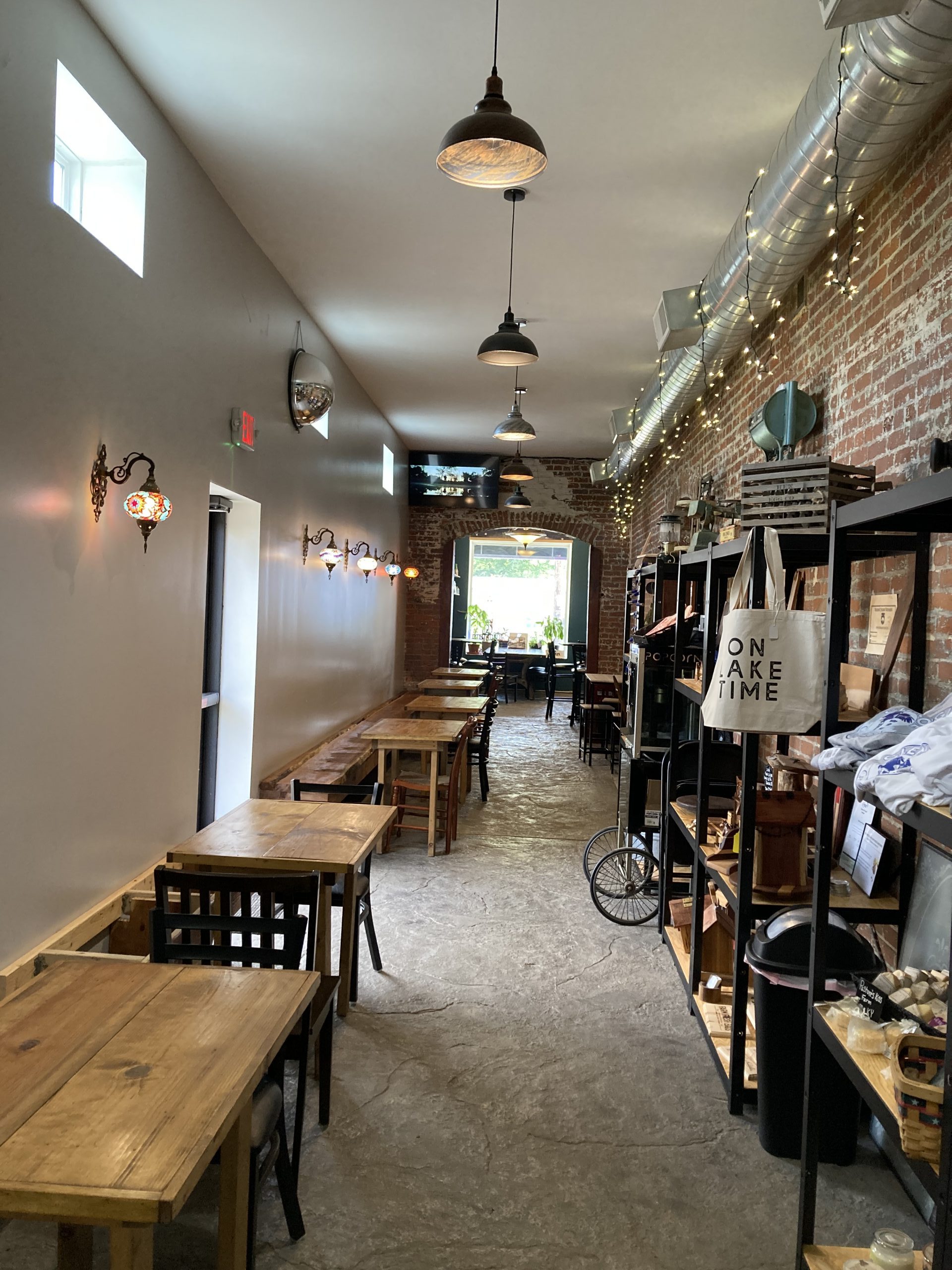 Where there isn't seating, there are shelves with crafts and other things for sale.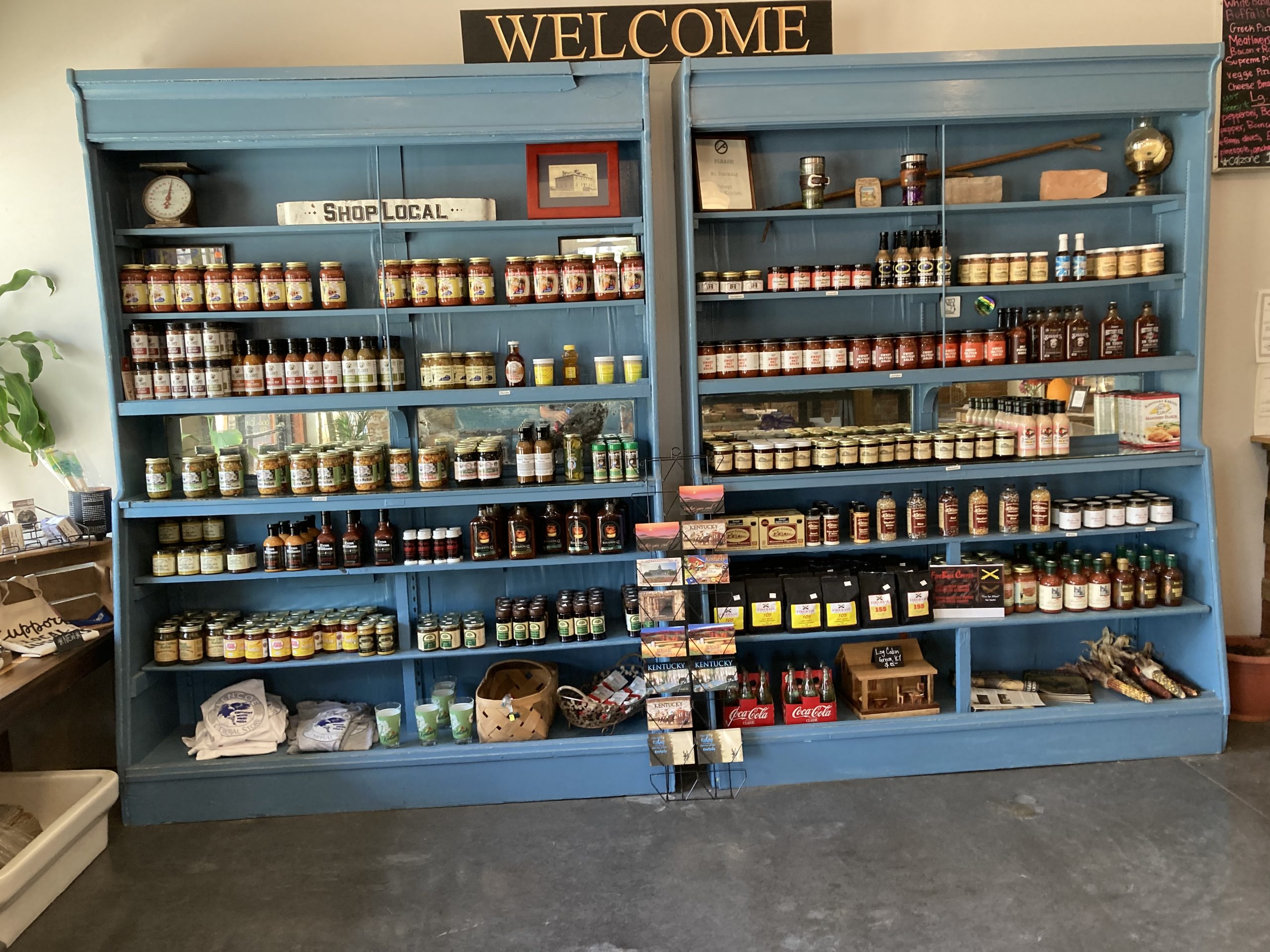 But the reason I was there was to eat, right? So how was the food, you ask? In a word, delicious. I opted for a cheeseburger, with lettuce and tomato, alongside a small order of fries. Topped it off with a can of Pepsi. The burger patty itself was huge, and I am very glad that I didn't go for the double! The lettuce and tomato had that fresh, home-grown flavor and crispness to them. The portion of fries was also quite big and no need to order the large. They were done to perfection. Crispy but not hard, with just the right amount of seasoning. One of the best hamburgers and fries I've had anywhere. The cost for my lunch? $11.00 plus a small tip. I ordered at the counter, grabbed a can of Pepsi from the cooler, sat down, and they brought my burger and fries to me at my table. I didn't have to wait long, but it was definitely cooked to order and not just sitting there waiting for me. Nothing "fast food" about it. The Store is well known for its wood-fired pizza but has a full menu of sandwiches and other items to go along with the pizza. They hold a farmers' market in the parking lot on Saturday mornings and often have live entertainment outside on Saturday evenings. Glencoe is a very small town located southwest of Cincinnati at the intersection of routes 467 and 27. Lots of good riding in the area.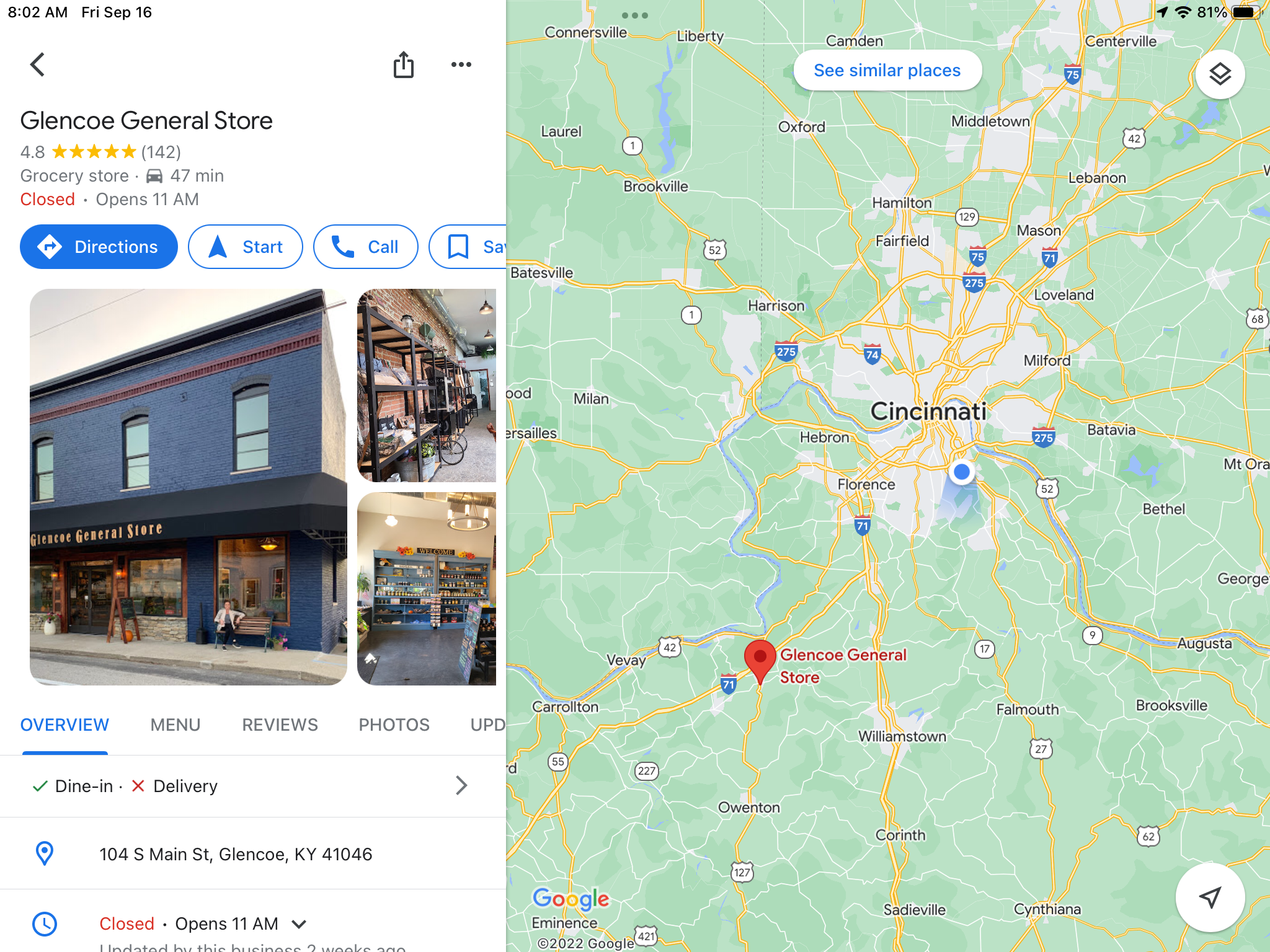 Next up: Smoking J's BBQ in Winchester, Ohio…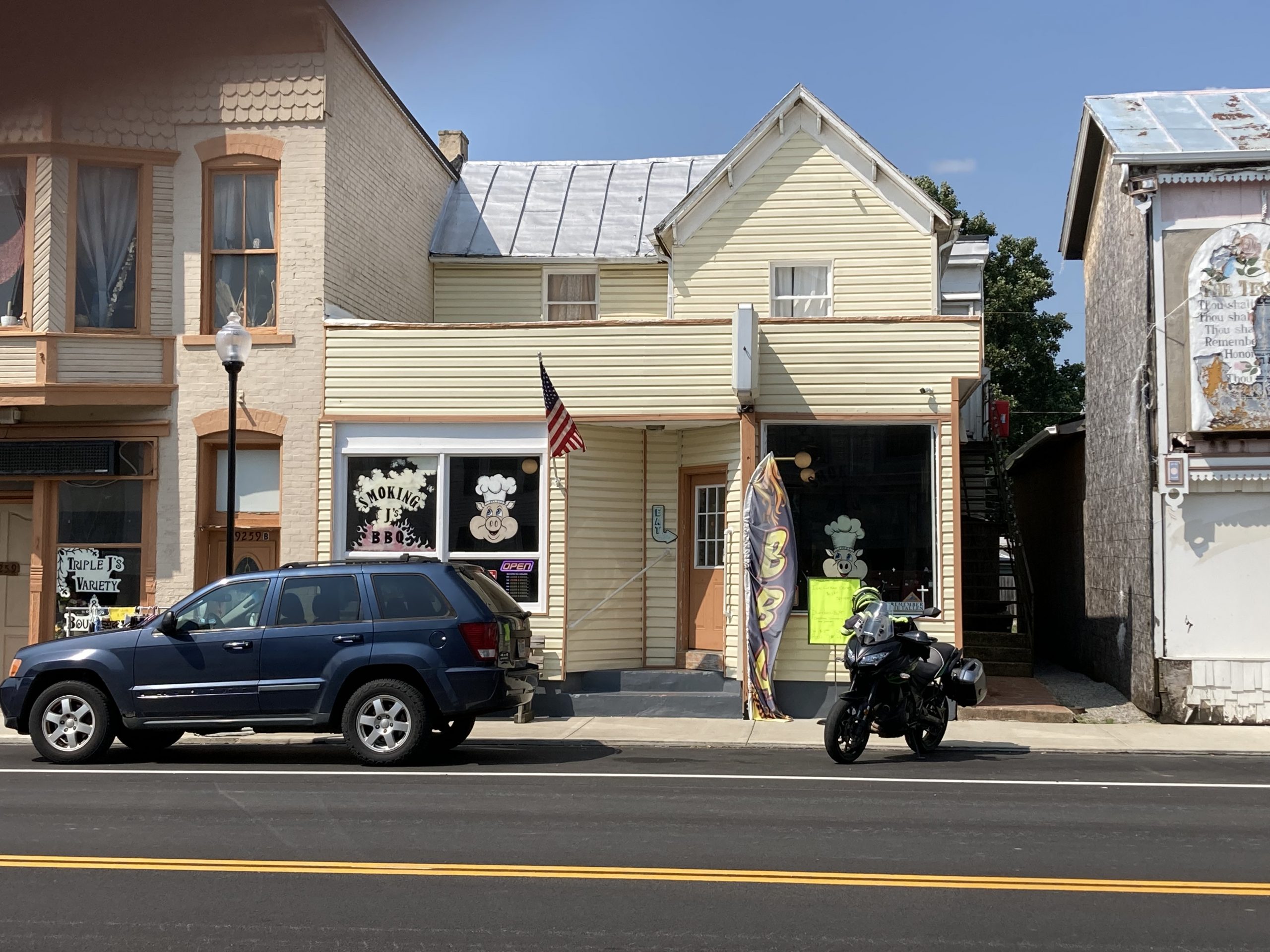 First off, finding Winchester, Ohio is not the easiest thing for most people to do. While it sits fight off route 32 (The Appalachian Highway) in south central Ohio, it is one of those exits that most people just sail on by and never think about stopping at. There is a gas station at the exit, and even a small budget hotel, but I doubt that many travelers ever make it any further into town than those places. It only has a population of right over 1,000 people, and with state route 62 being the next exit, and with 62 being a major north-south corridor, most people just sail by Winchester and never explore the town or the roads around it. That's a pity becuse they are missing out on a really good BBQ place if they do.
Even if they do stop and venture on beyond the gas station into the center of town (about a mile or less north of SR32), they still might miss Smoking J's. It sits on the left as you're heading north and blends in with the other few buildings in the downtown. In fact, you're more likely to see the pizza place 2 doors down than you are to see J's. I knew it was there and still passed it up the 1st time! it is not a very big place, with seating only for about 20-30 people, and is squeezed in between a craft shop and what looked to be a residence. But don't let that fool you. The food has big taste and good-sized portions, and you will not go away hungry, unless you choose to.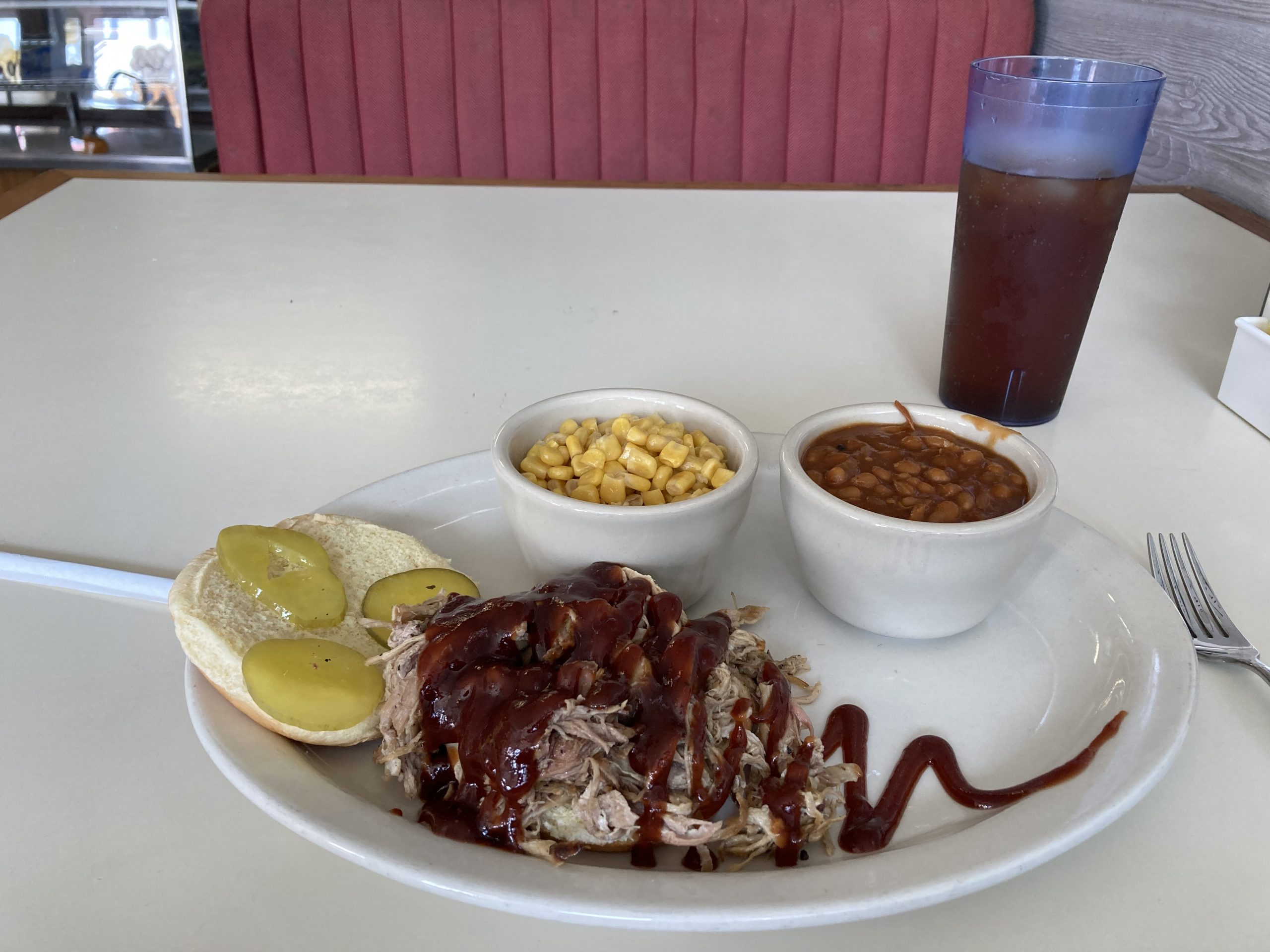 As is my wont when I first try a new BBQ place, I picked the pulled pork sandwich as my entree. I generally try that 1st to see if it's a "real" BBQ joint or just a pretender. My feeling is that if you can't get a simple pulled pork sandwich right, then there is no sense in going any further. When I ordered the sandwich, I was asked if I wanted "pickles, coleslaw, and sauce"? I'm not a huge fan of coleslaw, so I opted for just the pickles and sauce. I was then told that it included 2 sides. My choices where the baked beans and corn. (I could have had green beans instead of the corn as both where the vegetable of the day.) As you can see in the picture, the sides came in their own separate bowls, which I kind of like. That allowed me to taste each of them by their selves with nothing influencing the taste. The pork was a generous portion, and while it didn't have a lot of smoke flavor, it was quite tender and tasty. They may have put a bit too much sauce on it for some people's liking, but I found it very good. The pickles added just the right amount of sourness to the sweetness of the sauce and were crisp and fresh. The corn was a touch bland at first, but I added some salt and pepper, and they were just fine. The real star for me where the baked beans. They were simply wonderful. Great flavor and seasoning, with bits of brisket mixed in and they needed nothing else. it was nice to see that they had hot sauce already on the table though, for those that want a little more kick to their food.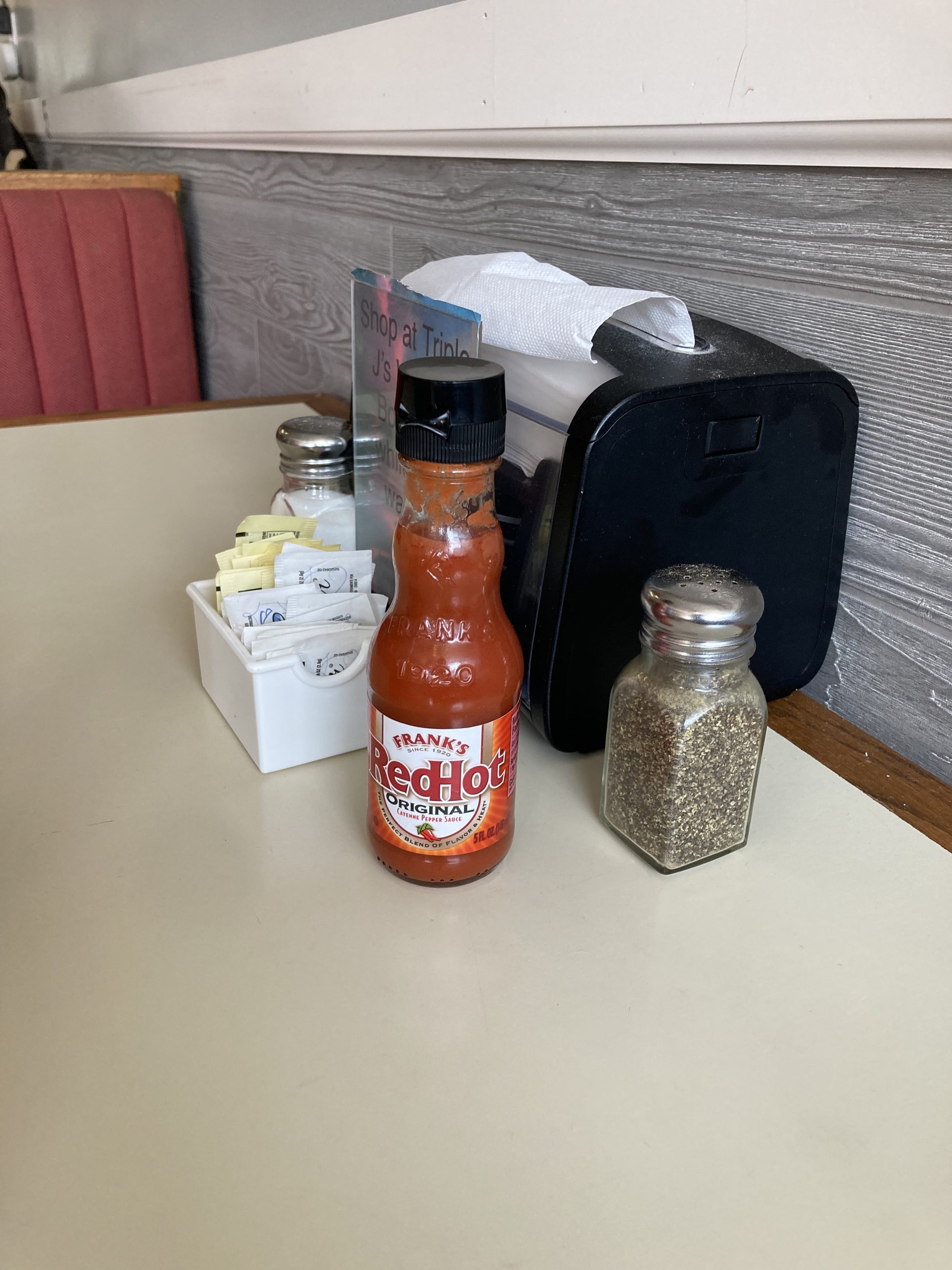 I choose to have no dessert as I was filled up, but as you can see from the picture below, they have several choices. They also had a large fresh-looking cake on the counter for those that might want to indulge.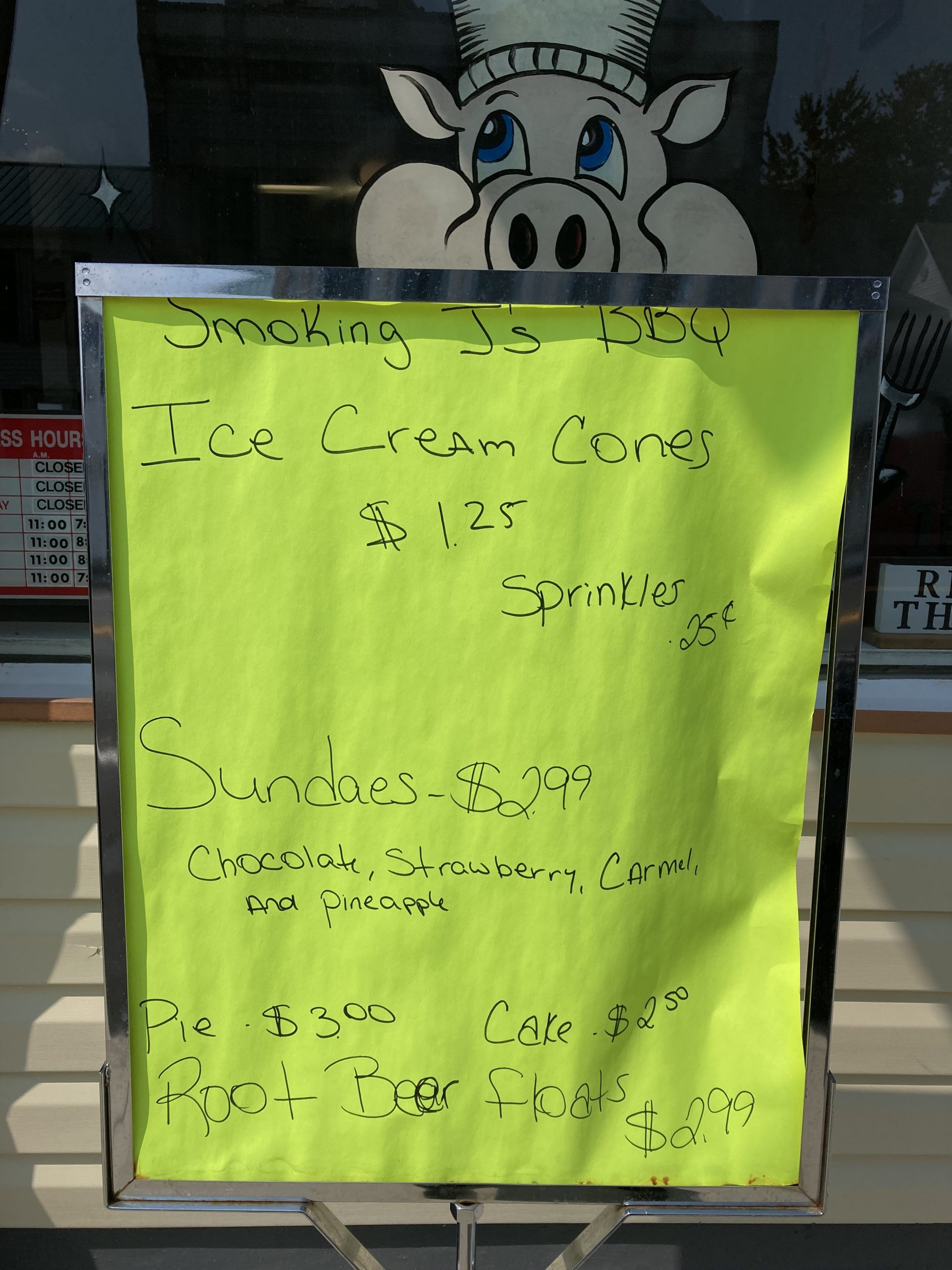 Smoking J's BBQ has a 4.7 (out of 5) star rating on Yelp, and I agree with that rating. I'll be back for sure and hope to bring others with me.
The roads around here are not well known to most but are worth checking out in my opinion. Route 136, which is the main street of Winchester and runs north-south from Hillsboro, is quite twisty in some spots. Many of the little lane and one-half roads going through the surrounding farmlands are worth exploring too. With the Ohio River not too far south, there are lots of little streams that have cut through and shaped the countryside. Many of the roads follow those streams as they twist their way to the Ohio. Traffic is never a problem as this is mostly farm country. Cincinnati is 55 miles west and Columbus is 86 miles north, from Winchester. other than some smaller cities and towns, the rest of southern Ohio is farmland and forest, and it is NOT flat. Stay off the major routes of 32, 62, and 68 to find the best riding. Just understand that some of these roads get smaller and smaller until they just stop in the middle of nowhere, or they twist around until you find yourself back where you started. Some of the bridges are no longer in use and are either shut down completely or have been replaced with newer ones in a different location. Even the latest Garmin map updates can't always be trusted. It's all part of the adventure though. Just slow down and enjoy the peace and scenery is my advice. Great area for wandering and exploring.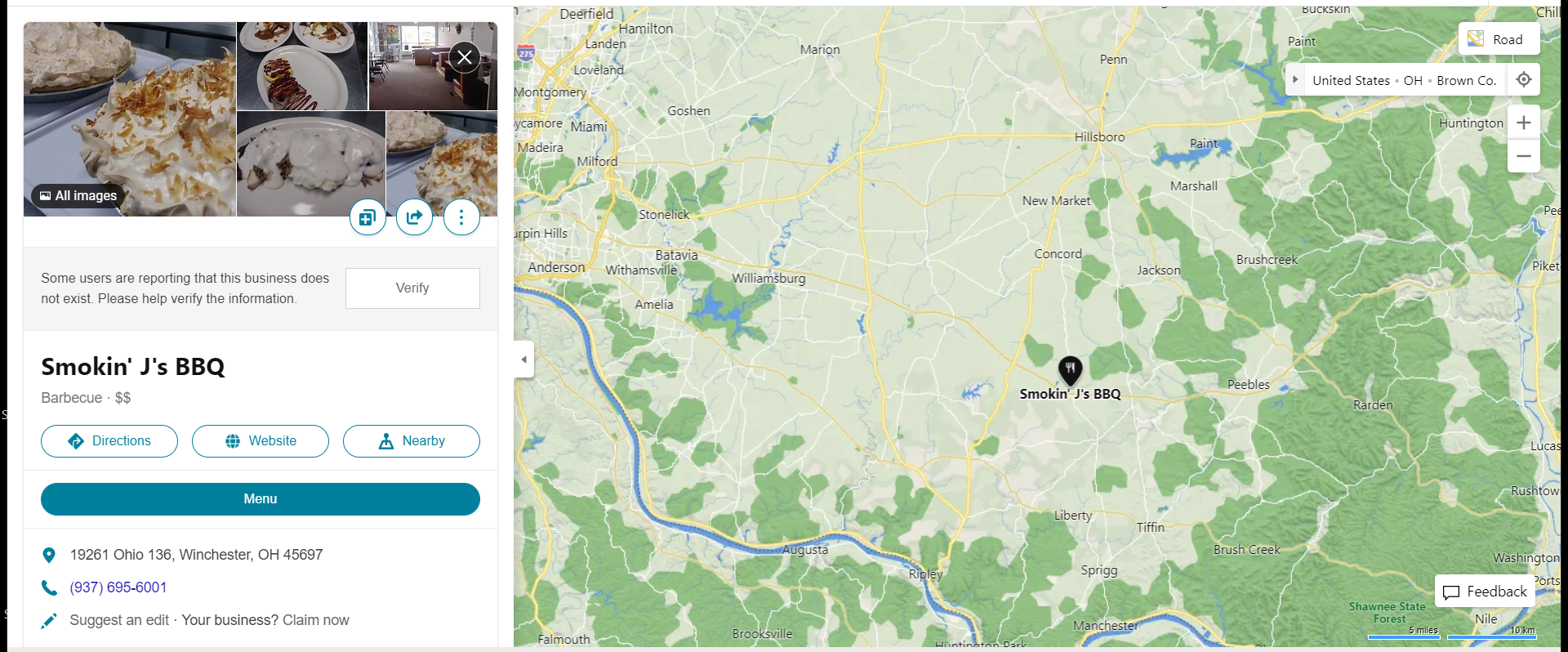 Next? TBD, depends on what I find. LOL