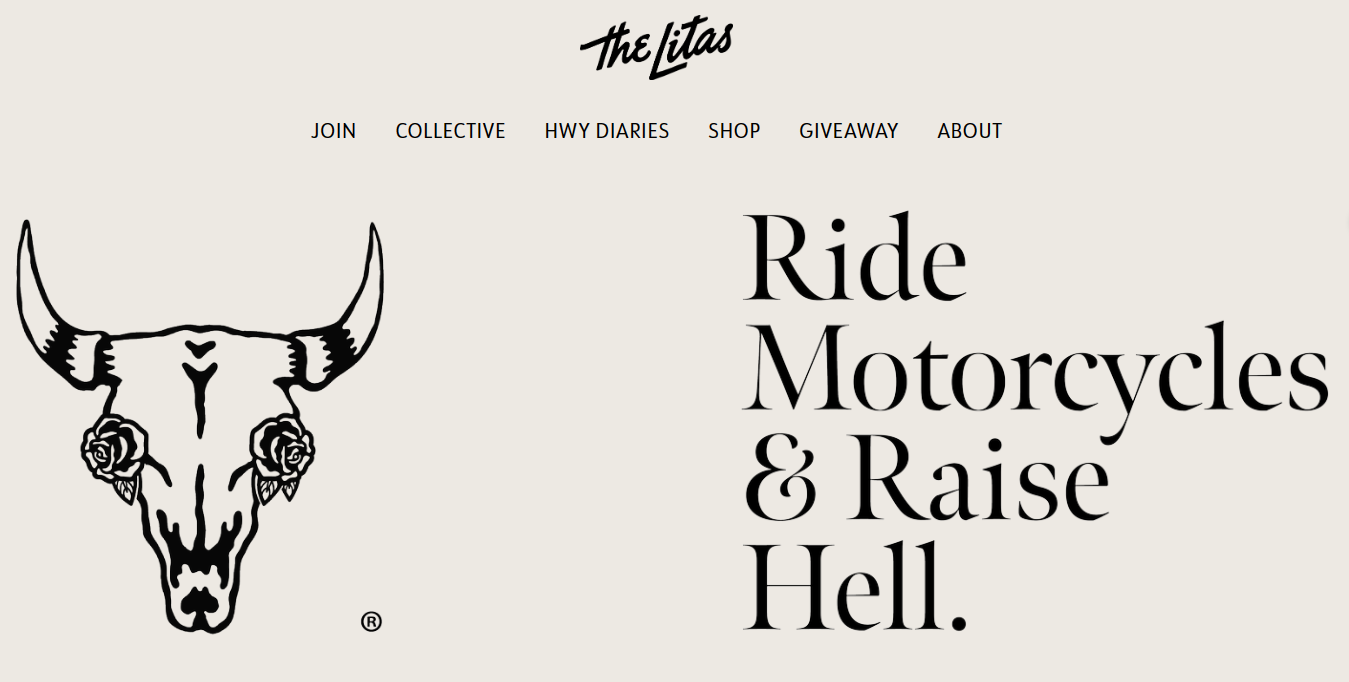 While attending the Garaged Brewed M/C Show in Cincinnati the beginning of February, I came across a vendor's table that was set up to expose people to a group known as The Litas. It turns out that The Litas are a motorcycle collective that was started by, and is completely made up of, women riders.
The Litas were founded in 2015, in Salt Lake City, by Jessica Wise. The name came from Jessica and her friend, Paige Macy. Paige had just gotten a bike and they joked about starting a motorcycle "gang". Paige had used 'The Litas' to tag her art in the past. Jessica liked the sound of it and the name stuck. Their goal has always been to break down some of the barriers that new riders have when first starting out by giving women a community to call their own. Community, inclusion, support, friendship, lack of judgement, are all key components of what makes The Litas what they are. The Litas are more than just a motorcycle "club". In fact, they are designed to be the exact opposite of most clubs. They are inclusive, not exclusive. They are breaking down stereotypes and going against what the "nom" is. They want to show women that they can do whatever they set their minds to, whether it is riding a motorcycle, or building an empire.
How have The Litas been accepted by women motorcycle riders? One can only say WOW! Look at those numbers!
In less than a decade, they have taken their group from just a couple of people getting together to over 22,000 participants, in 28 countries and 320 cities. Outstanding!


So, what is it that they do? Are they just a social media conglomerate? Or do they actually meet face-to-face and do things together? Like any other motorcycle group, the answer to that depends on the people involved. Some of the local groups keep it simple and host one ride or meetup a month. Others plan over-the-top events and longer rides. Some do multiple day rides, camping trips, visit national parks, etc. Others do shorter rides around town or meet up for meals and socializing. Winter activities in areas where the weather keeps them from riding may include paint nights, how-to workshops, maintenance workshops, wrench nights, or really any other sort of fun activity to help make winter a little more bearable.
You can find out more about the group by visiting their website at www.thelitas.co.
You can also find them on Instagram, YouTube, and twitter. They even have their own APP.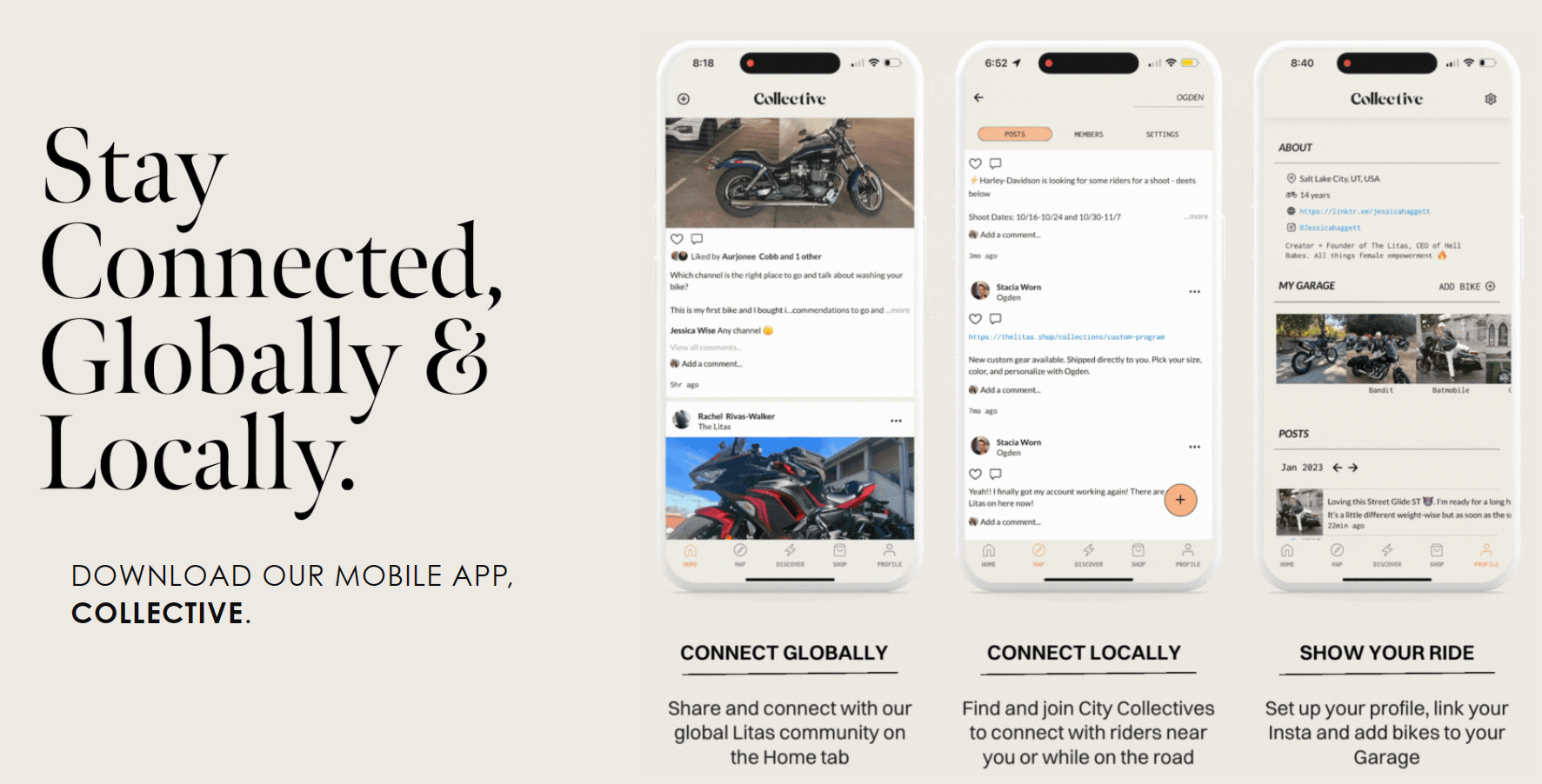 I asked one of the members to fill out an interview questionnaire like we do for our membership profiles that you read in our club magazine. Amanda was kind enough to do so, and you can read it here:
Hometown/State? Florence, Kentucky
Current Motorcycle? Harley Davidson Sportster
All-time favorite motorcycle? Vintage Harley must be my favorite, specifically pre-WWII knuckleheads and Flatheads.
How long have you been riding? I have been riding two years.
When did you join The Litas? I started the Florence branch on December 2, 2021.
How did you hear about the Litas? I heard about The Litas in 2019 from a friend that found Jessica Wise and her story on Instagram.
What do you get out of your membership? Being a founder of the Florence branch means that I can build and influence my local female motorcycle community. I have an opportunity to make a real difference by setting the tone for the whole group, leading by example. I can create a safe place for women to gather, make friends, raise hell, bond, and build lasting friendships.
Describe a memorable ride/trip with Litas members? Gosh, that is a tie. Our first real ride as The Litas, Florence, Ky. Was on April 3, 2022. It was a chilly spring day. We had 7 members show up and meet at Quaker Steak and Lube in Florence, and ride to the Sunset Grill in Warsaw to have lunch and to get to know each other. I kept a smile the whole day, just looking in my mirrors and seeing so many women enjoying the ride. June 5th, 2022 was our first large group ride. We went to Lexington, Ky. We had 13 riders that day and to my surprise everything ran smoothly. That morning when I showed up to our meeting spot, I was greeted by a group of women riders ready to ride. I was nervous at first because I had not led a group that large and that far. But we made a pit stop in Dry Ridge and had lunch, and then headed to Lexington. It felt great knowing in that moment of laughs in Dry ridge that we would show up for each other, empower each other, and uplift each other. We had no drama, no negativity, and no BS.
What do you see as the future of The Litas? In the future, The Litas are only going to grow in numbers. We boost confidence for beginners, we grow in skillset, we have each other's back, and whenever we get together it is nothing but love and respect for our wind sisters.
Notes:
It might surprise some readers to find out that women motorcycle riders make up 20% of the riders that you're going to find on the road today, and that the percentage of women riders has doubled in the last 15 years! in addition, if you look at the numbers by age group, the Millennial age group has 26% of all riders in that age group being women! Women riders are here, they are growing in numbers, and they are gaining in influence across the greater motorcycle community. The Litas are a group that was founded to support that growth and to support the individual women that make those numbers up. Personally, I say YAY! The more the merrier and I feel that as the MSTA we should be doing all that we can to support such groups and to support women that want to ride. No matter what they ride, or how they ride, or where they ride. If we plan to keep our club active and growing, we need to embrace and support this movement.
What does "Raise Hell" mean:
-Speak up for what you believe in
-Be unapologetically yourself
-Don't be afraid to go outside the norm
-Stand up for what you care about
-Live freely and seek adventure
-Rev your engine loudlyyy