A CROSS COUNTRY TRIP ON THE TAT……The Show Must Go On!
This article was written by John Hurlocker and is a journal of his trip, along with Eric and Mike, from North Carolina to the Pacific Coast along the TAT, the Trans America Trail. I have reproduced it here with permission from John and have tried to keep it all as he set it down. There are a few small revisions and additions in order to make it fit our platform and for the sake of clarity. When John sent it to me I got up early one morning to begin reading it, thinking I would read a few pages and then get on with my day. An hour and a half later, and a couple of cups of coffee, and I found that I had finished it. I hope that everyone enjoys it as much as I did.
PREPPING, STAGING, AND BEGINNINGS
Giving some background on our group. On Jan 1st of 2020 myself and Eric finished our 30 year careers in Law Enforcement. Eric is a former Command Staff member of our Department and myself, I was a property crimes Detective along with being a Motors Officer at one time. For 5 plus years I was paid to ride a DRZ-400 :). We started talking about the TAT a couple years before retirement and decided that we both needed a long motorcycle trip like this to unwind. We talked with a few friends in our riding group so Mike, who is a former Honda Motorcycle mechanic and service manager, was in for the trip. With life's obligations he would only be able to ride the first half of the TAT.
All three of us have different bikes and setups.
The sponsor "John" has a 2015 Honda XR650L with a few modifications. I used Mosko Moto Reckless 80L luggage. I have had this luggage for a few years and it has worked flawlessly. I did use a larger top bag from Dry Spec.
Eric has a Husqvarna TE610, I can't remember if it's a 05 or 06 year. He used the new Mosko Moto Reckless 80L Revolver luggage.
Mike has a Honda CB500X with a Rally Raid stage 3 kit. He had the SW Motech luggage racks along with Nelson-Rigg Deluxe Adventure bags.
I carried the following items on my XR.
Two changes of clothing to go with the one pair which I was wearing. All clothing was of wicking material which did not have any cotton. Bogi washcloth and towel.
Marmot 45 degree sleeping bag, Nemo Astro XL sleeping pad, sleeping bag liner along with an inflatable pillow.
Kelty Salida 2 person tent with a double vestibule. I used a floor liner for the tent's floor protection. I feel with us camping 3 of the 4 weeks it was a good call.
Cooking kit was contained in a Kelty mid size cache box. MSR stove, Camp soap, lighter, long spoon and normal spork, towel, fire starter, collapsible cup, titanium cup and coffee!
I know these items were a luxury but the fold up chair, chromebook, and solar powered portable charger were nice to have.
I had a first aid kit along with an active SPOT membership.
I carried a tool kit in case any repairs were needed. (Sockets, wrenches, plyers screwdrivers, loctite, gorilla super glue, electrical tape, sandpaper, oil change kit, air filter cleaning and filter oil.) I also carried a tire repair kit along with a high pressure hand pump.
Reading all of the trips people have made on Adv Rider I was hoping to be prepared for most possible breakdowns.
Navigation was using OsmAnd App on two Kyocera Duraforce Pro waterproof cell phones.
Here are some of the prep trip pictures. Tomorrow I will post more on our beginning. If things go well I should be able to post daily.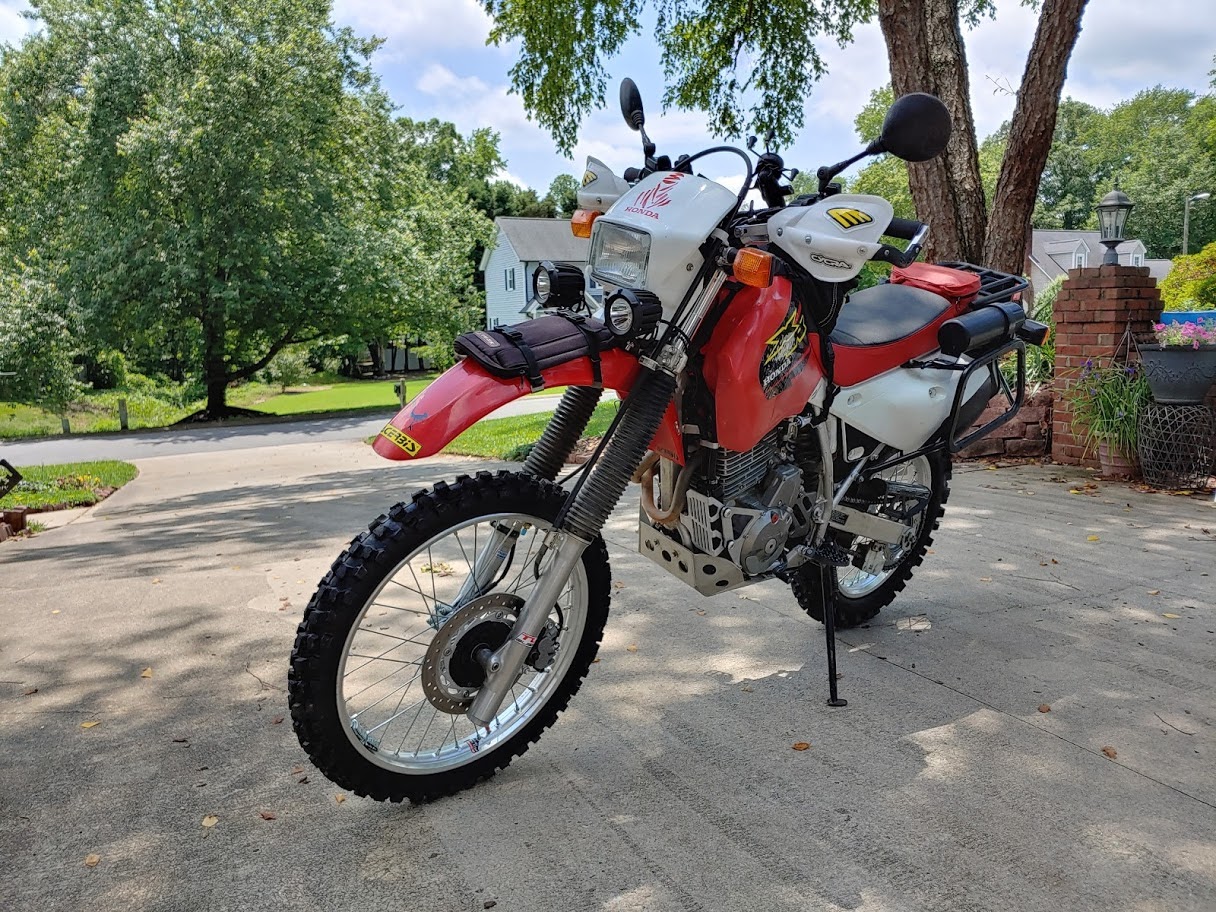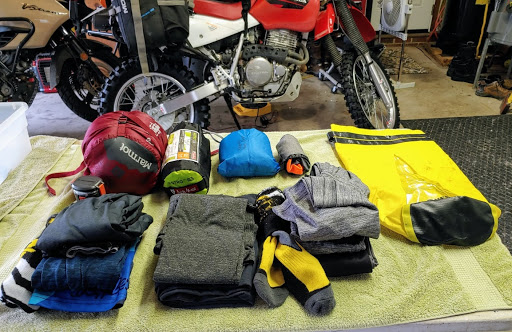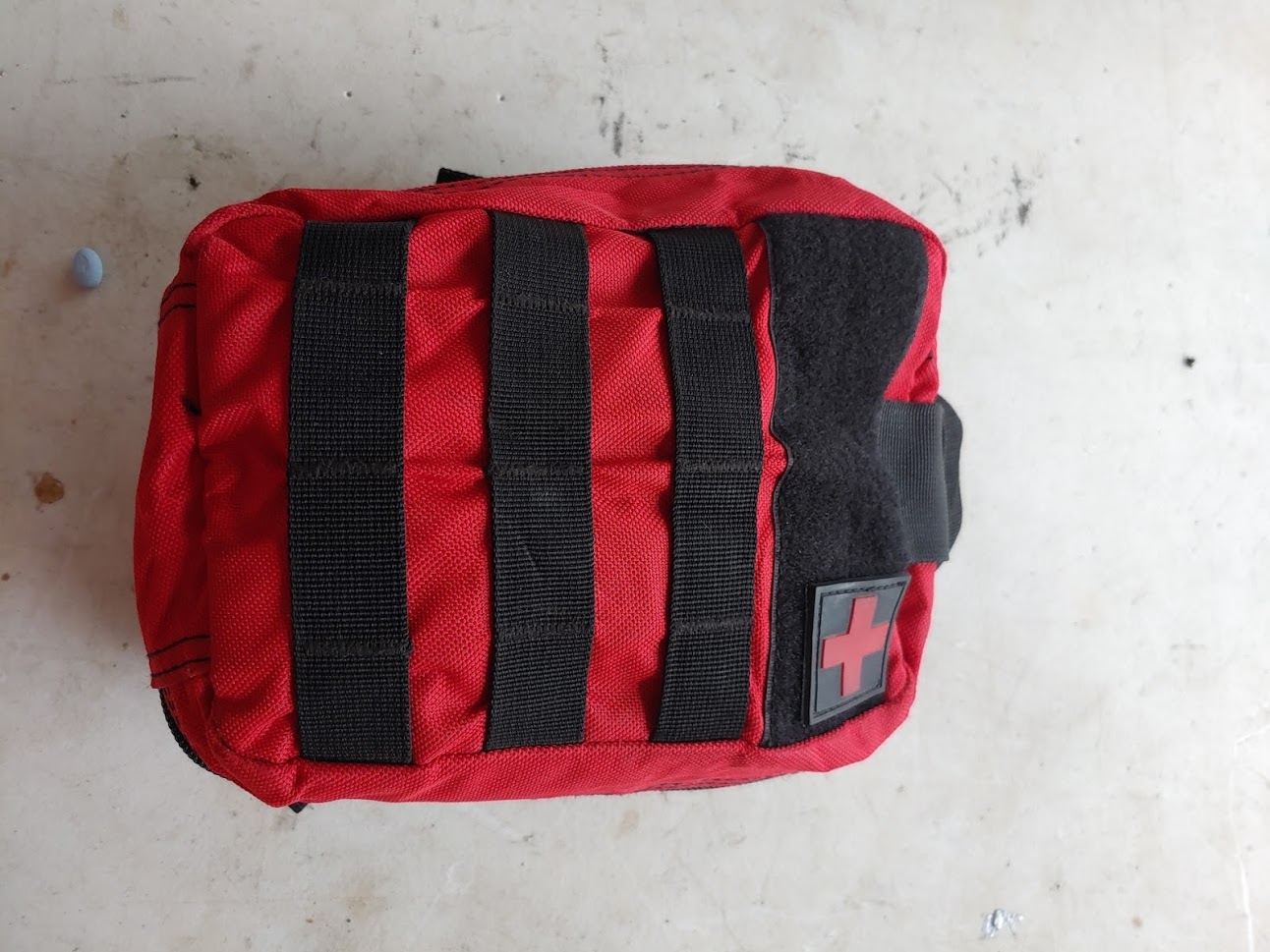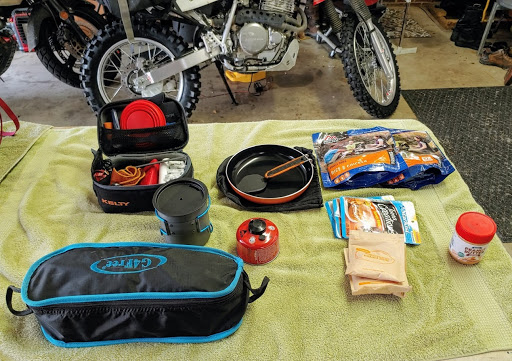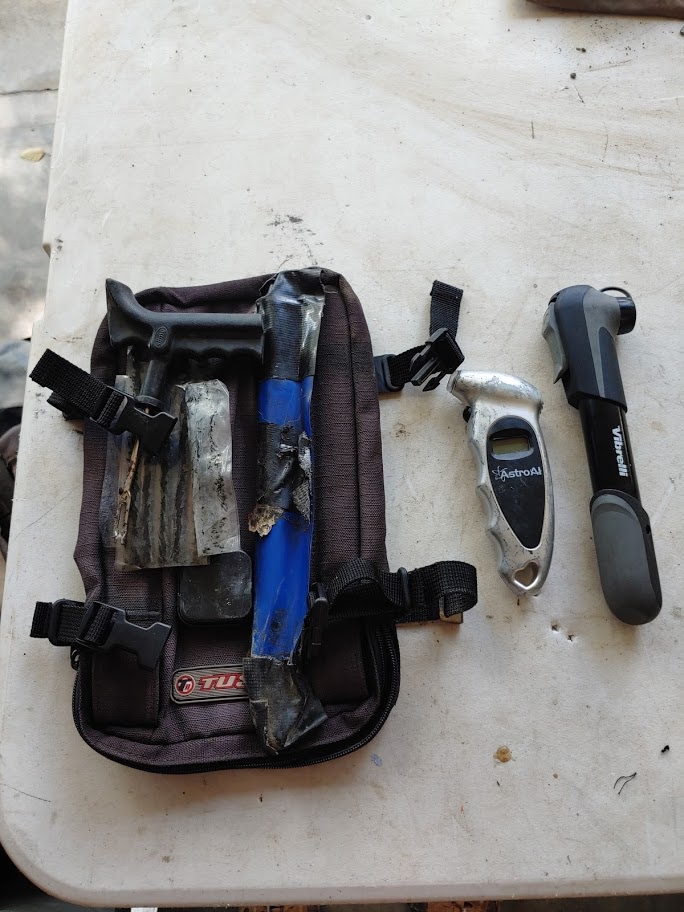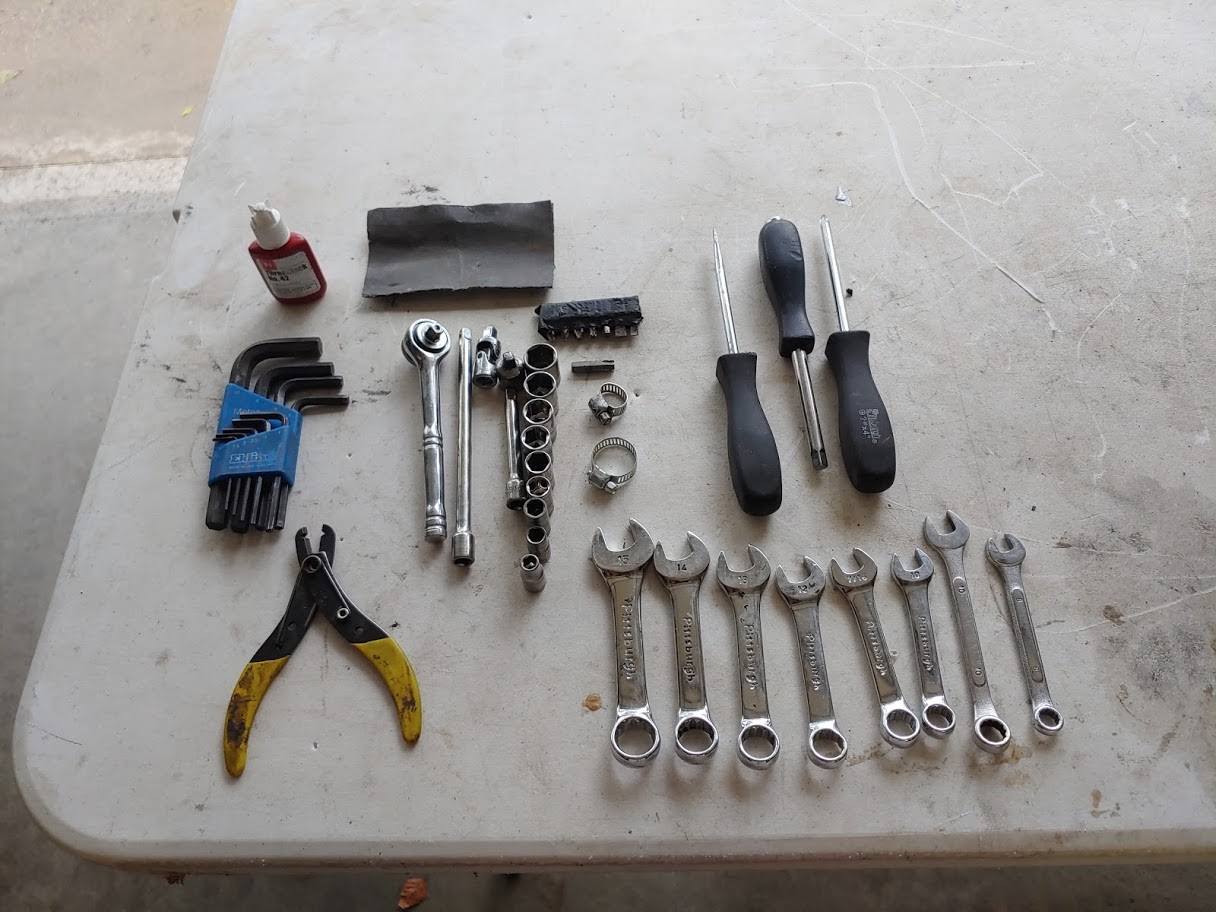 Saturday, June 13th 2020 Day 1…..So it (kinda) Begins!
This was our official starting date. I couldn't believe the journey we were getting ready to embark on after three years of talking, text messages, and emails which the point of departure was here.
I got up early that morning and said the goodbyes to my family. The biggest reaction to me leaving was from my shepherd. It could tell I was going to be gone for a while and was all over me that morning. Dogs really do have some of the best insights.
I rode over to Mike's house in Huntersville NC which was our meeting point.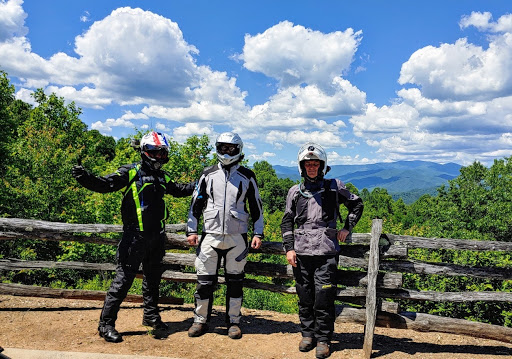 The three of us took a photo together. Eric's girlfriend wanted to ride with us to the NC mountains which wasn't any issue. So four dual sports start the long slab ride to Robbinsville NC (258 miles away). We had reservations for Iron Horse Motorcycle Lodge. We have stayed here many times for the Eastern V-Strom Rally's along with our previous Western NC trips. The dinner that night along with the breakfast the following morning was spot on.
There is always a diverse group of motorcyclists which stay at Iron Horse. We met this couple from Florida who was traveling with a parrot. They had inherited it from a family member and wouldn't leave it home while they traveled. So they trailered their motorcycle and would set up a large tent for themselves along with the parrot. He really seemed to enjoy the attention we were giving it.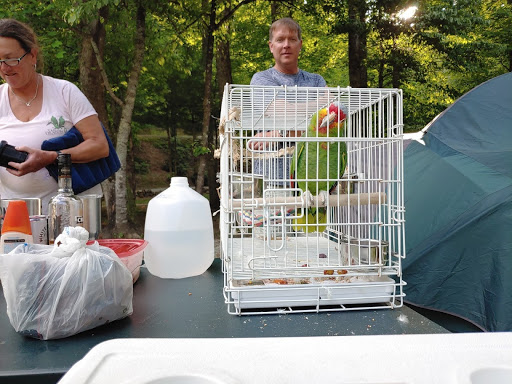 Sunday, June 14th 2020……NOW WE'RE IN IT!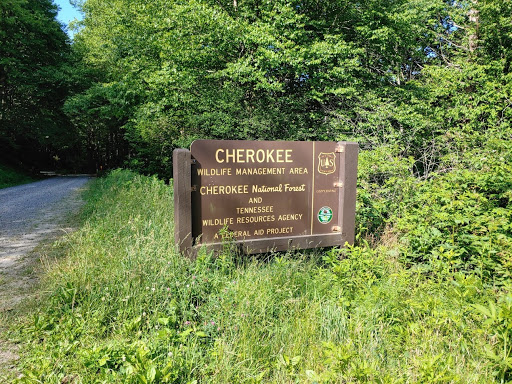 After breakfast along with a few extra cups of coffee we were ready to start on the journey and leave our home state of North Carolina. It was only a short ride to our first section of dirt roads which we call the Dirt Cherohala; it runs close to parallel with the Skyway. We exited just north of the Bald River Falls and made a left turn on HWY-165 heading into the small town of Tellico Plains. There we stopped at the Charles Hall Museum to look over the bikes along with the luggage to make sure nothing had come unattached. Everything looked good so we went inside of the gift shop and grabbed a few sodas. The curator who I think was named Grace came outside and talked with us. She gave us the back story about her father who had set up the museum along with some information on the dirt roads we had just ridden on. It was originally a wagon trail to cross over the mountains and have access into the Tellico River basin area. When she asked about our destination and we told her Oregon there was some surprise so we explained the TAT route to her. I found out this was going to be a common chat for the next month. LOL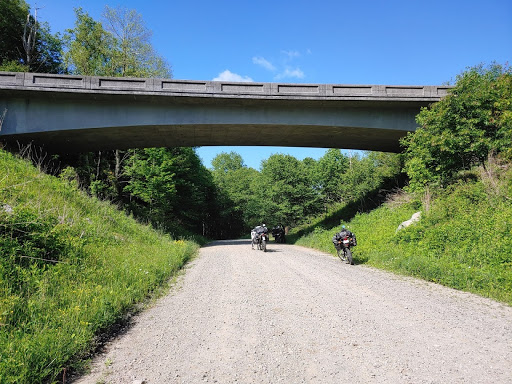 It wasn't long before we were back on dirt by Witt RD. Seeing pictures of this road posted here on AdvRider is what got me interested in the TAT. Plus the endless reading of everyone's ride reports I have been hooked for a while. The road didn't let us down either on enjoyment.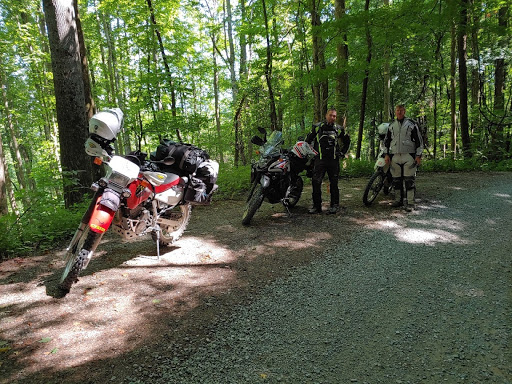 The area had a lot of rain over the last week before our trip so all of the water crossings were interesting.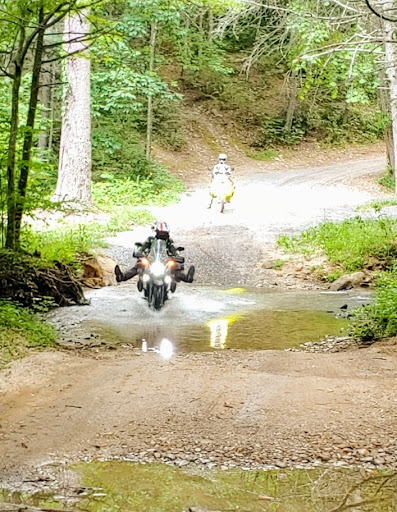 Mike had water coming over the windshield of the CB and Eric went down in the last water crossing. Luckily nothing was damaged and there was a good laugh watching Mike's GoPro recording of my lacking of proper dual-sport dismount. I really learned something from this trip if you can't laugh at yourself then this trip might not be for you. I have the video of our water crossing below. It's only about six minutes long, no crazy music or real editing.
Water crossings video link.
We were having a lot of fun until the clouds started to darken up along with having a serious look. A scramble for the rain jackets and coverings on our tank bags were next. I don't know who did the rain dance on us but it lasted for the next few hours and we were all soaked. The light weight ARC Rain Jacket I had packed did not work very well! I would not recommend it! We were on the TN and GA border a few miles from the town of Blue Ridge. Eric has family close to there so he made a telephone call and they told us to come on! It was a great call because it would have been miserable setting up tents in that storm. Mike was able to record some of the rain. Link is below
Only 180 miles were traveled this day but the fun meter was topped out!
Monday, June 15th 2020…..DETOURS AND MAKING CAMP
All of us slept well last night plus Eric's family fixed a great breakfast for us that morning. They were wonderful hosts for having sudden guests the evening before. We were only 25 miles away from Sam's TAT route so it wasn't too long before we were heading West again. The night's rain and morning cloud cover made it for a chilly ride in mid June until about midday.


During this day we would encounter three road closed signs in different locations on the route. The first one was simply just going around the signs and crossing the bridge. The clean up crews had already removed most of the debris and the road was completely cleared so we didn't understand why the signs were still in place.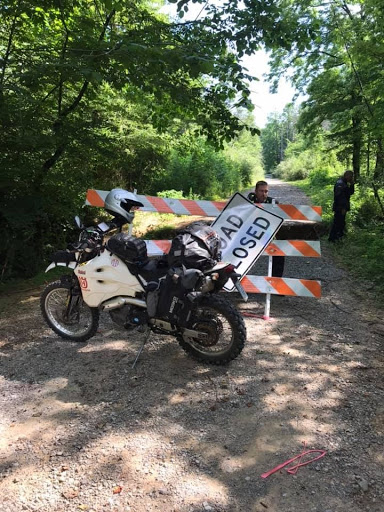 When we saw the second road closing signs we thought it was going to be similar to the first but we ended up being wrong. The road was completely washed out at about a five feet depth along with a ten foot length.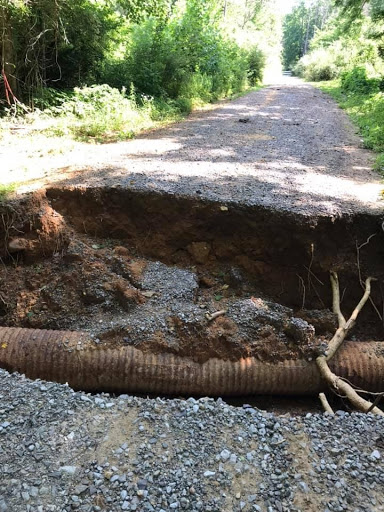 After looking at the GPS and seeing how long of a back track it was going to be we decided to explore around the shoulder wooded areas for a detour. Luck was on our side so with a couple downed tree crossing and a steep creek bank we were on the other side of the washed out area. Afterwards we looked at each other and agreed we were on an adventure. LOL

The third road closure was in the area of Parksville Lake near the Indian Creek Inlet. We immediately saw an easy detour for the motors and was on the other side of the washed out road in quick time.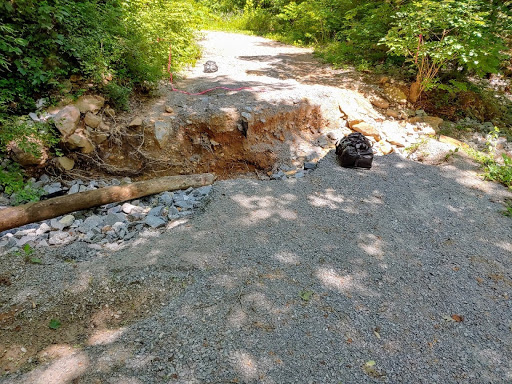 If we would have been on larger motors we probably would not have attempted either of these two off road detours. This early in the trip and the risk of injury it would not have been worth it to us. After completing this trip having lighter weight motors to me was the right call for our group.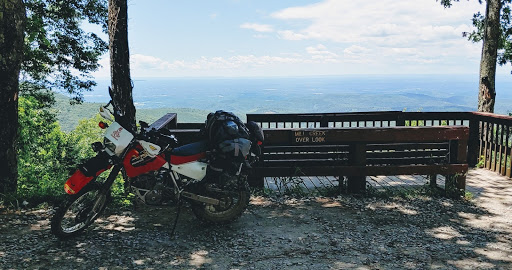 We crossed the State Line again and were back in GA. We found a beautiful overlook at Mill Creek in the Cohutta Wildlife Management area and stopped for a couple pictures. There we looked at the route some and decided that we could make it to Calhoun for gas and food.
We stopped for gas at a Shell Station just North of Calhoun and noticed a small diner (Jerusalem Grill) in the same parking lot. After looking on Google and not seeing too many choices for food we decided to give it a chance. It was a good call! They serve Mediterranean dishes and the Kafta Combo hits the spot. While waiting on the food we started looking for a place to camp. There weren't many choices showing on Google so we used the iOverlander APP. It showed some dispersed campsites near a shooting range in the Johns Mountain Wildlife area. It was a short ride from the diner so we were able to set up tents before the sun set. Once the sun went down it wasn't too long before we all went to bed and called it a day.
Tuesday, June 16th 2020….INTO TENNESSEE
Everything went well overnight at our dispersed campsite other than a small creature scurrying around the area at 0030. We were up at 0630 and on the motors in about an hour and half. This included making breakfast along with some instant coffee :(.
The ride through the GA mountains then back into the TN valleys was beautiful.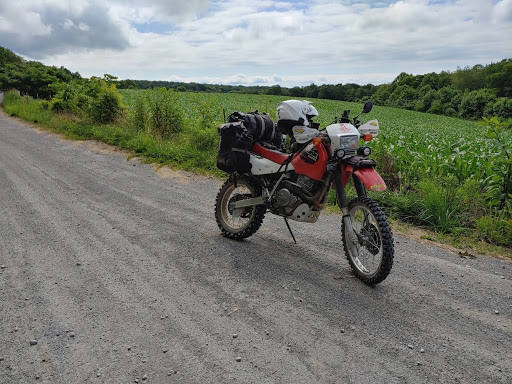 The roads changed from the gravel forest service type to more blacktop two lane.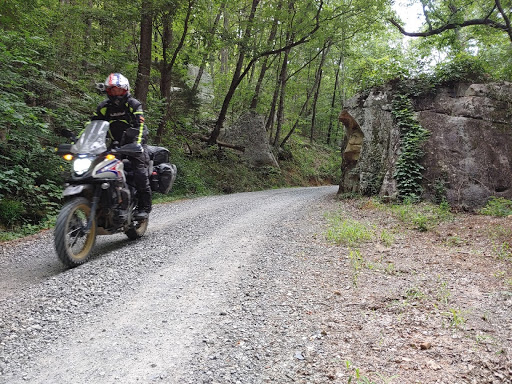 We didn't have much of a challenge on this date just steadily making miles West.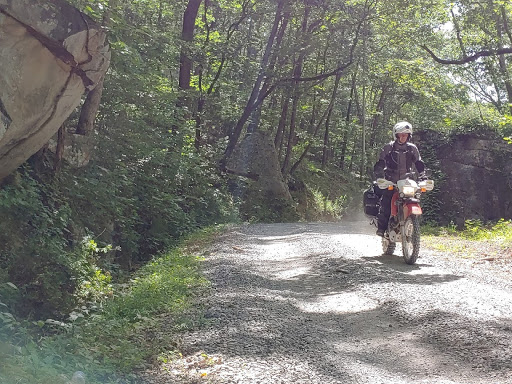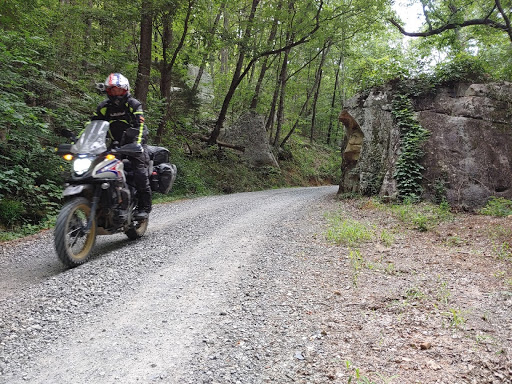 Once we crossed into the Central time Zone we started looking for a place to camp. We decided to stay at Tims Ford State Park near Winchester TN. We had great views of the lake along with good glamping neighbors.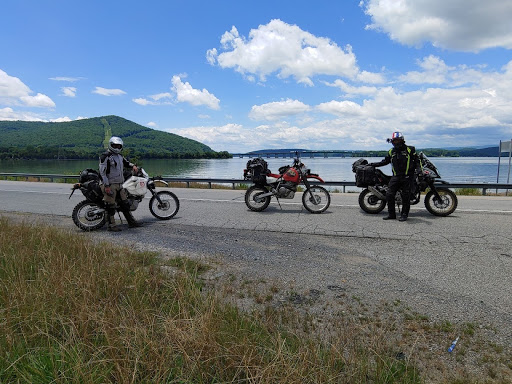 The neighbor directly in front of us brought over some fruit they had picked up from a farms market.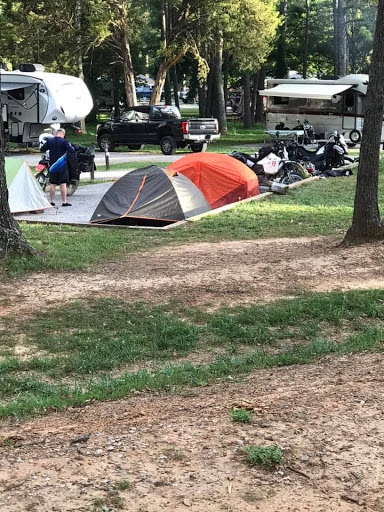 The campground was packed for the start of a week after talking with a few locals we found that TN had just started letting the campgrounds open so folks were ready to get outside after being stuck inside for the last few months.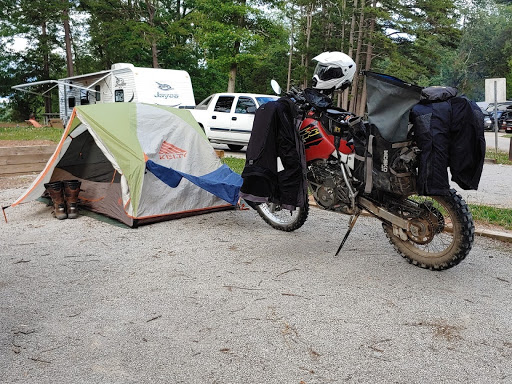 Another 200 mile day which would become our overall daily goal.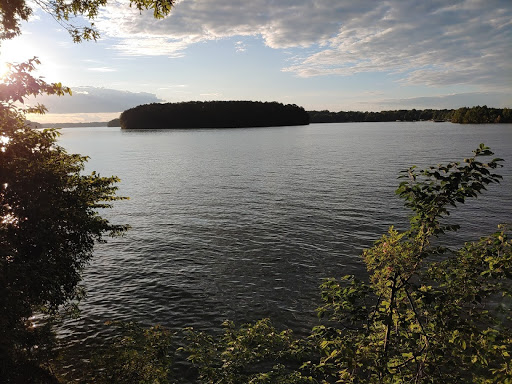 Wednesday, June 17th 2020….TIRES AND BLOOD IN WESTERN TN.
We started the morning as normal with a quick breakfast along with the instant coffee. 🙁
I was looking over the XR and found the tires needed some air pressure. I'm using the Tubeliss system and have found that the inner tube which seals the rim and tire tight would need some extra air about every third day. The small bicycle pump that I carried worked very well on getting the pressure over the 100PSI which it needed. Eric checked his Huskie and it needed some topping off so he attempted to use the bicycle pump. Instead he almost took the tip end of his finger off.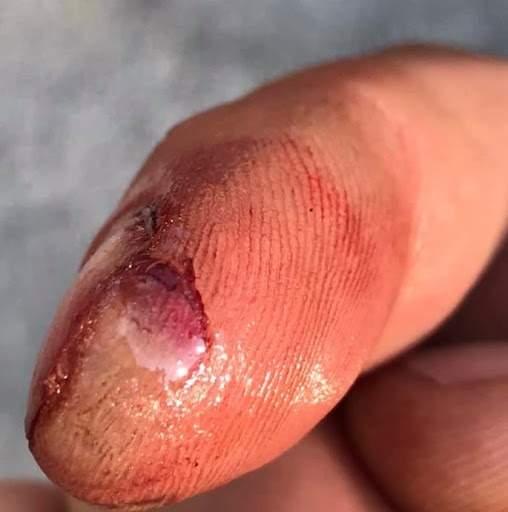 Fingertips can bleed a lot so a couple of the neighbors came over to help. We knew that it could get infected easily with the dirt and creek crossing we were getting ready to ride through so off to the CVS in Winchester for the extra supplies. Eric found some of those small finger tip coverings so we were set.
While he was inside I looked over the GPS routing and found a location where we could get back on the TAT. The roads on this day were like the day before which were mostly black top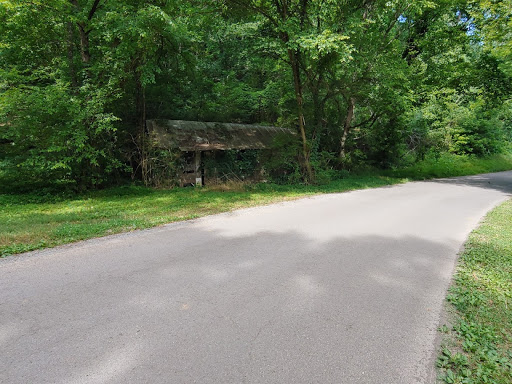 but we did find some dirt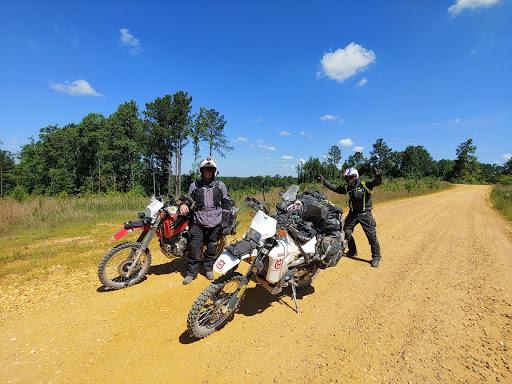 along with a few creek crossing on Moss Covered RD.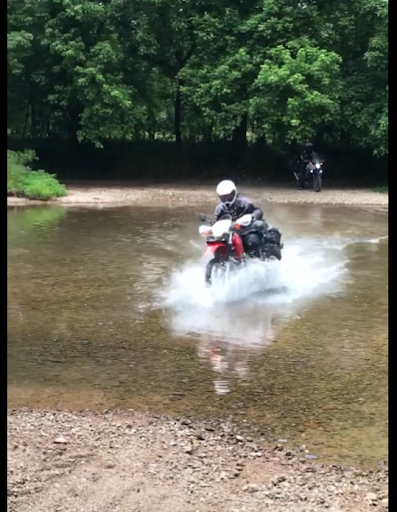 I remembered seeing these crossings on a couple other ride reports and how slick the concrete under the water could be so I warned both Eric and Mike. We made it across without any issues and enjoyed the rest of the day's ride. We ended up with 260 miles traveled on this day and found a place to camp on the Tennessee River (Burton Campground). It's near the section where Tennessee, Alabama and Mississippi state lines connect. The campground had very hot showers which is a plus!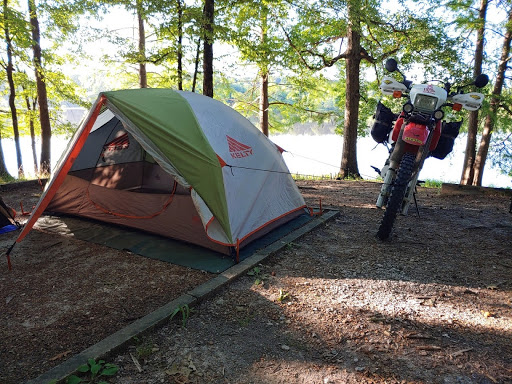 Thursday, June 18th 2020….INTO ALABAMA AND OLD MISS! SNAKES ALIVE!
We broke camp early that morning and were on the road fairly quickly. We were not too far from the AL border and I have never ridden a motorcycle in the state of AL so I asked the other two if they would entertain on a short ride over the state line with me. Eric and Mike had no issue with it so we made a quick trip basically for shits and giggles. We had to backtrack a couple miles to cross over the Pickwick Dam and then into the State of Mississippi.
The roads in Mississippi were like Tennessee (mostly two lane blacktop with a few being dirt). But unlike TN the dirt roads were the red clay and sand which at times could be very slick and dusty.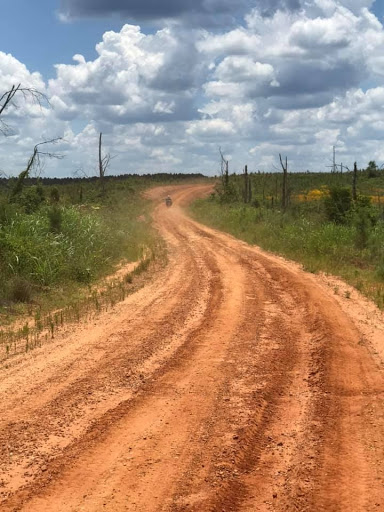 The good part being the trip's navigator I was out front of most of the heavy dust and dirt. I still had to clean the XR's air filter about every three to four days. I carried a spare air filter so I could swap between the two which allowed enough time for it to completely dry before recoating it with filter oil.
The one tragedy of the day happened when the mount holding my CamPark (GoPro style) camera broke so I lost my camera. 🙁 All of my video recordings of the trip were gone! I guess having it mounted close to the front wheel wasn't the best idea. Mike had his camera mounted to his helmet which I learned the hard way was the better location. I was feeling pretty bummed about it but at least I still had all of my pictures which were being backed up by my Google account.
After 200 plus miles of dealing with the heat and dust we were ready to find a camping spot. We were near the city of Oxford which made a good stop for food along with other supplies. We checked with the Mississippi State Parks and found all camping was shut down due to Covid so we started looking at alternate apps. We found a Federal Park a few miles away but it was our only option other than living like a vagrant under a bridge or trying to find a hotel in this University town which we didn't want.
About 30 minutes later we pulled into the Puskus Lake Restoration area.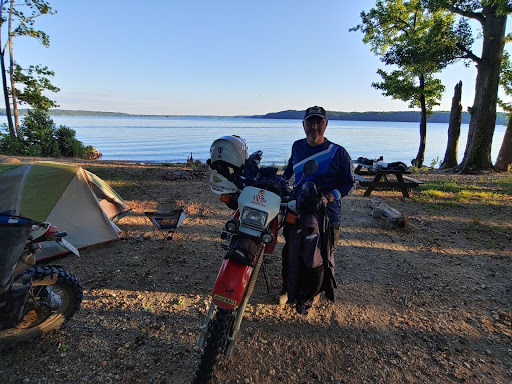 It looked a little rough and unkempt but at least there were campsites and it was along a lake! The only other things there were a few birds, an armadillo, and a water moccasin. Luckily the snake just stayed in the lake! I really dislike snakes! We set up the tents and fixed some dinner. Later that evening we watched the sunset while enjoying a few cold adult beverages.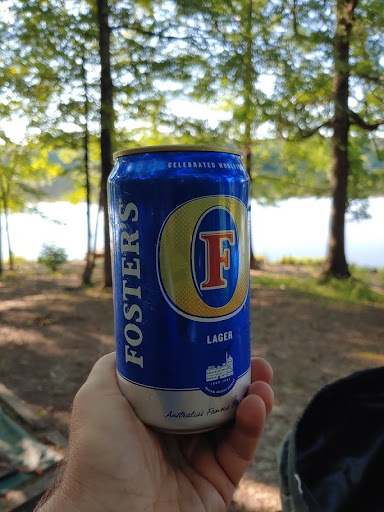 Our camping location for the night ended up being a little more interesting than our others. The armadillo returned just before bed time so we had to chase it off again. I was expecting it to move slowly like a porcupine but was surprised when it leaped over a downed tree and scurried away quickly. We didn't see it anymore after this last time. At about 0100 in the night I was woken up by a car driving in the campground. I noticed it was a Ford Mustang and it went to the very back sites of the campground. After a while not hearing anyone approaching our site I went back to sleep.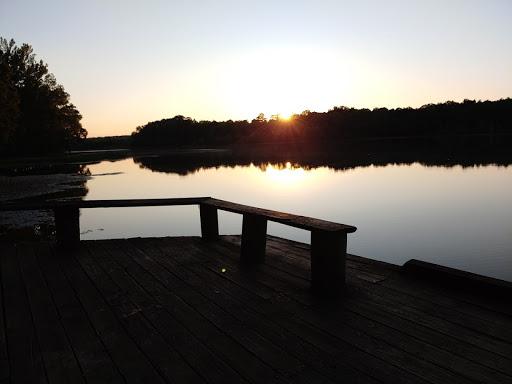 GO WEST YOUNG MAN, GO WEST!
Friday June 18th, 2020
While fixing breakfast the following morning we talked about making some quicker time to get out of Mississippi and into Arkansas over the difficulty in finding camping spots.
We followed Sam's Route the best that we could. Most of the morning we were riding between a lot of farms! This meant we were dealing with the loose dirt and dust. We were all happy that it wasn't raining and muddy!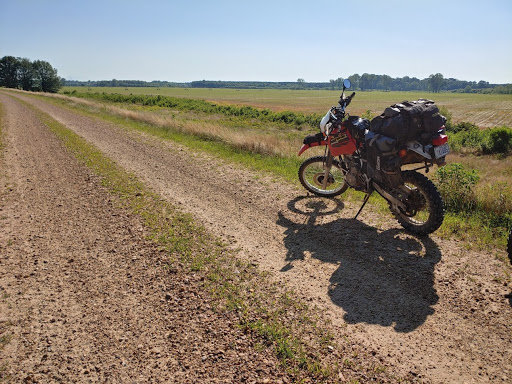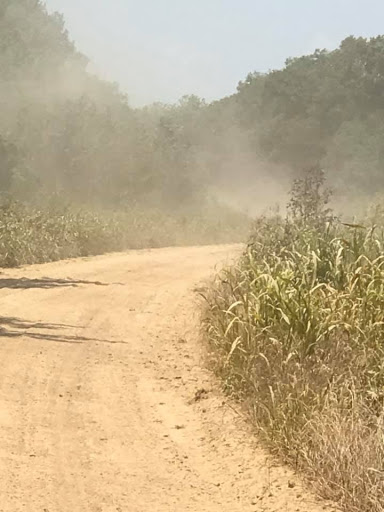 Before crossing the HWY-49 bridge into Arkansas we stopped for some pictures.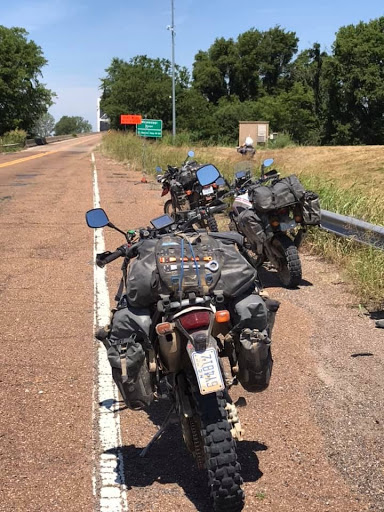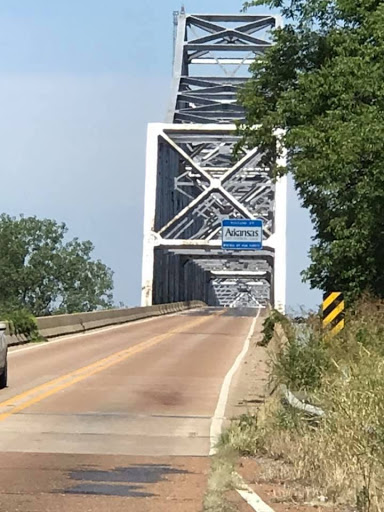 We made it into West Helena and stopped at a double quick gas station to top off the bikes along some gas station chicken. I was surprised to see that the chicken was being made fresh there at the store. It was really good!
We rode down to Robert Heidelberger Company Store and were warmly greeted by Percy Kale.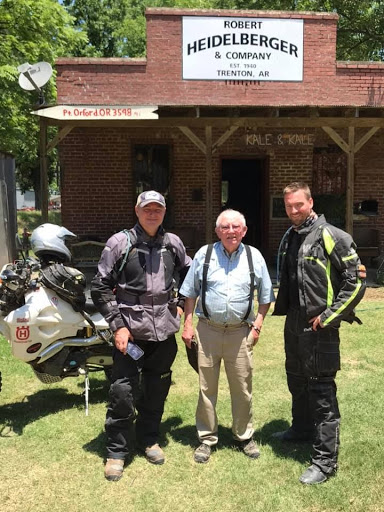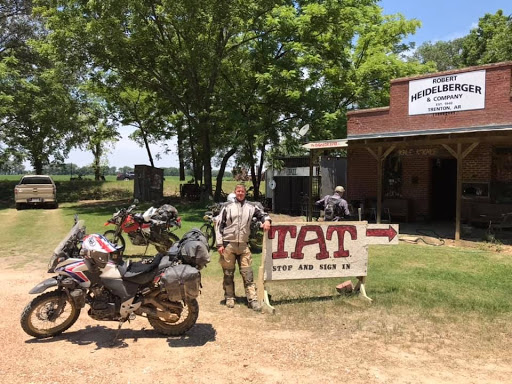 We signed his book and talked with him for a while. When asked about any other TAT riders he said a group had just come through about an hour and half ahead of us. He also said there hadn't been any riders from overseas so far this year. I could tell that Percy really enjoys talking with everyone and the company. It was hard to say goodbye to him but we needed to move on.
We made good time on the dirt roads up into Beebe AR without any problems. Mike noticed that his CB was wearing out the rear tire pretty quickly so he had wife calling around to a few local motorcycle shops trying to find him a new tire somewhere on the route. As we pulled in to Beebe it was decided this would be a good night to grab a hotel room. Plus we could look for a laundry facility because our clothing was smelling pretty ripe! Eric's Sedici jacket was giving him some issues on the zipper closings so we hoped this would be fixed by a good washing.
The rates at the Rodeway Inn were very reasonable so we decided to stay there for the evening. After talking with the owner and finding out his washing machines were not operating he offered to wash all of our clothing for a few extra extra dollars. Two thumbs up from us! The only bad thing about Beebe we found out later is it is a dry county so no adult beverages. 🙁
Later that evening after returning with some pizzas the rain started and we were lucky to not have been caught out on the trail.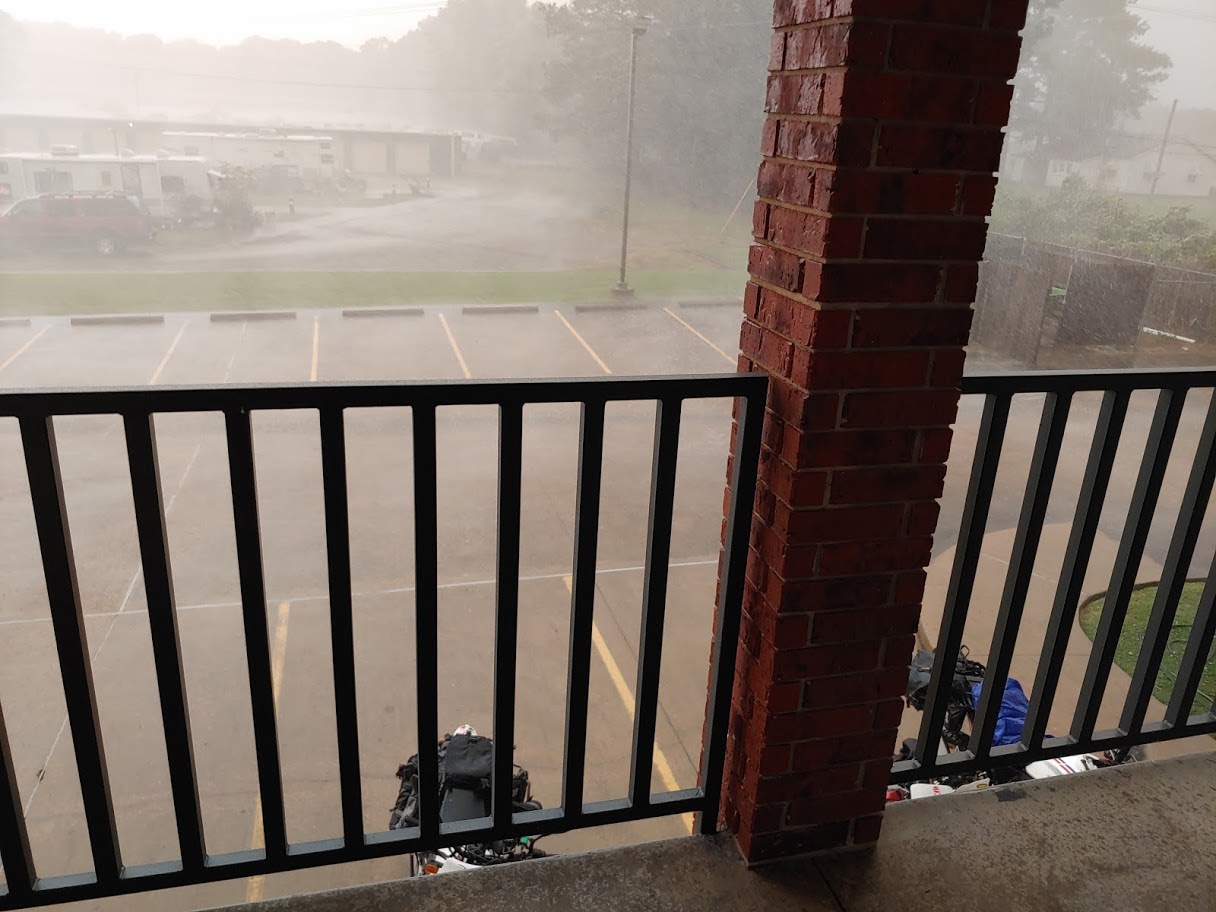 So far we have about 1500 miles into the trip
Saturday, June 20th 2020…..YOU NEVER KNOW WHO YOU WILL MEET ON THE ROAD
The evening before Mike had been working the telephone pretty hard trying to locate a new rear tire for the CB. He had found one but it was 80 miles from our location at a dealership in the town of Russellville AR. The service department was only going to be open until midday so Mike left early this morning to get there at the stores opening. Eric still needed to install the cleaned air filter on the Huskie so that left me with some extra time. I rode the XR down to a car wash and removed the weeks worth of dirt!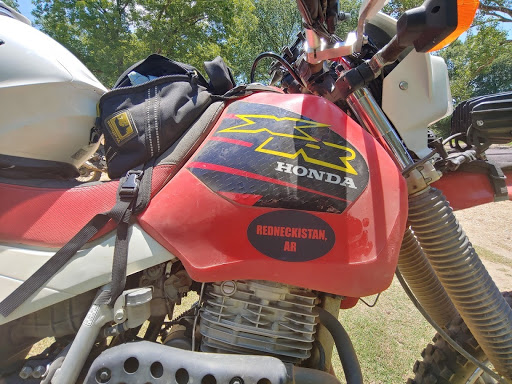 The motor looked a lot better with it being somewhat clean! I stopped by a Subway along the way back to the hotel and picked up a couple sandwiches for Eric and myself.
After eating breakfast we started packing up the motors and was approached by a resident in the hotel's parking lot. He had the normal questions about our destination along with the astonishment we were traveling across the USA on such small motors. He himself was from Oregon and asked us if he could say a prayer with us for continuing safe travels. We both looked at each other and told him sure that was fine with us. I guess he could tell that we both were a little suspicious and that's when he told us he was of the Messianic Judaism, "The Hebrew Christian belief in Jesus as the one savior". We could tell that he was being genuine so we then had a small prayer in the parking lot which set the day on a positive note.
Before noon we heard from Mike and he was not in a good mood. When he reached the dealership they did not have the rear tire for his CB. Evidently the sales person was new and did not verify they had the needed tire on the shelf. The only tire they had close to the size he needed was a Bridgestone Trail Wing street tire. Mike was upset but being a former service manager he knows mistakes can be made just hated wasting the miles and time. We set up a meeting spot on a service road at the beginning of the Ozark National Forest. When we met with Mike we found that a few other travels (Evan Yonkers and Russell Winfrey) from the Charlotte NC area were there with him.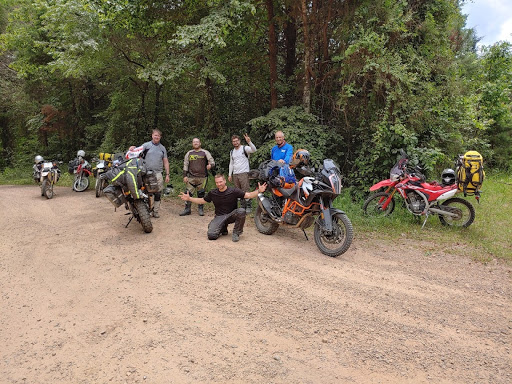 We had been seeing each other's posts on the TAT Facebook page but this was our first time meeting up on the route. They had met up with Patrick after crossing into Arkansas and he asked to join in their group. Up saying yes he packed up his KTM 1290 that evening and took off with them the following morning. Evidently this wasn't his first time riding the TAT that way. They warned us about the gravel roads being slick and to be extra careful. Evidently one of their other group members had laid his bike down and his leg went up under the hard panniers he was using. He left the group and went to have it examined at an urgent care facility.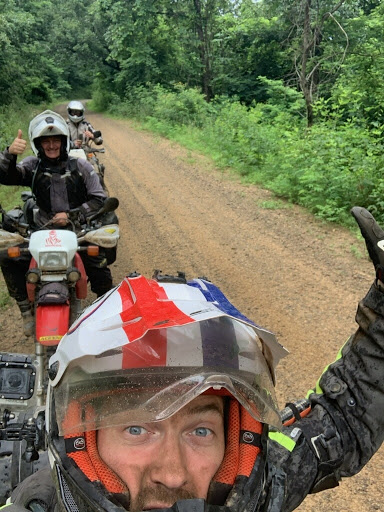 We then took off trying to make up some miles which we knew were missed. Towards the end of the day it started to rain lightly so we started looking for a camping spot before any heavy rain came in.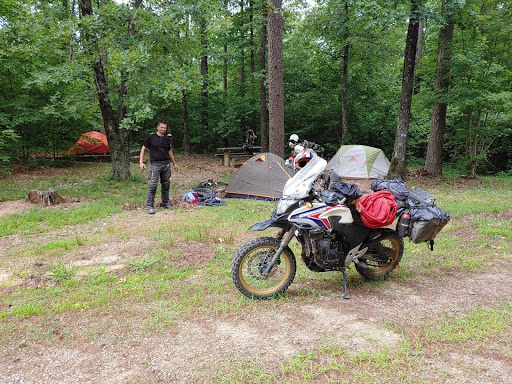 Lucky for use we found the Ozone Recreation Area and it had an open camp site. We only traveled 185 miles on this date but it was a full day of activities and it was all heading westward.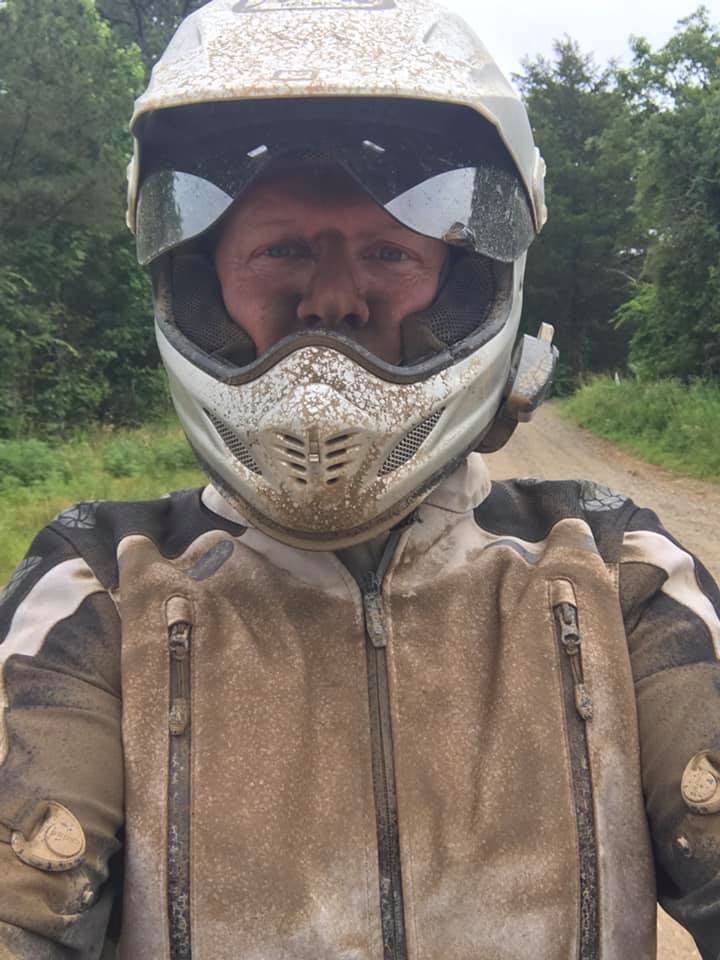 Eric's cleaned jacket didn't make it 8 hours before being covered again with dirt.
Sunday, June 21st 2020…..RURAL ARKANSAS. OARK CAFE!
This was a very busy day of riding and traveling along with taking in all of rural Arkansas. I will be posting a few extra pictures to highlight the day so it is going to be a two post daily report.
We woke up this morning with a lot of cloud cover but luckily no rain. After making some instant coffee 🙁 along with a light breakfast we broke camp and started making mileage on the TAT route. As we traveled along FR 1003 we found one of the must stops along the TAT (Oark General Store).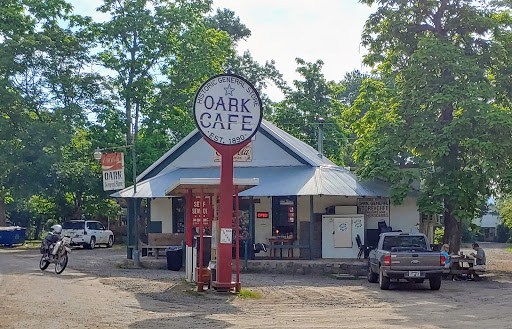 I love this place's web site which describes itself as (In the middle of Nowhere…Somewhere). We met with the owner Brian Eisele while trying to figure out what we wanted to eat off of the menu. With the state's Covid restrictions he could not allow customers inside of the store but he was allowed to have take out. We were happy to spend a few dollars at his store and help with the local economy. Brian was one of those good folks we would continue to be meeting across the USA. Growing up in a small town in the state of WV this area had a lot of the same vibes. Give me this living any day over a big city!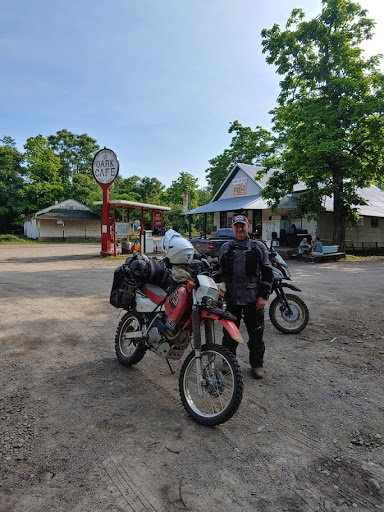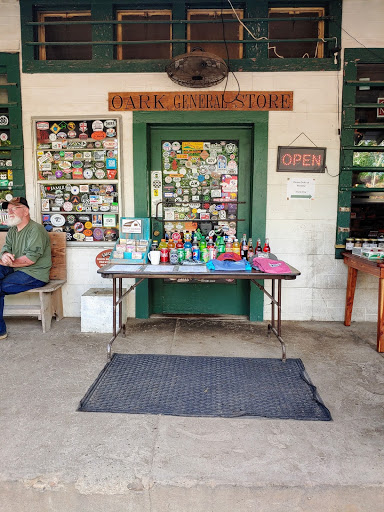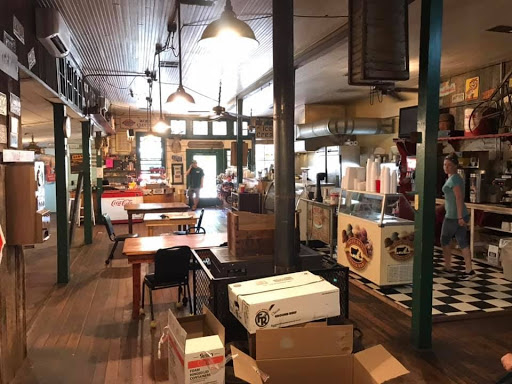 After enjoying a true country style breakfast we were ready to put some miles down on the motors. We traveled almost all dirt roads to White Rock Mountain AR without too much of a hiccup. We ran across a rattlesnake crossing the dirt road which wasn't too hard to avoid. But I really do not like snakes! LOL It was also Mike's first rattle snake he had seen in the wild. We had another road closing section to navigate through but we were able to make it through without any issues. We stopped to take a breather for a few minutes and while stopped this guy on a modified Harley Davidson pulled up to us. He was one really cool cat and a joy to chat with. He was traveling from TX to AR to visit with family without traveling on any Interstate.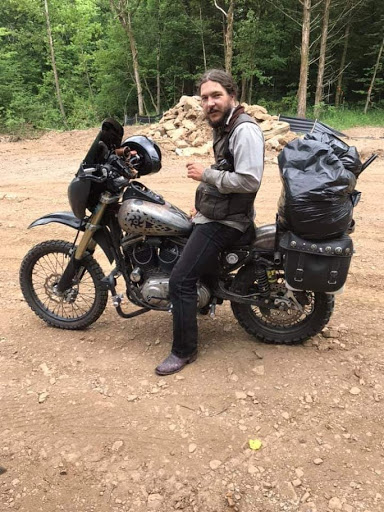 Check out his TIRES!
Once at White Rock Mountain we made a short trek to the summit and ran into our other TAT Travelers from Charlotte. They were doing the same thing as us and enjoying the mountain top views.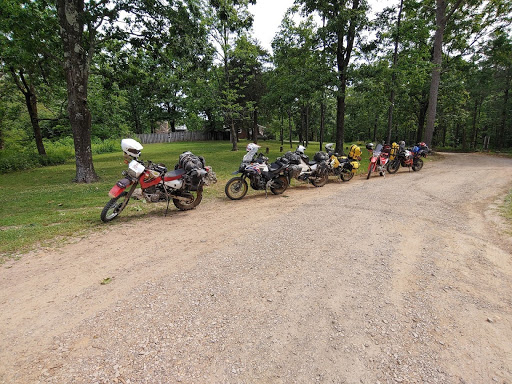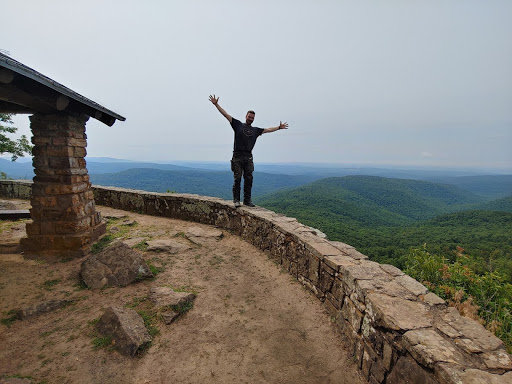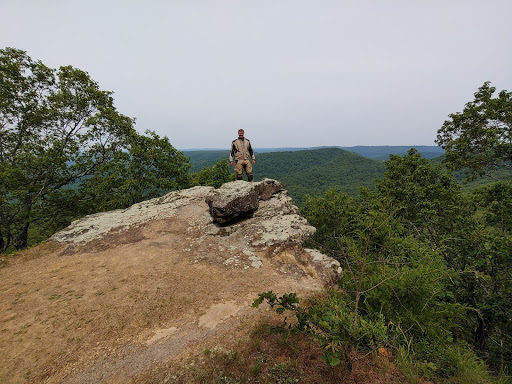 After leaving White Rock it wasn't too long before we had the adventure of traversing Warloop RD. That was a very fun and somewhat challenging road but I wish it could have been a little longer! We made very good time to the border of Oklahoma but just feet before crossing the State line Mike on the CB went down in a curve. The front wheel lost traction so he low sided instead of going straight into a barbed wire cow fence. It scared the crap out of us hearing him say over the coms that Mike is down! Before I could make my U-turn he was up and shaking the dust off! We were extremely happy to see him moving so quickly. I knew Mike was feeling okay when a short time later he was stopping once again to save another turtle trying to cross the road. I'm guessing we stopped about eight times for him to make the rescues on this one day. We nicknamed him the turtle whisper afterwards. 🙂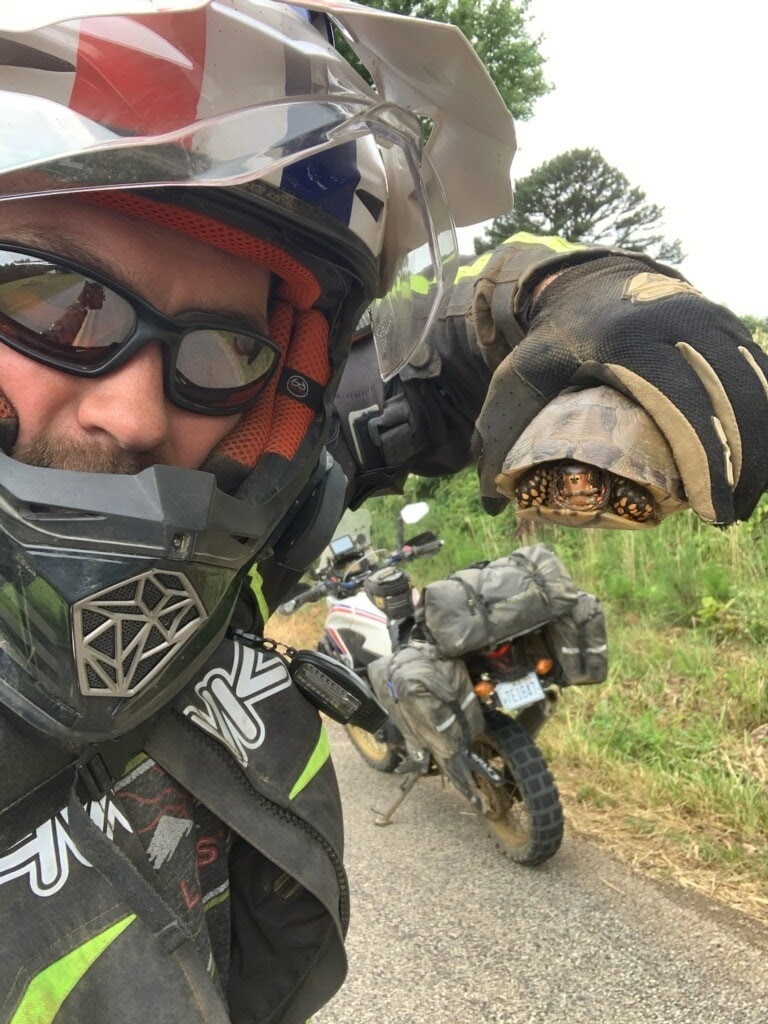 INTO OKLAHOMA
Once crossing into Oklahoma we stopped to grab some steaks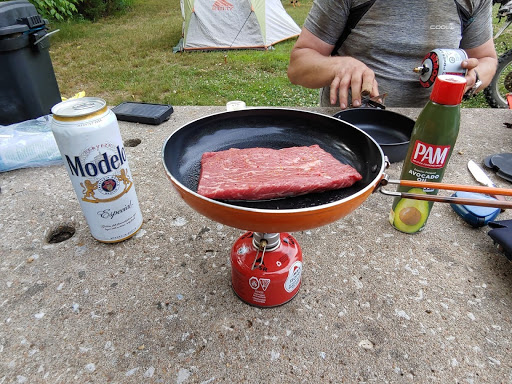 along with a few adult beverages. It was father's day so we deserved a good dinner instead of tuna packs and tortilla wraps. We found a campsite at Natural Falls State Park OK. It had warm showers which were appreciated after traveling over 400 miles in two days.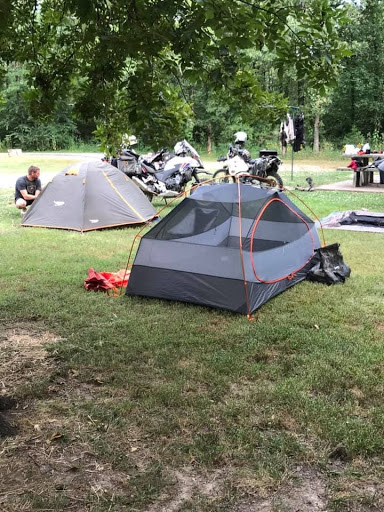 Monday, June 22nd 2020…….SHOPPING DAY and LOAD THE PACK MULES!
We were awoken early this morning before sunrise to the sound of thunder along with rain pelting off the tent. It was a relaxing sound until I realized we would be packing wet tents this morning. I went back to sleep deciding I would just deal with it later in the morning. Once getting up and moving we spent some extra time at the campsite waiting for the Cycle Gear store in Tulsa OK to open up. Eric's jacket was really giving him a fit with the zippers opening and closing. Plus the store had a set of Dunlop 606 tires for his Huskie in stock. Me and Eric were both running the Tusk Dsport Adventure tires which were probably more aggressive that what was needed for the Eastern section of the TAT. The rear tire was wearing fine but both front tires were wearing and cupping dangerously low. I decided to wait until we got to Enid OK which was going to be our midway stopping area before looking for a replacement.
The ride to Tulsa was pretty easy because we decided to run blacktop down HWY-412. It was a straight and direct route there, something I would later notice about OK "Very straight roads".
The Cycle Gear folks were friendly and helpful with Eric on his jacket. They told him to go pick something off the rack for a replacement! With the way his jacket looked it really impressed me. You don't see that kind of customer service too often anymore. They had his tires reserved next to the counter so everything went smoothly. I was looking at a true boom mic setup for my Sena headset because the guys were having a difficult time hearing me at speed with the small wired mic I was using. So after loading up and looking like the Beverly Hillbillies we started our trek towards Enid OK. We were even using the XR as a pack mule. I'm not sure that Mosko Moto meant for their luggage system to be used in this way but it worked! LOL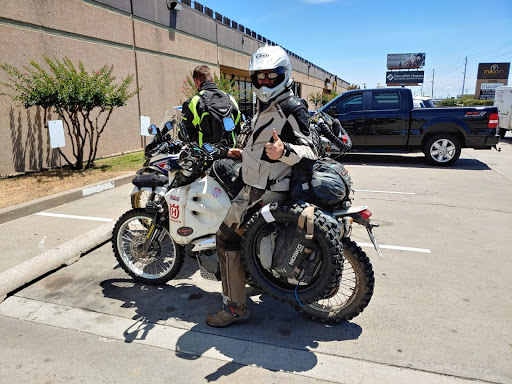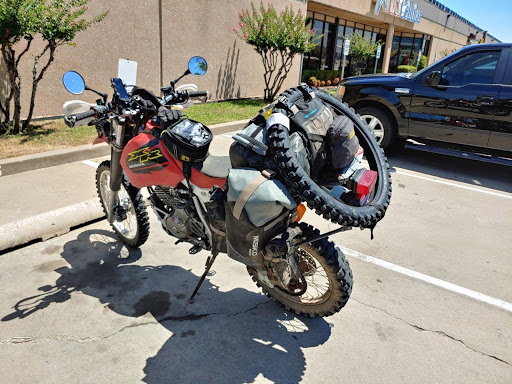 BIKE TROUBLES!
We were about 35 miles outside of Tulsa near the small town of Cleveland, Eric said over the coms that the Huskie was losing power and not running right. Mike decided to change riding spots and got behind Eric. He immediately said there was a bad smell coming from the Huskie's exhaust and suddenly a cloud of smoke came out of the muffler. Eric said the Huskie lost power so he slowly rode onto the shoulder of the roadway out of the travel lanes.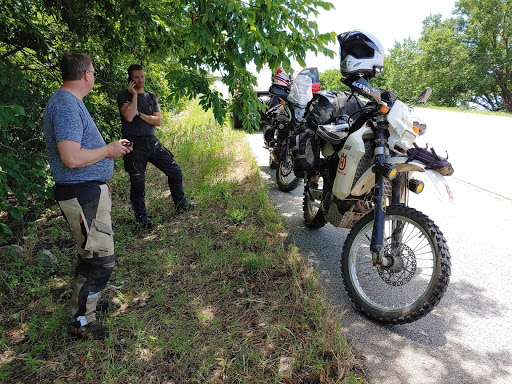 I walked back to Eric and noticed that the right side of his new jacket was covered in antifreeze! We all knew it was something serious if not terminal! Our midway stop in Enid OK was where Mike had family so he called them. Luckily they had someone able to come and get us but it was at least going to be over an hour. While on the side of the roadway a person from Route 66 Harley Davidson Dealership in Tulsa stopped to check on us. He was honest that the dealership didn't have any motors like ours but would give us a tow back to Tulsa to help out. We were really appreciative of him stopping but told him we had someone on the way. It was too much longer a retired Firefighter named Wally stopped to check on us. He had a trailer with ramps and volunteered to give Eric and the Huskie a ride to a nearby gas station until our people from Enid arrived. I was really surprised at the willingness of people in OK to help us. Luckily the gas station wasn't too far away and it gave us a safe place to wait on our recovery ride.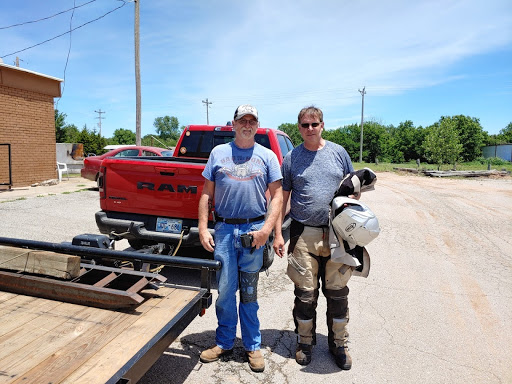 With the trailer being large enough to hold all three bikes myself and Mike decided to enjoy the AC in the truck. The ride to Enid was pretty somber and was just really small talk all of the way there!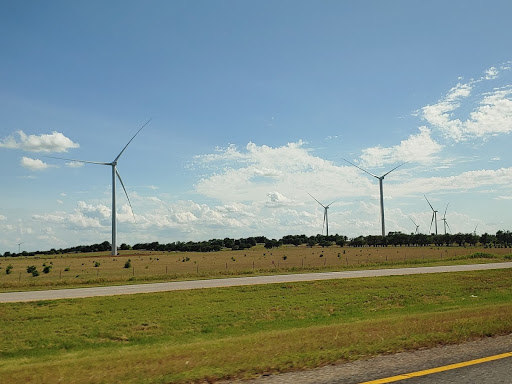 I texted my wife about what had happened so she, along with myself was concerned how the trip was going to go forward after this.
Eric's motor would turn over but it didn't have any compression. Months later when the engine was torn apart the culprit was found; a blown head gasket which took out the cylinder.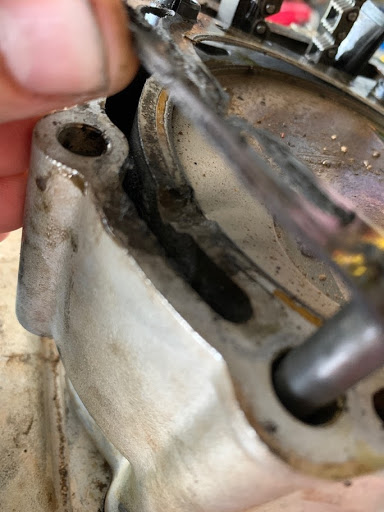 After arriving in Enid OK, I was taken back at the commendations we had. A pool house with three separate beds, a refrigerator for our beverages and a pool to cool off in. The next couple days were going to be pivotal on how this trip continued.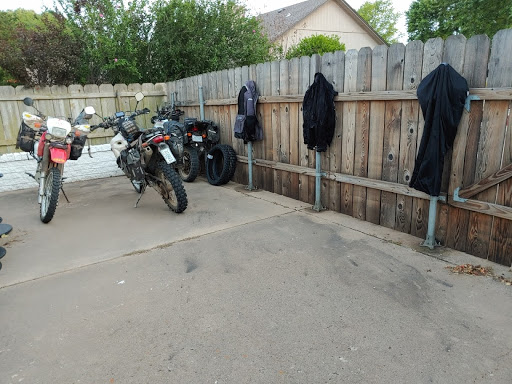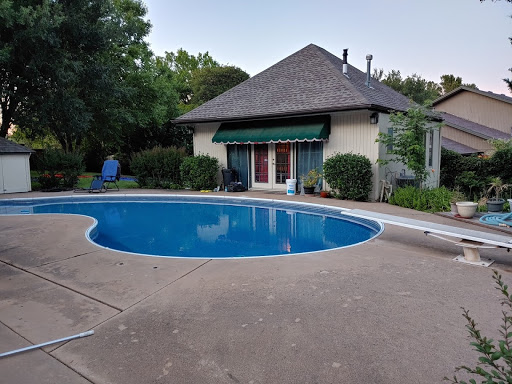 Tuesday and Wednesday, June 23rd and 24th 2020…..REST UP AND SPLIT UP!
I decided to combine these two days together because there wasn't any TAT route traveling. We were making some big decisions on how the trip would be continuing along with ending for one member.
We will start with myself and the Honda XR considering it will be the easiest. I made contact with Rainbow Powersports in Enid and they had one set of dual sport tires (Kenda K270) which would fit the motor. It wasn't the aggressive dirt tire like my Tusk Tire set but at that time I was just happy to have something which would work. After reading the reviews online I felt confident the tire would work out fine plus last me for the remainder of the trip. While at the dealership I picked up an engine oil service kit along with some more air filter cleaner. While changing out the tires I found that the front brake pads were wearing very low. I was carrying an extra set of front and rear brake pads so I swapped it out too. I spent some time on cleaning all of my camping gear along with washing all of my clothes which included my sleeping bag. Our host's backyard looked like a vagrant's camp with all of our camping gear spread around, LOL. I didn't want to take a chance on spilling any engine oil on their concrete so they let me use one of their service bays at Wako / Big Country manufacturing. While waiting for the oil to drain we were given a full tour of the facility. Pretty darn cool seeing what equipment has to be built to keep us all fed! After traveling along the TAT and seeing all the work it takes I have a lot more respect for farmers and ranchers.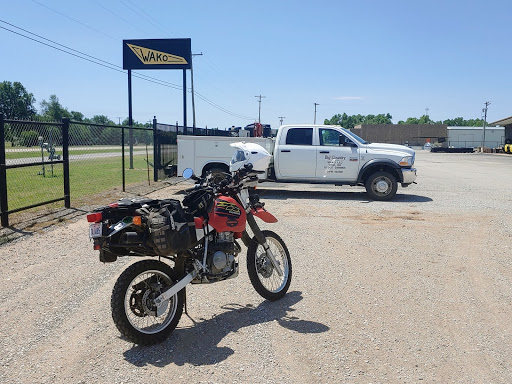 Mike's tires would not come in until late on the 24th so that morning he had already decided to end his TAT trip at Enid OK. We understood because that would have only given him about two days of riding West before having to make a u-turn and look for a route back to NC. Mike found the best rate on a rental truck and decided to haul the CB back along with the broken down Huskie.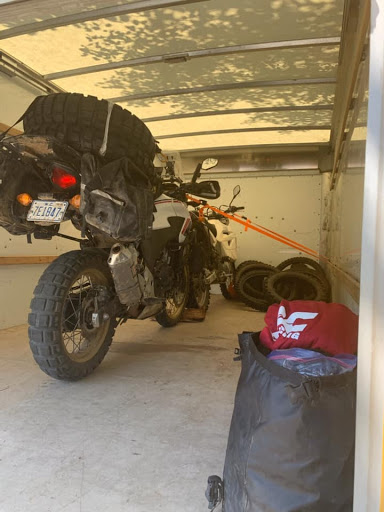 With Mike not having to work on any motors he took the time to supervise our work plus enjoying some adult beverages by the pool. I was about to throw a wrench at him!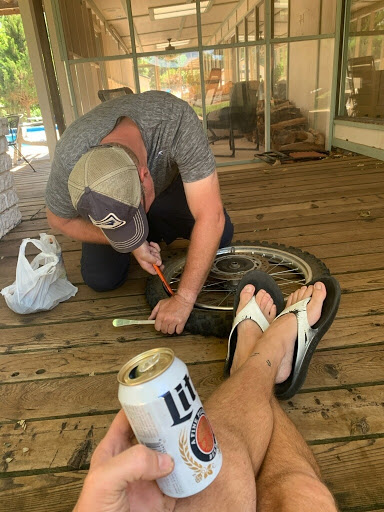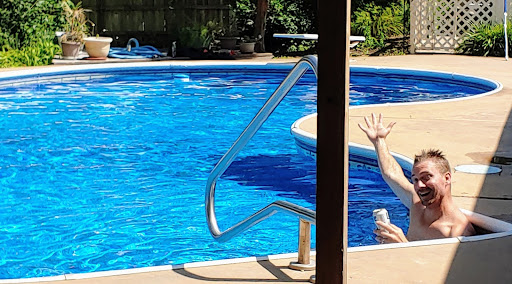 THE SHOW MUST GO ON!
Now to Eric, who had the biggest decision to make. To continue on or not!
He was worried about me continuing on alone. We both know the dangers of riding alone first hand and the possibilities on what can happen if bad luck strikes. Eric in the past had a young girl in VA pull out in front of him and total out his Triumph Tiger 1200 along with costing him a hospital trip and long down time. Then there was a different trip where I was in the Jefferson National Forest outside of nowhere VA a few years ago riding part of the MABDR. I was on my V-Strom and had a bad collision with a tree which caused me to be airlifted over injuries. There was an extended down time period for me also. I pretty much told Eric to do what was best for him. I had a SPOT plus I knew the other crew from the Charlotte Area were close to us. Plus there was the TAT Facebook page and I was pretty certain I could blend into another group without too much of an issue.
Eric made a lot of telephone calls with family and soul searching the first night in Enid. The following morning he showed me and Mike a for sale ad he had found along with the same sale ad being sent to him by his daughter. It was for a fully equipped KTM 990 Adventure about 200 miles away in Kansas. We all set down and thought of what questions Eric to ask the seller. Eric made the telephone with the seller. He found the KTM had been recently serviced thoroughly by the seller (who happened to be a moderator on the TAT Facebook page). Eric was able to workout a good price on the KTM along with getting it delivered to our location in Enid. We had been contacted by another fellow co-worker who had just so happened to retire to Enid OK so he was able to shuttle Eric around to get all sale transaction paperwork finalized. When it was all done, I told Eric it was meant for him to continue on this trip! On Thursday we spent the afternoon getting the luggage, aux lights, charging ports along with a few other items transferred over to the KTM. The KTM had a non DOT front tire mounted so the Dunlop 606 he had purchased in Tulsa was installed. After the whirlwind of the past two days I felt like we were in the circus "The show must go on"!
The KTM is set up and ready for the next day.
Thursday, June 25th 2020 YOU GO EAST and WE WILL GO WEST!
All three of us got up early this morning with a sense of purpose after getting three nights straight of good rest in bed. Mike was on the road first so he could make good time back to NC. It wasn't too long before we were getting a text message from him. Doing those early morning coms checks we had been doing for about the last two weeks. Eric and I hated seeing him take off but we both understand family obligations.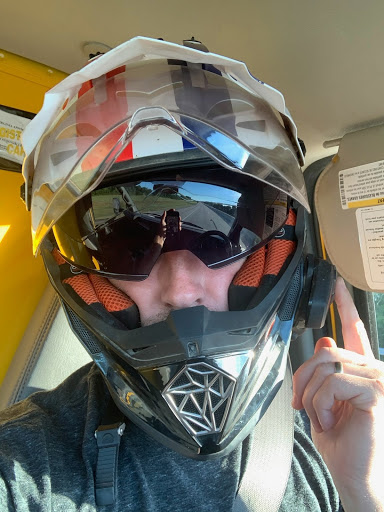 After saying goodbye to our great hosts we started back towards the TAT route which was approximately 70 miles away. As the day progressed so did the temperature upward along with the wind speed. Most of the day we had the bikes leaned over at 30+ degrees from the wind and using both sides of the dirt roads. With all of the dust, Eric and I would change out on who would be leading. His new to him big KTM was soaking up the miles without any problems. With Eric's height and size he looked a lot more comfortable on the KTM over the Huskie.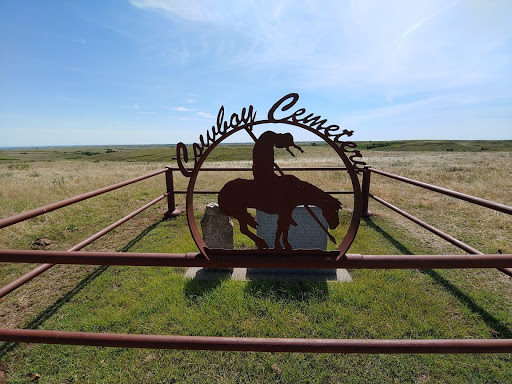 We were near the border with Kansas when we found this Cowboy grave site. I remembered seeing it on a few other ride reports. I was glad to see that it was still intact without anyone vandalizing it. The story on the newer head stone tells about the fate of those men.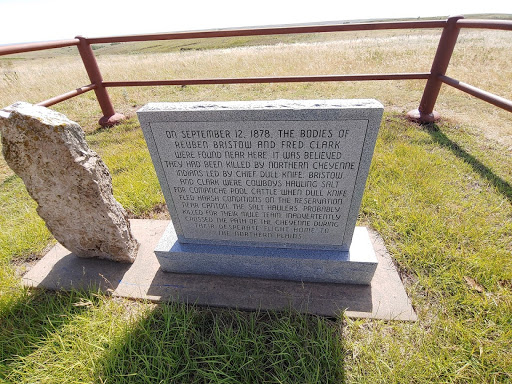 WELCOME TO THE GREAT PLAINS, YOU'RE IN KANSAS NOW!
We stopped in Liberal KS to fuel up the motors and look at our route to see where we would be setting up camp later. With the amount of daylight still available we pressed on to Boise City OK. After stopping there to fuel up the motors again along with picking up dinner and adult beverage supplies we were debating on our stopping location. We were considering camping at Black Mesa State Park but we changed plans over the heavy thunderstorm which was moving in.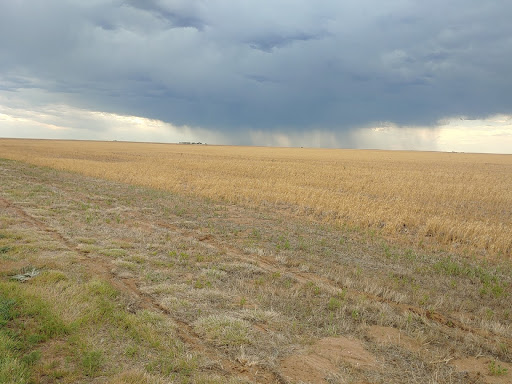 After looking at the route again we saw the Great Plains Bunk House which was right on the TAT so that is where we decided to stay. While riding to the Bunkhouse it felt that we were in a race with the rain. Upon arriving we made contact with the Owner (Parker Lee) and he met us there. He told us about how the bunkhouse came to be along with showing us some of the before and after pictures. It was a pretty neat story but after being on the motor for 11 plus hours along with traveling 375 miles I was ready to get a hot shower! If anyone is traveling on the TAT this is an awesome place to stop and stay the night.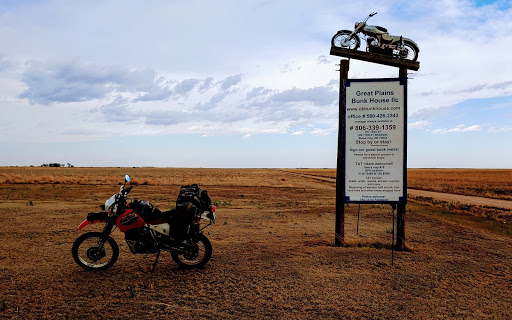 One thing that I was impressed with about the Bunkhouse is that Mr. Lee has a lock box setup for TAT travelers to have motorcycle parts shipped to and stored plus some tools for anyone to use. If you are wondering UPS and FEDX has a key to the box so supplies are kept safe.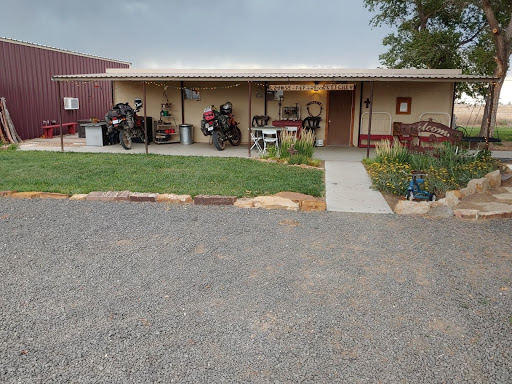 After the shower I set outside under the front awning watching the storm pass bye but we were told later that just 20 miles away in Boise City it was hit with a torrential downpour.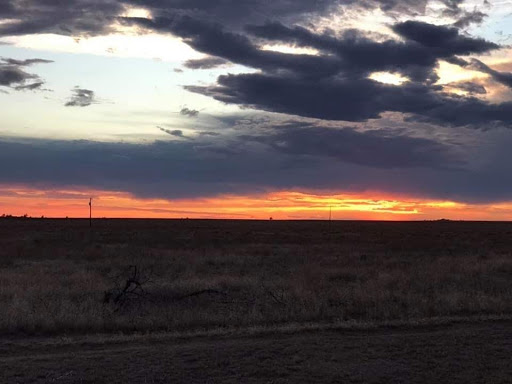 Friday, June 26th 2020…..GETTING INTO THE REAL WEST I GUESS
We were able to get a quick start this morning and it wasn't long before we were crossing the Frstate line out of Oklahoma into New Mexico. We stopped for a few pictures of the landscape along with just taking in our surroundings.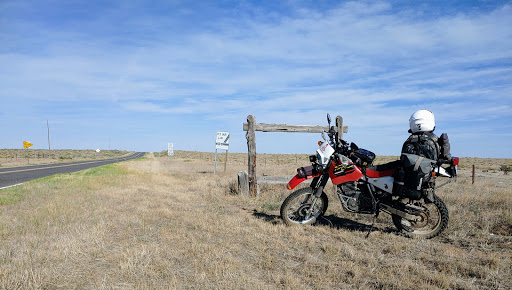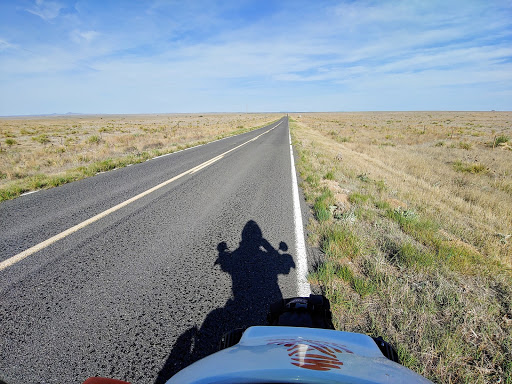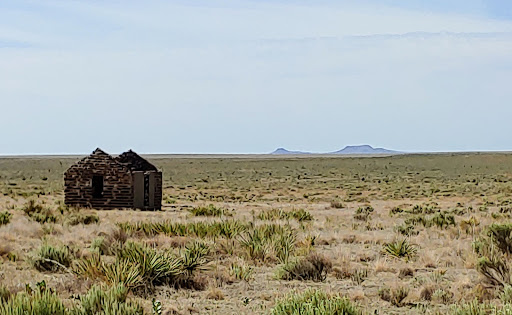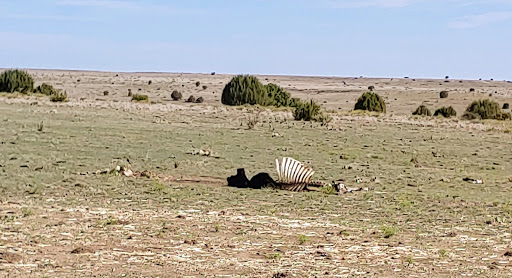 Before leaving New Mexico I told Eric over the coms that another motorcycle was approaching us. Eric noticed he was actually right behind us so we pulled over to say hello. It ended up being the injured rider from Evan Yonker's group that we learned about back in Arkansas. His first name was the same as mine so I will be calling him by his initials (JW).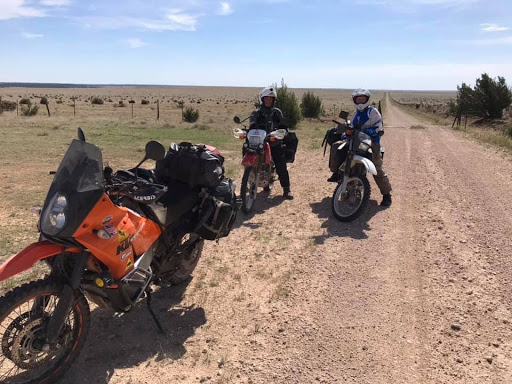 JW told us more about his injury which involved a low side crash at slow speed but where he had hard panniers on his DR-650 it caught his leg. At first he thought something was broken so he went up to Memphis TN for x-rays and was lucky to find out it was only a deep bruise plus sprain. He then went to a friend's house in Tulsa OK for recovery. While there he was watching the Facebook TAT page and was hoping to catch up with our group so he would not ride the rest of the TAT alone. JW thought he would be meeting up with us at the Plains Bunkhouse yesterday but he was caught in the heavy thunderstorm which had passed us but hit the Boise City area. Eric and I were both in agreement about letting JW join us because our thoughts are the TAT shouldn't be ridden by yourself. So now our group was back up to three.
The scenery changed very quickly going from the flat lands to the butte/plateau areas between New Mexico and Colorado.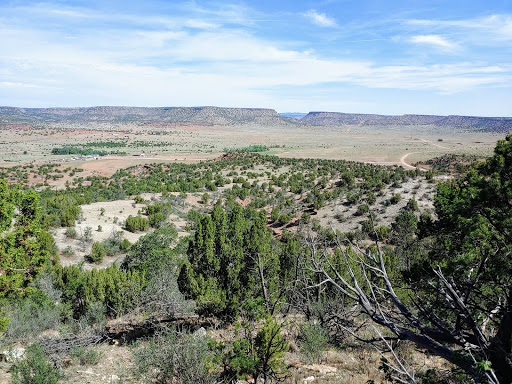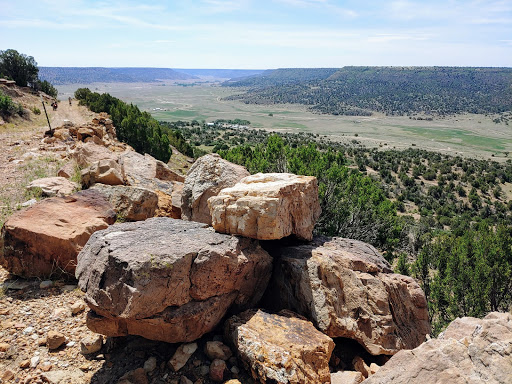 The dirt roads were quick but we had to keep a watch out for the cows and horses. We were seeing more wildlife and cows than people. We stopped in Trinidad CO for fuel and lunch which was at Trinidad Smokehouse. It was a very good barbeque! Eric was telling me about the KTM needing a rear tire sooner than later and with us getting ready to ride over the Rocky Mountain Passes. He wanted to see about getting it replaced out today or tomorrow. We checked with the motorcycle shops in Trinidad but none had a tire to fit the KTM. We started google searching and the only shop we could find with a tire to work on the KTM was going to be outside of Pueblo CO.
So we took off and rode the TAT route until the intersection of HWY 96 and HWY 165. We then rode East to Lake Pueblo State Park and were hoping to get a camping spot. Upon arrival and speaking with the state park employees we found that it was completely full, all 300 plus campsites were taken. The park employees told us that Colorado had just opened the campgrounds this weekend over COVID so it was packed. We then decided to grab a hotel room in Pueblo instead. It was getting late and after another 300 mile day we were all ready to get off the motors.
Saturday, June 27th 2020 "The Mountains are calling, and I must go."
Most of the morning was spent getting a rear tire mounted on Eric's KTM. In retrospect it was absolutely the correct decision. With what was ahead of us Eric would have had a lot more difficulties if he hadn't put on the new tire. He chose a more aggressive tire, the MotoZ Tractionator which worked very well with the Dunlop 606 front. With a quick mention on tires for our trip. JW was running a set of the Tusk Dual sport tires like Eric and I. His front tire horribly cupped and wore like ours. The rear tire wore like a normal aggressive dual sport tire should. With that really bad wear, I would not recommend using the Tusk front tire. In the past along with this trip I have had a lot better results out of TKC 80, MT-21, Metzeler and the K270.
While Eric was getting the tire mounted, I went by a sporting goods store and bought a set of thermals. I didn't see the need to transport a set from NC to CO so I waited until now. I had hiked and camped in the Rocky Mountain National Park about 20 years ago. One thing that I remembered was how cold the weather could turn in just a moment! Even during the Summer months.
It was about noon before we were able to leave Pueblo but we made quick time back to Silver Cliff CO. There we stopped in for lunch at Tony's Mountain Pizza for lunch. The food was very good and we were able to hope back on the TAT route nearby.
This is the area of the TAT where the views are amazing all around you! When you take a picture it is just a small glimpse of the beauty which you are in. Traveling along in the Aspen Forest we reached a summit and a lonely Aspen was standing there by itself. I couldn't let that view pass by without taking a few pictures. You can tell that we were very stoked! While passing through Salida CO we ran across a few ADV Riders which were traveling the Continental Divide Trail. We were pointed to a direction of some dispersed camping spots not too far out of town and it was on the TAT route. We stopped for fuel plus some supplies for dinner and of course adult beverages to enjoy by the evening campfire.
A great camping spot was found just below O'Haver Lake at about 9900 feet! While we were setting up camp a Chaffee County Sheriff Deputy stopped in to let us know that due to the dry conditions a fire ban was in effect. Yea we were bummed but with the heightened chance of starting a forest fire we completely understood. When the Deputy found out that two of us were retired LEO's he stayed for a period of time and chatted. It was good to get a perspective of seeing our line of work from a rural setting.
After sunset the temperature dropped very quickly so those new thermals were seeming to be a great purchase!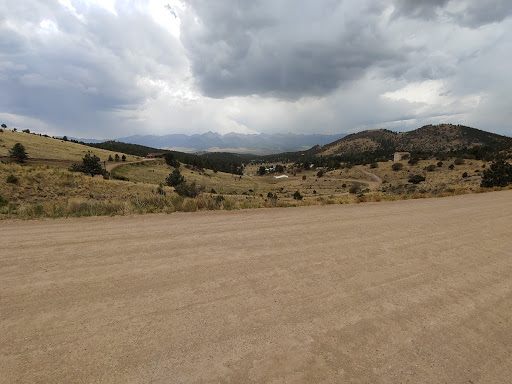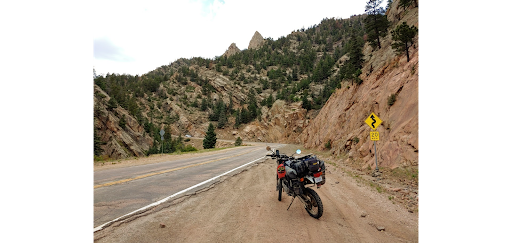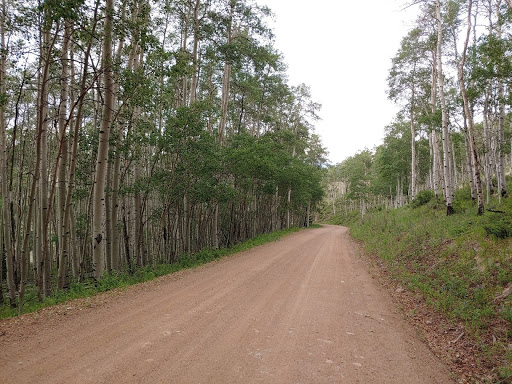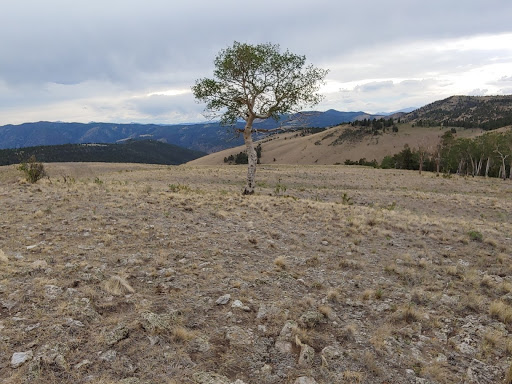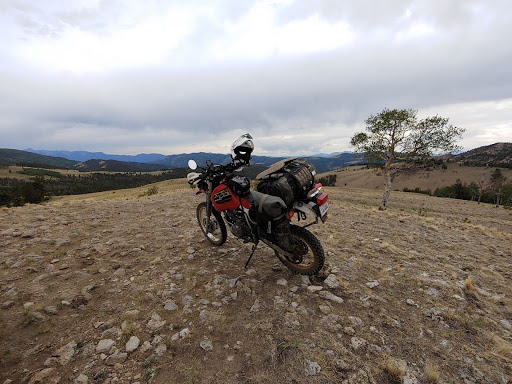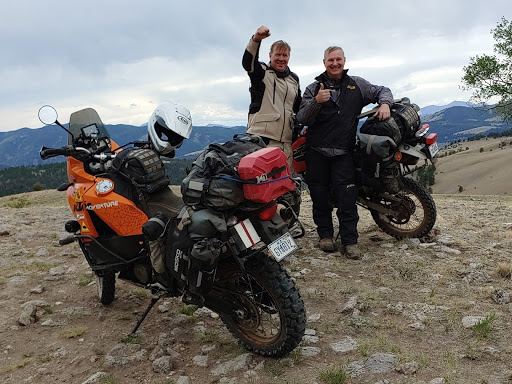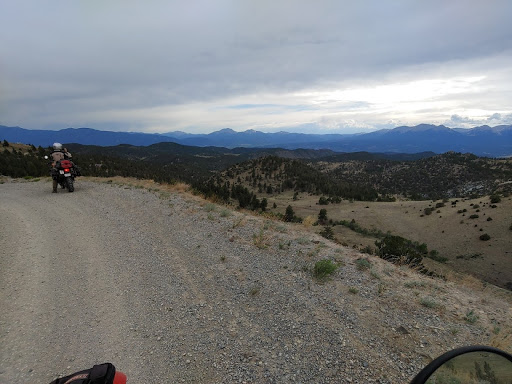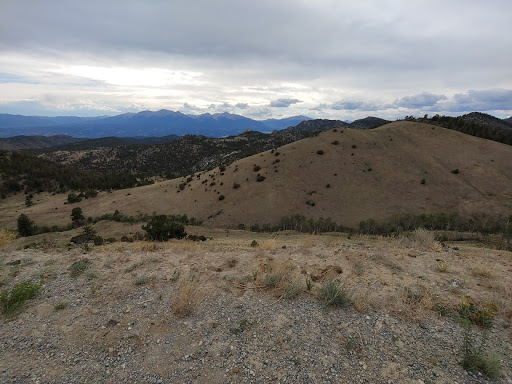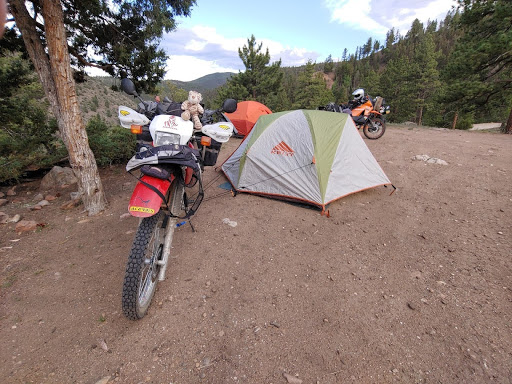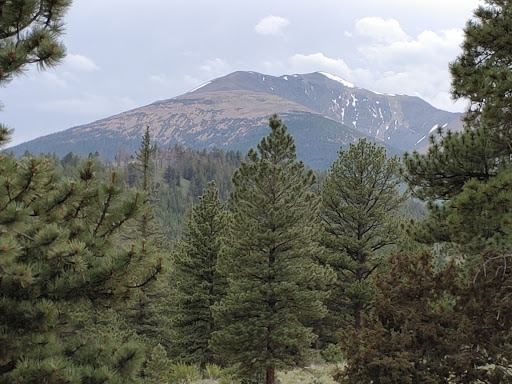 Sunday, June 28th 2020 HOW HIGH CAN WE GO?
We woke up to a crisp/cool morning, it was only about 40 degrees which was pushing my comfort level overnight in a 45 degree rated sleeping bag. The hot instant coffee was at least warm. 🙁
We broke down our campsite and had everything loaded back on the motors fairly quick. Before leaving the area we deposited our trash in the dumpster at O'Haver Lake Campground which gave me a chance to get a picture of the lake. The campground was packed with people so I was happy to have enjoyed our little dispersed camping site instead.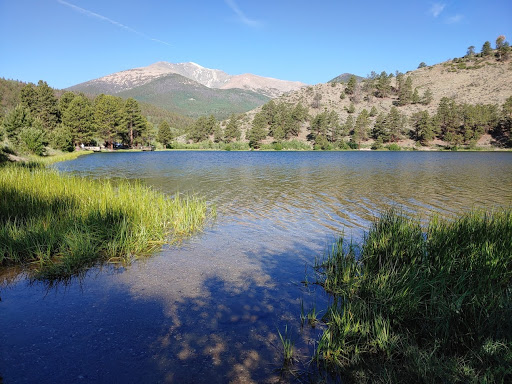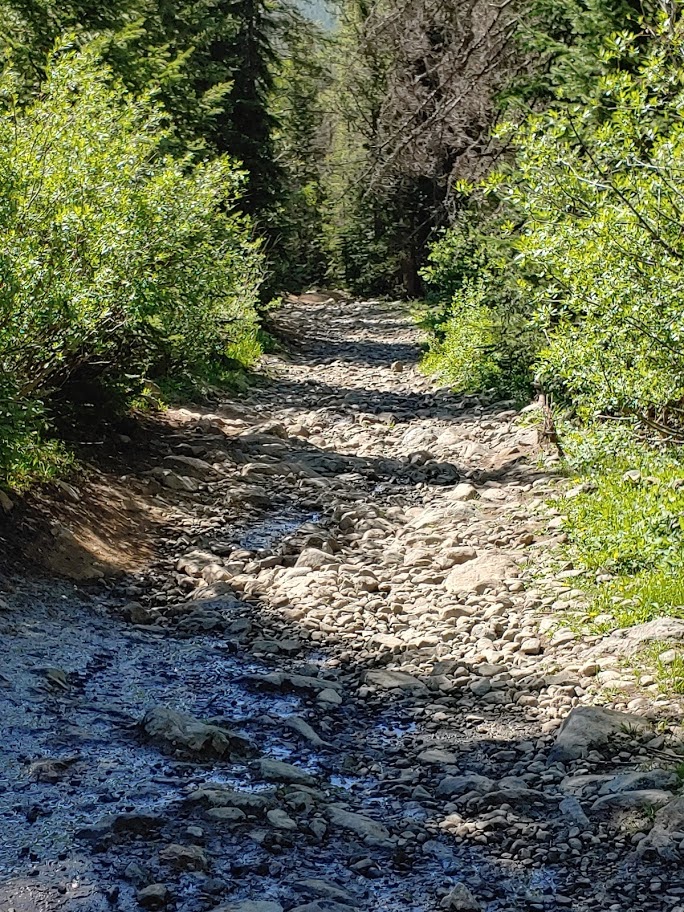 After looking at the mapping on our GPS we figured out which road was on Sam's Route so off we went to tackle Marshall Pass. It was phenomenal with the creeks, the rocky roads and one part which reminded me of a simple goat path! All three motors did well all the way up to the summit of the Continental Divide where we stopped to take some pictures along with a quick break.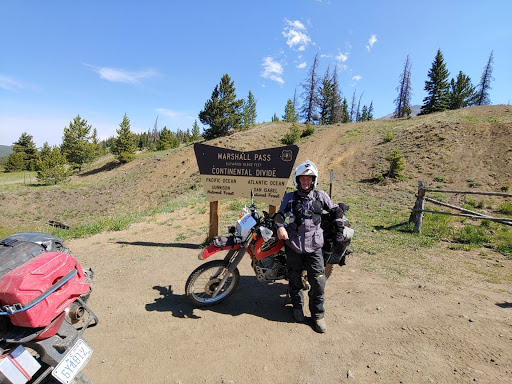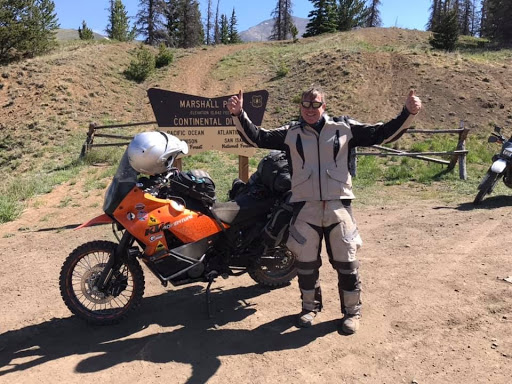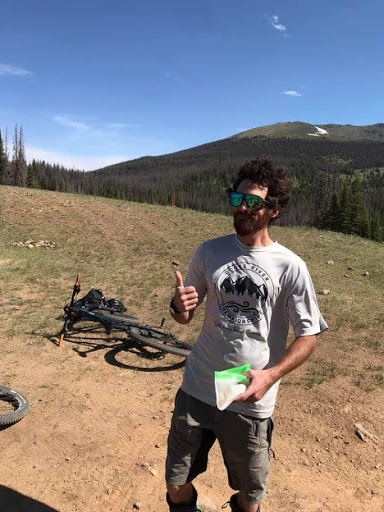 A mountain biker, who was there doing the same thing as us, walked over to chat. He had seen the NC tags and was taken back when he found out we had ridden out there all the way without trailering. He was a graduate from WCU so it was pretty nice chatting with someone from our little area of the world.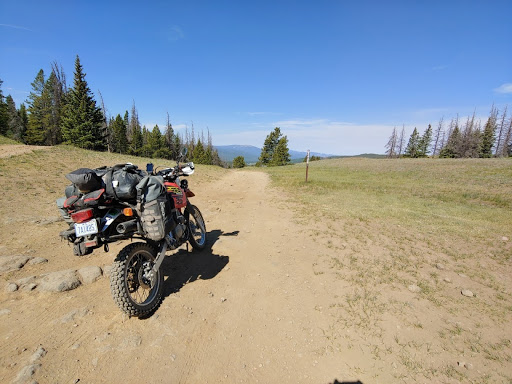 It wasn't too long before we were exiting off the dirt roads and happened onto the Tomichi Creek Trading Post near Sargents CO.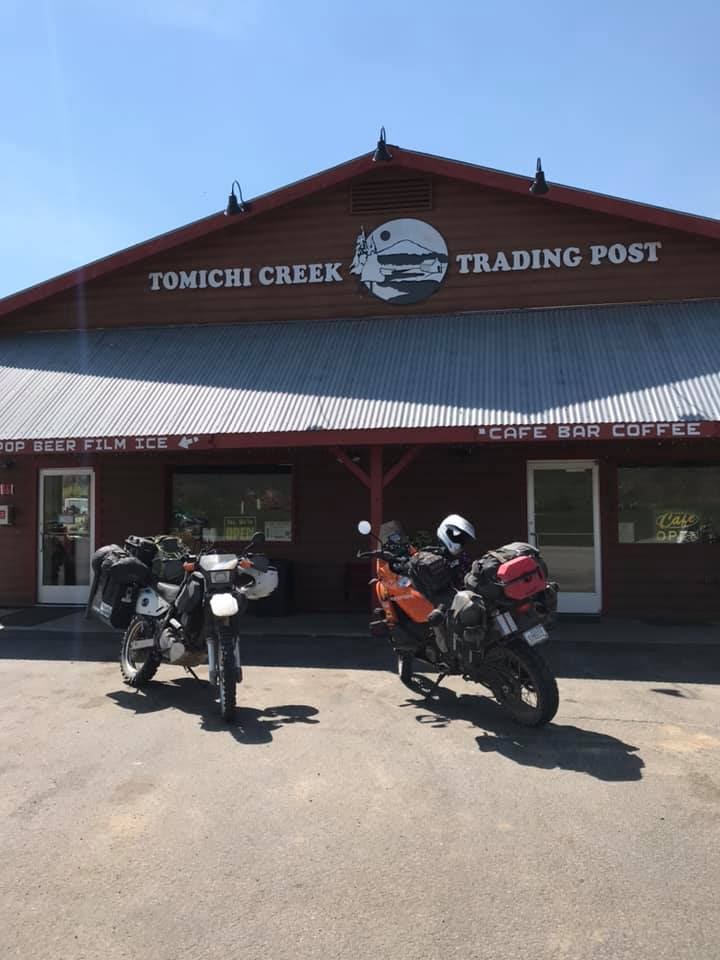 We filled up the motors and went inside to get some real food. I ordered a bacon, egg and cheese bagel with a real cup of coffee! Yea it hit the spot!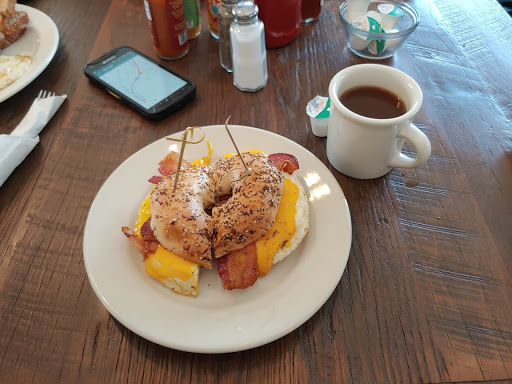 While eating we started talking with the couple which was next to us and found out they were the owners. The husband had his KTM 1290 setting outside in the parking lot so we invited him to ride the day with us. With the look his wife gave us and him it was a good choice that he didn't leave. LOL Before departing we saw another group of riders and had a quick chat before starting back on the TAT route.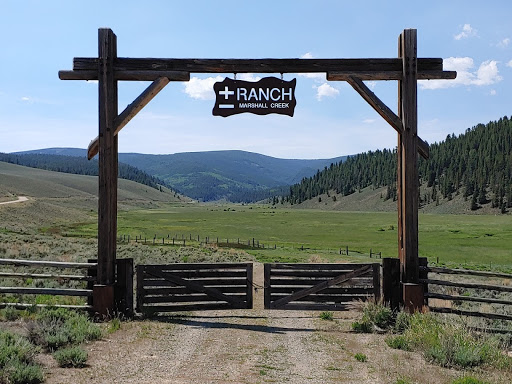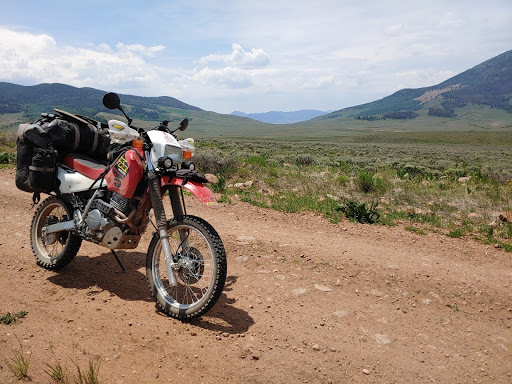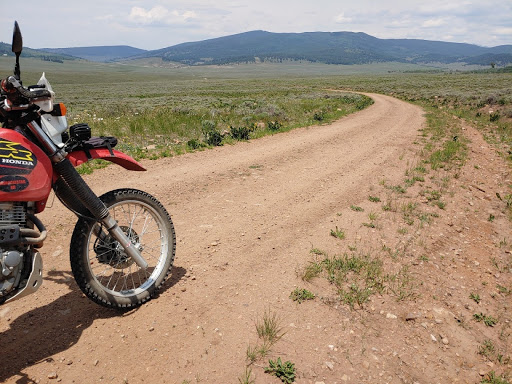 CRUISE ON DOWN TO ELECTRIC AVENUE
The rest of the roads for the day were not nearly as much of a challenge like Marshall Pass but the views were still outstanding. Everything was going well until Eric said over the coms that all of the dashboard lights were flashing and the KTM was running funny. We decided to stop and see what could be the problem.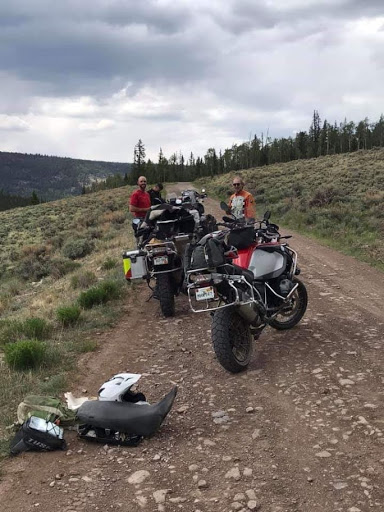 When Eric turned off the KTM it completely died. We started pulling out tools, cleaning electrical connections, checking fuses and finally located the issue. The new battery had a broken internal terminal so it wasn't getting any power. I could take a long screwdriver and push the terminal down to get the dashboard lights to come on but not enough power to turn the starter over. I guess those rocks on Marshall Pass must have found the battery manufacturer's defect. We were deciding which one of us would ride out to get either another battery or jumper cables when a group of BMW GS riders rode up.
They were a life saver because one of them had jumper cables in his pannier box. JW was able to reach his battery pretty easy on the DR so we used his motor to jump off the KTM. While we were doing all of this work, I looked back and one of the GS riders was using his pannier box as cooler so they were having a few beers while supervising us. It reminded me of Mike back in OK while I was working on the XR. The whole group was a great bunch of good hearted guys. Once the KTM was running we closed up the battery box and installed the skid plate while Eric held enough throttle to keep the KTM from stalling. We then told him to ride on to Lake City because it would be the only place close (40+ miles away) to hopefully find a replacement battery. JW and I packed up our tools along with securing the luggage back to the motors before saying thanks again and taking off.
We found Eric at Lake City Auto & Sports Center but they didn't have a battery for the KTM. So after making some telephone calls it was certain we needed to find a place to stay. I checked around the small town where I found Elkhorn RV Resort. When the owners (Alan and Linda) heard about the issue we had, they told us to set up tents in front of their office's grass landing. We couldn't have found a better place! If anyone on the TAT needs a place to stop and rest with clean hot showers along with a great atmosphere this is it. I went back and used my tow rope to get Eric and the KTM to our camping spot.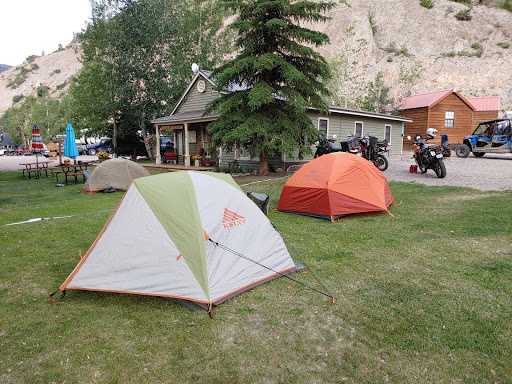 All in all we were still having fun!
I also have a non edited video of us going over Marshal Pass. Mike had left me his GoPro which I mounted to my chest. I wasn't taking any chances of losing it so the view isn't perfect.
Qhttps://youtu.be/bzg73_I3vR
Monday, June 29th 2020 ROCKY!
Who could ask for a better place to wake up in than the Rocky Mountains! The view out of my tent's door was phenomenal.

I talked with Eric later in the morning and there was good news about locating a new battery for the KTM. A replacement was found in the town of Gunnison CO at the local O'Reillys Auto Parts Store about 55 miles away. I offered him to use my XR to make the run to get it but Eric was already been in contact with a local auto repair shop. The owner "Renea" had a person picking up parts at the Gunnison NAPA the following morning so for a few extra $$$ they would pick up Eric's battery also.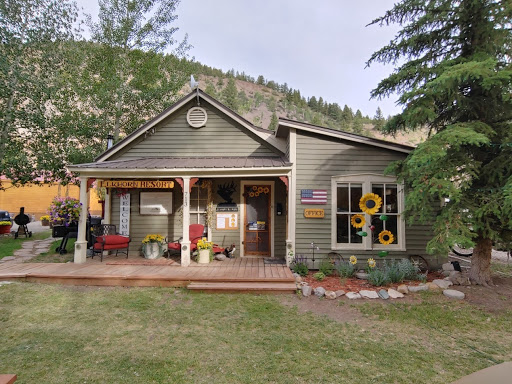 With the KTM issue being taken care off we took off to explore the town of Lake City.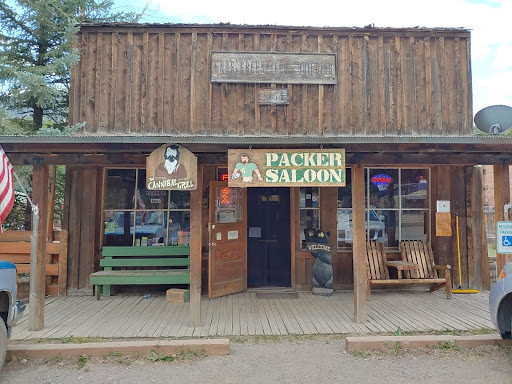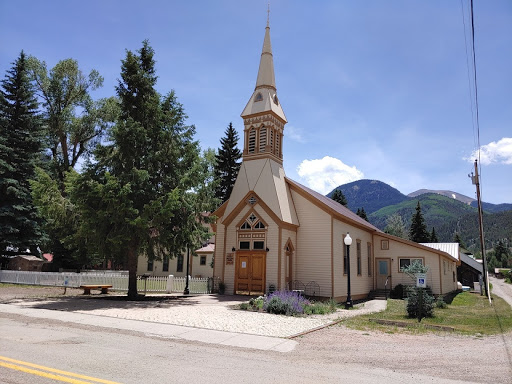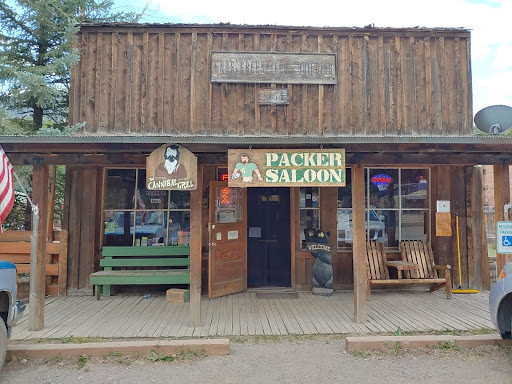 Later that afternoon we ate at a local Saloon called the Cannibal Grill/Packer Saloon; the food was really good and on my recommended list.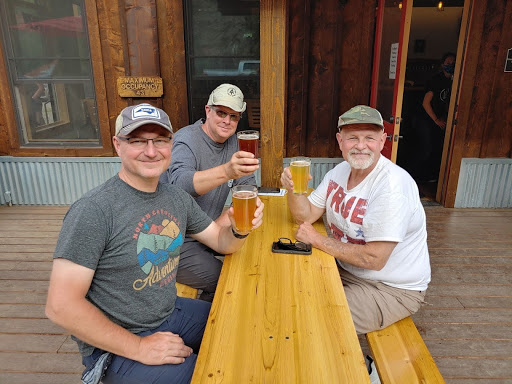 We then walked over to the Lake City Brewing Company, which was only a short distance, for a few pints! It was a good choice plus we ran into the Commanding Officer of the NC Air National Guard Base in Charlotte NC. It really is a small world! We then walked back to the tents and called it a day.
Tuesday, June 30th 2020 SHORT ON MILES BIG ON FUN
The night had gotten a little cool and at one point there were ice drops pelting off of the tents. None of us were in too much of a hurry to get out of the sleeping bags until the sun came out and it started to warm up. The battery for Eric's KTM arrived around 10 o'clock so by noon we were packed and leaving Lake City CO. We didn't realize the total mileage for the day would only be 60 miles but it was some of the best roads we traveled so far on the trip.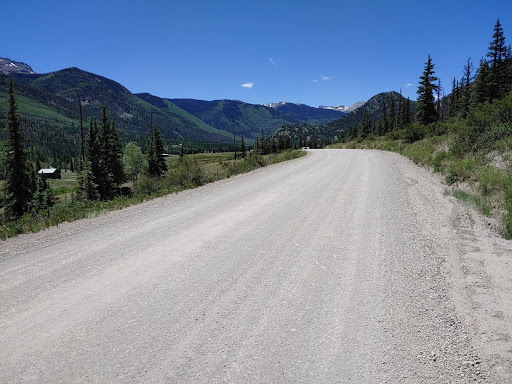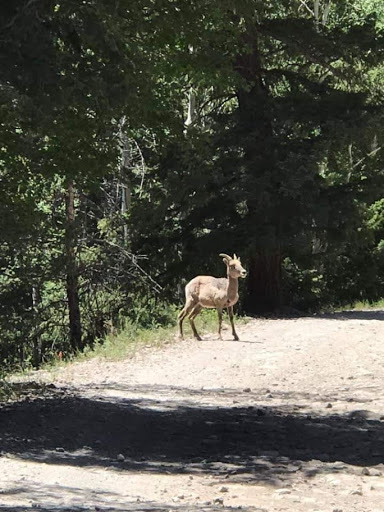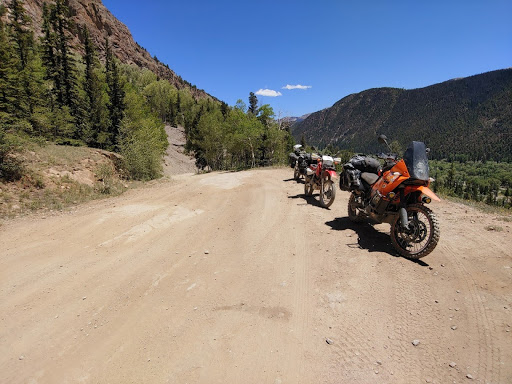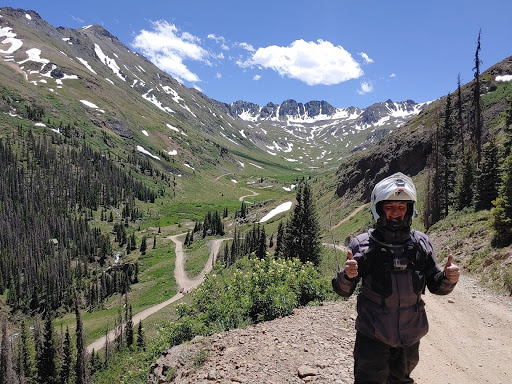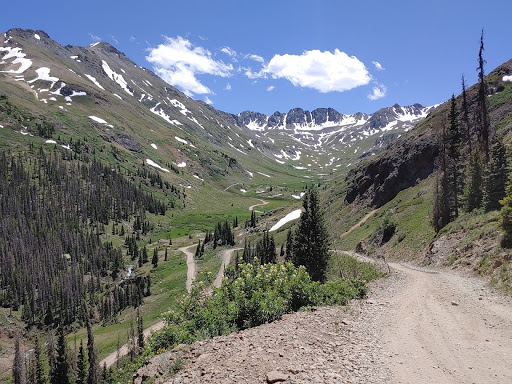 Cinnamon Pass was first and while we ascended the mountain there was another group of TAT riders on trail too.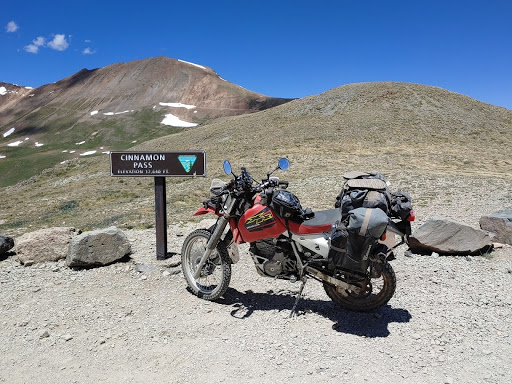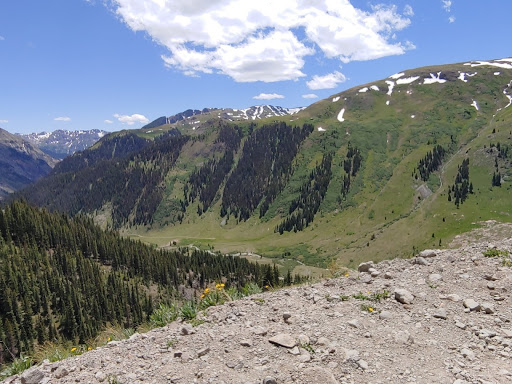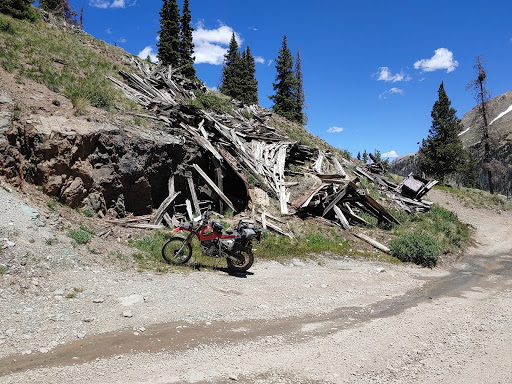 We were passing each other through the different sections and at a couple stopping points we had some interesting chats with them. All of the guys seemed like good men of different age groups. The road/trail was rough in a few sections due to the avalanches they had over the winter but all of us motored our way through it and up to the summit of Cinnamon Pass.
I have a couple unedited videos of us traveling up Cinnamon Pass. The video can be kind of boring without any music but it gives you a good idea of the trails.
After Cinnamon Pass we made our way to the old abandoned mining town of Animas Forks along with The Frisco Mill and Bagley Tunnel. I've seen pictures of the structures in other ride reports but you really don't get a proper aspect of the area until you have experienced it for yourself.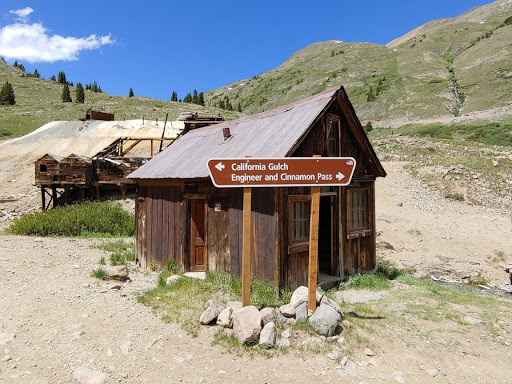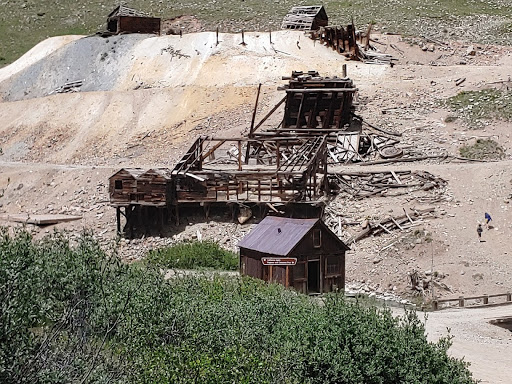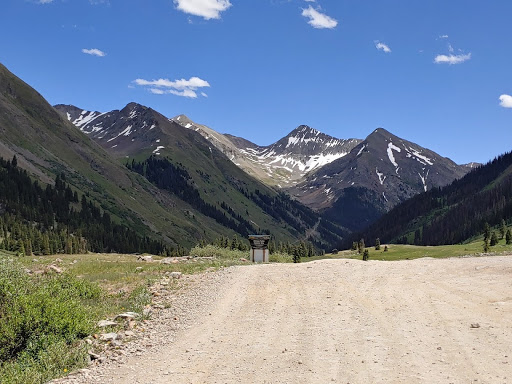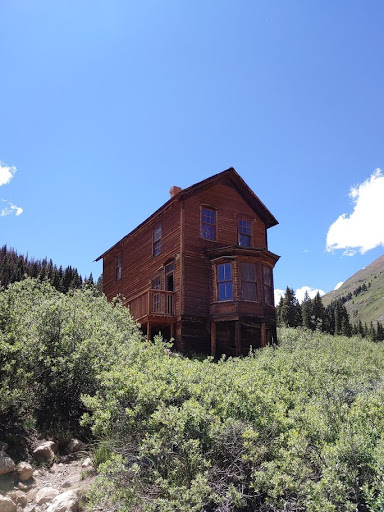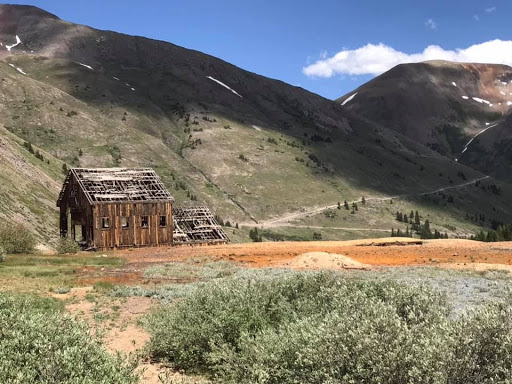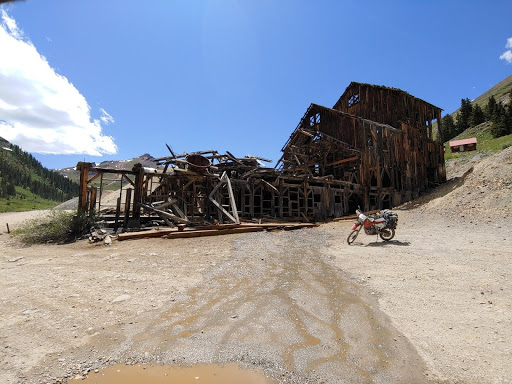 I found a good web page on the area's history.
https://savingplaces.org/stories/ghost-of-a-chance-animas-forks-colorado#.X–rCdhKiUk
The next summit to cross over was California Gulch which was a hell of a road! It was a beast for our loaded motors and the near 13,000 FT summit. All three of us were picking up motors in different sections and helping each other. It really took the wind out of me and I had to rest for a few at the top. I thought we were just being soft until I noticed the other group of TAT riders were scattered all over the trail also picking up motors. I wish I had the GoPro recording for this but the battery was dead. 🙁 The views made all of the hard riding worth it!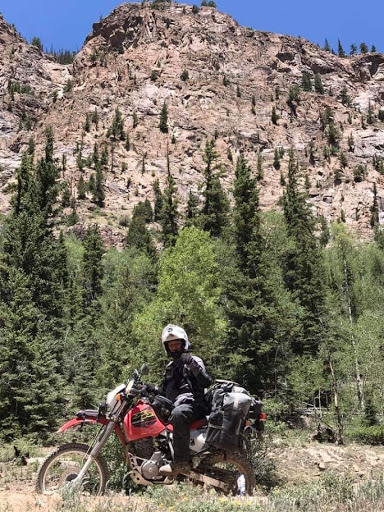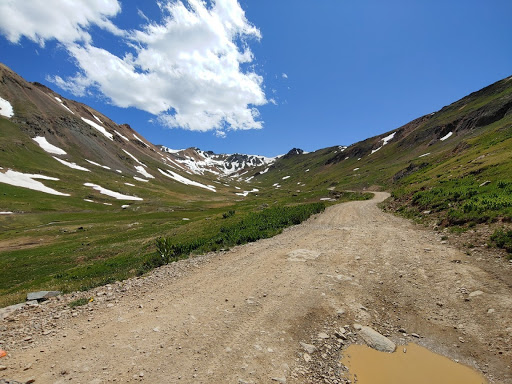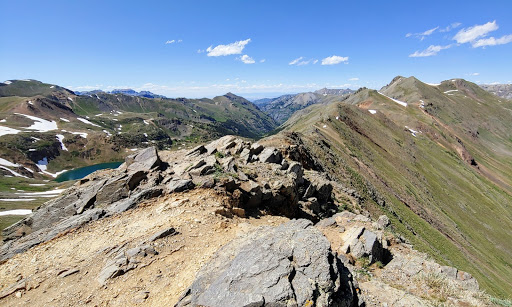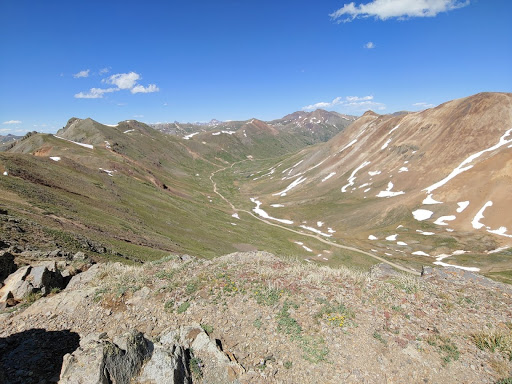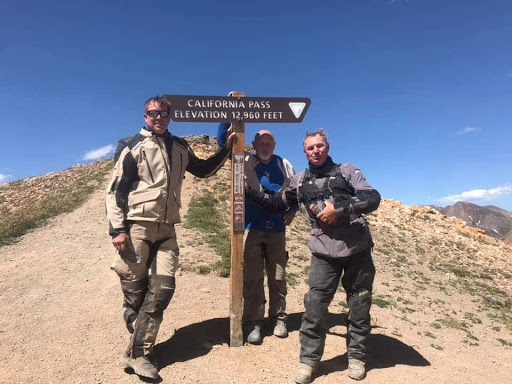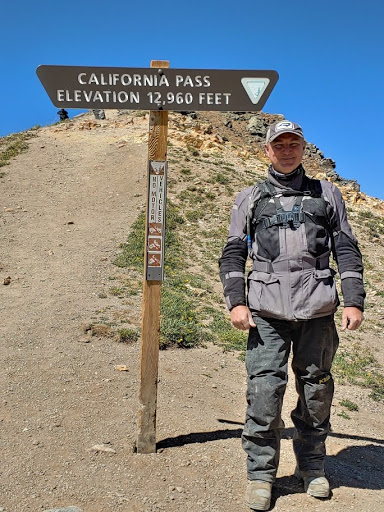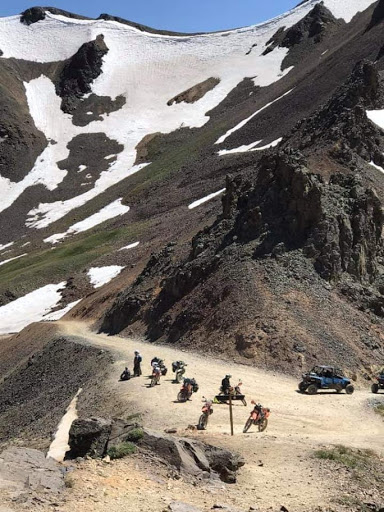 We finally made our way to HWY 550 (The Million Dollar HWY) and was looking at the route on the GPS. It was getting late and we had checked the weather report before leaving Lake City. It was calling for a low of 30 degrees so it was unanimous about finding a hotel room with heat for the night. Silverton was the nearest town so that was our destination.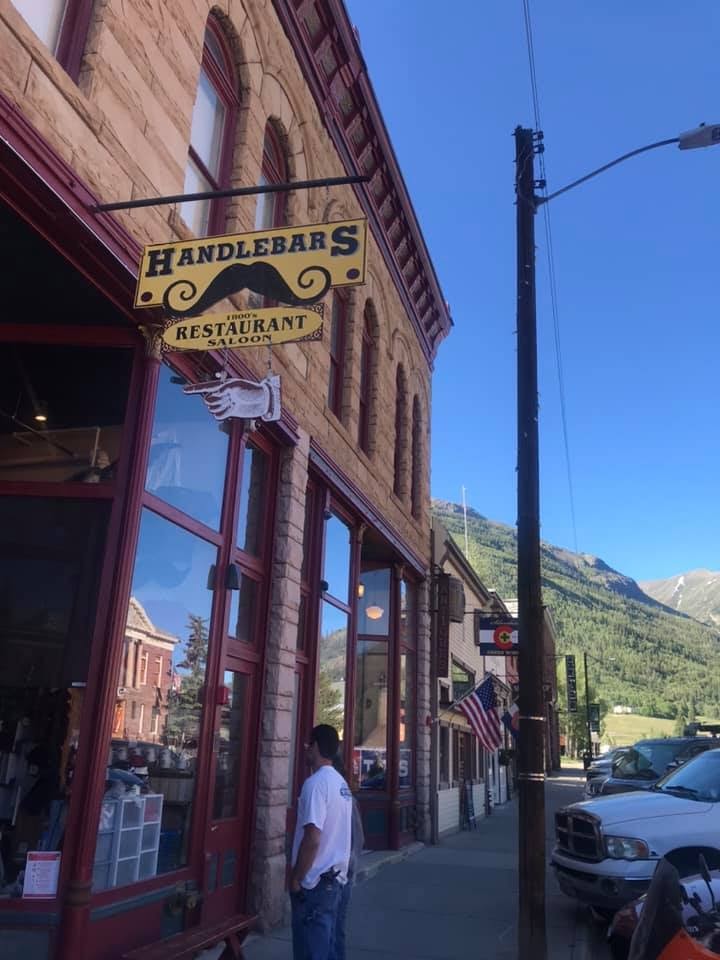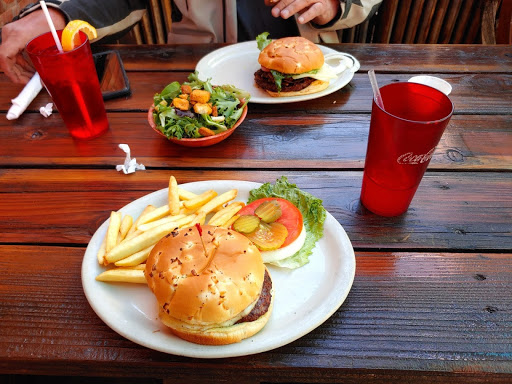 There we found a good meal at the Handlebar's Restaurant & Saloon along with a hotel room Triangle Motel. After waking up the next morning with ice in our Gatorade bottles which were left on the motors we knew it was a good call.
Wednesday, July 1st 2020 HOW THE ROCKY MTS. GOT THEIR NAME
We got up this morning feeling rested and thought while we were actually in a town it would be nice to have a warm breakfast along with some real coffee. We walked through the main drag of Silverton and found the Coffee Bear Restaurant in the W.C Rogers building.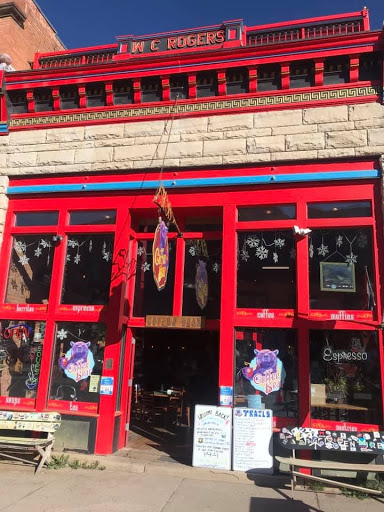 After ordering our food at the counter we found out it had a rooftop dining area so we climbed up the stairs and enjoyed our breakfast there. I haven't found a bad view in Colorado yet!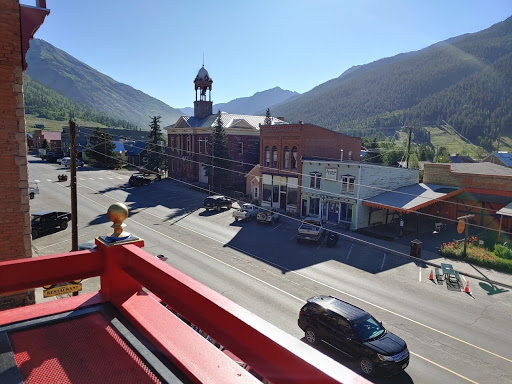 While in town the evening before I picked up a few items for the family back home in NC. I went by the local post office and mailed the items back instead of carrying it with me. The XR was already heavily loaded and I didn't want to add anything else to it. We left town around 9:30 AM.
It wasn't long before we were back on the dirt roads and ascending Ophir Pass. The views were outstanding like the day before. Once we reached the summit of the pass the elevation was 11789 FT.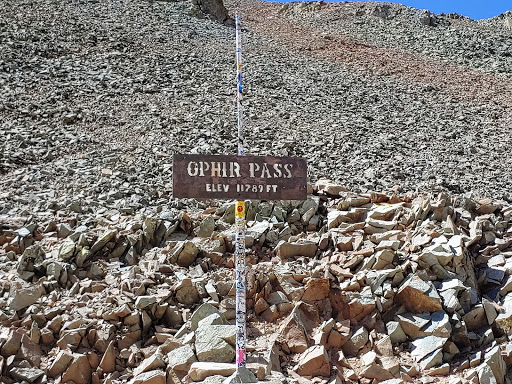 We met a few gentlemen from Utah who were riding part of the TAT from a West to East direction. They were only riding to the New Mexico border with Colorado. They warned us about how slippery the road was ahead due to the rocks. There was an avalanche at some time recently and the repair crew cut away a new road for the mountain pass and used the same rocks from the hillside. One of the riders was on a Royal Enfield Himalayan and he told us that his center stand had gotten caught on the rocks at one point. We proceeded with caution and found that those guys were not exaggerating. The rocks were loose and would shift around easily with the motor's weight. I kept my man card in the back pocket for this area and stayed very close to the inside edge of the road. Good news we all three made it through without any real problems.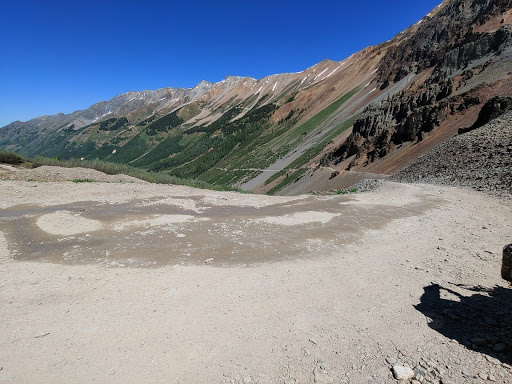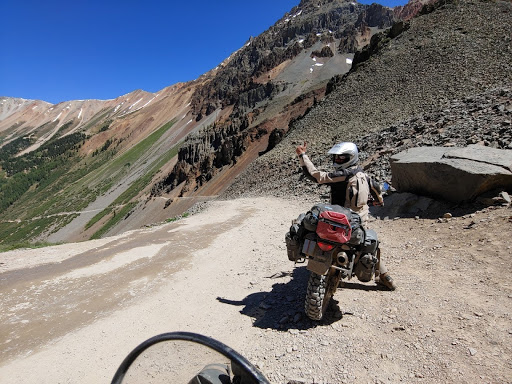 After the pass we made it into the actual town of Ophir which didn't have that tourist trap feel. There were a lot of signs posted for ATVs and the side by sides were not allowed on the city streets. I guess they wanted to keep that small community image. We ran across a couple kids with a lemonade stand so a stop was in order to help the young entrepreneurs. 🙂 We made good time on the dirt roads all the way up to Groundhog Lake.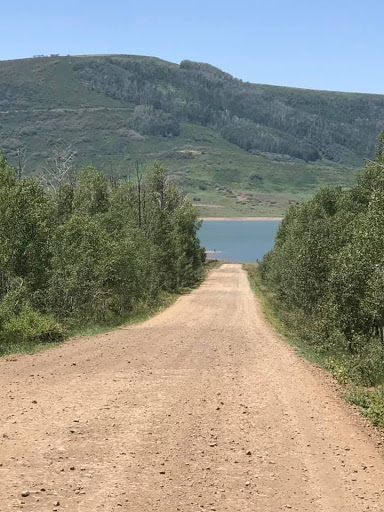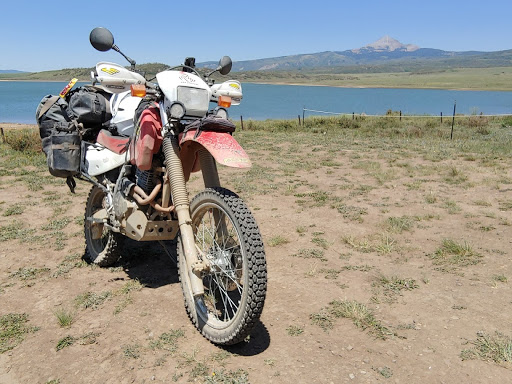 We had given this location as a possible camping spot the day before but we couldn't have reached it before nightfall. One issue we ran into through most of the trip was determining how far we could travel per day on the maps. With the constant changing road conditions it was real pain. We got into a good routine at about 3 PM each day we started looking at the GPS or maps on our phones to find our stopping location for the evening. It wasn't perfect but it was flexible.
UTAH!
After leaving the Groundhog Lake area the mountain range landscape changed over to a more high desert look. It wasn't long before we were crossing the state line entering Utah.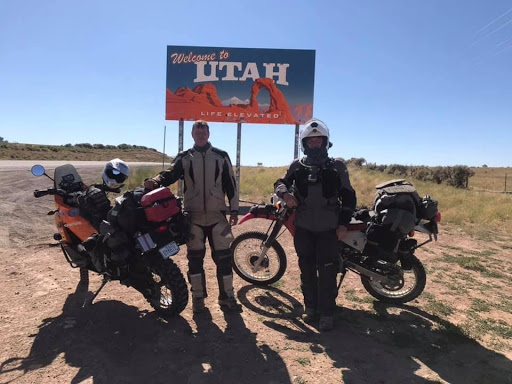 We picked up some needed supplies in the town of Monticello UT and online searched for a camping site. We located the Dalton Springs Campground just a few miles outside of town in the Manti-Lasal NF which had plenty of spots available. The camp hosts were very friendly and when they found out how far we had been traveling for our trip offered us some free firewood. We didn't say no and for only the second time on our trip we had a campfire for the night.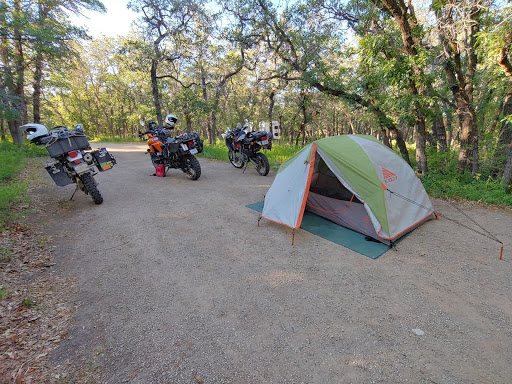 In all we had traveled 150 miles for the day.
Video link to us on Ophir Pass.
Thursday, July 2nd 2020 21 DAYS ON THE ROAD AND MORE TO GO! ON TO MOAB!
We got up early this morning and were able to get the campsite broken down and packed away pretty quickly. This day was number 21 for us being on the road away from NC. Before leaving town we stopped in at a Subway/Gas Station combo for a quick breakfast plus some drinks to put on the bikes for later in the day. Sam's route had us turning back east of HWY-191 and we could see the Colorado Rocky Mountains off in the distance. I wish we would have stopped in the 3 Step Hideaway for a quick look now that Bill-Dirt had me look it up on Google. I will stop there next time! We continued traveling North and it wasn't too long before we entered into the Mant-La Sal NF and crossing over the Geysler Mountain Pass at a height of 10,500 FT it was a welcomed surprise. Another great spot with wonderful views.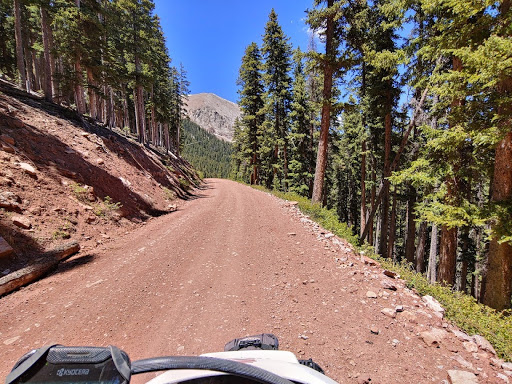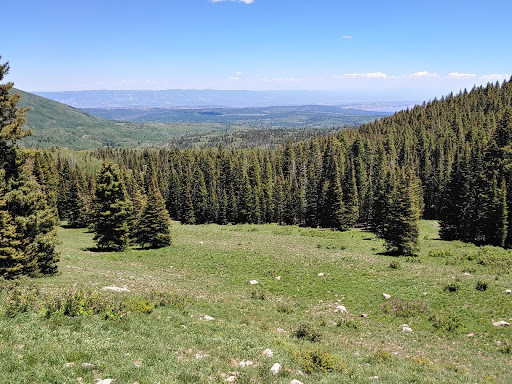 Once we descended out of the mountain pass we entered into the desert area traveling towards the city of Moab. We had to make an unexpecting stop when JW picked up a large nail in the rear tire of his DR so we helped him get the tube replaced out. This was the first time we had real tire troubles on the trip. It amazes me how a nail of that size can find its way into a small motorcycle tire.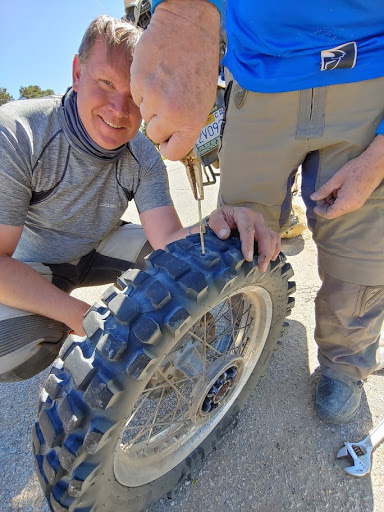 Sorry selfless shot of the XR while they were changing the tube out.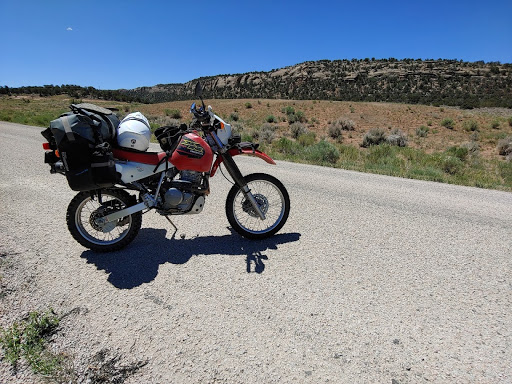 The ride through the desert was a first for me and the views were stunning. Before entering MOAB we stopped for a few minutes to take in the views.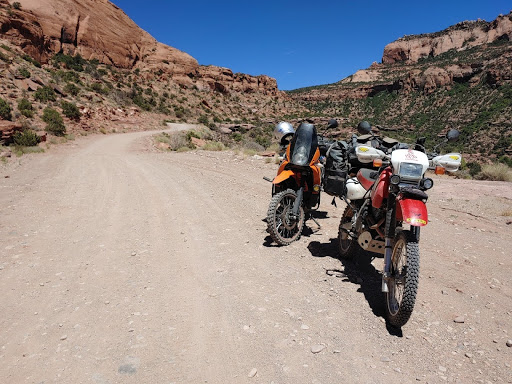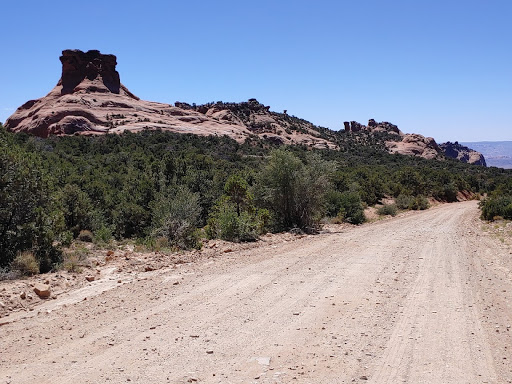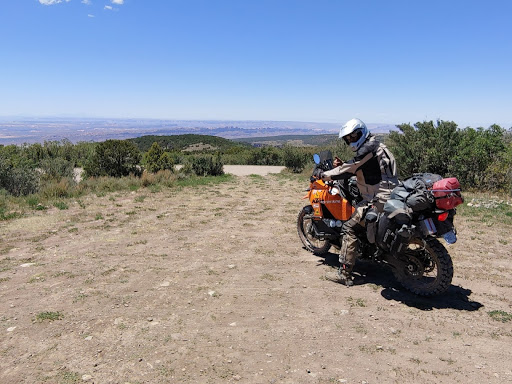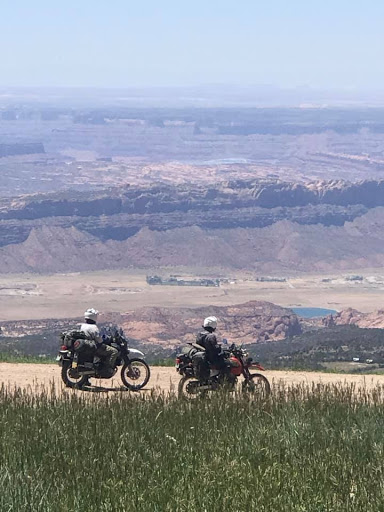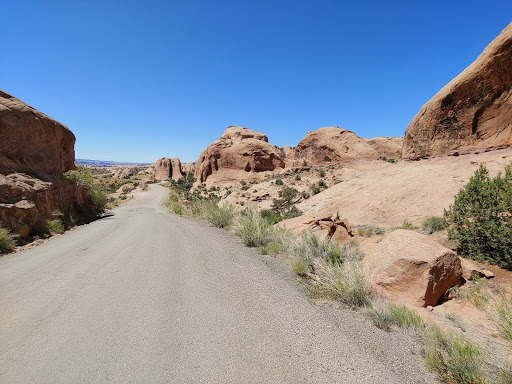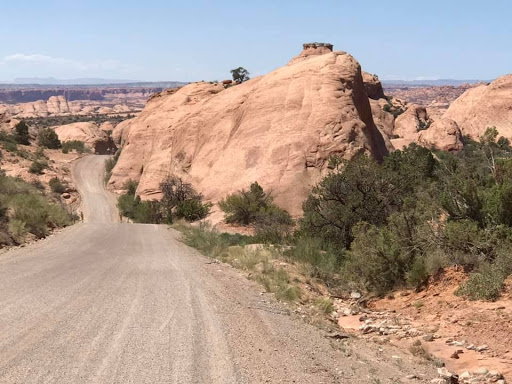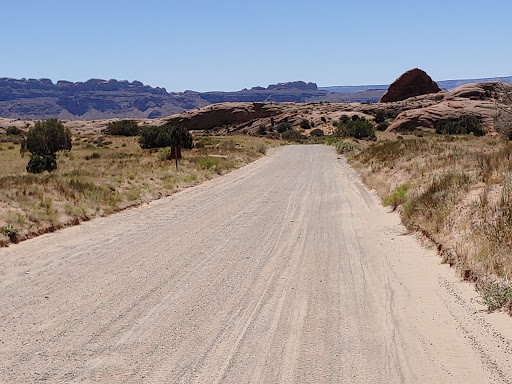 We were looking on the GPS and noticed that Moab had a few motorcycle shops so we were in luck for JW to find another inner tube for his DR. That nail had ripped the tube badly so it couldn't be repaired and he needed a replacement. Plus Evan Yonkers was in Moab with his broken down DRZ-400. He was having electrical issues and was there waiting for more parts to arrive. Evan had made a trip to Rocky Mountain ATV Sales in Payson, UT getting parts for his DRZ and while there he had also picked up JW a set of soft panniers. JW had had enough with the hard panniers on his DR so he was going to change it out this evening. With everything going on we decided to look for a place to set up camp. I made a telephone call to Moab RV Park which was close to our TAT Route and spoke with the office person. The campground had open tent camping spaces so we were in luck. When the office person found out we were on motorcycles they warned me that the camping area was gravel which made me laugh. She told me later this was for the Harley Riders because in the past they had quite a few complaints. Once we set up camp Eric and I decided to stay at the campground ordering a pizza along with enjoying a few adult beverages which were for sale at the RV Office. JW instead went and had dinner with Evan. The campground had a lot of good amenities but had one negative; road noise! I had to sleep with ear plugs to shut out the noise. Just a warning if anyone else decides to stay there.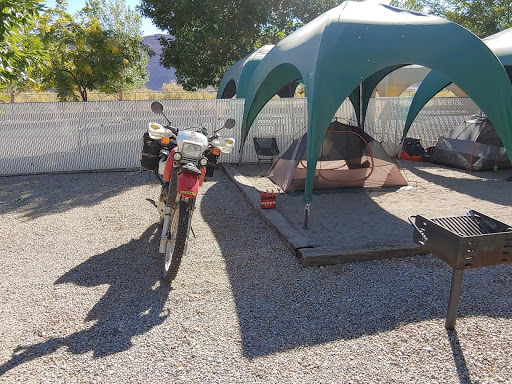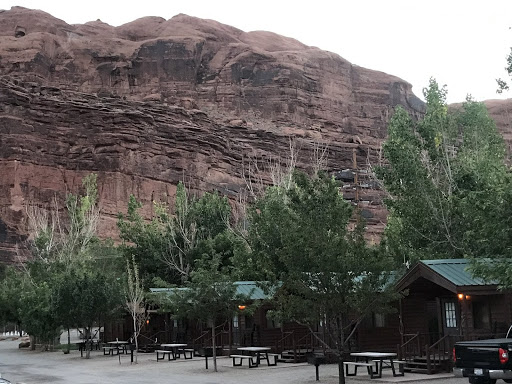 Friday, July 3rd 2020
The weather was perfect overnight with a temperature in the low 60's along with a good lower temp to start the morning at before entering the desert. This was also deceiving because it was going to get hot with what I learned later was called the dry heat. Being from the southern part of the USA we have humidity and you know how hot you are by the sweat in your clothing. The desert we found to be a lot different with that dry heat, it evaporates your sweet so we found out you can overheat quickly if you're not careful.
We topped off the fuel on the motors and grabbed some supplies from the local convenience store. While in the parking lot this guy pulled up in a desert modified 1967 Ford Galaxie XL coupe.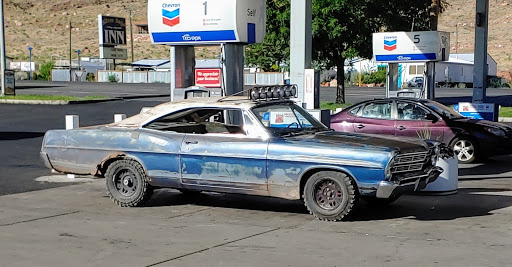 It's the blue car in the pictures above that Eric posted. The owner was in a hurry getting to where he needed to be but stopped for a few minutes to talk with me about the car. Pretty much he runs it on the desert roads and has a hell of a good time with it. He asked about my ride so I pointed to the XR and gave me the approval smile. I wish we could have talked more being the motorhead that I am but we both needed to be making miles.
Once getting back to our campsite JW was putting the final touches on packing up his campsite with his new soft Tusk Panniers. He was extremely happy to be changing out from the hard panniers. If you wonder how much? He left it sitting next to the dumpsters at the campground. Kind of reminds me of the old 80s song once bitten twice shy. LOL While JW was packing I went across the roadway and took some pictures of the Colorado River which was very close to our campground. All I can say is majestic!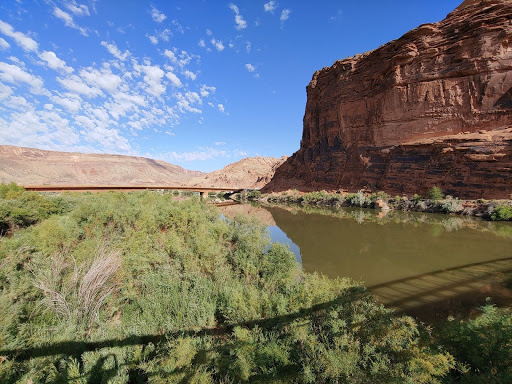 We traveled North on US HWY 191 and near Arches National Park we made a left turn away from it onto a dirt road. When I looked back at the traffic starting to back up a good bit at the Parks Visitor's Center Entrance I liked the direction we were heading a lot better. It wasn't too far before we pulled over to take a few pictures of the landscape.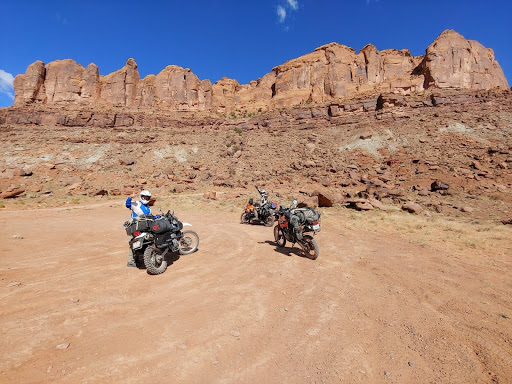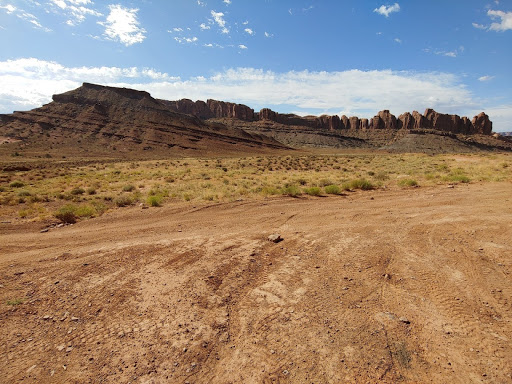 It was completely different from any place which I had experienced. We ran Sam's route which was the middle of HWY-191 and the Green River. We crossed over I-70 and ran on a section of dirt road which paralleled the Interstate. It was funny looking at some of the passengers in the cars watching us. The kids took the most interest in us so we gave them a few waves which we could tell made their day.
Once we reached the town of Green River we topped off the tanks for the motors and grabbed a few more drinks from inside of the convenience store. I finished off a Gatorade because the temperature was already starting to rise quickly. We then turned out of the town and back into the desert. The road was hard compacted dirt but there were many sections which had sand that covered it which made it very slick. We really needed to keep a good focus on the road. At one point while I was in the lead there was a lizard which ran out in front of me like the squirrels back East.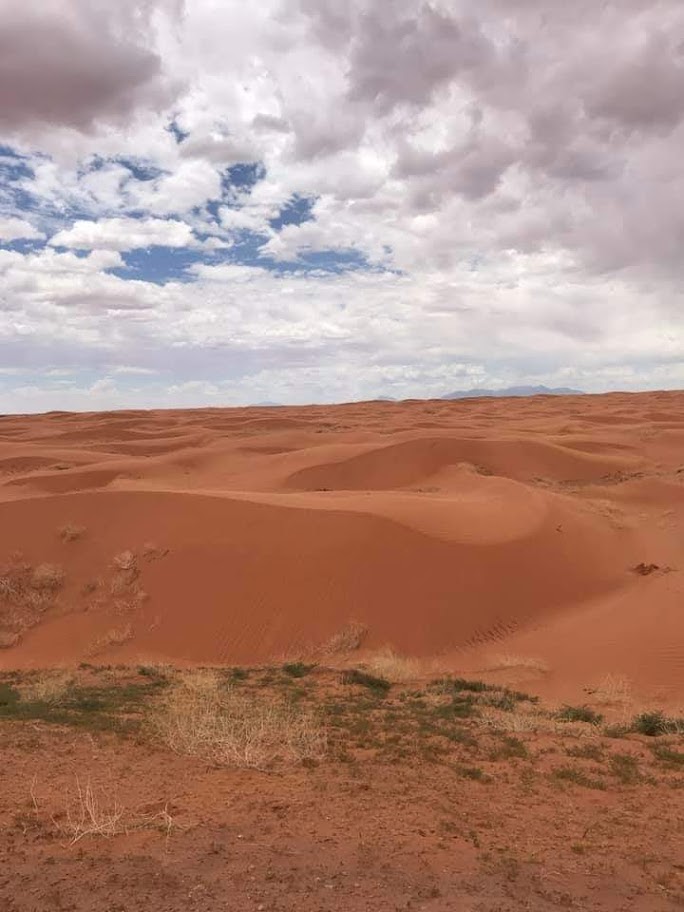 Before crossing over I-70 a second time JW had another flat on the DR. After talking with him we found out that he had only purchased another 21″ inner tube for his spare replacement and didn't buy or replace out the 17″ inner tube needed for the rear tire. We knew this was going to cause issues for him. Anyway we helped him to get that inner tube replaced. We looked at the tire but couldn't find anything causing the inner tube to loose air.
Once we got moving again we were making good time towards the San Rafael Campground on Buckhorn Draw Road. There was a rather large rock in the middle of the road so I called out over coms to warn Eric. Unfortunately he was behind JW so he did not hear my warning due to the distance. Eric centered the rock with the front tire on the KTM. His view was compromised from the dust with the two motors being in front of him. It blew out his inner tube but luckily it didn't cause any real damage to the front rim or tire. So we had flat tire number two for the day to change out. I was just happy that Eric didn't crash. He was carrying an 18″ spare inner tube and I was carrying a 21″ so I gave him my spare. We had it changed out in less than 30 minutes. The center stand on the KTM was nice to have.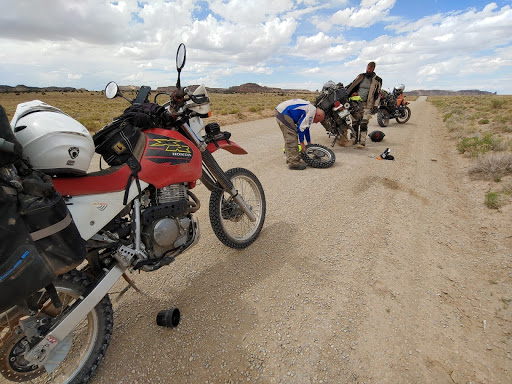 After changing out the KTM's tire it was starting to look like rain and we could tell part of the road had already had some rain due to its wetness. With the muddy roads we continued on past San Rafael Bridge Campground which appeared to be completely full. While riding North we could see the engravings on walls at the Buckhorn Wash Pictograph Panel. I wish we would have taken some pictures but it was pretty slick through there with the wet road and we needed to keep the motors moving. Before entering Castle Dale the roads cleared up and we were making good speed again. A stop at Fatty's Pizza and Grill filled us up so we didn't need to fix dinner at the campsite tonight. After looking at the GPS and iOverlander we found some campsites on the TAT route near Jose Valley Reservoir. We decided to fill the motors up again at a convenience store along with purchasing a few adult beverages for later.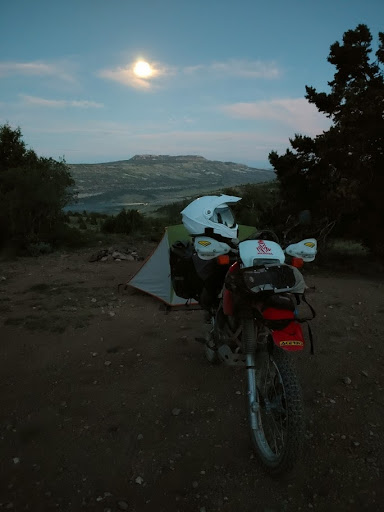 We set up camp on a section of BLM land above the reservoir with an awesome view of the area. When the moon came out later that night it was extremely bright. I didn't care that it lit up the tent because after 260 miles today with the heat I was completely wiped out! The picture taken below was taken at 2200 hrs!
Saturday, July 4th 2020
That morning after waking up from a good night's rest I was still feeling tired. I contributed it to the heat from the desert heat travels the day before. I noticed that Eric and JW were moving slowly like myself but after a few cups of instant coffee and breakfast; we finally found the inspiration to break camp and start making some miles! The trek over Ephraim pass had more breathtaking views from the high top vistas in the Manti-Las Sal NF. The summit was approximately 10,300 ft which was just a few feet below the Colorado Rockies. The scenery was just as majestic and the roads were considerably wider than what we were used to which had its positives and negatives. We could make some good travel time but there is always that someone who has to go faster and push the edge of safety. This was that day for the Evel Knievel wanna be in a pickup truck with a Utah tag. He was tailgating us pretty close so we pulled over and let him pass. Like a champ he had to drift past us spinning gravel; luckily we didn't find him over the roadside wrapped around a tree and having to call 911 to collect up the pieces of his dumbass.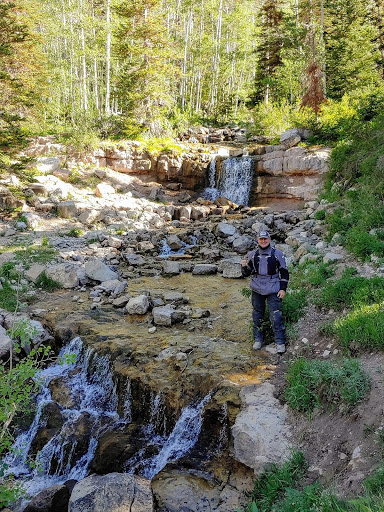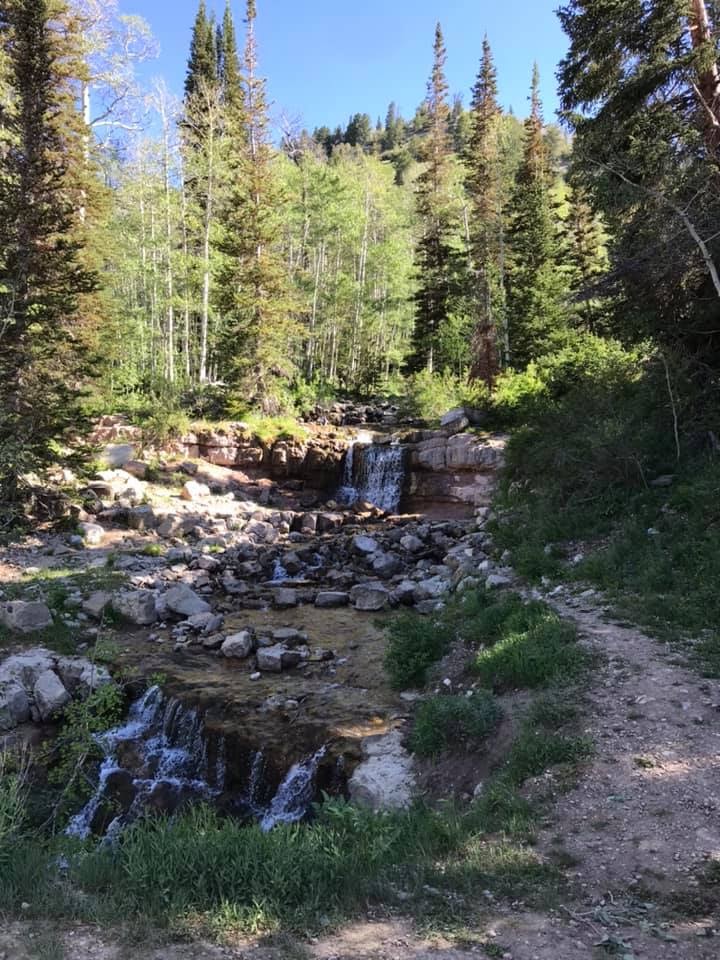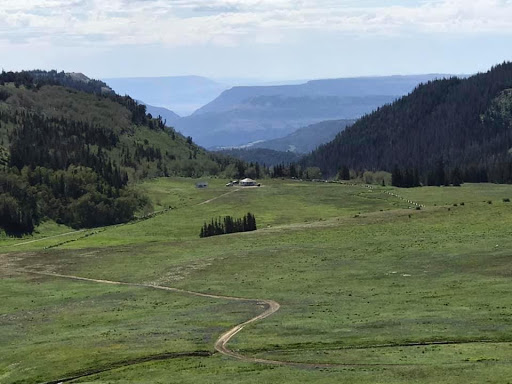 Once we entered the city of Ephraim it was time to wash off the mud from our motors and for Eric to find an air pump. He still didn't trust my hand pump. LOL
Eric was really drained from the desert's heat so a decision was made to by-pass the Western section around the Great Salt Lake which would have dipped us into the State of Nevada. I was kind of sad because I have never been to the state of Nevada but I remembered this was a group trip. Plus I would be making the TAT trip again in a few years so we looked at the map and found an alternate route which brought us along Utah Lake. It then took us through the city of Salt Lake. Being in a large Metropolitan Municipality was a complete 180 degree turn from the last three weeks of travel. We made it to North Ogden before settling on a hotel room. There was a discussion about finding a campsite but with the 100 degree heat, AC was at the top of the needs list. It also gave us an opportunity to do some laundry. The trek through the desert with the muddy roads had really soiled our riding gear. I was surprised to find my riding jacket was able to fit in the hotel's washing machine. It was nice to have clean riding gear again. I also took advantage of the hotel's hot tub to soak my tired muscles. Eric and myself grabbed a somewhat healthily meal at a restaurant attached to the hotel. In all it was a good day.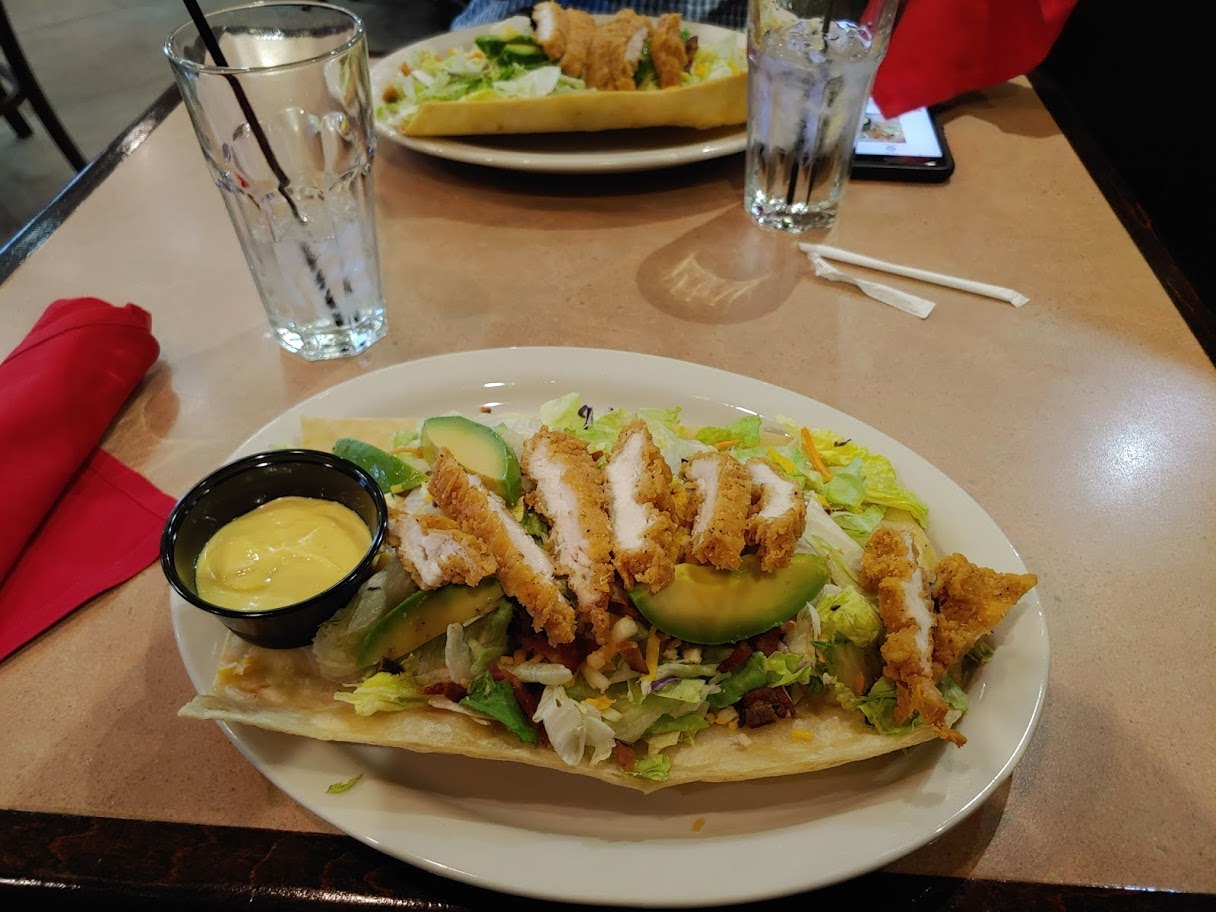 Sunday, July 5th 2020
After having a decent hotel pre packed breakfast we had the motors loaded and started heading towards the TAT route. Our goal was to merge back onto the TAT around the HWY-83 area which is North of the Great Salt Lake. About 30 miles outside of N. Ogden, JW had another flat on the rear tire of his DR. Eric and I knew it had to be something with the 21″ inner tube he was running in the 17″ tire. After disassembly the inner tube was inspected and we were correct. The inner tub had a hole in its side from it rubbing on itself. Once the tire was fixed JW decided to back track to N. Ogdon to get a couple new inner tubes at the Cycle Gear Store and see if they might have a new rear tire. Eric and I were going to continue traveling on the TAT heading West and JW would catch back up with us later in the day once he got the inner tube issue resolved.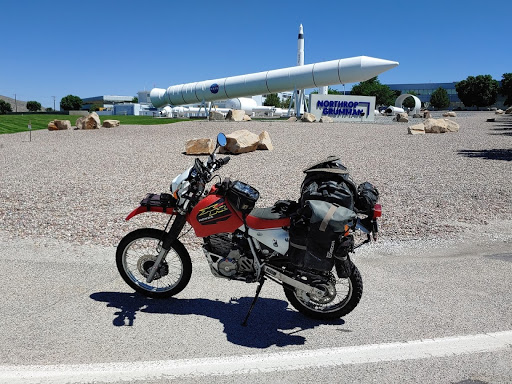 Not too far away from departing with JW we came across the Northrup Grumman rocket test facility so a stop was in order to check it out. It was an interesting find and something I did not expect to run across so it got two thumbs up in my book. Afterwards we were in the backcountry of Utah and crossing the state line into Idaho. The dirt roads between all of the farm lands were very quick and we made some miles.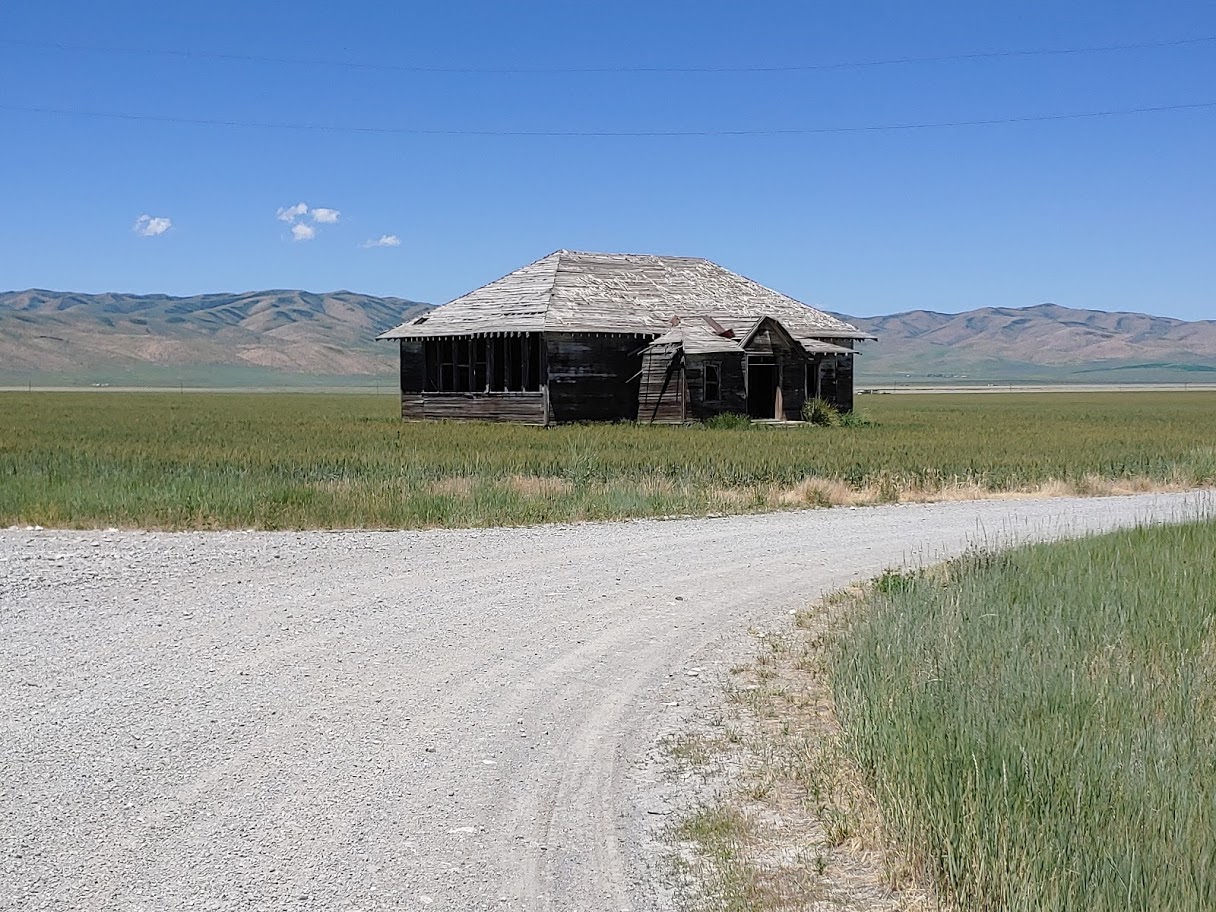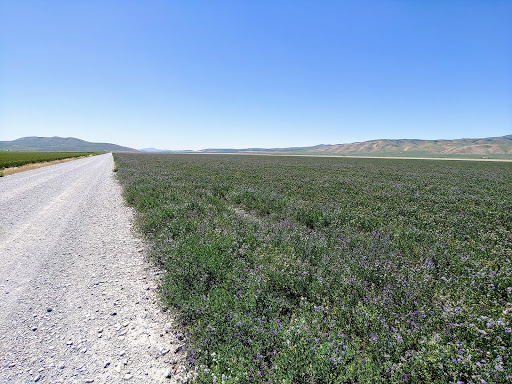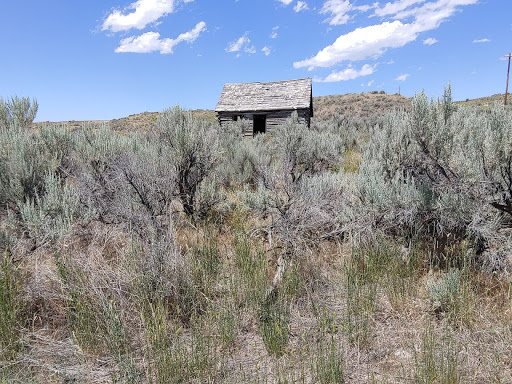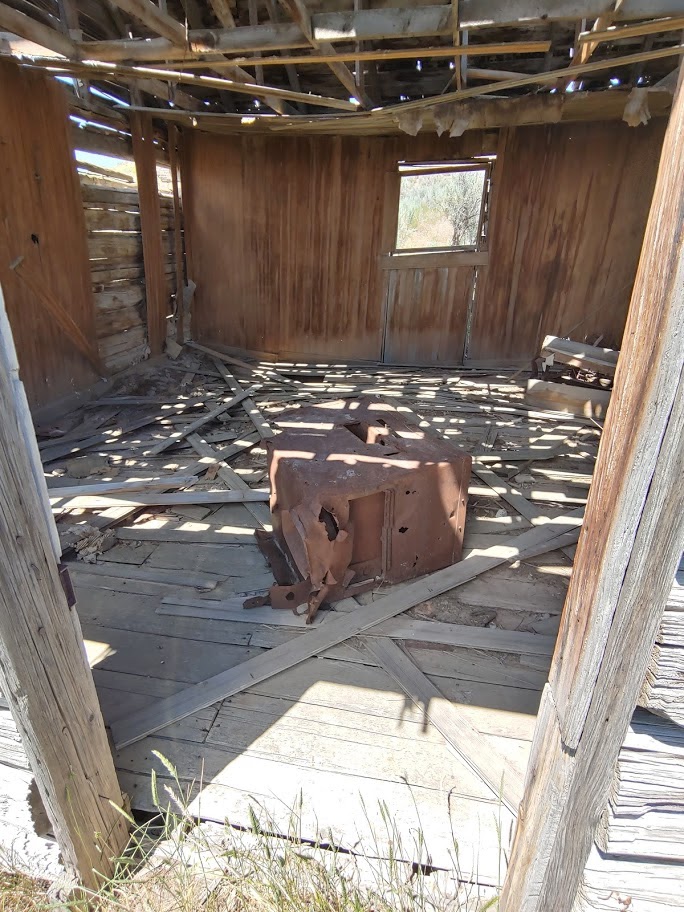 We continued to run across large fields of purple flowers which had a strong but with a pleasant aroma. Later I would learn that it was Alfalfa and was being grown as feed for the cattle industry. I couldn't get over how many large fields of alfalfa which we passed on this day.
We rode late into the day and stopped in the town of Burley ID for dinner at the A C Dive-in. I couldn't help myself so I had to get a double cheeseburger which was really good. While there we looked on the GPS along with the iOverlander APP and located some BLM campsites not too far away on the Snake River near the Milner Rec-Center.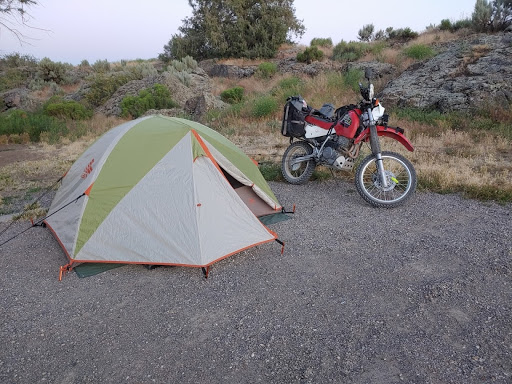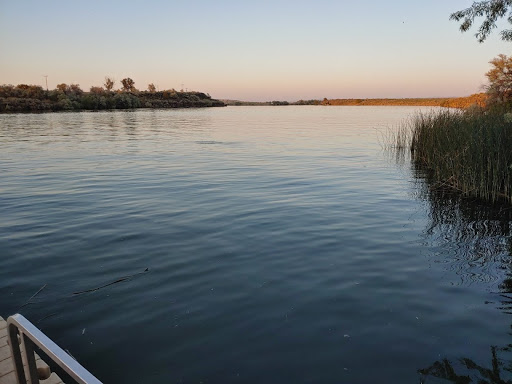 We texted the camping spot location to JW who we hadn't heard much from which was worrying. After setting up camp we heard back from JW and he was heading toward our location. Once he arrived we found out that Cycle Gear didn't have a tire but he was able to get a spare inner tube. While traveling to us JW had another flat tire so he was beyond aggravated! Luckily an Idaho State Trooper had stopped by to check on him and had also assisted with changing out the inner tube. JW told us he had a friend in the city of Boise so tomorrow he was heading there to get the tire replaced because he thought something inside of the tire was also causing the flats. I really felt bad for JW because the trip is hard enough without having all of the extra problems.
While enjoying a few adult beverages Eric and I started talking about our trip. The original plan was to ride for six weeks and hopefully make it to South Dakota. Instead we decided to end the trip at the Pacific Coast like the original TAT Route used to be. I guess after being on the road for 24 days we were both getting worn down. We also decided to find a spot to take a day off of the TAT route and relax.
It was hot that evening so once the sun had gone down we all crashed out pretty hard!
Monday, July 6th 2020
The morning was pretty quiet between us, I woke up late and had slept hard the night before so the mind was kind of foggy. I guess all of the traveling was starting to wear me down. JW took off before us in search of tires in Boise ID for his DR. Once we were going the day was on and we made some good miles. One of the first places we came across was Balanced Rock. The rocks and the shapes have all been carved out by nature. The main feature is a rock which is 48ft tall and weighing 40 tons. It is precariously balanced on a natural pedestal which is 3ft by 17in so it was time for a stop with a few photos. Of course one of the photos had to have the XR in it.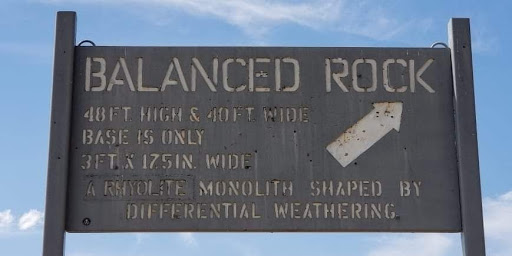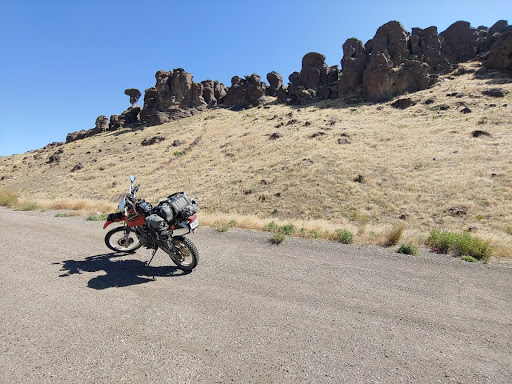 We continued our travels through the high desert area breathing in lots of dust. Part of Sam's Route had us traveling through the Mountain Home Air Force Base and the Morely Nelson Birds of Prey National Conservation Area. This place was fairly remote so we grabbed some lunch and extra drinks at Bruneau's One Stop. The advertisement sign across the street made us laugh along with taking a picture. There was a gas station there also so we fueled up the motors. Once we were on the AF Base there was a sign warning about objects could fall from aircraft so it raised an eyebrow.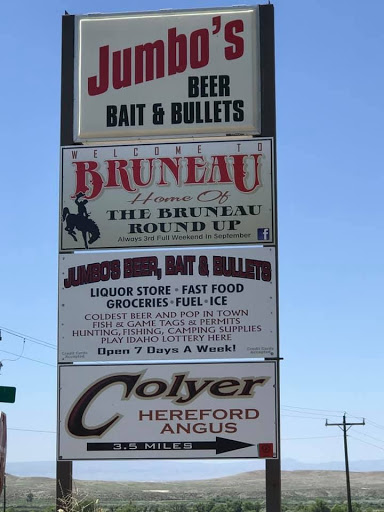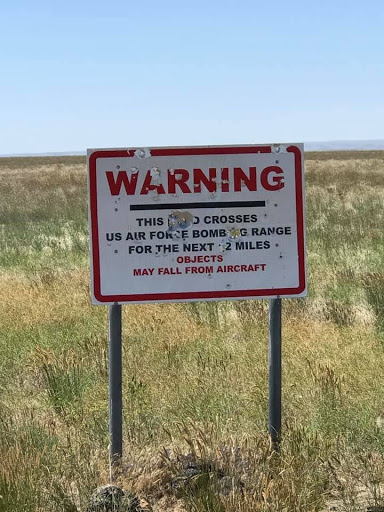 As it got to late afternoon we started looking for a camping spot so we checked our normal apps and thought we found a place at Old Fort Boise Park in the town of Parma. After checking it out we decided this was not going to be our place. It was next to a main road along with some industry so there was going to be lots of noise which would equal no rest. Eric made contact with his girlfriend to see if she could find something better and it was a success. We had to travel a little distance but it was on the Snake River at the River's Edge RV Park. Extremely friendly staff along with clean facilities. A hot shower to remove two days worth of sand and sweat felt wonderful. While in Parma we picked up some beef strips, salad and adult beverages for a decent dinner that evening. We heard from JW and he was successful in finding new tires along with inner tubes. He went with a Shinko tire which wasn't as aggressive like the Tusk but with only one state to go the tires would be better for his return road trip back to San Diego.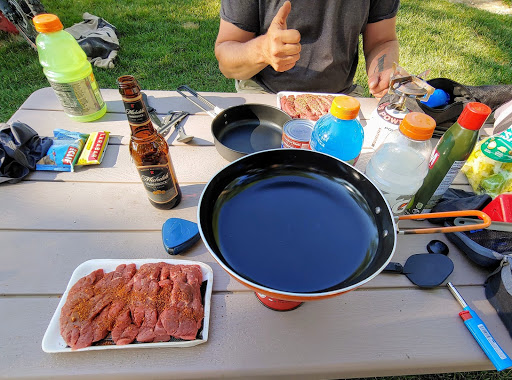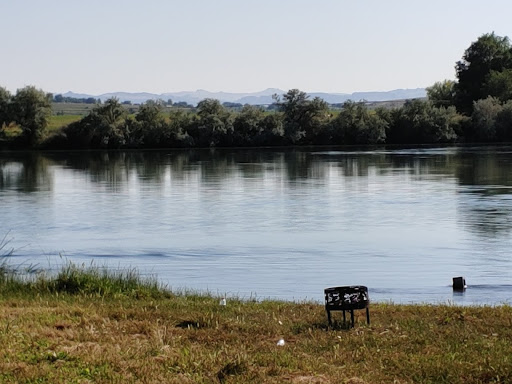 Tuesday, July 7th 2020
This morning was completely different than yesterdays. I was the one up early watching the sunrise over the Hops fields directly behind the campground. It was an awesome feeling. I just sat there in my chair enjoying a cup of instant coffee 🙁 taking it all in because you just don't know what life will be dealing us from day to day. I had that moment "Im riding the TAT" and I think anyone who has ridden it knows that feeling.
Eric was the one this morning waking up late and I hated having to tell him that we needed to get moving. I guess the steak along with the adult beverages the evening before had knocked him out. LOL
JW met up with us around 0800 hrs and I was relieved to see a new rear tire on the DR. He was also carrying a new front tire for the end of the TAT in Port Orford OR so he could change it out there before traveling down HWY 1 back to his home. JW was extremely pleased with the KTM Dealership in Boise ID even though he was a Suzuki DR. When they heard about his tire troubles and he was traveling the TAT it was put him to the front of the line. So far on this trip the two KTM Dealerships were given an A+.
After having the motors all packed we started making tracks North but had to stop in Ontario OR for fuel and drinks. Always keep extra fluids on your motors even if it gets warm it is still wet and will hydrate you! Once we were back on the TAT it wasn't long before we turned West and was traveling the new Pacific Ocean Spur Route. This to me is the TAT from all of the Ride Reports I have read in the past. The high mountain desert was extremely beautiful. I hope the photographs do it some justice. A stop along with some exploration at the Malheur Reservoir was a must when we saw the old bus hidden in the weeds. The road going down to the beach area had a lot of washout but all of us made it without any real difficulty.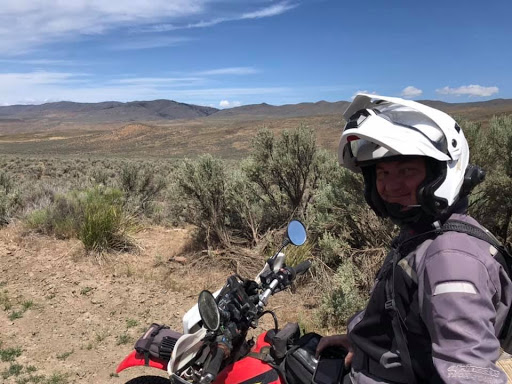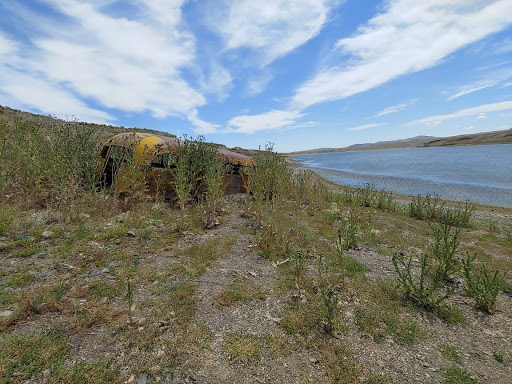 All three of us were smiling from this area. You don't get this kind of enjoyment from sitting inside of the house.
It wasn't too long before we crossed into the Pacific Time Zone and started seeing mountains and trees again. Once we were in the Malheur National Forest the roads were of different varieties from two lane dirt to almost a single lane trail. This was some of the most challenging roads and fun we had since being in Colorado. I am kicking myself in the ass for not having the GoPro charged up and filming in this area. I highly recommend this area of the trail. It is outstanding. I just wish it could have lasted longer!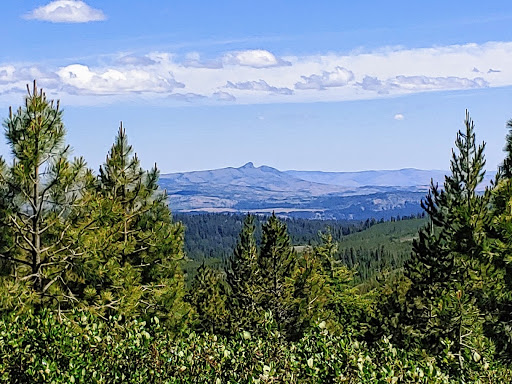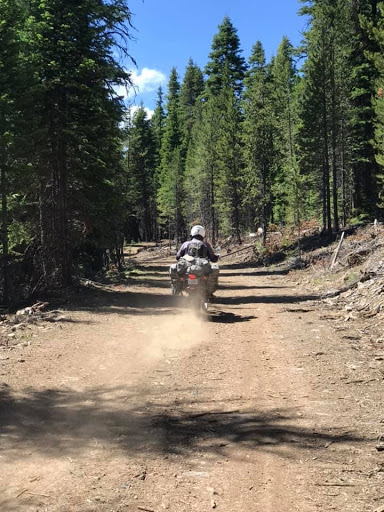 After leaving Malheur NF we traveled along some farming land with great open spaces. The trip to the city of John Day was relaxing. Once in town we grabbed a bite to eat at the 1188 Brewing Comp and Pub. Yea a burger along with some sides were what the doctor ordered for all of us. Our waitress was phenomenal about knowing the history of the area. Afterwards we found out that she was a local school teacher and this was her extra income job. While at the Pub we located a campground not too far away and it was on the route. Clyde Holliday State Park had very warm showers, clean facilities and was very well maintained. The only negative were the mesquites "damn blood suckers". The fire's smoke along with bug repellent helped some. After traveling 230 miles it was time for a good night's rest!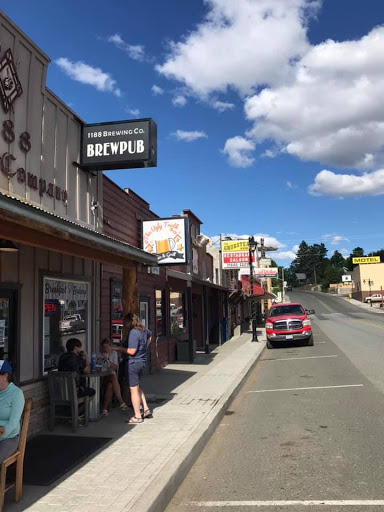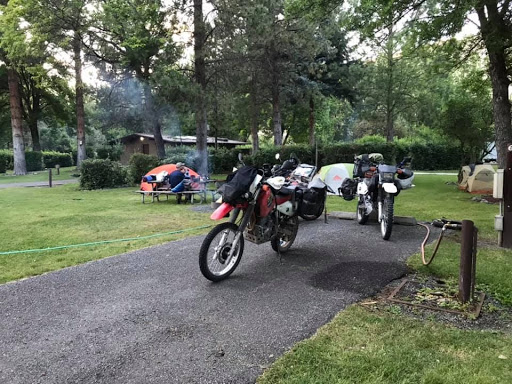 Wednesday, July 8th 2020
While packing up the motors this morning Eric and I talked about taking a down day soon to get a break off of the motors. We hadn't taken a day to rest since we were in Lake City CO waiting on the battery to arrive for his KTM. After taking a quick look at the route we knew where the place was going to be.
After leaving the campground we made a quick stop at the Chevron Food Mart in Mt. Vernon to fuel up the motors along with grabbing some breakfast. A microwaved biscuit and gas station coffee was better than nothing. The clerk was very interested in our trip and how long we had been traveling. He gave us a paper map of the area which we were going to be traveling through. Once we left Mt. Vernon we made a left turn heading South West towards the Three Forks area along with the Ochoco National Forest. The roads on this day were mostly two lane dirt which we could make good miles but of course it was dusty with the dry conditions. At one point we could tell there had been a forest fire but as always life restarts and rebuilds. We did come across an Elk Fawn/Calf alone hiding under a tree. We stopped to only take a photo at a distance so we wouldn't disturb it and possibly separate it from the mom which had to be close by.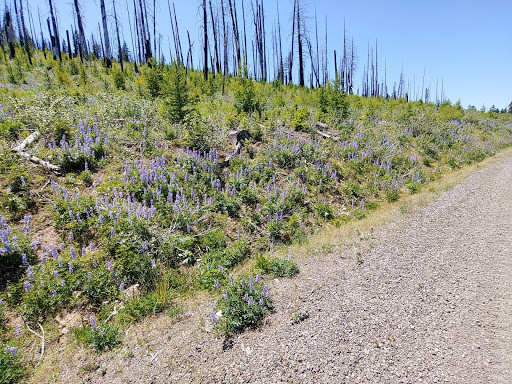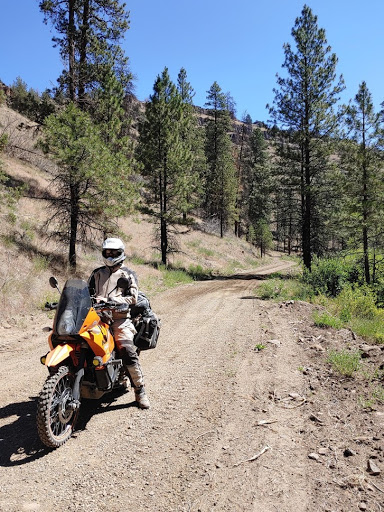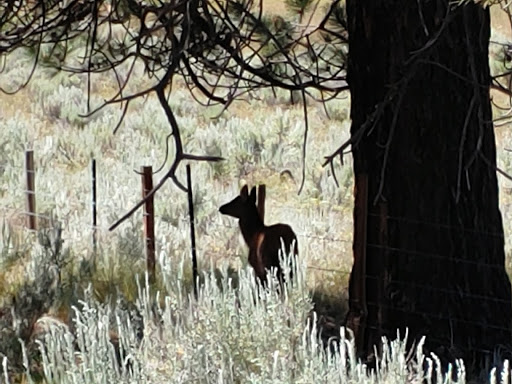 We stopped on HWY-26 in the city of Prineville after seeing a cool mom's and pop's restaurant/diner setup in a 1956 Spartan travel trailer called Toni's BBQ. The owner was extremely friendly plus it had good BBQ along with homemade carrot cake.
While at the diner we looked on the GPS and Google for a place to camp along Sam's Route just off of Route 27. There were numerous campsites showing to be along the Crooked River so we felt our chances were pretty good at finding one. We grabbed some supplies from the Shell gas station in town along with fueling up the motors.
Afterwards we turned South out of Prineville and started looking for a campsite. We found the same thing over and over which was people; most of the campsites were full. Luck was finally on our side and we located a site in the Chimney Rock Campground which was set along the river with great views. Once camp was set up I kicked back in my chair and enjoyed a few adult beverages just watching the water slowly pass by. It was a very peaceful and enjoyable evening.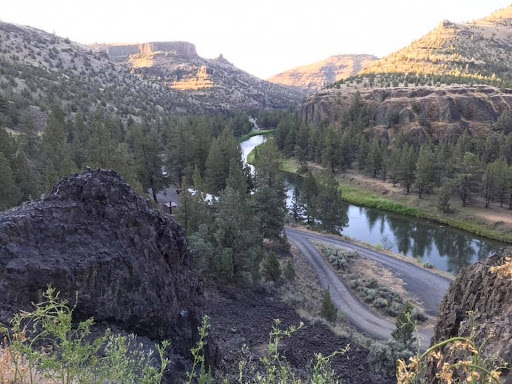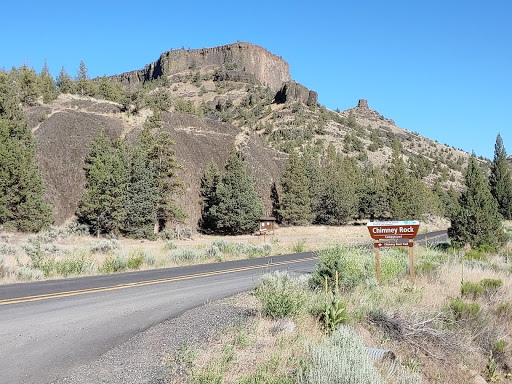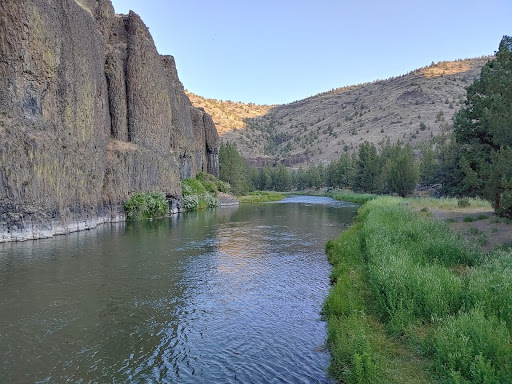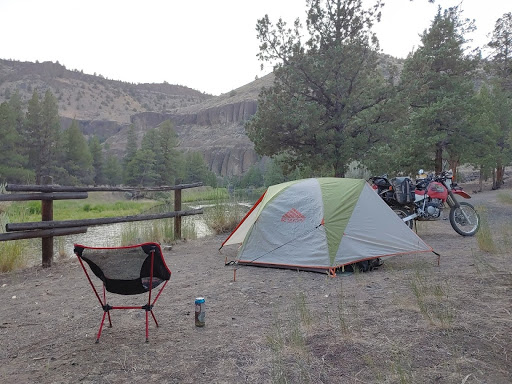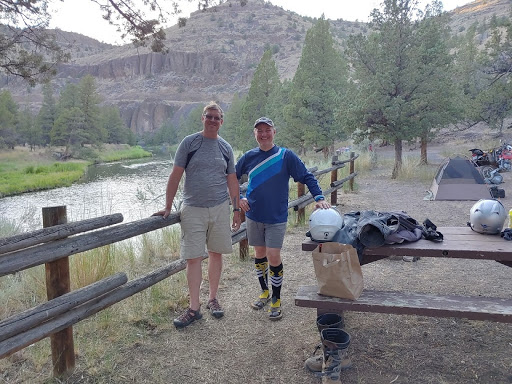 Thursday, July 9th 2020
With the sounds of the river along with the cooler temperature we all slept well last night. Once the campsite was broken down and we had all of the items packed away on our motors it was time to say goodbye to JW. He had been on the road a few weeks longer than us. JW had driven a truck with his DR in the bed from San Diego CA to Virginia Beach VA and started his TAT trip from there after selling the truck to a friend. JW still had a long ride to go down the West Coast so laying over a few more days wasn't for him which we understood. I'm really glad to have met JW in New Mexico and that he was able to ride the Western Sections with us. As I have said before having friends on this trip is really nice to have.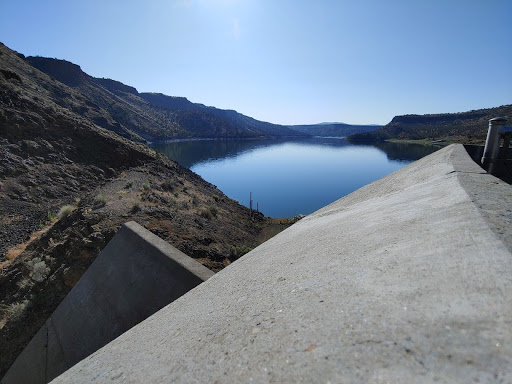 After leaving the campsite we stopped at the Prineville Reservoir for a few pictures because with the sun rising over the water along with the mountains in the background we couldn't pass up the polaroid moment.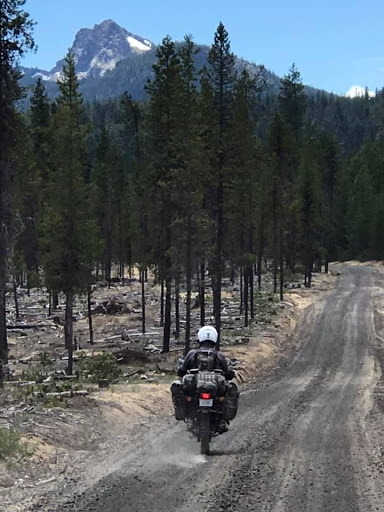 We continued down RT-27 to HWY-20 then made a South Western turn into the Deschutes National Forest along with the Newberry National Volcanic Monument area. The roads were of all different types (blue chip gravel, white soft dirt, white sand, red volcanic rock and red hard dirt). With all of the different types of roads we really had to keep our guard up and not get complacent. This was the place where I had my first issue out of the XR. While going up a hill I noticed that it was losing power and the first thought was something serious. After stopping to diagnose the problem I found that one of the small bolts holding the throttle tube to the handlebar had vibrated off. The other bolt was very loose so it was allowing the tube to rotate without pulling the throttle cables. I took the remaining bolt off and used loctite on the threads to make sure it didn't come loose again. I looked through all of my spare bolts which I kept in an old toothbrush travel case but none would fit. I would later in the day find a replacement 5mm bolt at a NAPA while passing through the city of La Pine OR for 27 cents. A very expensive repair LOL. We then continued on to the East Lake Resort where we stopped for a few drinks and some lunch. While sitting next to the lake at a picnic table a Bald Eagle flew over us. Watching it turn and fly over the lake was very majestic. I couldn't get my phone up in time for a picture before it flew out of sight.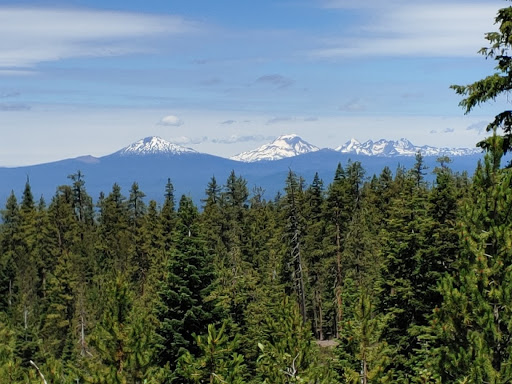 We continued traveling mostly westward on the TAT until we intersected with HWY-138. There we made a left turn southward towards our stopping/camping spot for the next two days which was going to be Diamond Lake. The entrance office/registration rangers were very helpful. They provided us with a map for the open camp sites. Then told us to check out the sites and to pick which one was going to be the best for us. Once our camping site was set up we went to the resort lodge area to check it out. It had a full service restaurant so dinner that evening was the fish and chips! The resort had a full stocked general store so firewood along with a few adult beverages were purchased to enjoy back at the campsite. Being a fan of the TV show Longmire, I noticed that they sold Rainer Beer so that was going to be my choice of beverage. It isn't sold on the East Coast.
With the sun setting and a fire to enjoy our beverages by the day had a perfect ending. One warning!! The mesquites and no-see-ums were out in full force.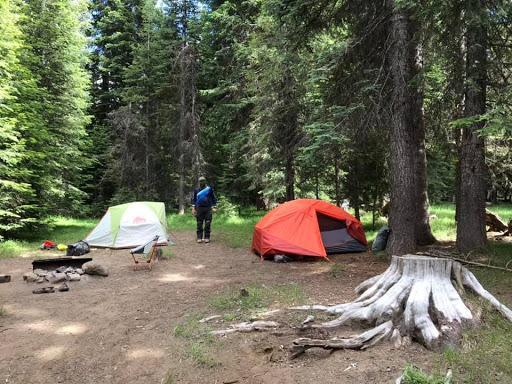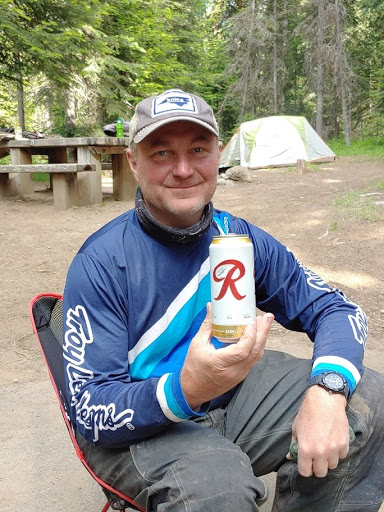 Friday, July 10th 2020
I wasn't in a hurry this morning to get out of my sleeping bag due to the cooler temperature of 39 degrees outside. Once I did have enough motivation to move I found myself outside sitting in my chair. I found a small strip of sunlight making its way through the tree canopy for some warmth while sipping on my hot cup of instant coffee. 🙁
Once Eric was up and moving we talked about today's plans. The camping site area didn't have any mobile data service available so I knew we would have to go to the resort for the WiFi. Later in the morning we were able to complete a full search on how would be the best way for us to return to NC. A rental from either U-Haul or Enterprise Truck was going to be somewhat expensive once you counted in all of the fees along with the fuel cost. We checked on one way flights along with shipping the motors and found the price was comparable plus we could be back home with our families on the same day. We decided on the flight and shipping option so after spending the funds it was set in stone.
Now that the return plans were finalized and all of the non fun stuff was completed it was time to do some exploring. While setting up the TAT trip many months ago there was one location which I wanted to explore and it was Crater Lake National Forest. After having lunch at the resort/lodge we took off for Crater Lake which was only a short ride. What a magnificent place and more beautiful in person than any picture could capture. We wanted to ride around the entire basin but the main road was closed in parts for washout and repairs. Afterwards we headed back to our campsite for dinner along with a few adult beverages by the campfire.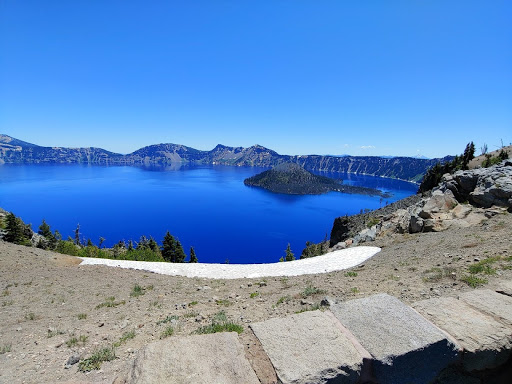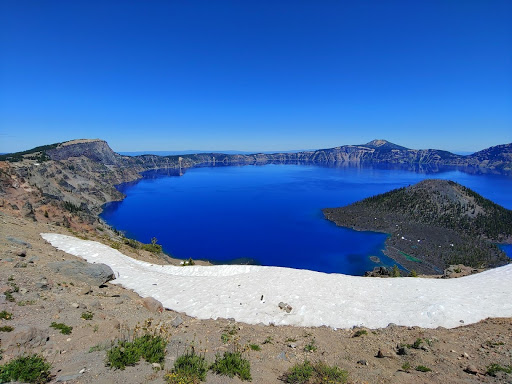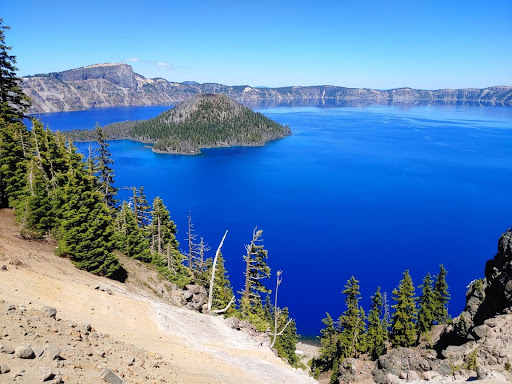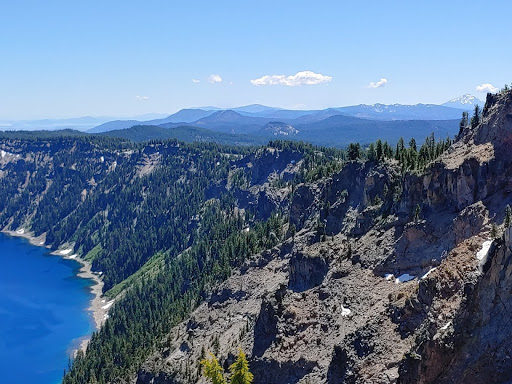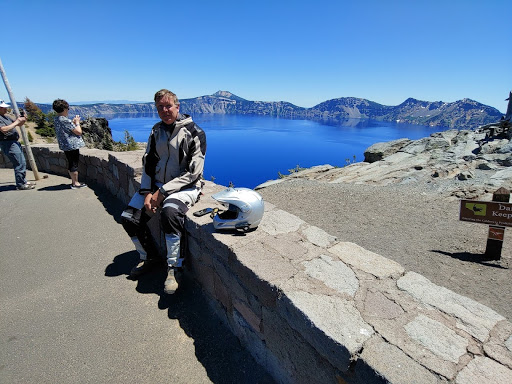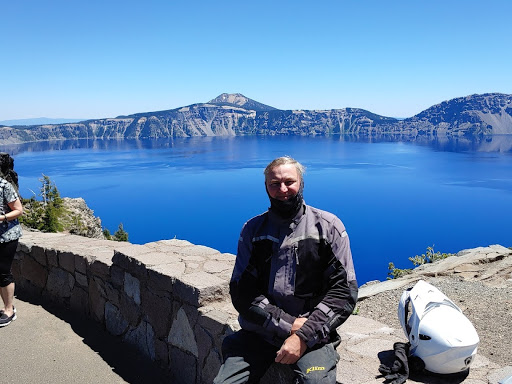 Saturday, July 11th 2020
The morning's temperature wasn't as chilly like the morning before so we were able to break down the campsite early. This helped a lot so we could get a quicker start on our day's travel. Eric and I were talking last night around the fire and decided that today we were going to make it to the Pacific Coast!
We traveled North on HWY-138 back to Sam's Tat Route then turned Westward. The roads were like the day before AKA fast and dusty! We had to stop a few times for pictures because the scenery was so majestic! If I lived out in Oregon I don't think the wife and kids would be seeing me too much. Maybe it's a good thing that I live on the East Coast! LOL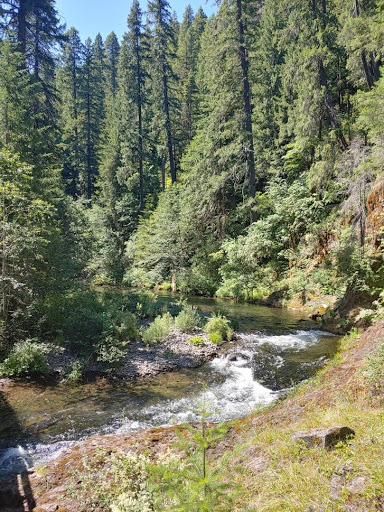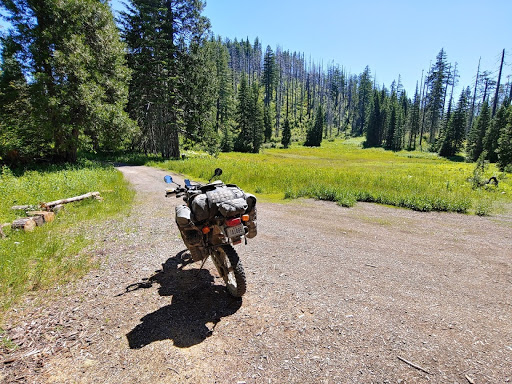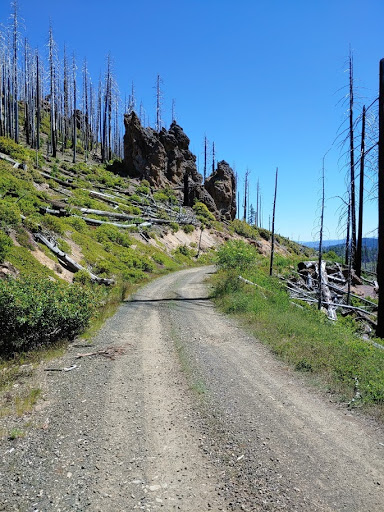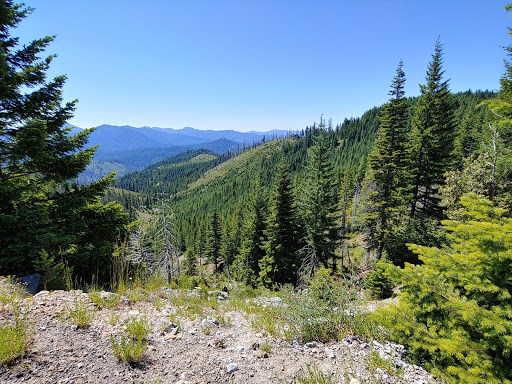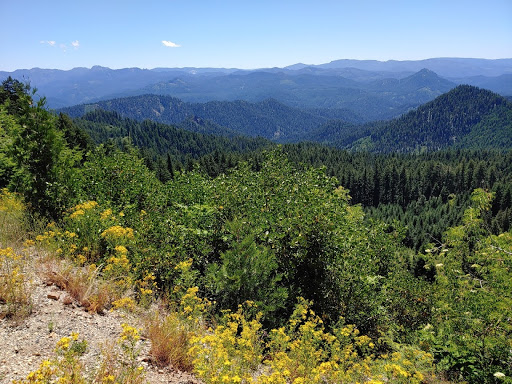 This picture of Eric taking everything in to me really captured the moment.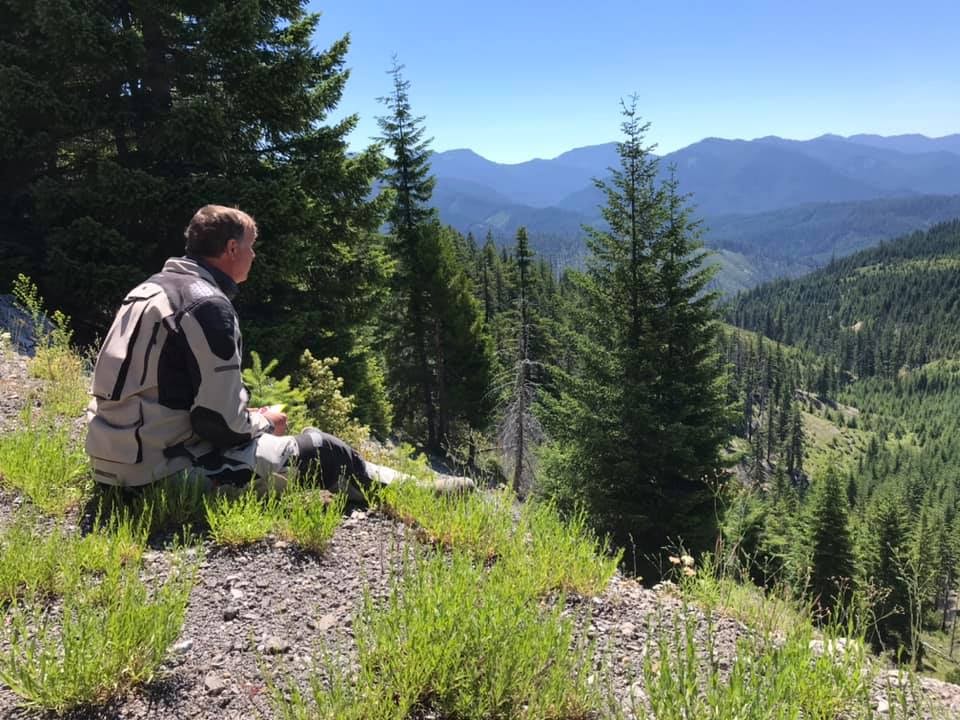 We stuck to the standard TAT route until HWY-227 where we turned and traveled to Canyonville OR. There we fueled up the motors along with grabbing some lunch from a Mom's & Pop's style restaurant called (Papa Morgan's Family Rest). The food was really good! I'm really surprised on this trip to all of the great restaurants we have found and enjoyed.
After finishing lunch we rode hard all the way to Port Orford OR without stopping for pictures. We travelled I would guess about 120 plus miles on roads which were dirt along with 2 lane black top. We crossed on and off of Sam's TAT route during this time but we finally reached Port Orford OR at about 1730 hrs! I looked at the odometer on the XR and did a quick calculation which showed I had travelled 5,100 miles from my home to this point. The feelings of both relief and sadness hit me at that moment! I think if anyone has travelled/completed this route they have also experienced those feelings.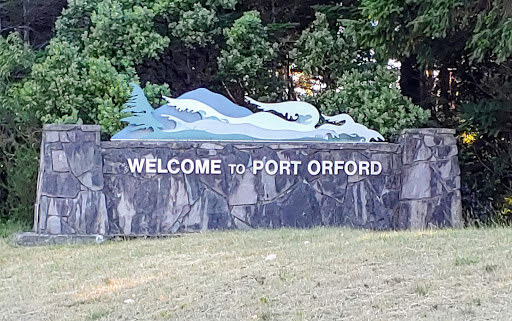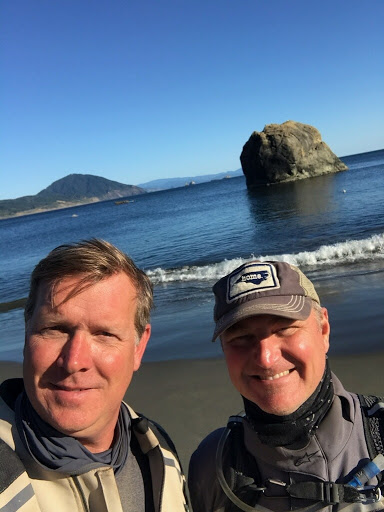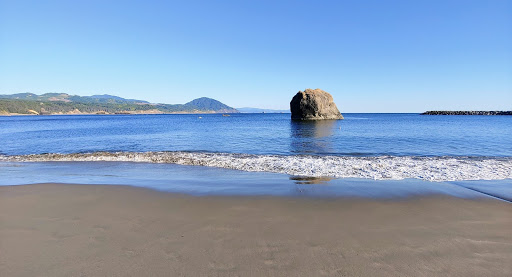 After walking on the beach and feeling the cold Pacific's water it was time to locate a place for dinner. We were recommended to TJ's Pub & Grill by a couple local's who received another two thumbs up. While waiting for our food we discussed which night's accommodations would be best for us. After checking the local hotels which were full along with the local campgrounds not having any vacancies either we had only two choices. Traveling back to the National Forest and hoping to find a dispersed camping site or traveling North looking for a hotel/motel. Sleeping in a bed with some heat won that decision so we found a room at the Red Lion Hotel in Coos Bay OR.
To everyone who has read this ride report I hope you have enjoyed it. Typing on the computer and looking at all of the pictures again has really made me realize how much of a special event that it was. Not too many of us can say we have notched off a big bucket list item like this one! To everyone who has completed the TAT I feel we are part of a special club. It's really a test of man and machine.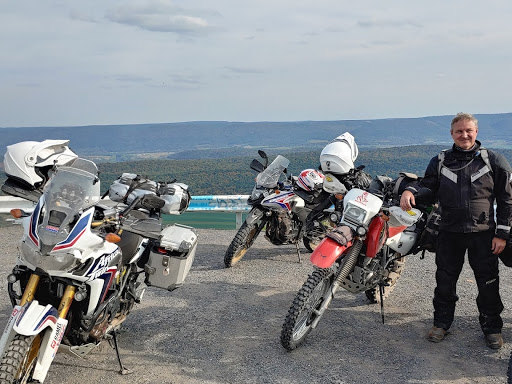 Sunday, July 11th 2020
We slept in this morning and I had a great night's rest. You can't go wrong with a comfy bed and a temperature controlled room! After getting up and moving we talked about where to stay until our flight out of Eugene OR which was still a few days away. We checked along the coastline of Oregon but with the prices that were being charged at the hotels and campgrounds it wasn't to our liking. We then looked at a hotel in Eugene OR and the prices were a lot more reasonable.
After grabbing lunch at The Boat Restaurant in Coos Bay we started riding towards Eugene but we had to make a few stops. The first would be Umpqua River Lighthouse and second would be the Umpqua Dunes.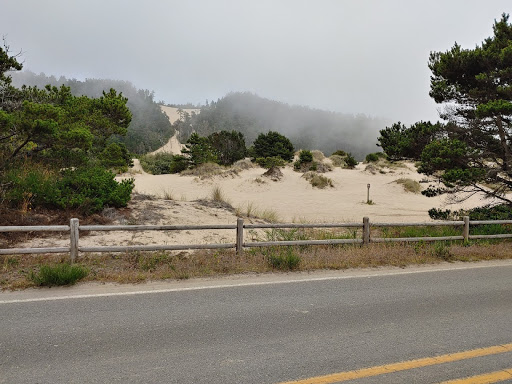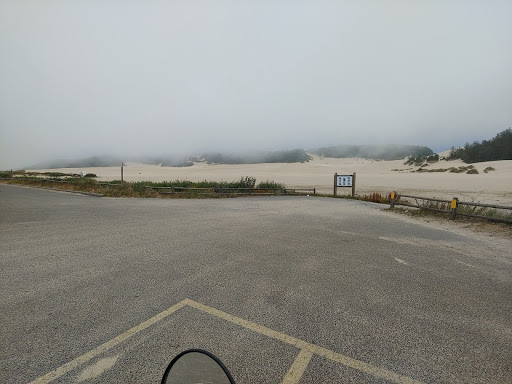 Seeing sand dunes that tall along with the recreation area was very tempting of unloading the XR and having some fun. Better judgment won over that crazy thought LOL. We did chat with a gentleman with a custom sand buggy. That thing was cool with the Ford SVO Turbo Engine!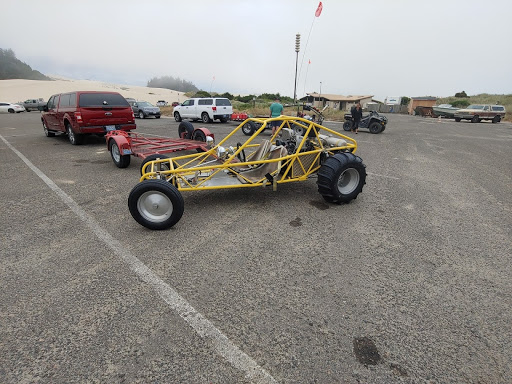 The ride to Eugene OR was uneventful and we located a Hotel near the University so this would be our hanging out spot for a couple days. Not too much happened worth really reporting. The motors were cleaned before dropping both off for transport back to NC. All of our camping gear, most clothing and flight restricted items were packed away in the motor's luggage. We found carry-on bags at a department store near the hotel so all of my phones, camera, and other electronic gear were brought back at this time. All in all the return trip back to NC was drama free.
After getting the XR back to NC there was one item on the motor that I addressed. It was the suspension which I felt was too soft for my weight along with all the camping gear. I also figured with all of the dirt and dust the XR had gone through for the last 5K plus miles it wouldn't hurt putting new fluids in it. I threw away the air filters and the front fork boots for new one's. I went back to my tried and true Pirelli MT-21 tires.
When I completed the MABDR later in the year I wished that I had the strong springs in the XR for the TAT. The rear of the motor didn't squat like before and the bike just felt more stable to me.
So after all of the traveling in 2020 the XR650L will be staying in my garage and I for see a lot more miles being ridden on the machine. Old school along with being rock solid dependable!