It doesn't take much to get me to throw my leg over a motorcycle. But when northeast Ohio MSTA coordinator Steve Grabowski sent an email to the region's listserv about the group's "Pie Ride" destination closing at the end of July, I decided it was a ride I couldn't miss.
I got to enjoy some of east-central Ohio's best roads, had some delicious pie (for the first and last time) and was shown a new-to-me route that ups the fun factor while riding to some of my favorite Ohio roads.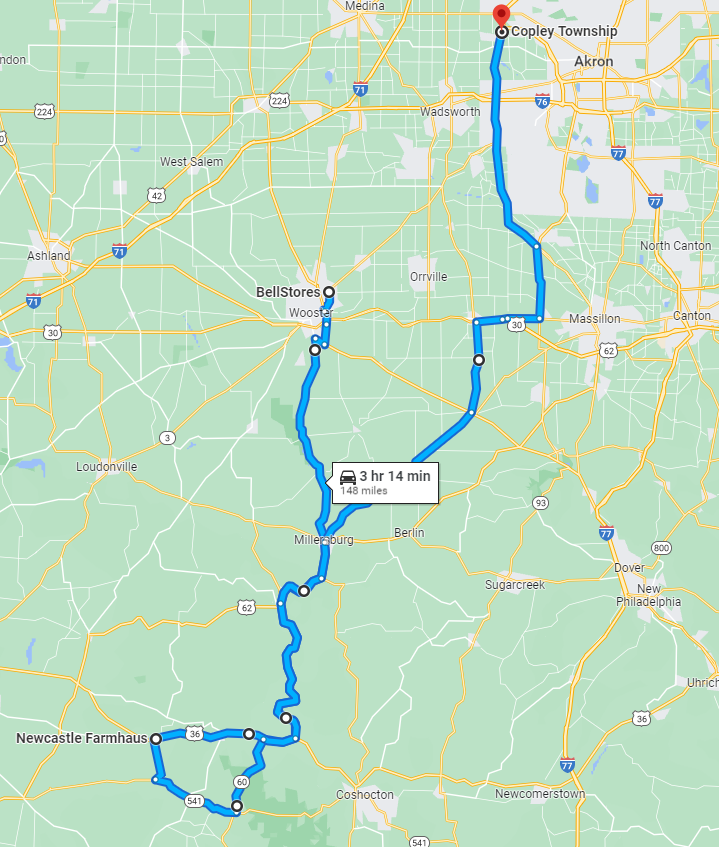 I hadn't been on a group motorcycle ride since my girlfriend and I relocated to the Cleveland, Ohio, area in January 2021, and this was my first outing with the NEO MSTA squadron. I'd been a regular attendee of the Central Ohio Sunday breakfast meetups for the three years I lived in Columbus and was excited to get acclimated to the MSTA crowd from my new home region.
According to Grabowski, Ohio MSTA riders have been making treks to the ride's destination — Newcastle Farmhaus in rural Walhonding, Ohio (formerly known as Peggy Sue's Steak and Ribs) —  for at least the past 15 years.
Steve had everyone meet up the morning of Saturday, July 16, at the Marathon station along Ohio State Route 585 on the east side of Wooster. At about 9 a.m., four riders set out on a fun ride through the eastern Ohio hill country. Steve led the ride, and I brought up the rear of the group behind MSTA members John Rath and Quint "Q" Marcaletti.
The group headed south along SR 585 and got onto the Wooster bypass – a freeway alignment to the city's east that ends at U.S. Route 250. After a short jaunt west on U.S. 250, we turned left to head south on one of my favorite Ohio roads … State Route 83. The group followed SR 83 through Millersburg to the split with U.S. Route 62 – which ferried us to Ohio State Route 60.
A little before we made it to the split, we had to make an unplanned stop for John, as the service indicator on his BMW had lit up. John and Quint examined the bike and didn't notice anything out of the ordinary. The pair decided it would be best to finish the ride to the pie, then head to Mathias BMW in New Philadelphia, Ohio, to have their service department take a look at John's bike before they closed for the day at 4 p.m.
I'd ridden the SR 60 the previous week and enjoyed being at the back of the group. Being the tail gunner allowed me to see the lines other riders took through the road's mix of sweepers and chicane-like sets of corners.
We stayed on SR 60 south to Ohio State Route 541 and passed through the village of Warsaw along the way. I'd ridden SR 541 east toward Coshocton the previous weekend, but had never headed west on the route. The group turned right and showed me the mix of sweepers and elevation change that I'd been missing out on.
After passing through the hamlet of New Guilford, we turned northbound on Ohio State Route 206 to get back north to U.S. 36. A right turn and a very short ride brought us to our destination on the right side of the road. 
Conditions during the ride were on the cool side, with intermittent sprinkles and a mix of wet and dry pavement. My ride to the rally point had featured some very light showers between Cleveland and Akron, but things dried up as I got closer to Wooster.
The group backed its motorcycles along the shoulder of U.S. 36 to park and were greeted by a group of Central Ohio riders. Though our ride wasn't perfectly dry, the COH group reported encountering heavy precipitation. I'm sure Doug McPeek will be penning an account of that group's ride for the Ohio MSTA newsletter.
We got seated at a picnic table on the Newcastle Farmhaus' small patio. I had a grilled ham and cheese sandwich for my entrée – which was very good – and then it was pie time. I ordered my all-time favorite – chocolate peanut butter pie – and it did not disappoint. The mix of flavors was phenomenal, and I lament that an eatery with such a quality product is soon going out of business.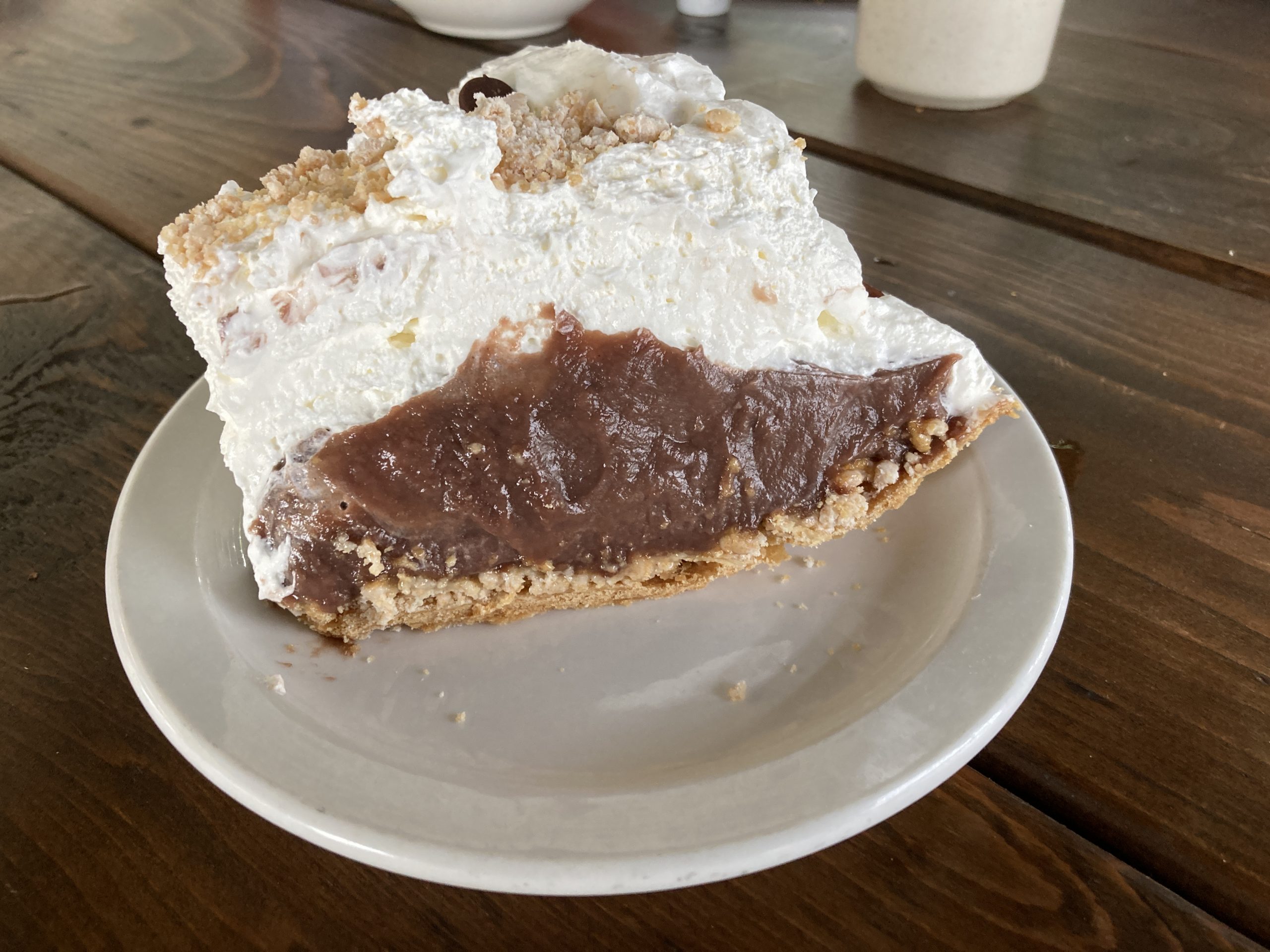 After pie had been consumed by all who desired it, John and Quint began their trek to Mathias BMW, while I followed Steve back toward Akron/Cleveland. The skies were looking a little darker than they had on the ride to the restaurant, so Steve selected a route that mixed some fun sections of road with a relatively direct route home for both of us.
We headed east from the restaurant on U.S. 36 back to SR 60 northbound. I had only ridden the road southbound, and – although I knew the turns that were coming – going through in the opposite direction them made it feel like a very different road. I may have enjoyed riding it more northbound than any of my prior southbound treks.
We retraced our path from the morning along U.S. 62 north and SR 83 north to Millersburg. Steve then got us onto Ohio State Route 241, which was a surprisingly enjoyable ride. I'd noticed the route on Google Maps several times, but it didn't look any more exciting than any of the other routes in the western fray of Ohio's hill country. Though it isn't super technical or super scenic, SR 241 and Ohio State Route 94 from SR 585 south is a very enjoyable way to reach some of the better roads Ohio has to offer.
We eventually reached SR 585, which Steve and I took northbound to reach the Ohio State Route 21 freeway. At SR 21's interchange with Interstate 77, Steve headed south towards home while I continued north toward Cleveland.
Steve has a new pie destination in mind for 2023, but I think it's going to be awfully hard to top what my taste buds enjoyed so much at Newcastle Farmhaus.